MLB The Show 17 Review
Continues to thrive as a baseball simulation, though this year's additions underwhelm
It's the World Series, bottom of the ninth, you're at the plate, and down by two runs. The count is one ball and two strikes, but all hope is not lost because you somehow managed an infield single in the last at-bat to get a runner on first base. You tried to bunt him over but missed the first attempt and the second one went foul. You've logged over 100 hours in this franchise, kept it going over three years using the game's ability to import save files from previous games. You finally got a chance at the World Series and now, here you are. It's late in the game and you need these runs to keep going. It's time to be a hero.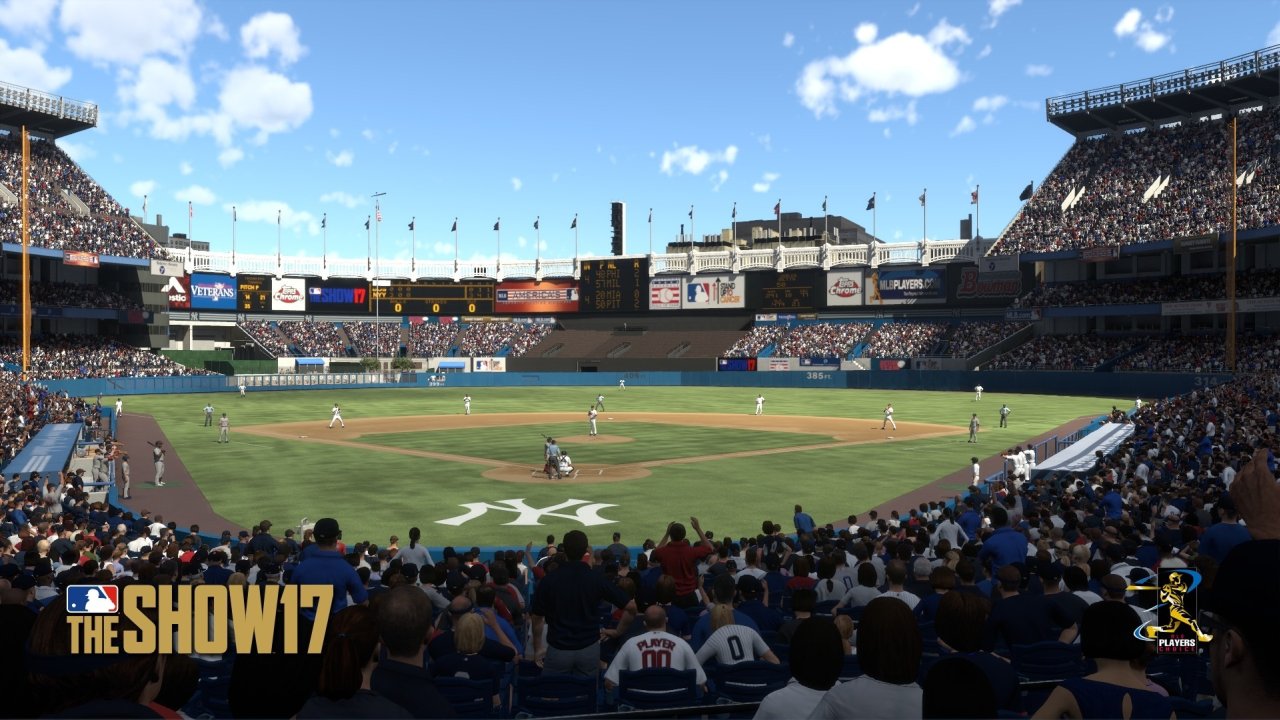 The pitch comes in; it's not the fastball outside that you hoped for, but it's in the strike zone and you can't take any more pitches. You time your swing perfectly... and hit a weak grounder to the third-baseman. He makes a barehanded pickup and throws a laser to the second baseman, who quickly tags the bags and turns the double-play. Just like that, those hours upon hours that you've sunk into MLB The Show feel completely and utterly wasted. The long nights spent re-signing contracts to make sure your rosters were filled out, putting together the money in free agency to bid on second-tier role-players because you don't have that sweet New York or Boston cash to sign superstars, and tweaking your line-up for each of the 162 games (not counting the playoffs) - yeah, all of that was for naught. But chin up, there's always next year.
Of all the annual sports franchises, MLB The Show has always felt the most rigid to me - which is both a good thing and a bad thing. It's the kind of game that refuses to tone itself down for players, constantly frustrating you with outs like the one I just described. It pushes against any sort of customization, unlike NBA 2K. The Show is so desperate to simulate the MLB experience you've seen on TV, that at times it feels like the game actively works against you. But that's why I love it.
That being said, it's great to see that over the last few years MLB The Show has taken strides to make itself more accessible, recognizing people don't have 50+ hours to commit to a single season. But, while previous iterations of The Show made Franchise Mode an almost impenetrable slog for the uninitiated, this year the mode wants you to know upfront that it is taking off some of the pressure. One of the very first screens you encounter when setting up the Franchise allows you to let the computer take over whatever boring roster moves you don't care about, letting you engage with as much (or as little) of the mode's experience as you want. There's always been the ability to let the computer simulate some of the more menial tasks in MLB The Show, but this year they've really highlighted and added to the feature.
Which brings me to the best change in this year's game. There is a new way to play games in Franchise Mode. If you don't want to play the full traditional version of The Show (which takes about 45 minutes), but want to still have some control over the outcome, you can play Quick Manage. Quick Manage simulates each at-bat, but allows you to make some managerial calls. You can call for hit-and-runs, sacrifice flies, or make your pitcher work around damaging batters. It's a pretty effective way to still maintain the level of authenticity MLB The Show is famous for, but also try to speed up the experience. If you do want to take control at certain moments you can quickly load into a game, play however much you want, then jump back into Quick Manage. Normally, it would feel like forever to get through a full season, but this year I could get through two seasons while hardly simming any games. I still like to manage the details of my team, setting lineups, making draft picks, and picking up my own free agents, but it shows how much more efficiently you can do this when using Quick Manage Mode. You can also turn on Critical Situations, which allows you to sim through games, but stop whenever there's a late game moment that might allow you to influence the outcome. It saves you from playing those 8-1 blowouts and keeps you involved in key situations.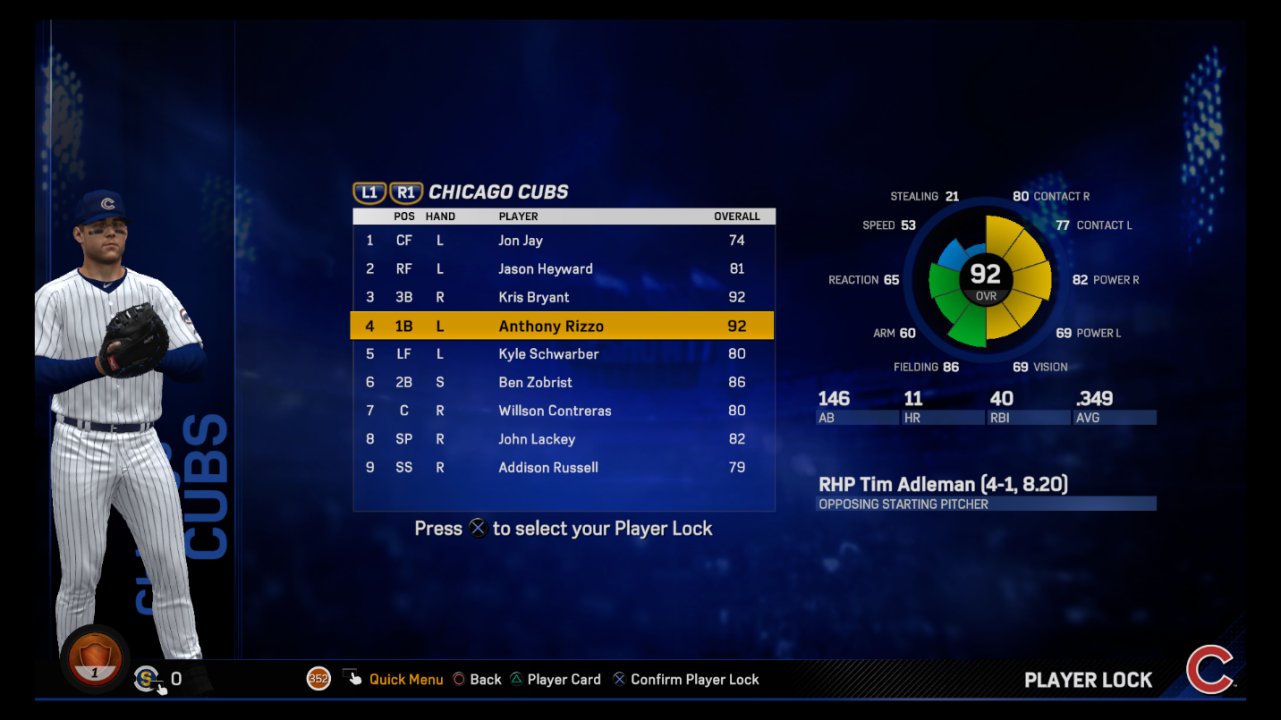 Road to the Show has also been updated this year, taking a cue from the MyPlayer Mode of NBA 2K. Occasionally, in between games, cutscenes will play where you are approached by your advisor, agent, manager, or position coach and have to respond with a few lines of dialogue. Unfortunately, the updates to Road to the Show have the exact opposite effect of those in Franchise Mode. Instead of making it a leaner, tighter, and faster experience, this drags out Road to the Show. It's possible that if a lot (and I mean a lot) more work was put into dramatizing the life of your virtual pro, it could have had some interesting dialogue choices and moments where the game replicates some of the real conflicts of major league baseball players - but this is a dull half-measure. The decisions feel so milquetoast. For instance, one of the first decisions the game presents you with is if you want to get an agent. Not which agent you should sign with, not what kind of agent you're interested in, it just asks if you want an agent. Um, yeah, MLB The Show, I'm a professional baseball player, I think an agent might be a decent idea. And it all plays out with a narrator who seems totally uninterested in the action.
Also, this year an emphasis has been put on doing your time in the minor leagues, so it's more difficult to get promoted than in previous games. I dominated the minor leagues in almost every pitching statistic at the end of the year, I even pitched a perfect game, and still found myself stuck at the Double-A level when in past I would have been elevated to the pros in my first season. It's safe to say that what once felt new and inventive in the early years of the Road to the Show, almost a decade ago, is starting to feel stale and I see how a change like this was done to shake things up - but this year's version fails at becoming more interesting and only becomes more tedious.
The final main mode in MLB The Show is Diamond Dynasty, which continues to stand out as an anomaly in the game. Usually The Show is so rigid and demanding in its recreation of professional baseball, but Diamond Dynasty allows you to create your own team and play games to earn new players and in-game currency that can be used to buy players. You can play head-to-head with players online in ranked games, or play the single-player Conquest mode from last year that has been folded into Diamond Dynasty.
This is a good time to talk about the multiplayer. While there is a standard online mode and you can play head-to-head matches in Diamond Dynasty, it never feels like Sony San Diego puts much focus into the online play. It's kind of funny to see two user-created teams, clad in ridiculous custom jerseys colored the shades of pink and canary yellow, play each other in Diamond Dynasty - especially from a series that takes itself so seriously. The cat-and-mouse game of the pitcher versus the hitter can be fun - but making your friend sucker for a curveball out of the zone loses something in online play, and I've yet to meet any players who were more patient and difficult to strike out than the computer. Last year, Sony San Diego clearly put in some effort with the Battle Royale Mode, but this year's game is treading water at best.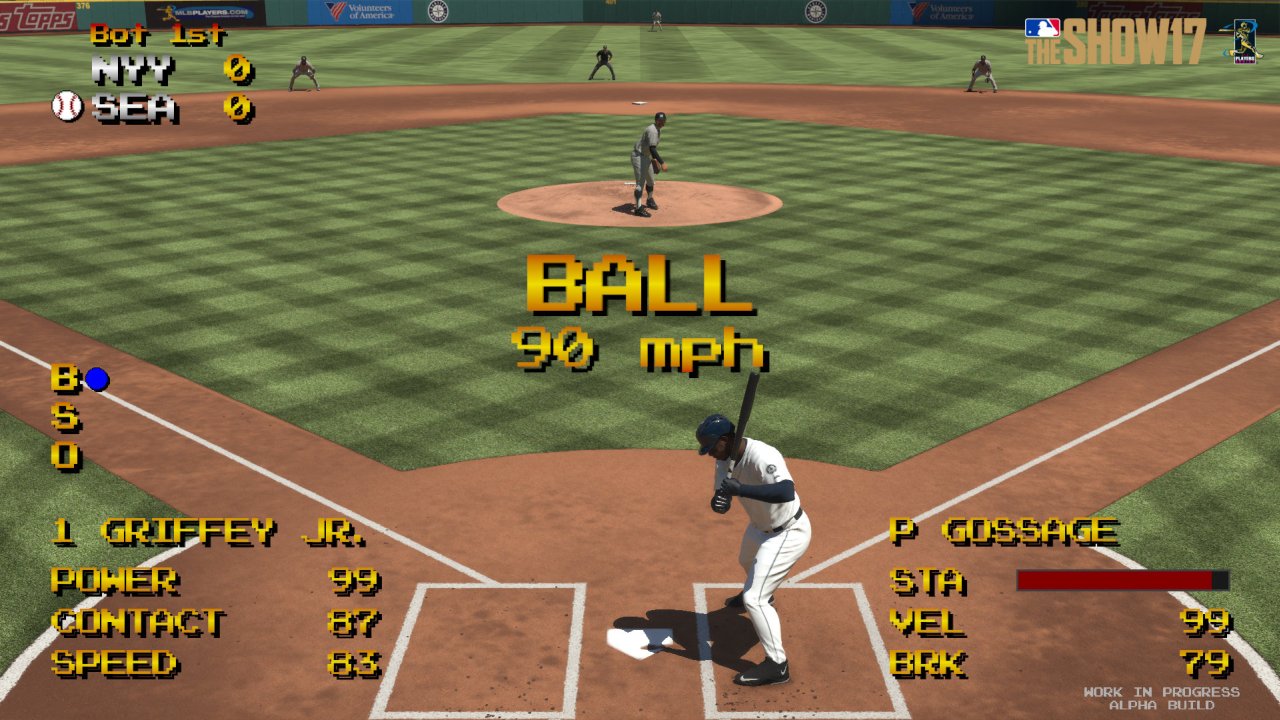 It's hard not to appreciate how much work goes into Diamond Dynasty, even if it really isn't my thing. The game has special missions that can be completed to earn special rewards in the game - and there are a lot of them. These missions can be based on a particular player, like hitting of the cycle, or a team effort, like beating a specific opponent. Basically, if you are looking for endless ways to enjoy the moment-to-moment gameplay in a semi-random, semi-competitive way, Diamond Dynasty has a lot of content to offer.
There are a couple other modes that are more afterthoughts than something you're likely to purchase the game for. The biggest of these is Retro Mode, which is basically the same game with old-school controls and a retro scoreboard. It's... well, it's a thing. I could imagine getting together with a bunch of friends and ironically enjoying this obtuse semi-throwback version of the game, but it's hard to see anyone investing real time into Retro Mode. There's also a mode that allows you to explore different gameplay options, which is kind of cool.
Speaking of the gameplay, there are a few wrinkles to the mostly familiar moment-to-moment controls. However, I think they largely serve to make the experience most quirky and annoying. The best thing about this year's MLB The Show gameplay is that it is very upfront about the variety of options. This was true of last year's version as well, but in this one, setting up your specific style of play is the first thing you'll do. However, for some reason calling pitches is left out of this process. It is a little strange because calling pitches has been a hallmark of MLB The Show's gameplay, but it starts turned off in this version. Oddly, I had to go into the hitting menu and dig a little bit in order to find out how to turn this feature on.
The rest of the new stuff comes in small tweaks. The contact physics for hitting have been slightly altered, and it's a change so small it's unlikely you'll notice. There were a couple of hits that felt new this year. I knocked a deep line-drive home-run that took me by surprise and blooped a little Texas-leaguer over first base a couple times. It feels like these were new trajectories and with how many hours I've spent playing this franchise, so I'm going to trust myself to notice this. That being said, a fly to right field is still just a fly to right field, no matter how to your dress it up.
The other change is baserunning and player reaction mechanics. I think that both of these changes actually help the AI more than they help the player. It's nice that players don't react to fly balls or grounders with an almost precognitive sense of where the ball is going to go in an effort to make the AI more life-like, but that was actually something that used to help players switch seamlessly from one defender to the another. Now switching between players feels almost hazardous as you might send your fielder off in the wrong direction since the AI won't get them in place as easily. It also means you might end up running around on the warning track, trying to pick out a tiny white ball which is about two pixels wide because your player won't move to the ball automatically.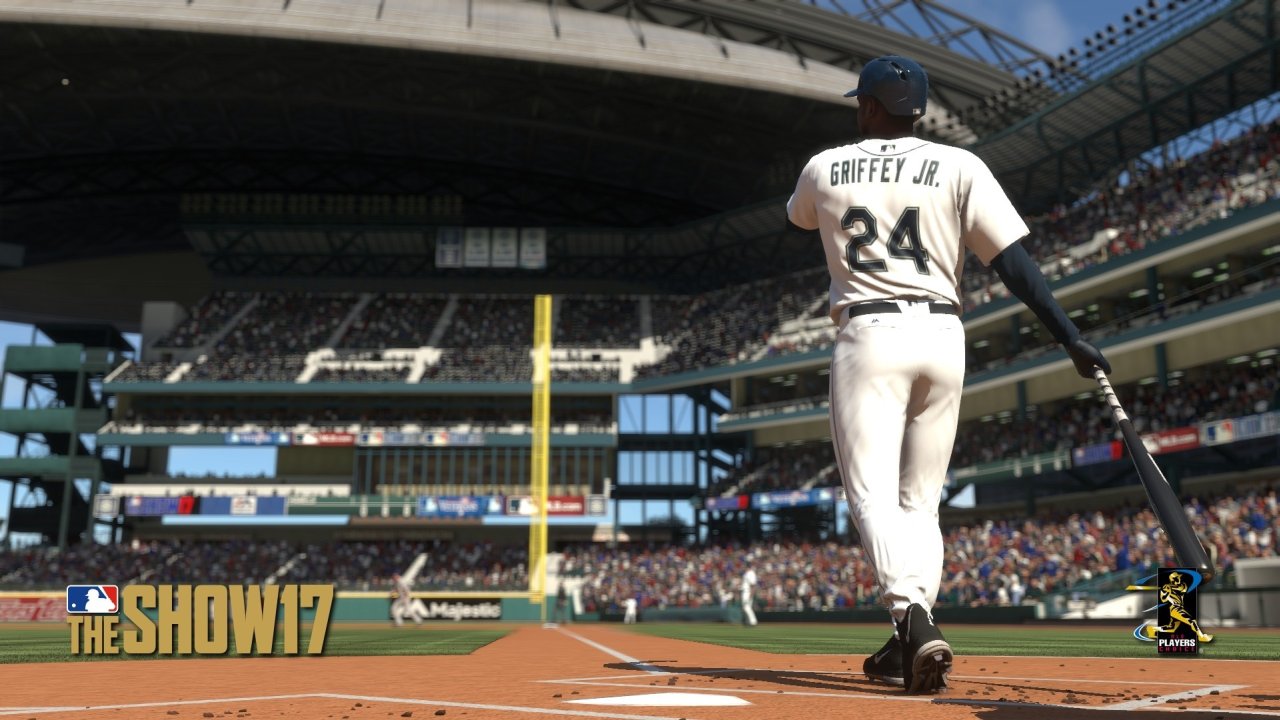 Another addition is now you'll have to use a meter to have the catcher throw out runners trying to steal. It's nice that there's an element of difficulty, but the human error highlighted here is far less likely to affect - well, humans. Suffice it to say, while my catcher often made mistakes and my outfielders had trouble getting a handle on the ball, the computer still seemed to be as efficient as ever in putting me out.
None of this gets in the way of the what still works with MLB The Show. The drama of hitting is still a thrill and knocking a home run out of the park still feels like the greatest accomplishment in sports video games.
On the technical front, The Show might be the best-looking sports game around. The improved loading times are still impressive, given how detailed the players and environments are. The beautiful ballparks - a staple of the sport - are really something to see. Also the players look more varied and different than ever before, the hair specifically has clearly seen some work this year. The game is an impressively solid experience with no bugs, crashes, or annoyances. Seriously, it feels like Sony San Diego is almost showing off with how well it runs and how good it looks. Let me assure you, that nightmare glitch that made its way around Twitter a week before launch isn't in the game.
Yet, the commentary and game day presentation still feels mediocre. Every year or two Matt Vasgersian is dragged back into studio to record another thousand lines of dialogue, but I always seem to hear him say the same ones time and again. Also some of the longer dialogue that goes back and forth between the commentators is so long it gets lost because I hit the end of an at-bat or inning and the dialogue is cut short. However, I'm less concerned about the repetitive commentary as I am about the lackluster visual effects. The game still uses copy/paste graphical elements for the entire playoffs whether it's the Wild Card game or the World Series, which isn't really all that different from the regular season. At this point the TV presentation package feels robotic and lackluster.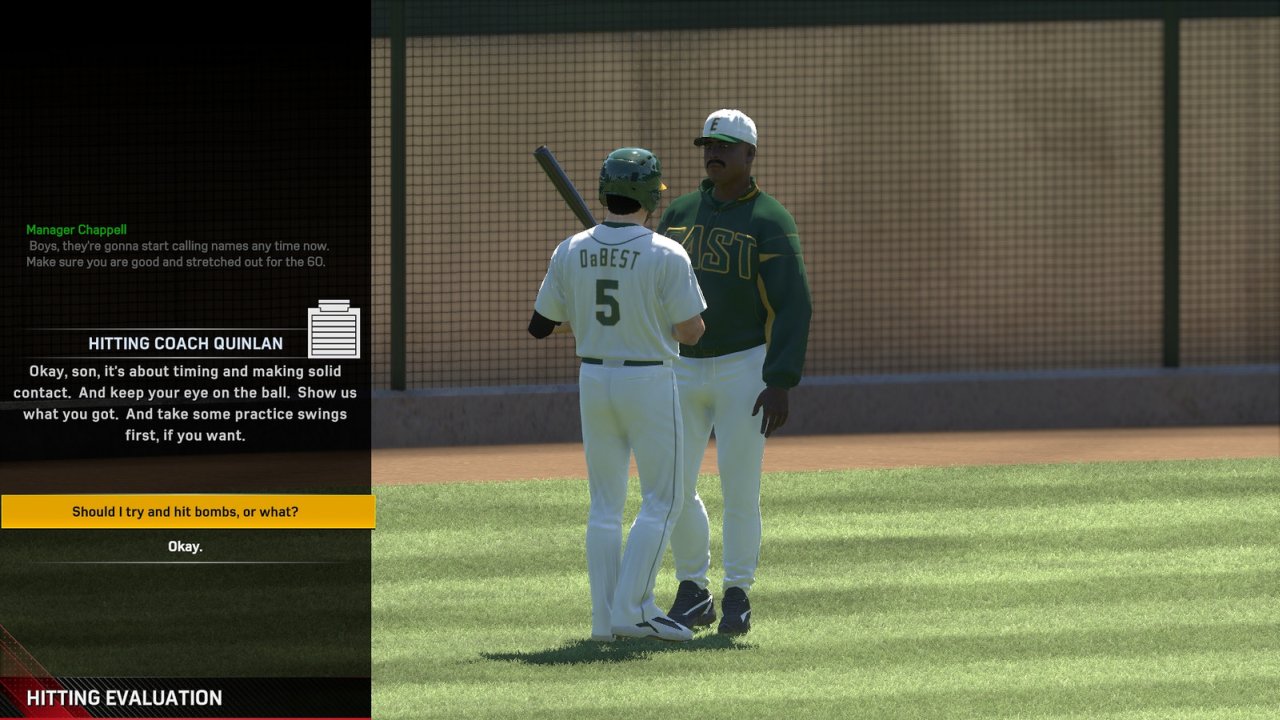 As there is no real competition for MLB The Show 17 as a baseball simulation, it feels easy to recommend. And I feel like this year it worked particularly hard to win me over by making my favorite mode easier to enjoy with the addition of Quick Mange. Yet, as I'm writing this, I'm finding there's a lot of nitpicks I had with the game, which didn't stand out initially, but have stuck with me in the back of my mind, gnawing away and finding a home in this review. All that being said, I really enjoyed my time with this year's MLB The Show. Despite my gripes here and there, I feel like the game is continuing on the right track after getting a breath of fresh air last year. I don't know if I'd wholeheartedly suggest this version over last year's unless you're excited to use Quick Manage to get as much out of your Franchise Mode as possible, given that some of the other gameplay additions irked me. But, if you love taking a team from the bottom to the top and grinding out season after season, it's never been easier to do so.
Our ratings for
MLB The Show 17
on PlayStation 4 out of 100 (
Ratings FAQ
)
Comments