Game of the Year Awards 2009
Check out our Editor's picks for the past year! See our Best and Worst Games of 2009!

---
---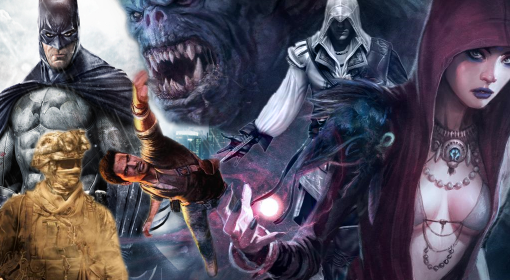 Intro
The year 2009 brought us many big game releases most coming during the later part of the year. Although quite a few games got pushed into 2010 the year still held up with some surprises. The fastest selling game of all time, Modern Warfare 2, made its debut in November. The year also brought some new games in Flower, Trine and Dragon Age: Origins that proved to be quality titles. There were a few surprises this year and a fair share of disappointments with some bad ports and ordinary games. Some sequels proved more worthy than the originals with DiRT 2, Uncharted 2 and Killzone 2 making marked improvements over their prequels.
We take a brief look back at 2009 and hand out some awards for the major categories and talk about our decisions. Mentions have been given to all those we felt were viable contenders to the winners in each category. On the final page we give out our Game of the Year 2009. Fallout 3 was our winner last year, what game will receive the precious prize this year?
Comments
blog comments powered by Disqus
| | |
| --- | --- |
| #7 Jan 10, 2010 22:02:52 (Jan 10, 2010 22:02) | |




sirdesmond

I think it's best to keep in mind the fact that this was put together by all of us writers and most of us aren't able to play every game that came out over the last year or even every AAA title. I've heard only great things about Arkhum Asylum, but I am one of the contributors yet to play it so I can't accurately judge it. We had to go off of what we played. Before this awards list, I hadn't even heard of Cryostasis, but being the story-junkie that I am, I'm going to check it out after this.

| | |
| --- | --- |
| #6 Jan 10, 2010 21:45:27 (Jan 10, 2010 21:45) | |




DoomGiverIV

+1

I have to say that the awards i agree with the most are the ones Modern Warfare won, thank you guys for realizing that that game is just a decent game not the second coming of Jesus Christ on a disk, it has already come and its called orange box

| | |
| --- | --- |
| #5 Jan 10, 2010 17:33:28 (Jan 10, 2010 17:33) | |




nutcrackr

@kamikaziechameleon: batman was a runner up in a number of categories and just missed out on a few wins. I too would have liked to have seen it win more.

| | |
| --- | --- |
| #4 Jan 10, 2010 16:58:58 (Jan 10, 2010 16:58) | |




with_teeth26

Good choices all around, i'm a little surprised at Dragon Age winning best atmosphere though.

| | |
| --- | --- |
| #3 Jan 10, 2010 11:00:37 (Jan 10, 2010 11:00) | |




kamikaziechameleon

I agree with 99% of things but I'm sad to not see Batman AA in a single catagory. That was my favorite game.

| | |
| --- | --- |
| #2 Jan 10, 2010 04:26:07 (Jan 10, 2010 04:26) | |




nutcrackr

+1

We tried our best to come up with fair winners for each category so hopefully you guys enjoy it.

| | |
| --- | --- |
| #1 Jan 10, 2010 04:14:12 (Jan 10, 2010 04:14) | |