Tumble VR Review
An effective physics puzzler for the PS VR
Video games have the magic ability to take a concept that may seem completely arbitrary and boring, and make it into something entertaining. From Truck Driving simulations to managing spreadsheets in Football Manager, gamers have learned long ago to not judge a book by its cover, or a game by its description blurb. The same kind of logic should be applied to Tumble VR, a PlayStation VR launch title where the main gameplay feature is stacking blocks on a small platform. While that may sound rather uninvolving, it turns out to be a fairly challenging and engaging puzzle game.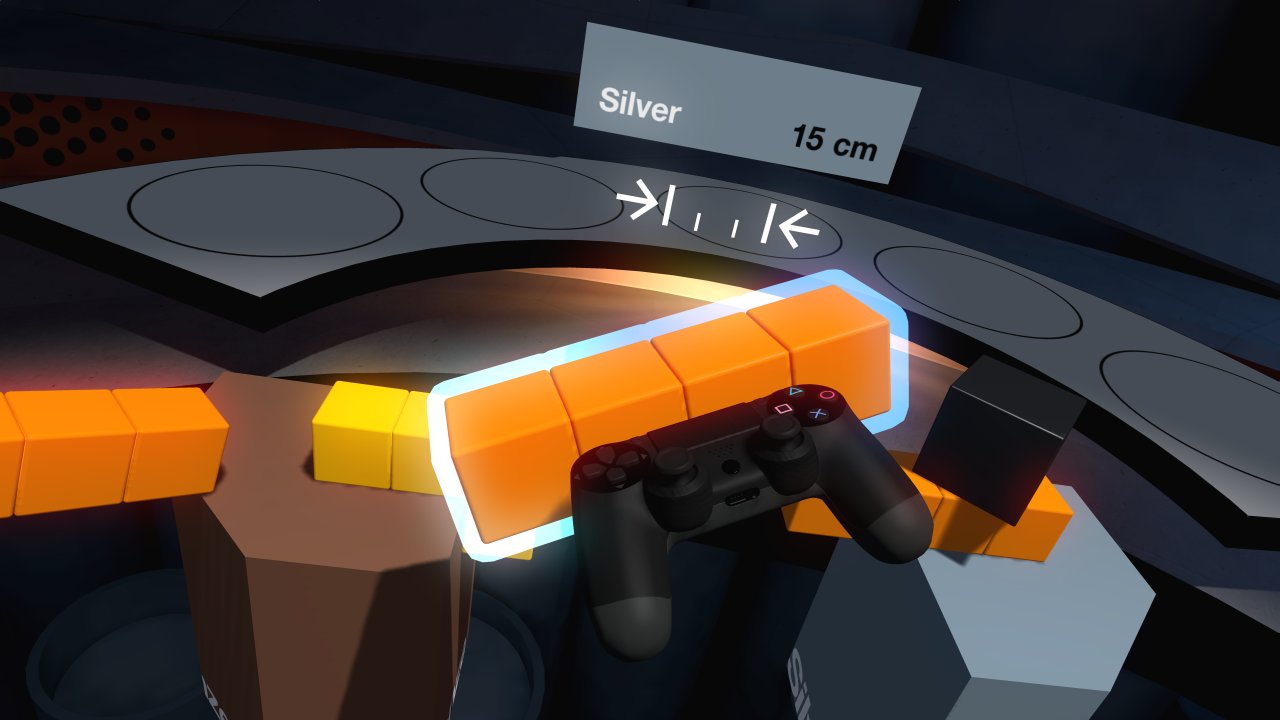 Your goals in Tumble VR are to stack blocks of various shapes, sizes and materials on top of each other under a variety of conditions. There is a decently long career mode with over 80 levels that rapidly increase in difficulty, and you work your way through a series of objectives while being egged on by a friendly, but often sarcastic, little floating robot. Your exact objectives vary from level to level, starting for example with the basic goal of building a tower as high as you can. But that's just one type of level, and there is plenty of variety to keep the game feeling new and exciting with each challenge. Some levels have an earthquake effect that threatens to collapse your stack on a consistent basis; another level type, called Limbo, continuously rolls a bar above the platform at a certain height, knocking off everything it touches.
The platform limits how much ground space you have to work with (and can sometimes be tilted, adding to the challenge), and strategy quickly comes into play - what shapes would work better at the base of your tower? How should you orient each object? Then there's the material composition - it's probably best to leave foam cubes for last, even if they are the largest items you have, so that your tower doesn't topple under its own weight. Friction sometimes needs to be considered as well, and you'll be working with a ton of different, often very awkwardly shaped objects - from simple planks and cubes to cylinders, cones, pyramids and so on. The physics engine does a good job of creating realistic outcomes of your stacking experiments, and how the different cubes and shapes interact with each other.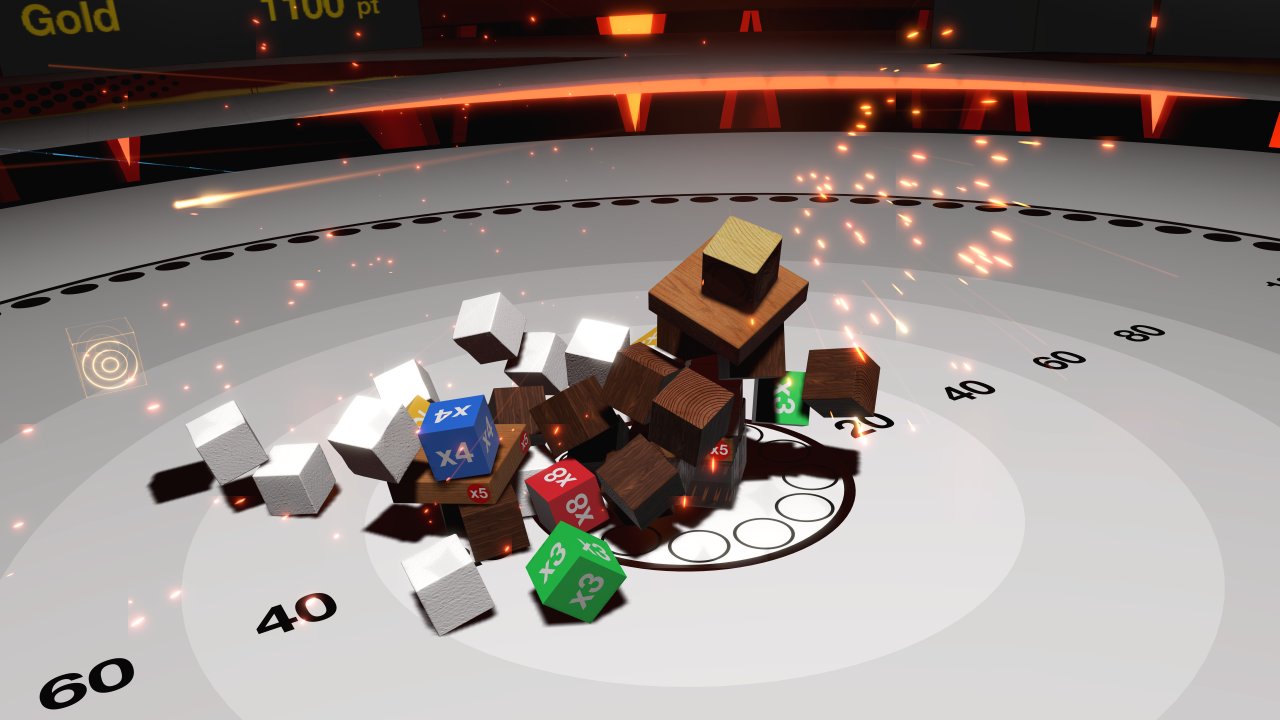 Another level type tasks you to construct a "bridge" between a few floating platforms, or you could be asked to strategically place three mines to blow up a tower stack for maximum carnage. Yet another level type is directing a light beam through a series of reflections on a 2D pane, being sure to also match the colors at various stages. The variety of puzzles is very good and their constant interchange keeps players going, even as the difficulty ramps up. Each level contains a rating (bronze, silver and gold), and you must complete a certain amount of levels before advancing to the next group. The game is decently generous of letting you progress without having everything completed at perfect ratings. There are also optional objectives - such as solving the level within a time limit, or never touching the Limbo bar. Stages rarely have one solution,as expected in a physics-based puzzle game, so experimentation is essential and part of the fun. When things do get tough and you get stuck, though, it would have been nice if the game had a hint system of some kind.
With PlayStation VR, players are given a better overview of the platform they're building on, and can look at it from all sorts of directions. That's not exactly required, though, as you can just as easily rotate and raise/lower the platform to get the desired angle. You can look around in 360 degrees, but there's not much to see except for the occasional hidden blocks, used to solve the bonus challenge if you find them all. Similarly, you can handle the objects using a regular controller, but it works much better and more intuitively with PS Move. That's perhaps expected, as Tumble VR is actually a sequel to the 2010 PS3 game simply called Tumble, that was also a showcase for the PS Move controllers. The game responds fairly well to hand movements and intricate adjustments, which is good given the sometimes harrowing difficulty and precision placement required. If you're stuck on a puzzle for a while, there is even a strong desire to just reach in and grab the shapes with your hands; so the immersion factor is pretty good.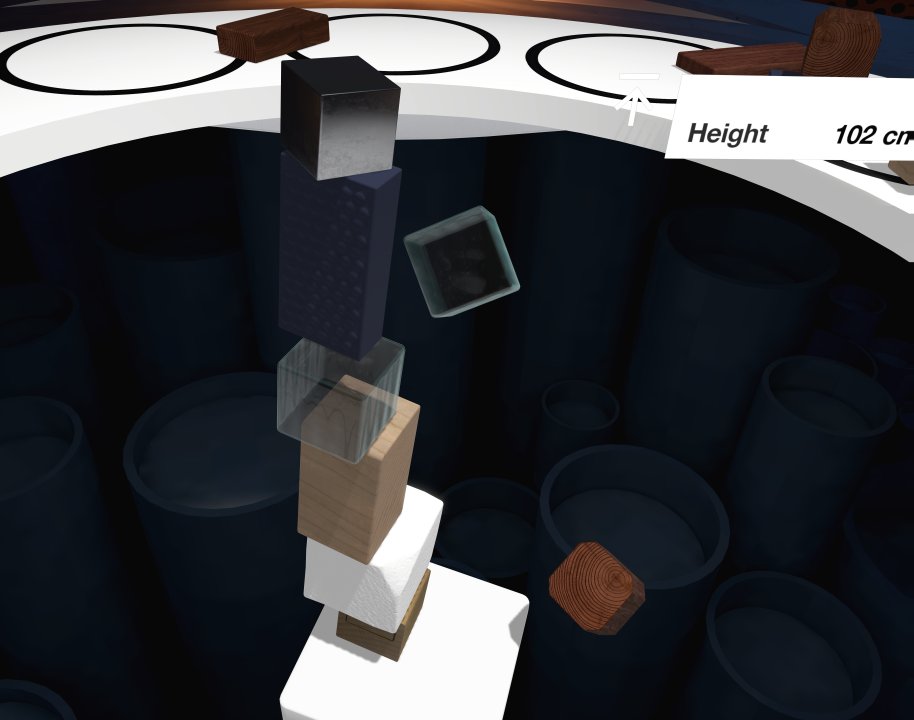 If you'd like others to be involved in your block building, you can invite another player to use the standard controller and make life more difficult for the VR player. The player using the TV controls a small robot, trying to disrupt the building efforts of the VR player by knocking down their blocks through a variety of gimmicks. Needless to say it's more fun to play as the robot than the person trying to build. There are leaderboards on offer as well.
Tumble VR is another in a series of games that may have an odd concept, but the end result is a surprisingly satisfying one. Here we have a puzzle game about stacking blocks and redirecting lasers, but it's fun and challenging enough to keep players experimenting and tumbling for hours. It runs without issues and looks decently good. The PS Move controllers have a bigger impact on the experience than virtual reality, though the technology works well in both cases and without any major tracking issues. Those who played the original Tumble on PS3 may not get too much out of this, seeing as VR doesn't really add much to the experience. If you're looking for a well designed puzzle game to supplement your PlayStation VR launch, Tumble VR is a very solid option.
Our ratings for
Tumble VR
on PlayStation 4 out of 100 (
Ratings FAQ
)
Comments
blog comments powered by Disqus