DriveClub VR Review
No longer a graphical showcase, but still a solid racing game
Sony has been treating the PlayStation VR as a big platform launch, and why not? This is the most accessible consumer VR platform of 2016, in both user friendliness and cost. And as any hardware launch, an assortment of games are needed to take the new hardware for a spin. In this case, that's a literal expression - DriveClub VR is a racing game launch title for the PlayStation VR, and it brings with it pretty much all of the content of the original 2014 release. The original developers Evolution Studios may be gone, but their legacy lives on in this solid release.

With DriveClub VR, you're not simply getting an off-shoot experience that some of the other VR launch titles have opted for. This is in fact the complete DriveClub title, as you may remember it from the original release. The game's content remains unchanged - you've got a decently long career mode, multiplayer options, and challenges - as you level up your profile, unlock new cars along the way, earn affinity with manufacturers and so on. For a complete breakdown, look back at my DriveClub review. All of the tracks are included as well, and the 80 cars are all fully modeled and explorable in VR from any view angle. It's a treat to get a content-packed triple-A release at launch of a VR platform, which is usually dominated by smaller and more gimmick-focused experiences.
But there are new goodies as well. There's actually 5 new Urban locales that brings the total number of track variations to 114. Two new modes aimed specifically at virtual reality are also thrown in: Cruise Control allows you to simply explore the tracks without opponents or a running clock, while Virtual Passenger lets you watch replays of races from the passenger seat. These are neat additions that help add value to the VR experience and even the base game.
Gameplay also remains largely unchanged. DriveClub VR still holds the line between simulation and arcade, though you can change your steering options for a more challenging experience. The game still supports DualShock 4 just fine, though there is also wheel support that's probably even more immersive, though that wasn't tested in the scope of this review. The cars still handle well, and work has clearly been done to make the AI feel less like an immovable object during contact. Tracks still feature the DriveClub trademark corner flags rather than a racing line, challenge zones throughout the courses, and earning Fame points for driving cleanly. Some annoyances remain however - the AI still rubberband like crazy regardless of difficulty level, and there are plenty of invisible walls on some corners that send your car spinning out of control. No rewinds here, but at least you can reset back to the track decently quickly.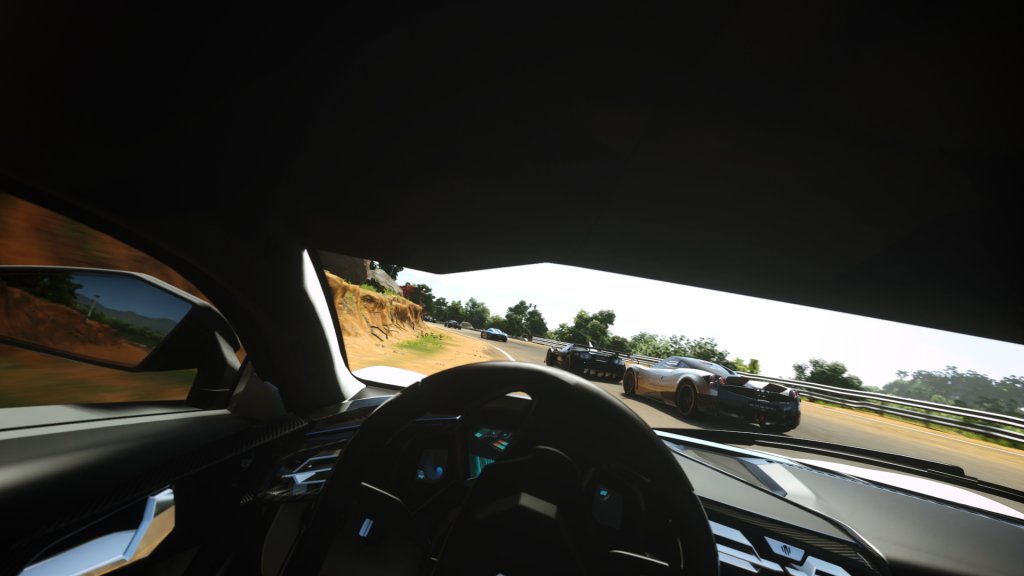 PlayStation VR is required to play DriveClub VR, and it's a standalone game so players hoping to carry on their progress from the original won't find that option here. The virtual reality experience in this particular game is very smooth and with a steady framerate, though as many PS VR games there is occasionally a severe point of view drifting problem. The very first race you do in a BAC Mono does a great job at creating a sense of speed and immersion, as you can see from all sides of this low-rise track toy. Looking in the mirrors to see your opponents gaining before refocusing your eyes on the upcoming corner, the racing is quite entertaining and absorbing. Racing at night - an already daunting and pitch black experience in the original game - is amplified in VR. I had no issues with any motion sickness, despite playing for sessions that lasted over an hour. For folks that find it too much to be behind the virtual wheel, there is a behind-the-car camera view available.
The game does suffer in presentation. The original release was a landmark title for the PS4 specifically in the technical quality of its visuals. DriveClub VR, like all other launch titles, suffers from quite a reduced image quality. There are jagged lines everywhere, pixelation abound, and effects that don't look nearly as good as they did two years ago (or are gone altogether, like weather effects). Draw distances are average at best and much of the once-beautiful backdrop terrain is rendered at the lowest quality it seems. This is of course the price that we must pay in order to enjoy the game in virtual reality and at a smooth 60 fps, but it still hurts to see how low the game had to sink to run in VR. It also stands out more because the game aims for realistic visuals, and not the abstract or more cartoony ones that many other VR releases have. Another sacrifice, this time in gameplay, was reducing the number of cars on track from 12 to 8. The only thing that seems to have been unscathed is the nice natural lighting. The car audio could also use a boost as many cars sound very dull and quiet.
One of the big issues at the launch of 2014's DriveClub was the completely broken multiplayer. The good news is that DriveClub VR's online functions are all up and running from the start. You've still got a continuous series of competitions to jump into, create and send each other drift or race challenges, and join clubs to race and level up together, and unlock club exclusive cars. Online populace is rather on the low side, though it's early days and PlayStation VR adoption rate is unknown at this point. It's also maybe because DriveClub VR is a racing game, and thus potentially one of the most nauseating (though as mentioned I had no issues). Still, if you want to race against other players there are usually at least two or three in lobbies.

DriveClub VR is a very solid launch title for PlayStation VR, and it's also a rather good racing game in its own right. The original release was marred by a number of issues that have now been addressed, and though a couple of gameplay qualms remain, this is a very solid and feature complete experience. The VR works well, with good head tracking and smooth framerates. The visuals are certainly far from the same quality as the original release, but it looks okay considering the game aims for realistic visuals and the power that it has to work with. If you've missed the original but now want a good racing game to go along with your VR unit, you can't go wrong with DriveClub VR, just don't expect top notch visuals.
Our ratings for
DriveClub VR
on PlayStation 4 out of 100 (
Ratings FAQ
)
Comments
blog comments powered by Disqus