Skylanders Imaginators Review
Save the Skylands, this time with a created character of your own
The Skylanders toys-to-life series is commonly accepted as the one that started the whole genre. It has set sales records across the globe, and continued to release new iterations every year for eager young fans. It has spawned competitors - such as Disney Infinity, Lego Dimensions, and even Nintendo's amiibo - but Activision's franchise has remained at the top thanks to solid gameplay and new features with each iteration. And even as some franchises have already ended their run, as was the case with Disney, Skylanders keeps going. This year's entry, Skylanders: Imaginators, was developed by series creators Toys for Bob, and the main hook is the ability to create your own custom Skylanders.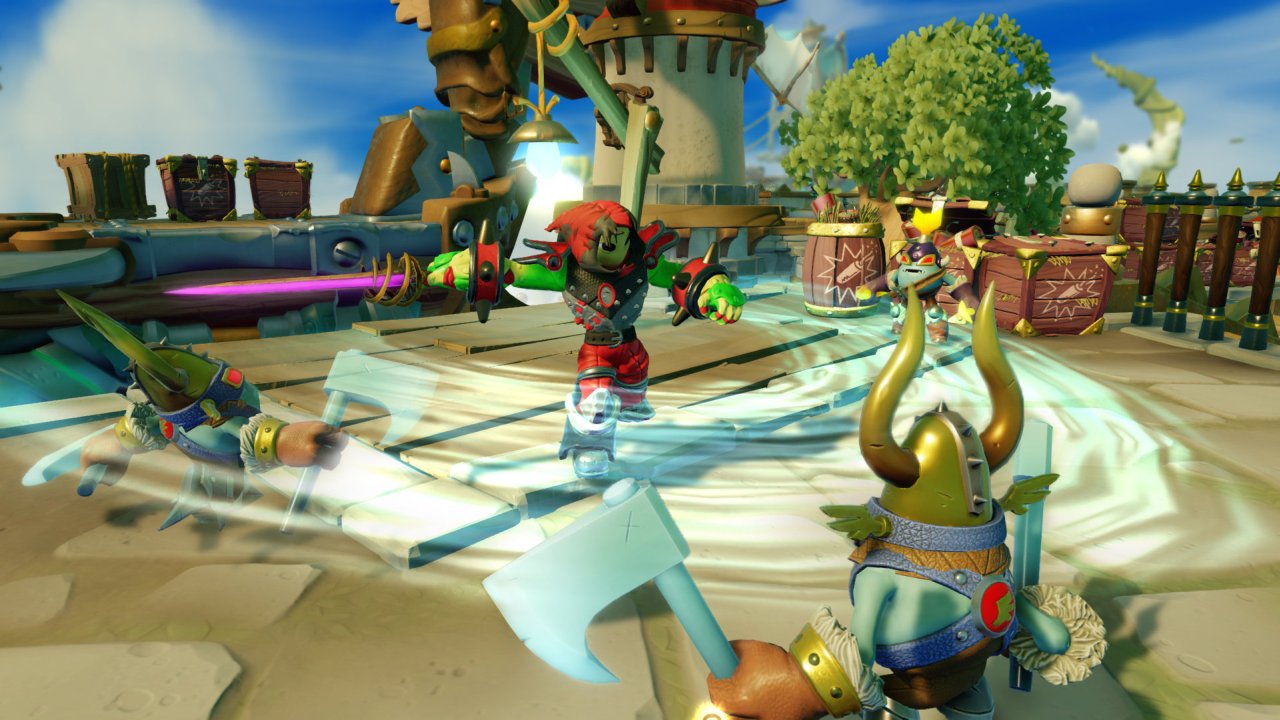 The story in Skylanders Imaginators is familiar, perhaps too much so. While many don't expect this franchise to carry thrilling, original narratives, even for a product aimed at a younger audience the repetition can set in. The Skylands are in grave danger once again from the evil forces of Kaos, and this time around, he has brought an army of Doomlanders. Once more, a special team of Skylanders must put an end to this menace. Sound familiar? A similar plot was used before; last time out it was the Skylanders SuperChargers that arrived to save the day, and in Imaginators, it is the Senseis. This new line of heroes show up (just in time, and largely out of thin air) to help you train, specialize in new classes, and save the day. Imaginators also gives a big role to Spyro the Dragon, the Skylander that started this whole series, which long time fans will appreciate. Despite feeling a bit like recycled material, the story is helped along by an ever expanding cast of characters that continue to offer funny dialog that's well delivered. Though targeted at kids, it never feels condescending or overly simplistic, and even adults will get a few chuckles out of it. Graphically, the franchise continues to take steps forward, with improved lighting and visual effects, while retaining its charm and cartoon-like feel.
So who are these Senseis here to train? Why, your very own, custom Skylander of course. Creating and customizing an Imaginator is at the heart of the game, by letting players digitally mold the savoir of Skylands they've always wanted to see and play as. Creating a Skylander is a highly intuitive and yet profound process. It may lack the extreme abundance of options compared to the likes of The Sims, but it certainly has a few MMO's beat. To begin, a Creation Crystal toy must be placed on the Portal, which will bring you to the creation tool. From here, players will choose their custom Skylander's gender, basic body parts and more; you can also color your hero in almost any shade you desire, plus customize their voice, perhaps add an aura, and even choose a catch-phrase and theme music. The customization tool is very accessible and the amount of possible combinations is quite impressive; this is not some half-measured approach to character creation.
There are two things that cannot be altered however - the element type of your Skylander, as determined by the color of your Crystal toy; and the Battle Class. So essentially, if you just have the game's Standard Starter Pack, you can create one custom Fire type Skylander that's either a Sorcerer or a Brawler; class and element are locked forever. If you want a custom hero of another type, you'll need to purchase additional Creation Crystal toys. And if you want to unlock new classes, you will need additional Senseis that specialize in that combat style. There are 10 different elements and 10 battle classes, which means a ton of possible combinations, but you'll obviously need to spend some cash to get some variety going. Once you're happy with the look of your virtual hero, you can head out to the game world.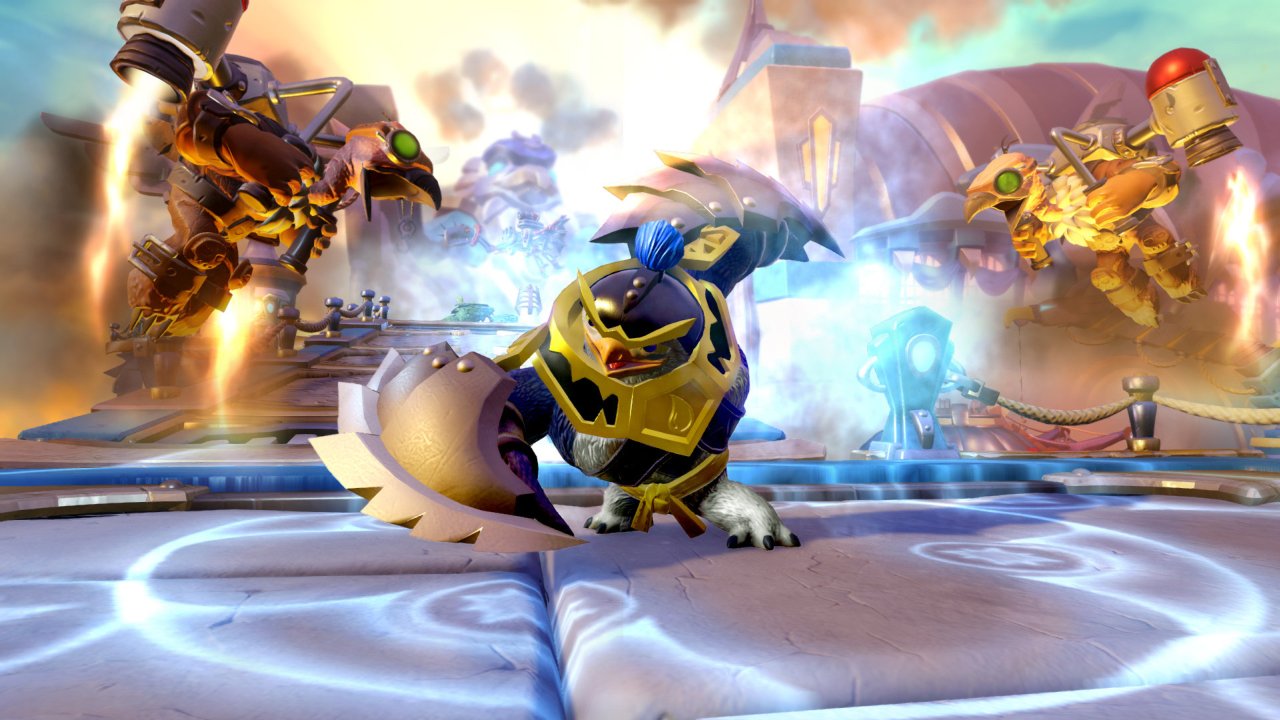 While vehicles helped create an entirely new gameplay dimension in SuperChargers, the overall gameplay experience in Imaginators is a more familiar one. You'll jump and fight your way through a variety of well designed levels; at this point, the franchise has absolutely nailed its brand of action and enjoyable controls. Players will set off from the central hub of Skylanders Academy, much as before, traversing though a number of environments while defeating an assortment of baddies. Along the way, you'll solve fairly typical environmental puzzles that impede your progress. It's all by the book, and it still works as well as ever. There's a new secondary hub as well, called the M.A.P. (Mysterious Ancient Place). There are enemies here however, but also a bunch of goodies to collect and a few entrances to the game's side activities. There's plenty to do during downtime as well. From the various minigames in the hub worlds, to the ability to take selfie portraits of your Skylanders, or participate in races from last year's SuperChargers. The races are identical to those in last year's game, and if you don't have any Skylander Vehicles you can still "rent" them in the game and do those activities. The game continues to support couch co-op, which is great if you want to play with younger relatives or kids.
In a few ways, Imaginators feels like it has drawn inspiration from modern RPGs, much like SuperChargers did from racing games. Players will also be familiar with the loot system that the franchise has used before. In Imaginators however, things have been adjusted to be more focused on collecting worthwhile items. Players will come across Imaginate chests, which contain loot of a specific rarity. This loot consists of new parts for your Imaginator, be it new weapons, body parts, armor and more. These item drops are then used to change your hero's look or combat stats. The process is also very immediate - players can return to the customization menu at any time and make adjustments as they see fit, as often as they want. Found a cool new piece of gear or voice effect? Jump into the creation mode, apply it, and return to the game world to try it out. It's quick and easy, and the hunt for new gear starts to feel almost as addicting as in traditional RPG games.
Another RPG-inspired element is the abovementioned introduction of Battle Classes. The Senseis, and the Imaginators you create, belong to one of 10 classes based around fighting styles. For example, brawlers go in close with fists swinging, while sorcerers have ranged moves with magical effects. Swashbucklers dual-wield weapons and fight with style, as Bazookers carry around large cannons at a slow pace that deal great damage. All of the classes that we got a chance to try felt varied, not just thanks to their preferred weapons and basic fighting styles, but also thanks to differing primary weapon powers. Further, each class has four unique Secret Techniques, which are special attacks that deal great damage. Typically, the first two Secret Techniques are unlocked simply via leveling up, the third via defeating a Doomlander of the same class as you, and the final can only be acquired from a Sensei toy of your battle class. Having so much potential combat variety fits perfectly with the game's focus on character customization. It's also nice to have such noticeably different action experiences when playing on co-op, as you can feel like your skills are unique and add something different to the battles.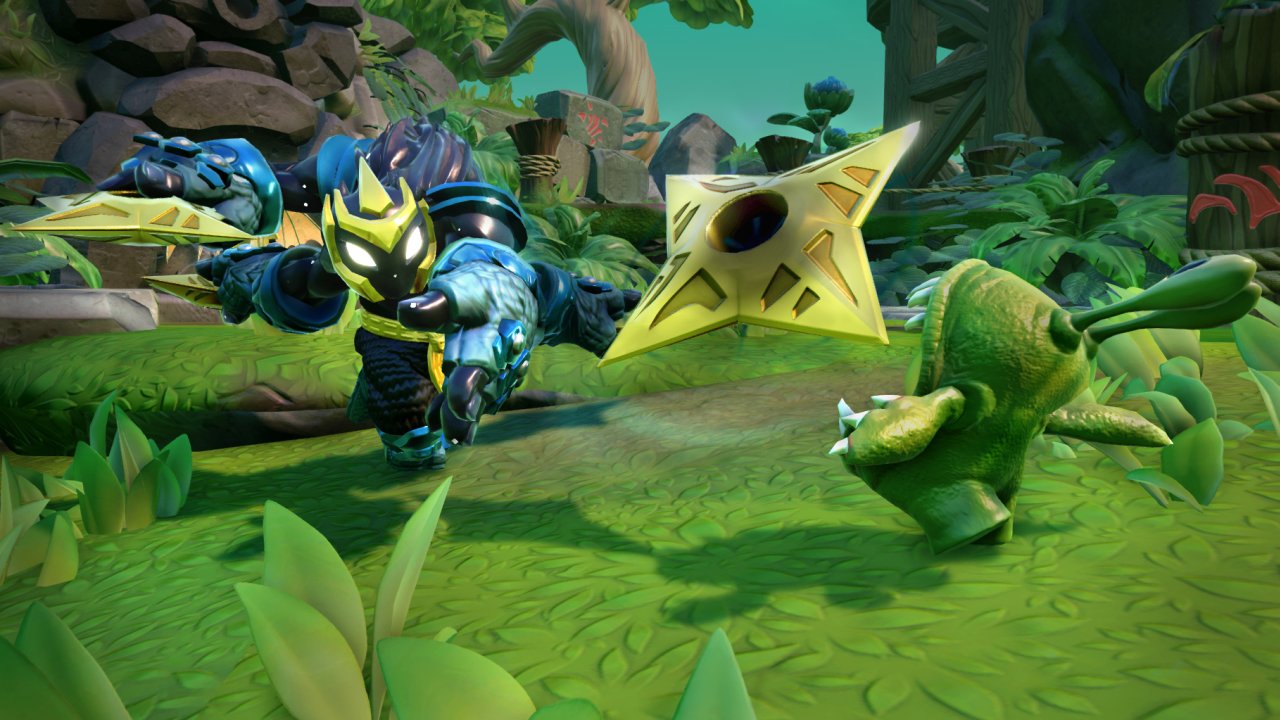 The Senseis create a fairly strong foundation for the game to thrive, since it allows the introduction of a new series of developer-created Skylanders that's woven seamlessly into gameplay and lore that now features totally unique player-made Imaginators. The Sensei toy series contains 30 figures in total, 20 new heroes and 11 former villains and are physically larger, to boast the fact that they are masters of combat arts. As has been the case with this toys-to-life series, the physical figures themselves are very well made and look great both on the Portal, and on the shelf. Creation Crystals feel better and more intricately designed with plenty of detail, and are better than the bland Skylanders Trap Team traps. And in gameplay, this new group of characters also have a few tricks. These powerful heroes carry unique weapons and have a powerful special ability called a Sky-Chi. This attack becomes available after you've filled a meter by defeating enemies; it must be activated by a long button press, to avoid accidentally deploying it. These are absolutely devastating and thus highly satisfying to use. Playing as Senseis helps the game offer a more traditional Skylanders feel if your Imaginators aren't looking quite the way you wanted. But to help with that, adding a Sensei to the game unlocks a few pieces of content for your Imaginators such as secret techniques (as mentioned), a gear item, weapon, and increased level cap.
The Senseis also act as the gatekeepers for some additional content, the same way that toys always do in this franchise. For example, you'll need them to open element-corresponding Sensei Realms, which are fairly expansive optional levels. The Realms feel more worthwhile than the gated content of previous games (such as Vehicle zones in SuperChargers, and Elemental Gates before that). They are also accessed from M.A.P. – which means after you get the toys that can open the Realms, you don't have to replay levels to get to the entrances. Senseis can also ring Battle Gongs throughout the game, which spawns a few waves of enemies and rewards you for defeating them. Finally, there are also Shrines that only Senseis can unlock to get Sky-Chi and weapon.
As we've touched upon, getting yourself a basic Starter Pack ($75 USD / $90 CAD) is enough to complete the game and get a feel for two of the game's 10 Battle Classes with Master King Pen and Golden Queen Senseis. If you want to pay a bit more, you can get the exclusive Crash Starter Pack ($100 USD / $130 CAD), which adds two more Senseis – the iconic Crash Bandicoot, and Dr. Neo Cortex. You can also purchase individual Senseis and Creation Crystals. The figures from the previous games in the franchise are supported, of course. There's also a companion phone app for the game, called Skylander Creator. The biggest feature here is the ability to import one of your custom-created Imaginators, and get a real 3D printed figure. That, along with a card and t-shirt, will run you $50USD and this service is said to be of limited availability. So, if you really like the custom Skylander you've created, better take advantage of the service soon.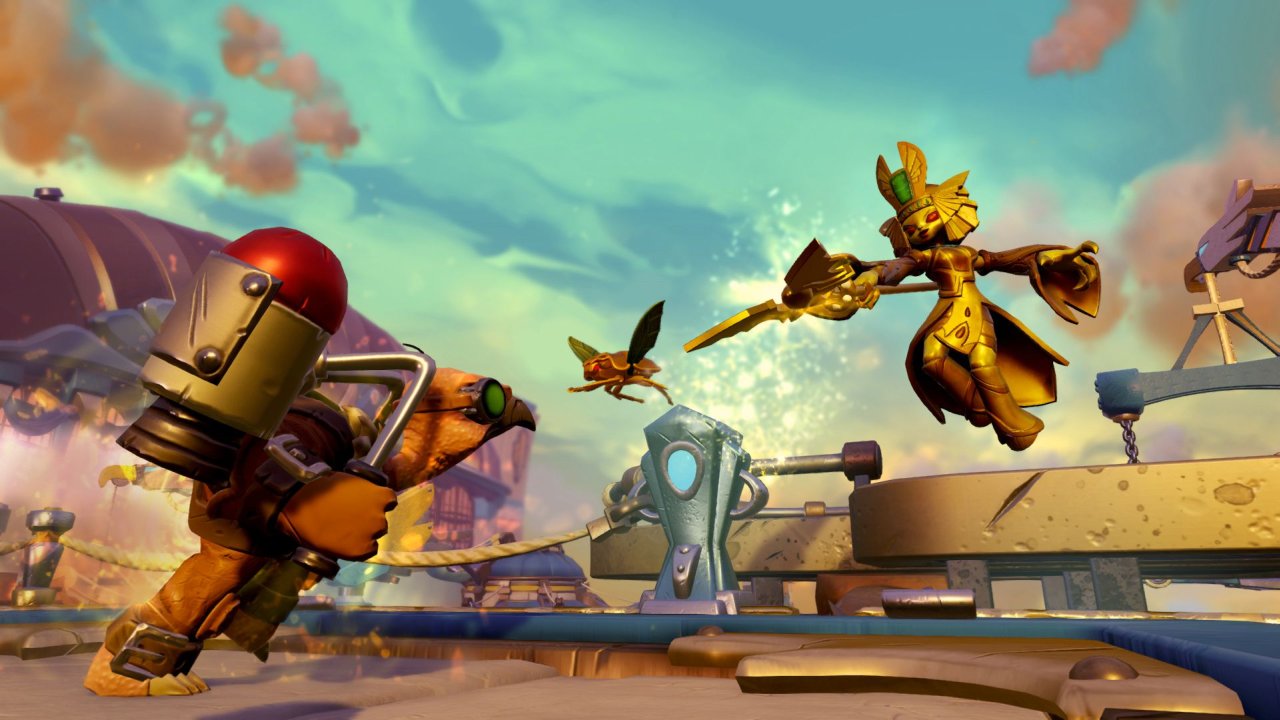 Skylanders Imaginators is yet another solid entry from this popular toys-to-life franchise. At this point the mechanics are fine tuned, so the developers can focus on expanding the gameplay features, and they've done just that with the custom Imaginator creation tool. Giving players the ability to alter their appearance isn't exactly revolutionary, but for the younger audiences it is a great addition. A refined combat system that introduces specializations via Senseis is another nice touch, as are the adjustments to the loot. It's still going to cost you, especially if you'd like to get a lot of element and battle class combinations created, but that's to be expected with this genre and its extra content model. If you've enjoyed the series so far, or even if you haven't jumped in yet, Skylanders Imaginators is a great way to keep the franchise momentum going.
Activision provided us a copy of the game for the purposes of this review.
Our ratings for
Skylanders Imaginators
on PlayStation 4 out of 100 (
Ratings FAQ
)
Comments