Watch Dogs 2 Preview - E3 2016
We hack and shoot our way to the top of the conspiracy
The open world hackathon Watch Dogs 2 has nearly finished its data uplink, dropping in a Trojan, or whatever other terminology you want to use to say the game is nearly here. At Ubisoft's 2016 press conference we were all treated to a short demo where we could get to know Marcus— the totally on point, fresh, hip, "with it" hacker/gymnast protagonist—and his DedSec crew. Who is Marcus? Well, he's a hacker, of course, accused of a crime he did not commit, who then sets off with his pals to clear his name and expose the corrupt underbelly present in the city. On the show floor, I had a chance to "hack the planet", in a demo showing off the single player and multiplayer experience.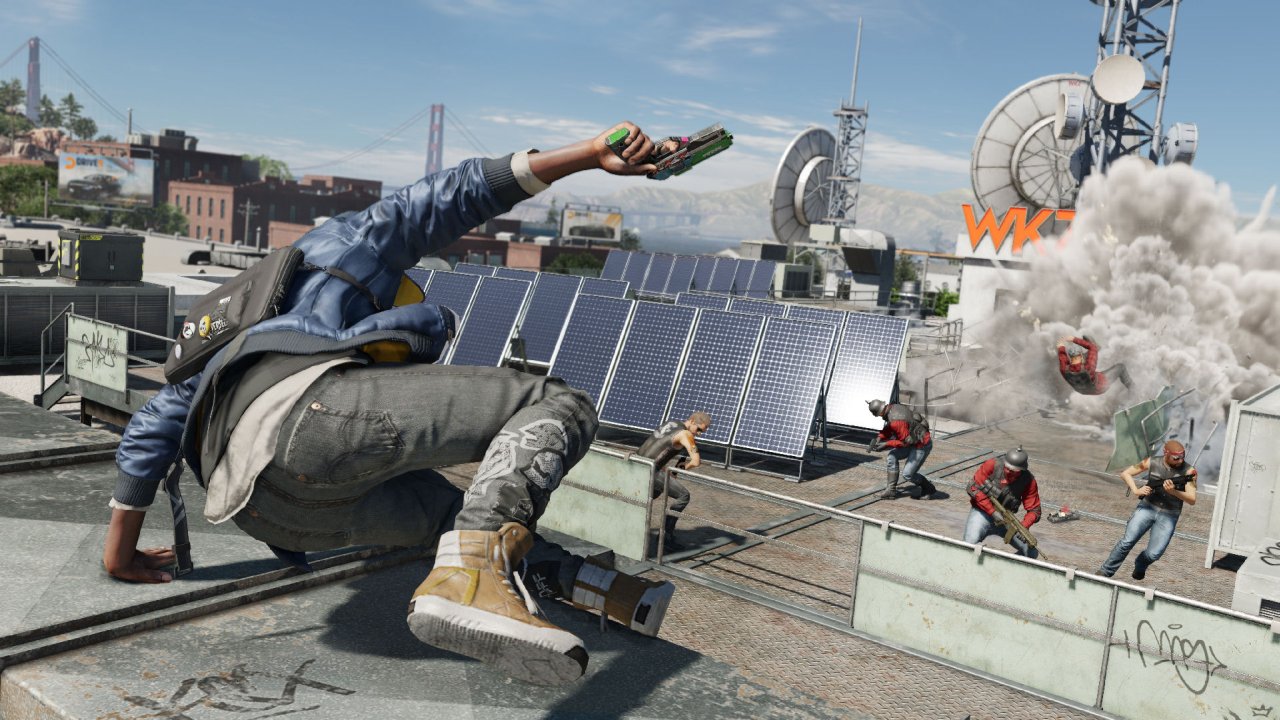 My playthrough of Watch Dogs 2 began at a higher point in the San Francisco Bay Area, with the sun shining down, while a couple standing in front of me argued heatedly. Standing around, we see the familiar white lines emanating from Marcus, which show what bits of tech we can digitally manipulate. In the case of the couple, I could hack the man's cellphone, including making a call, blowing it up, or taking a hit out on the guy. I chose the lesser of the evils on offer, and simply made the man do a jig because his battery had just exploded. With that out of the way, I had a chance to test out the remote car controlling mechanic. With this, I could make the car turn on and go backwards and forwards—a really cool trick that will come in handy when things got heated later.
So, with a few new features tested, it was time to stop fooling around and get on with one of the missions. I utilized the hacker vision mechanic, which lets you see the world in a somewhat wireframe overlay, making points of interest and hacking targets appear in orange. One such point was a man on his cellphone close to a nearby building. I dropped in on his conversation and gleaned a little info about something untoward happening around the city. With intelligence in hand, I then had to get my hands on some data, which led me to the use Marcus's drone.
Marcus' little helper took to the skies and headed to a data box on the side of a tall building, where it could extract valuable information. This then allowed a mission to open up. Unlike missions in the old game, you can take them at your leisure, without a harsher, more linear form of story progression. I whipped out my cellphone, headed to the mission app, then selected and tracked my new objective. However, to get there, I'd need some wheels. And with a number of vehicles at my disposal—bikes, soccer mom vehicles, etc.—I chose the red sports car. If I'm going somewhere, I might as well get there in style.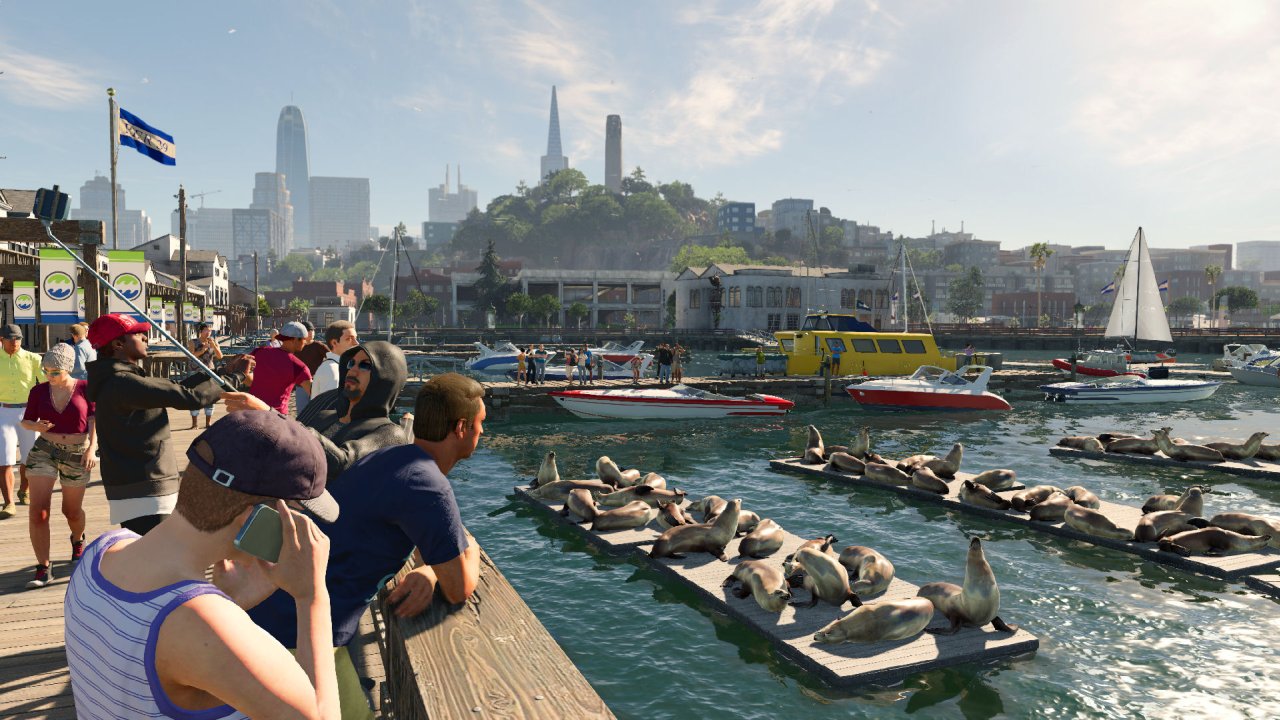 That sense of style did not just extend to the car, however, but Marcus himself. After I'd been tearing down roads and running red lights—with the driving mechanics being intuitive and easy to get a handle on—I stopped by a clothing store. There are numbers of clothing shops all around the city, each one offering unique items. If you're into making your character look "fresh", then you can spend your hard earned (or hacked) money to deck out your protagonist. Me, I chose a beanie, red hoodie, and black jeans, because I'm a trendsetter.
I then rolled up to my objective, taking in the beautifully realized San Francisco landscape. This cityscape feels a lot brighter and more vibrant from the previous Watch Dogs game, and sets the tone I think for the nature of the game altogether. Finally reaching a warehouse after systematically mowing down a few unlucky pedestrians—my driving was a little rusty—I was ready to begin. The first thing I needed to do was decide on my approach. I was in broad daylight, with civilians around, so stealth felt like the best option. With this in mind, I scoped out my environment by hacking a nearby camera. On the ground level were a security box, a guard, and a dog. I needed to reach that box, so I could eventually access the computer upstairs. However, I had no chance of getting by unnoticed.
Time to unleash the RC. This is a remote control car, as seen in the demo, which can get to those hard to reach targets. The RC wove in between boxes, and came face to face with a man's best friend. But a quick shock to the collar sent the dog rolling around on the floor in pain. It wasn't my proudest Watch Dogs 2 moment, but it had to be done. With Fido down, I used the RC's voice ability to distract the guard and then finally access the security panel.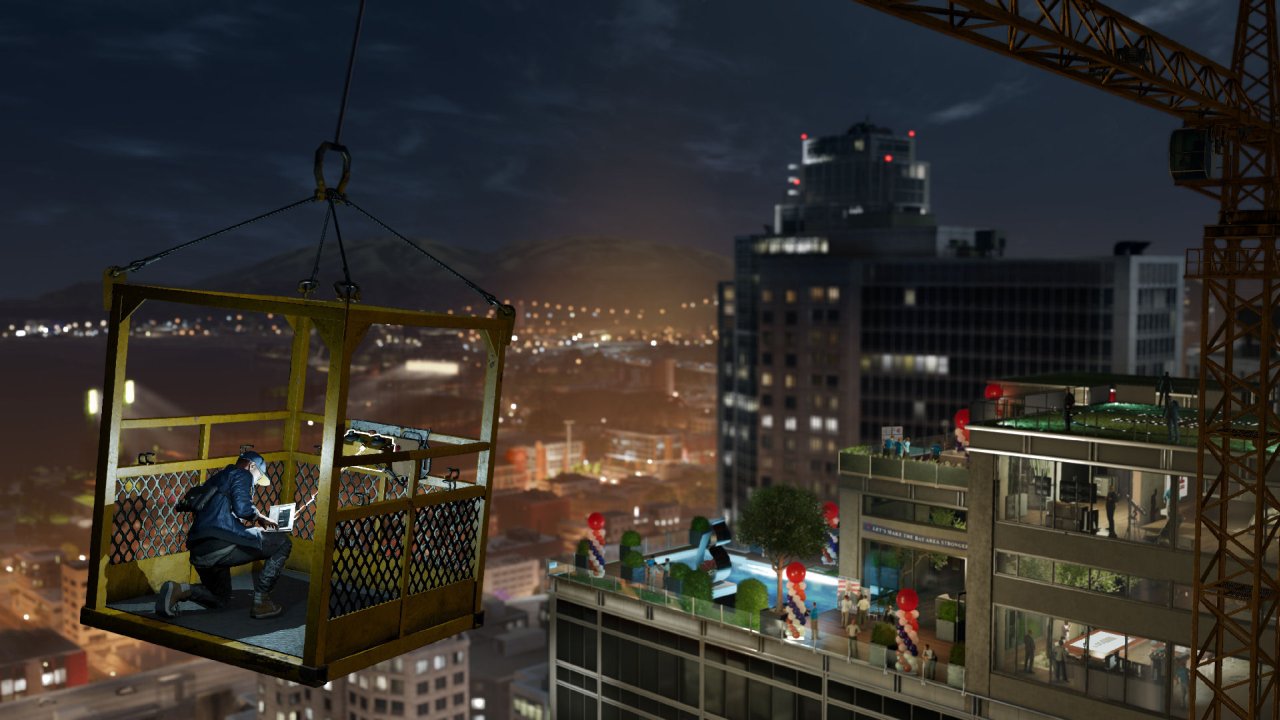 With the RC's work done, it was time for Marcus to unleash some parkour skills. I hopped and vaulted and sprang over a few crates in the warehouse area, then vaulted a fence to arrive by a flatbed platform. This electronic bed could then transport me to the top of the warehouse, and from here I was able to sneak past another guard and into the room with the PC. After hacking the computer, gathering the data, I had to make a swift exit. The hard work was done. I just needed to take the platform and get to the bottom of the... whoops I pressed the jump button and fell to my death. And it was all going so well.
On to the multiplayer missions, then. A friend jumps seamlessly into your world, who you can then meet up with, access your phone, and start a mission. Upon seeing my multiplayer comrade, I immediately gave them the finger using the gesture wheel because they were wearing the same red hoodie as I. With the pleasantries disposed of, we had a mission to accomplish: travel to a rough neighborhood and get three packages from a bunch of thugs.
This was not a mission about subtlety. While my multiplayer friend commandeered a vehicle, I whipped out the AK47 and we got ready for a drive by, accompanied by a classical score on the radio. When we rolled up to the mission location, my driver ploughed through a gate and I began firing. Bullets sprayed, thugs fell, and our car took a fair few hits, meaning we had to bail. I took cover by our smoldering vehicle while enemies began to completely surround us. I whipped out my trusty phone, fried another guy's cellphone, then popped him in the head. After taking down a few more thugs, I again used my phone to take out a hit on one pesky enemy who would not move from cover. However, by this time, we were being surrounded, and a fair few enemies were hidden behind two vehicles in front. What to do? Well, I've controlled a car before...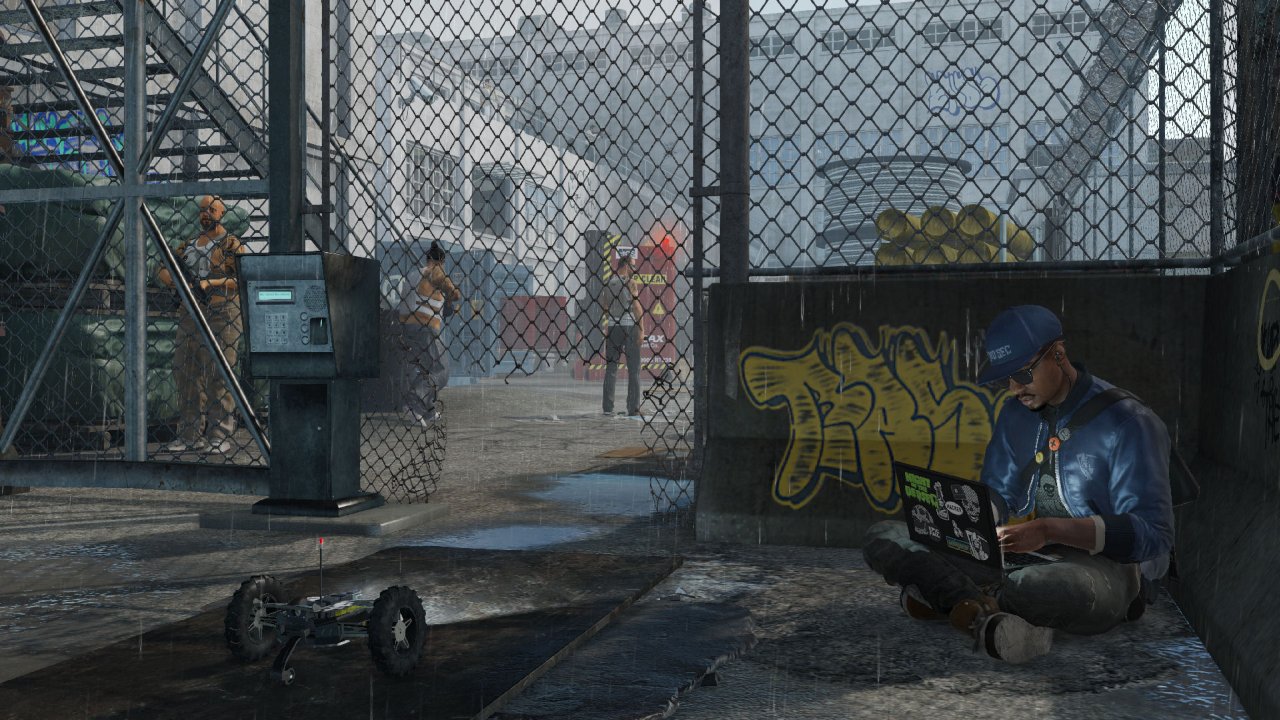 I ran from the cover of my vehicle, ducked behind a wall, then got the cellphone ready. Controlling the car, I obliterated the enemies' cover, merrily running them over with my remote controlled vehicle. Not only did this score me a few kills, but it gave them nowhere to hide so I could finish them off. This sense of being able to manipulate my environment is something that really elevates Watch Dogs 2's battles. While the aiming mechanics and cover system are pretty run of the mill, the hacking adds another, more dynamic layer to firefights, which I welcome. Ubisoft's next entry into the series looks like it may just be able to break through the firewall and infect us all with a little fun. Watch Dogs 2 is expected to release this November for Xbox One, PS4 and PC.
Comments