Horizon Zero Dawn Preview - E3 2016
Roaming the fields of the new world
When Horizon: Zero Dawn was revealed at last year's E3, it seemed like one of the most original games that was showcased that year. However, it was just the initial reveal, and we did not get a chance to experience the title first hand, until now. At E3 2016, PlayStation took the stage to show more of the game's mechanics and action, and we also had a chance to see an extended demo and try some free roaming in a limited open world setting.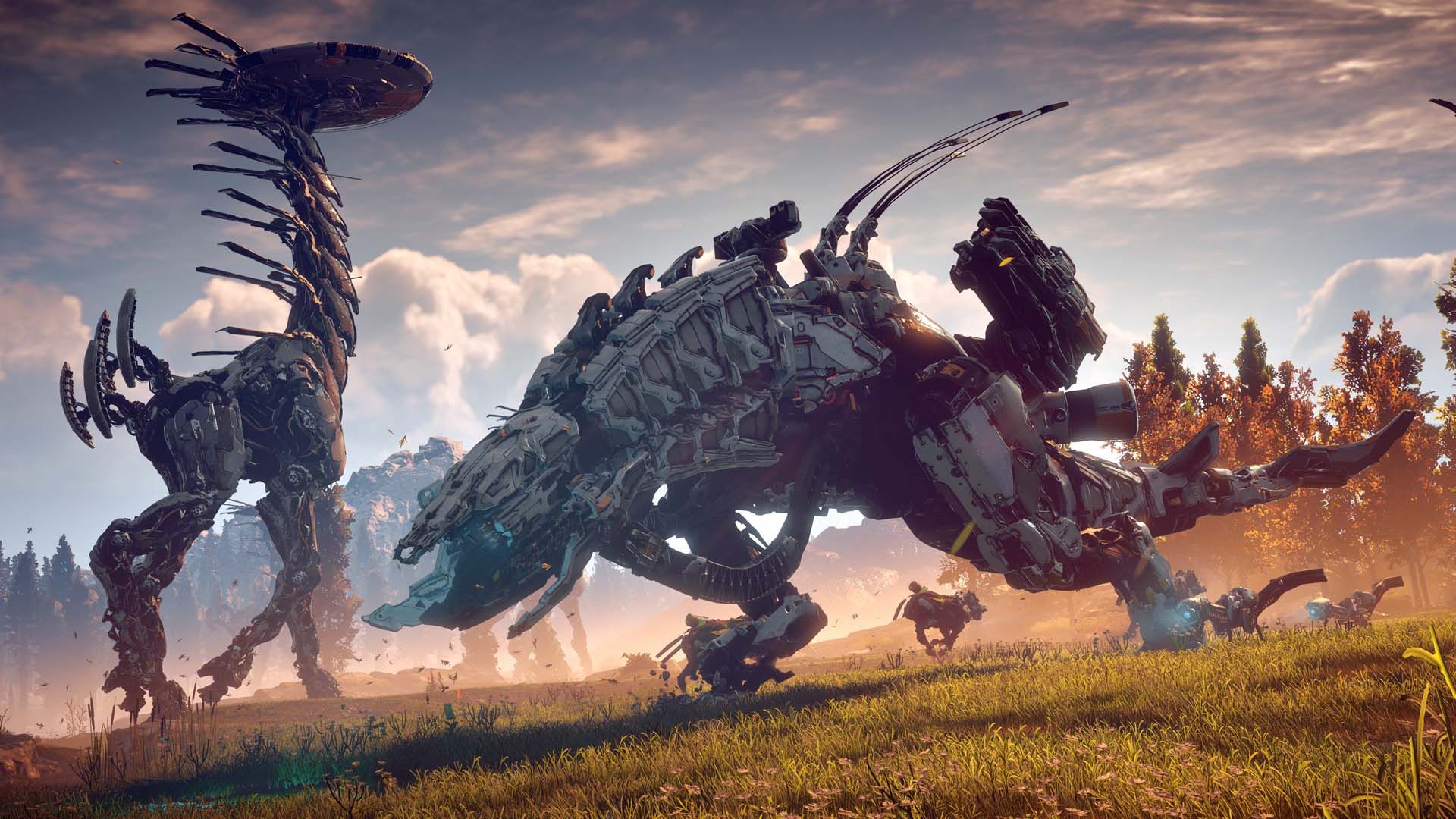 Our showcase was hosted by Roy Postma, the Lead Visual Designer at Guerrilla Games who had created some of the creatures that are in the game. In Horizon, the old world has ended, and machines have risen to take over the natural world. Players assume the role of Aloy, a young woman who wishes to learn the secrets of the Earth and her own past. She leaves her tribe behind in order to go on this grand adventure, and our demo picks up as she must cross the valley and explore a nearby village that has been taken over by corrupted machines.
We watch Alloy as she makes her way down to a valley, despite warnings from fellow tribesmen. Using her trusty bow and arrows, she dispatches a few nearby Watchers and uses the Ropecaster weapon to tie down a Broadhead, a machine that looks like a bull. It falls over and the opportunity is taken to override its circuitry and allow Alloy to use it as her personal mount. She rides for the village, bypassing some very scenic river paths as giant machine beasts roam nearby. At the village, she witnesses a Corruptor subject a Watcher to its will. She realized that it must be stopped, and battles the Corruptor. Using her special vision she is able to confirm that this machine is weak to fire, so she uses fire arrows, and also crafts and deploys fire traps to deal significant damage. The machine uses a variety of attacks, from swipes to ranged shots, to jumping high and crashing down on Alloy's location. With enough damage done, Alloy can target the machine's individual parts and shoots off its rocket launcher. Using the Ropecaster once again, she ties the machine down, and while its weak spot becomes exposed, the final blow is dealt.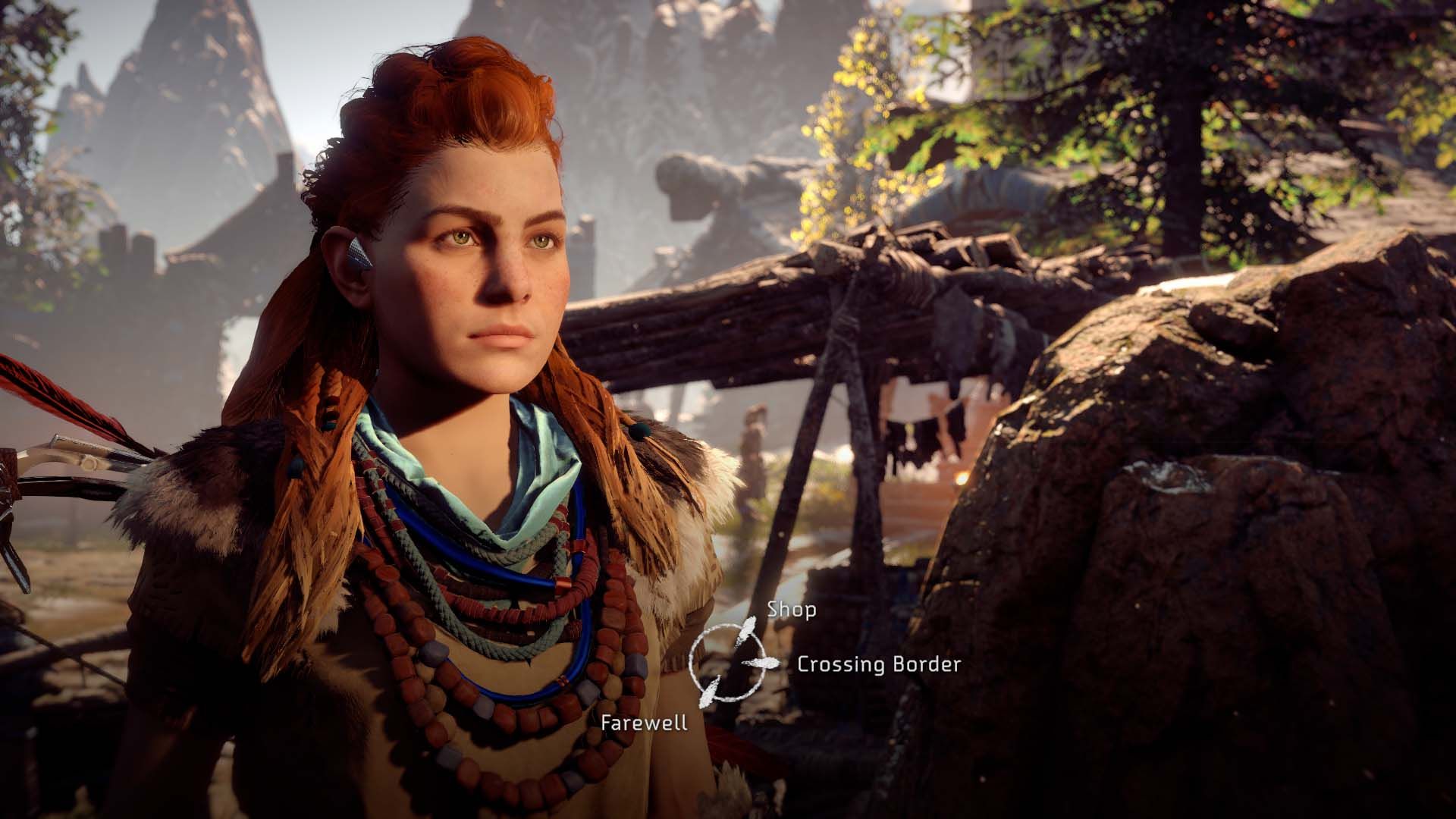 Following the presentation, which followed fairly closely to the demo that was shown during the PlayStation press conference, we got to spend about 15 minutes with the game. Taking control of Alloy was intuitive, and she moves quickly and has the ability to dodge and strafe, much like most modern action games. We collected some materials that can be later used for crafting items and ammo. Our demo included a small segment of open world, and approaching its boundaries warned us that we must turn back or the demo will be restarted.
Our objective was to silently take down a Watcher, as well as capture and ride another Broadhead, as seen in the demos. Ignoring the silent objective, we engaged some nearby Watchers directly. Their metallic screams resonated through the idyllic looking valley, complete with lush grass, beautiful trees and hills. Aiming with Alloy's bow was precise and effective, and if anything got close, she could use her melee attacks to deal some good damage as well, in fairly typical third person action style combat. Alloy's arrow arsenal includes fire, hunter (regular), and hardpoint (armor piercing) arrows; as well as freeze, fire, and electric shock bomb types. Having eliminated the Watchers, we used the Ropecast to capture our ride and override it to become our ally. There's also the Tripcaster, a gun that seems to have similar function but one that also emits electricity; we didn't get a chance to use it during the demo.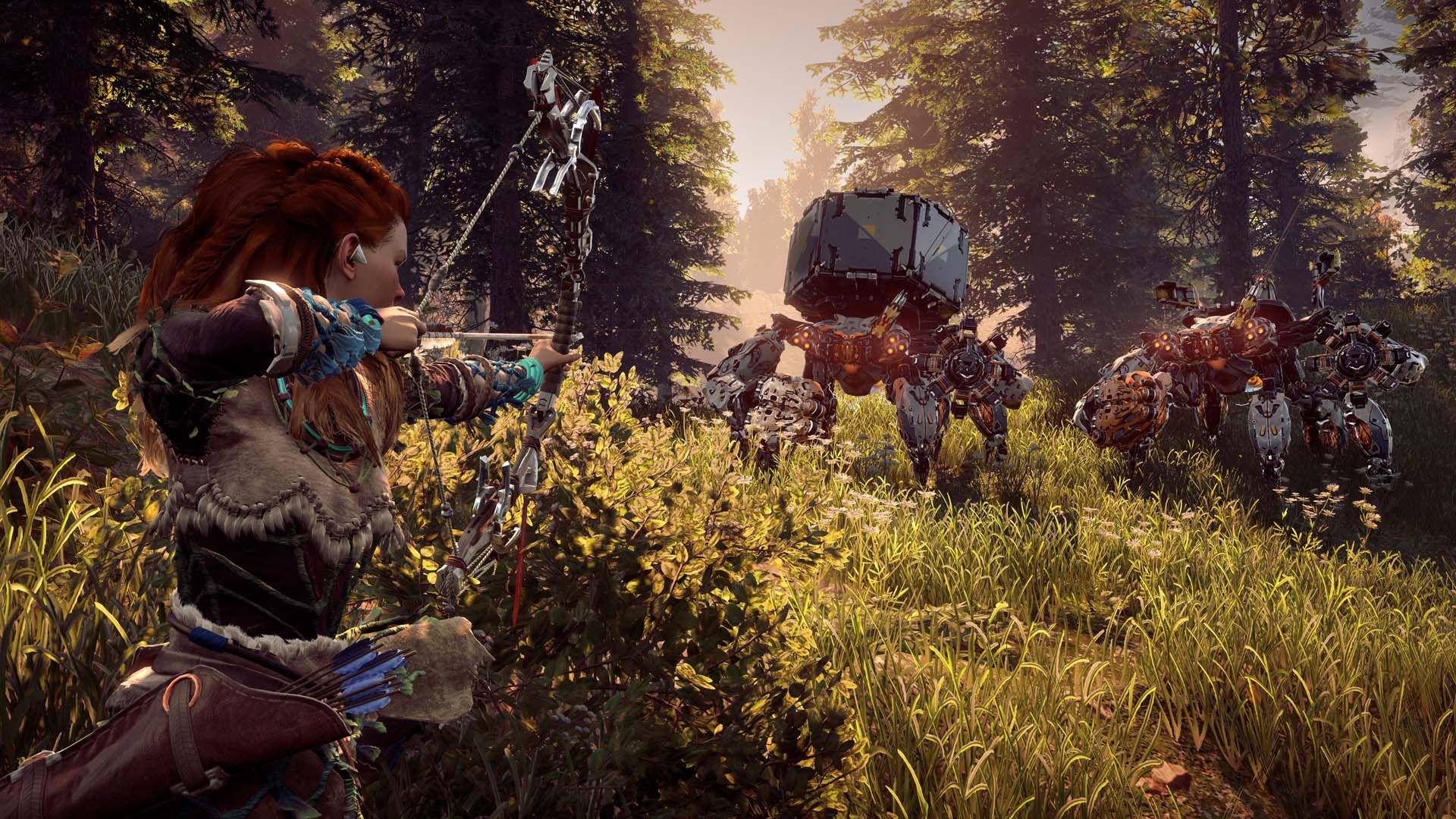 With our ride in tow, we were ready to proceed, but alas the demo required a silent Watcher takedown which we had failed to do, and no more enemies would spawn in the demo. So, we restarted the demo, and before engaging the Watchers again we crafted some bombs and arrows from the materials gathered around the area. We were successful in sneaking up to a Watcher this time, using taller grass for cover. We also once again captured another beast, and used it to simply ride around the area and enjoy the great views. Horizon looks great not just from a technical standpoint, but also from its art direction. While the machines do look unique and interesting, the vistas really help establish this sci-fi post apocalyptic world with its use of natural environments, lighting and vivid colors. Being so enthralled with the visuals and the satisfying combat, the demo was over in no time.
Horizon Zero Dawn looks to be one of the most promising titles of 2017. From its great technical and artistic design, to the satisfying combat and expected, but well executed, RPG elements, and most importantly a unique setting. This could be the game to beat for the best PlayStation 4 has to offer next year. Our hands-on time with the game helped solidify hope that Guerrilla Games are crafting a really enjoyable and high quality title, and we are looking forward to seeing more of it. Horizon Zero Dawn is currently scheduled for release in February 2017, exclusively on PlayStation 4.
Comments
blog comments powered by Disqus