Final Fantasy XV Preview - E3 2016
We get some hands-on time with the upcoming RPG to battle against a Titan
Final Fantasy XV has been a long time coming, and we had a closer look at the adventures of Noctis and his band of merry, black leather clad band with the "Trial of Titan" demo, the same one that was played through at the Xbox E3 Media Briefing. While watching the presentation demo made it seem to be a little clunky to say the least, some hands-on time with that very same battle proved to be somewhat more fruitful. In my case, at least.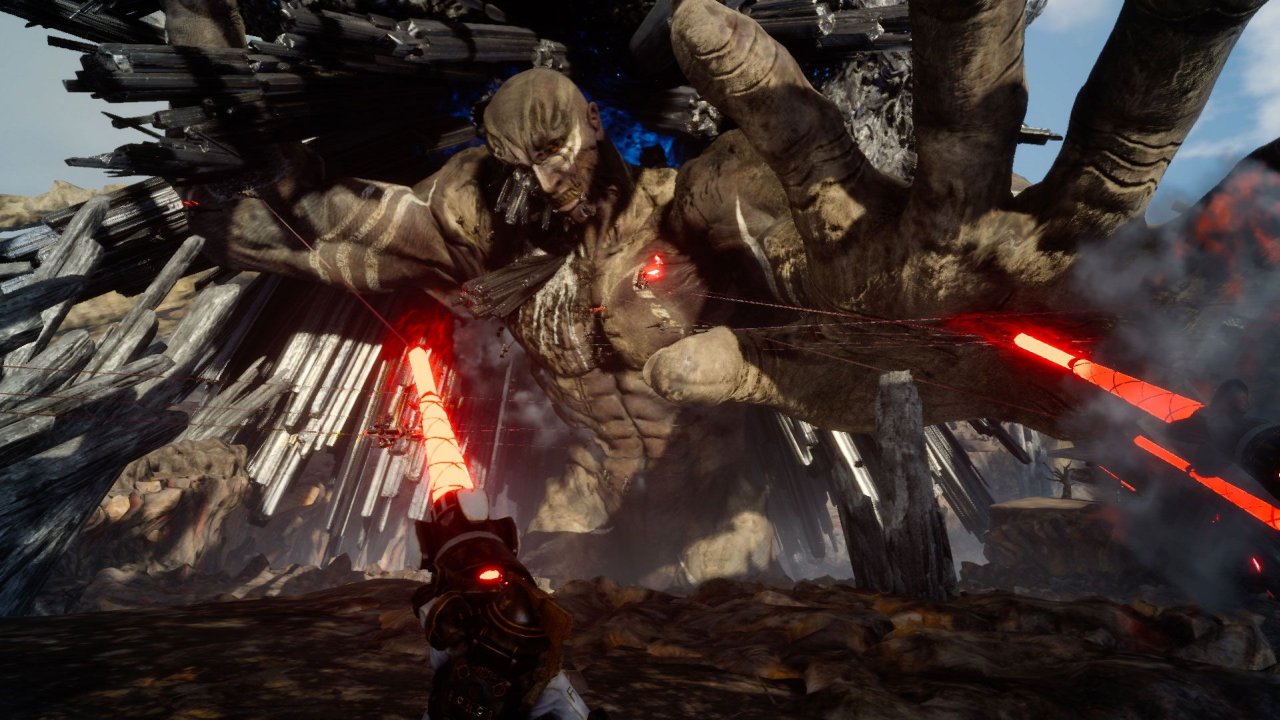 The special E3 Trial of Titan demo began with Noctis and buff pal Gladiolus in a rocky ravine. At my disposal was Noctis' classic sword, capable of warping to and from danger; the larger greatsword for slower, more powerful and charged attacks; the rapid, DPS two daggers for quick hits; and blizzara, a frosty AOE attack, which acts as more of a bomb than a traditional spell.
After taking a few steps, I confronted a few standard human enemies. Having played both the Platinum demo and the demo that came bundled with Final Fantasy: Type 0, I was familiar with the combat system. Combat works best in Final Fantasy XV when you have some form of battle plan in your head. The active time battle system feels more refined than what Type 0 offered. In a way, it reminded me of Devil May Cry: you're most effective in battle when you switch smartly between weapons. So, I started off with a few precise strikes of my short sword, seamlessly switching to my greatsword to clear a few foes out of the way. I charged my strike, knocked an enemy down, and then finished them off with my daggers. For maximum effect, I hauled a blizzara bomb to slow my attackers, then zipped around, dodging, and hopping between targets. This kind of combat felt extremely rewarding, and, unfortunately, it only lasted for one smaller wave of enemies until I wandered around the ravine to confront a rather large enemy glaring down at me.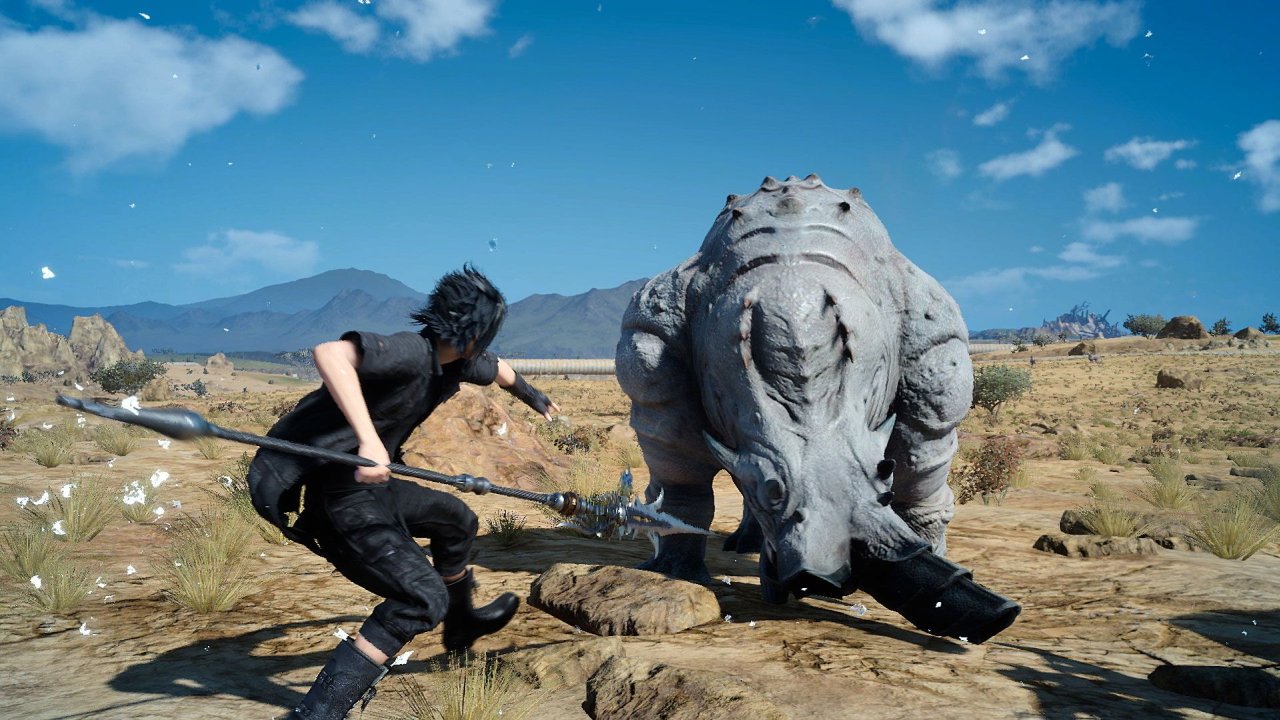 The demo was not called "Trial of Titan" for nothing. Fans of the Final Fantasy series will be aware that Titan is usually the summon/eidolon/GF associated with Earth, and, as expected, he's quite a big guy. Again, upon flinging myself off a ledge to engage the colossus, I was reminded of games like Bayonetta and Shadow of the Colossus, where it's you against some giant, mythical behemoth. It's a large battle and feels epic, but camera issues and general chaos muddied the melee.
When Titan takes a swing and you slam the X button to block its stony palm with your magical blade, it feels appropriately awesome. Flinging your blade and teleporting to escape danger as a giant fist careens into your path is extremely satisfying. The camera having a stroke and obscuring the battlefield is not awesome, however. As we saw in the E3 Briefing, it was a little too hectic. I wrestled with a distinct sense of confusion when trying to figure out how to take Titan down, endeavored to simply knock the cement out the beast until I was ordered to flee.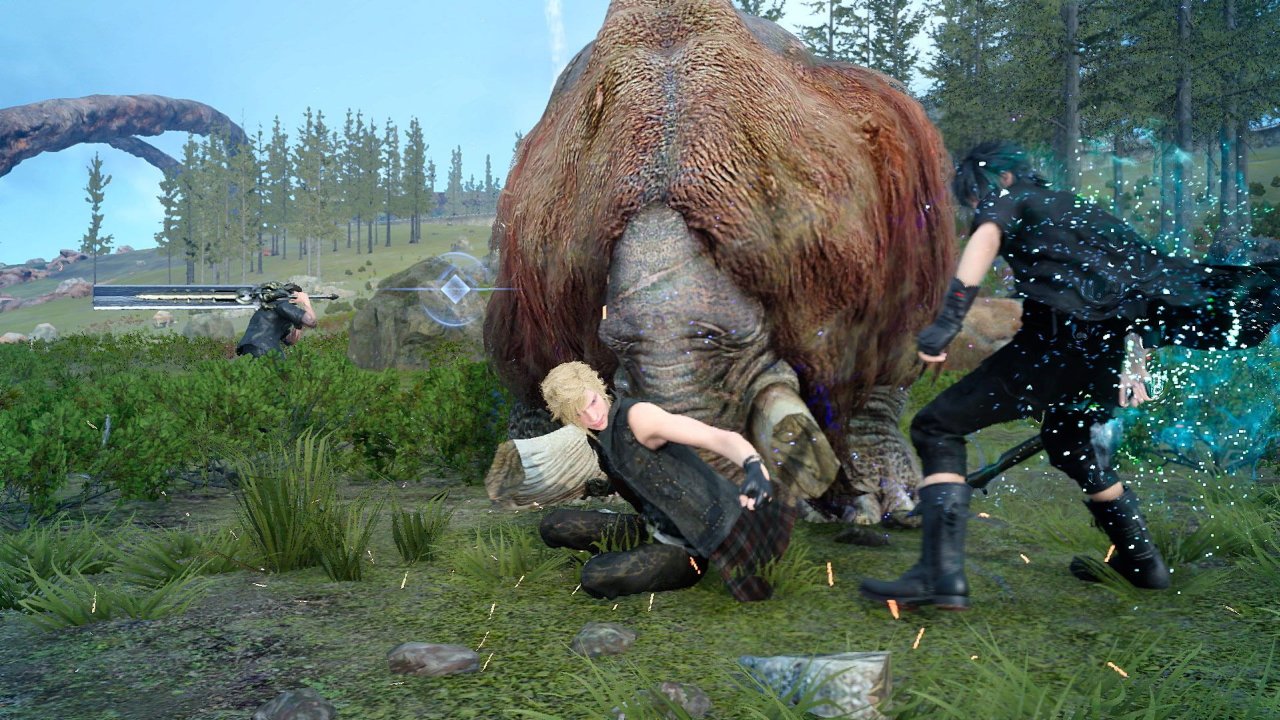 In Noctis and Gladiolus rushing away from their indomitable enemy, I was treated to a short in-engine cutscene. While this is nothing new, it's simply a nice show of pacing for a Final Fantasy game. Titan's massive, and it should feel like this is not some run of the mill foe. In previous games, you simply entered the battle and beat on an enemy until it finally relented. Now it feels like there's more gravity to the whole encounter.
Ultimately, however, without being able to control my party or put my weapon switching to use as before, I was a little underwhelmed and confused. I just kept wailing on Titan until, for some reason, the creature entered a vulnerable state. Then, I was ordered by my buddies to lob a blizzara bomb at the beast so Noctis could deliver the final blow. But then the game was out of my hands, which was a shame. I'd done all the hard work; the game should have at least given me a QTE to deliver the finishing blow.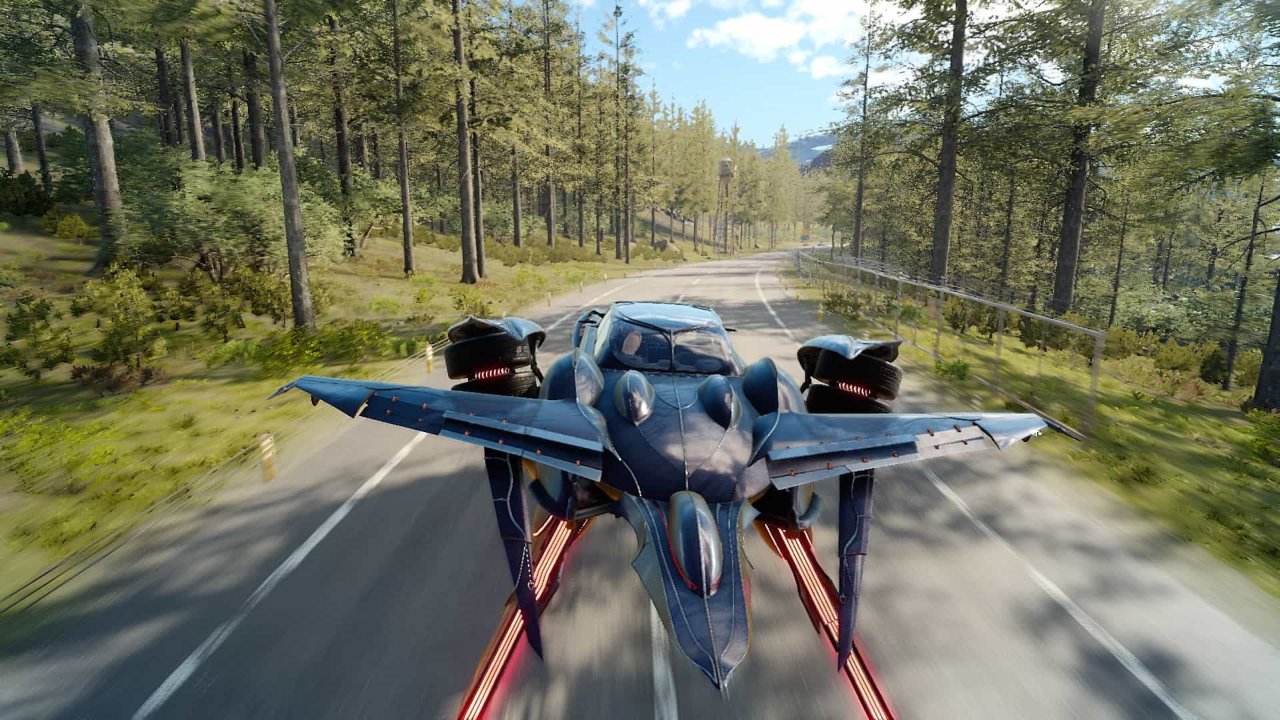 The Trail of Titan demo was not the best preview for what Final Fantasy XV has to offer. Sure, it looks cool to face off against a humongous god - but Devil May Cry and Bayonetta manage to convey a sense of scale while keeping your attacking objective clear. Unfortunately, like Noctis' warp blade, it missed the mark on this occasion. What Trail of Titan accomplished—or hinted at—was that you can expect bigger battles than any other Final Fantasy, a technical edge to its active combat, and sense of gravitas to epic encounters. Final Fantasy XV is set to release this September on Xbox One and PlayStation 4.
Comments
blog comments powered by Disqus