Titanfall 2 Preview - E3 2016
The multiplayer shooter sequel offers more of what made its predecessor great
The original Titanfall from 2014 was a notable risk for both publisher Electronic Arts and as the debut title for Respawn Entertainment. Although helmed by Jason West and Vince Zampella, former co-founders of Infinity Ward, a new blockbuster IP always carries risk with it. Titanfall scored points for originality, but concerns surrounding the lack of a single player campaign and exclusivity to PC and Xbox kept tensions high. Fortunately for all involved, the game turned out quite well, and was supported with notable free and paid DLC long after launch. But it's been two years, and as with many modern games, time has come for a sequel.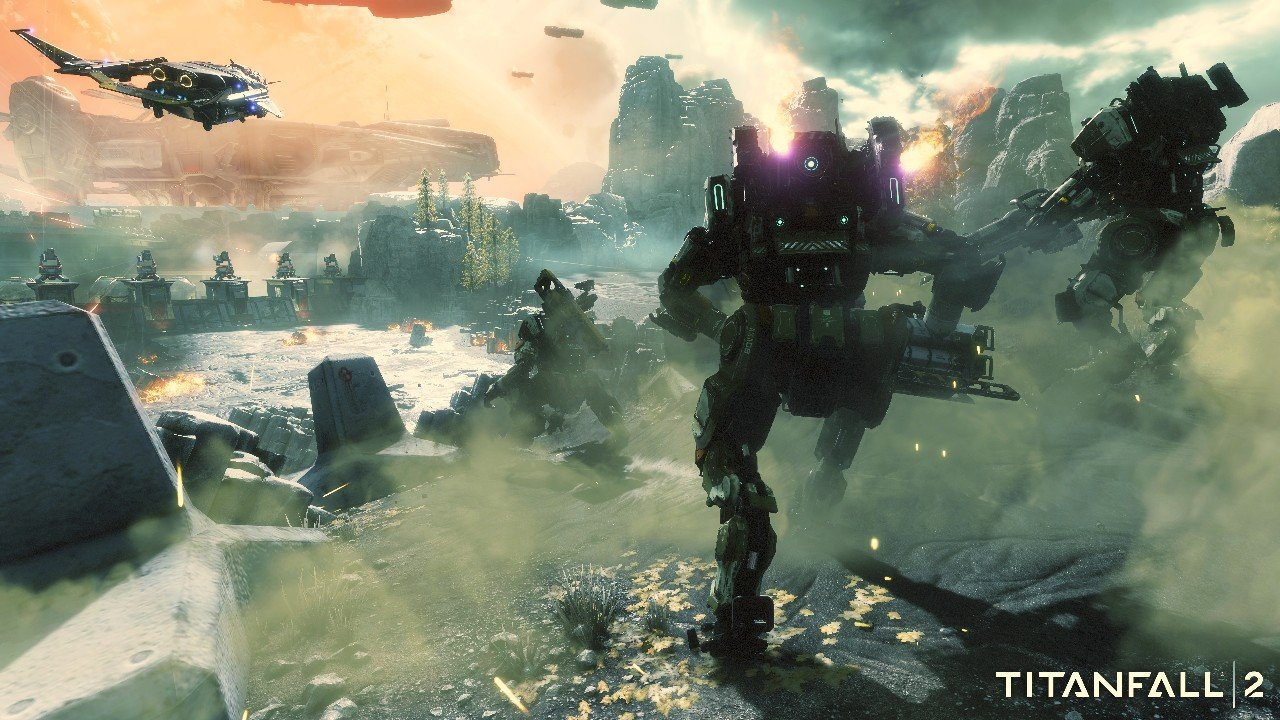 The multiplayer focus will remain, and hopes to expand with added depth of variety via six new Titans, more notable Pilot abilities, a range of new weaponry, more customization options, and a robust progression system. We had a chance to play a Titanfall 2 at E3 this week, and while all of what Respawn has promised sounds intriguing, we did not get to see any customization or progression menus in our time with the game. What we did get, however, was more of the polished, fast-paced and smooth action that the first game did so well.
For our demo there were three pre-set pilots to choose from, with three unique abilities. They were Front Rifleman, Hard Tracker, and Counter Sniper. The pilot names were loosely tied to their main special ability – in the case of Front Rifleman, he was just that – a balanced class with an assault rifle and grenade launcher for the titans. His special ability was the grappling hook; allowing players to traverse the urban enthronements in new ways, or use it to pull enemies towards them. The Hard Tracker pilot had the Pulse Blade ability, which was both lethal and also used to scan for enemies in the area. Lastly, the Counter Sniper had a Holo Pilot that was essentially a hologram that could fool opponents. The other three pilots are yet to be revealed; as mentioned, we did not get a chance to see any customization or even weapon selection options.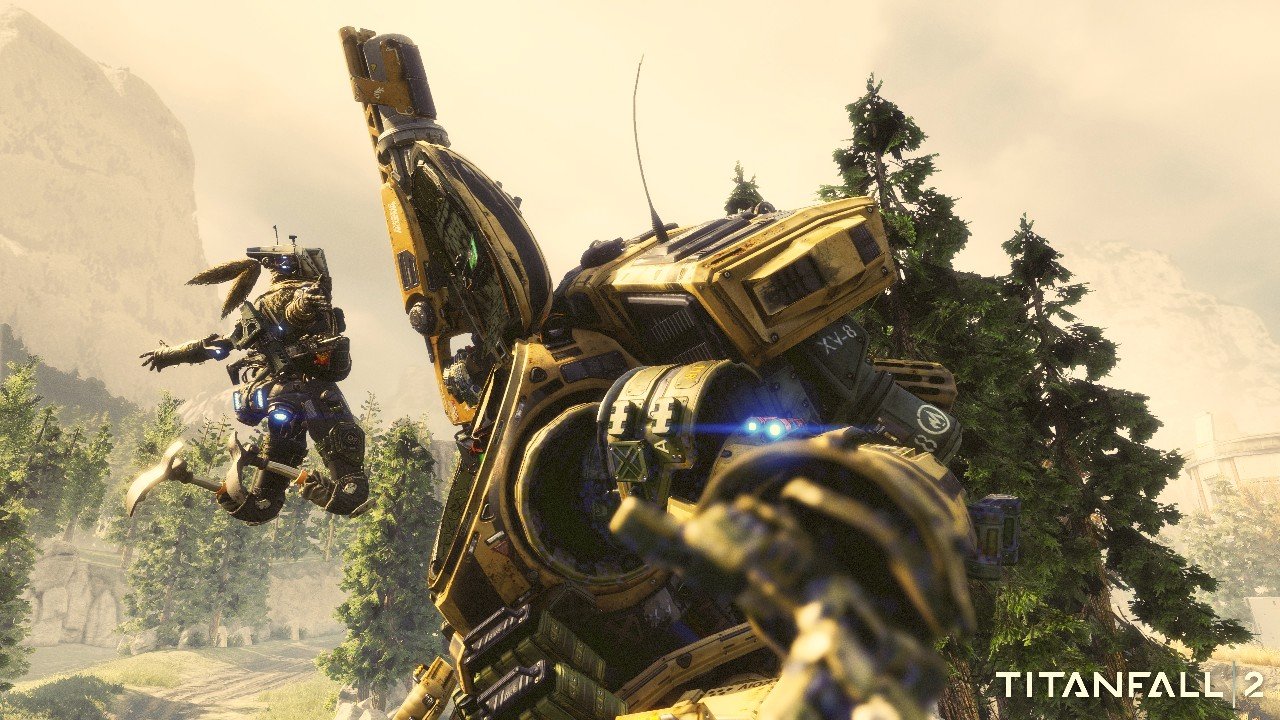 As for the titans, there were two, Ion and Scorch. Ion wielded a typical rapid fire energy rifle, while Scorch used single shot thermal projectiles that could set things on fire. Both titans had four abilities – ordinance, tactical, defensive, and core. Scorch was appropriately fire-focused – his core ability created a giant wave of fire, while the incendiary trap deployed gas canisters that were easily sparked. Ion meanwhile had an extremely powerful laser attack as his core ability; his tripwire field tactical ability worked well for unsuspecting foes. Through our two matches in Titanfall 2, it was obvious that the game hasn't skipped a beat. The same smooth and fast platforming and shooting remains fully intact, and felt just as enjoyable as before. Waves of cannon fodder AI soldiers flooded the area, giving us ample targets to practice the pilot's new tools before having enough to call down our titan. The on-foot gameplay remains strong, fluid, and intuitive, from both shooting and traversal perspective.
The titans, meanwhile, remain the large menacing machines that they always were. Calling one down (or spawning in it) is just as satisfying as it was in the past and the mechanics remain unchanged. Trying to eliminate the enemy metal giant is always tough, but the new abilities seem to provide a good mix between offence, defence and utility. From the perspective of the pilots, a notable change comes in the form of new rodeo mechanic. Successfully jumping on an enemy titan now prompts a quick scripted sequence as you first remove a power cell, thus damaging the titan, but are then booted off. In order to do more damage, you must rodeo him again, and this time you throw a grenade into the core for more damage. This adds a little bit of balance to the pilot/titan interaction, and makes the act of trying to get on top of the enemy titan the core experience – rather than mindlessly pumping its head full of bullets.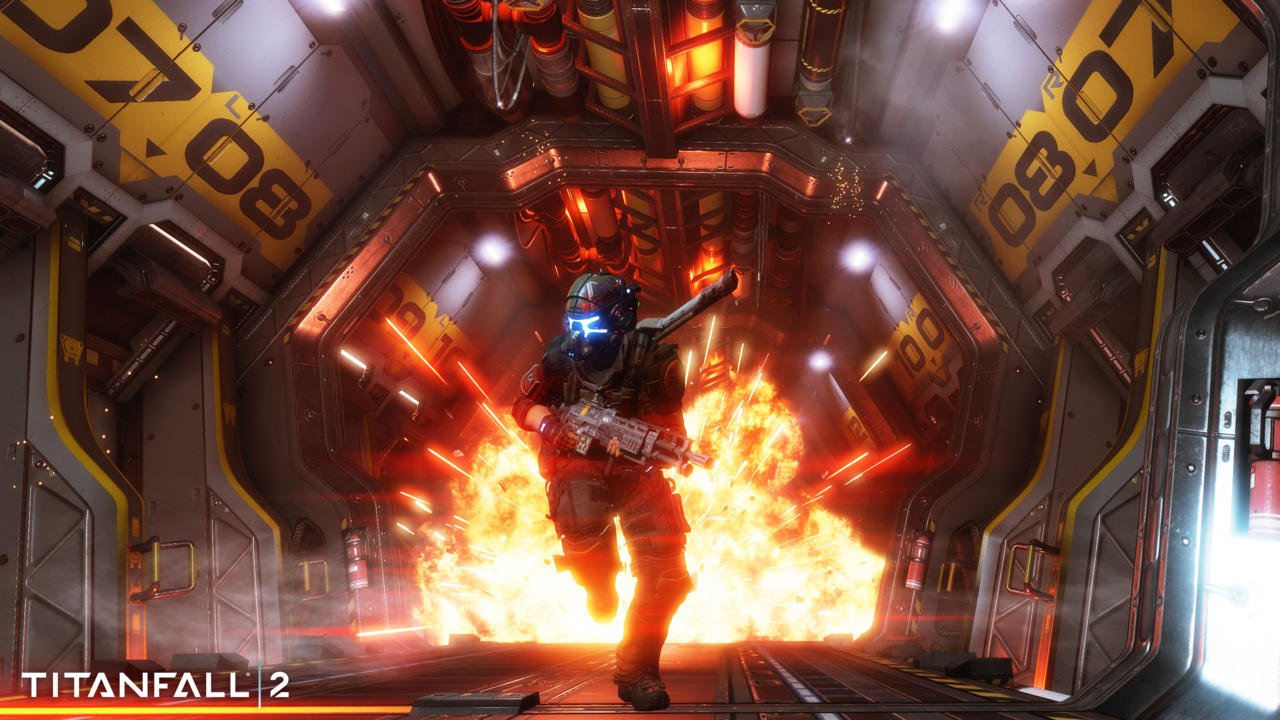 Our match was played on an urban map, that wasn't particularly memorable or impressive in its setting or design, but it served its function well with a variety of flanking opportunities and elevation changes. The demo mode was a new one, called Bounty Hunt. The objective was to eliminate enemies within a certain area only, thus earning points for your team. The enemies came in waves, and spawned in two points on the map, thus causing both teams to remain on the move and eliminate more foes in the designated areas than their opponents while, of course, also still fighting each other. But the enemy waves were not all cannon fodder, either. Towards the end of the matches, we were faced with eliminating an AI titan or two. The matches begin and end much the same as before – with an airdrop, and then an escape, respectively.
Titanfall 2 is clearly taking the approach of "if it ain't broke, don't fix it". The moment to moment gameplay will be instantly familiar to fans, and yet there are enough changes and additions to make the sequel feel fresh and new. Not to mention, this time around a single player offline campaign is also promised to compliment the experience. From what we've played, fans of the original game have plenty to be excited about, and those that are new to the series will be able to enjoy its most balanced and refined iteration. Look for Titanfall 2 on PC, Xbox One, and PS4 this October.
Comments