The Walking Dead: Michonne Review
A brief, action packed adventure featuring a prominent character
Telltale Games have created a very strong position for themselves in the adventure game genre. Though they've been creating games for many years, their true breakthrough came with 2012's The Walking Dead: A Telltale Games Series. Since then, the developers have established this successful formula as their base for all upcoming projects. Beyond TWD and its second season, we've now seen games from other licensed properties like The Wolf Among Us and Game of Thrones. But with each game following a very similar gameplay and episodic format, some fans have become tired of this approach. While a new look and engine are likely on the horizon, for now Telltale are trying to change things up with minor alterations. One such change is being flexible on the number of episodes in a season – Minecraft: Story Mode was extended beyond the typical run, while The Walking Dead: Michonne is a three-episode series.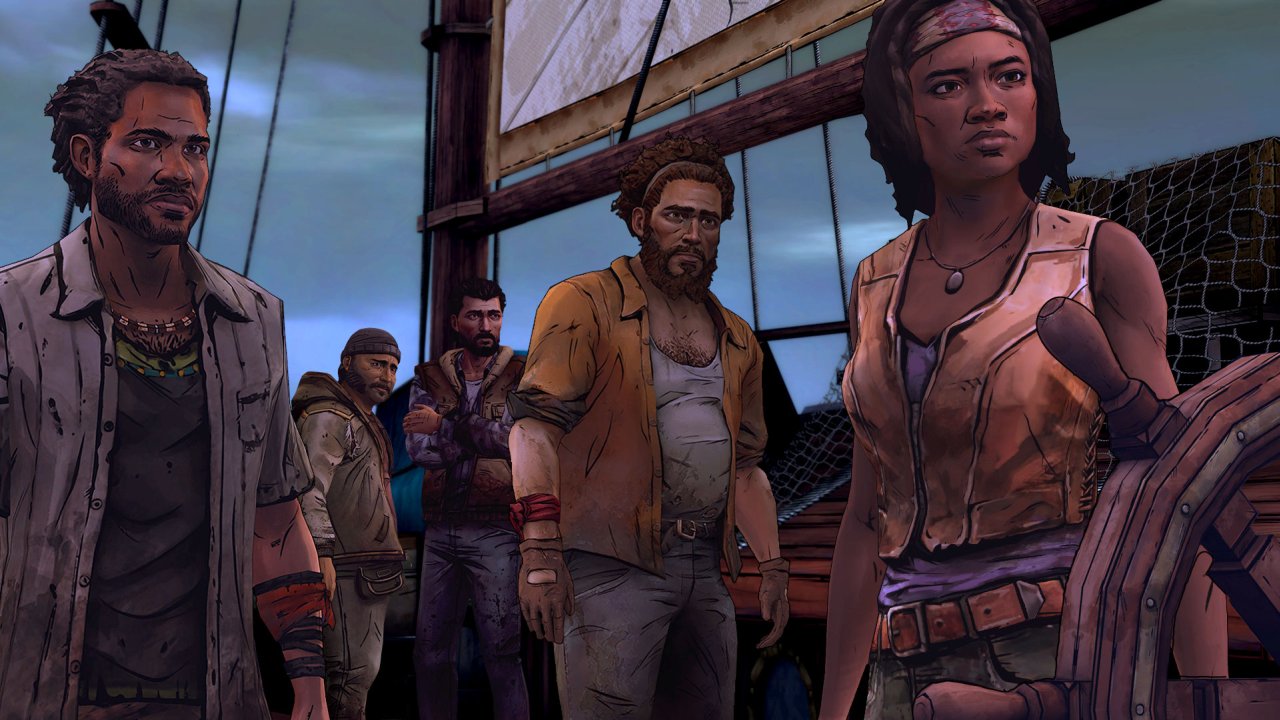 As the name suggests, the new game lets players assume the role of Michonne. The narrative follows her brief adventure with a group of survivors that are travelling on a boat. Michonne is relatively close friends with the boat's captain Pete, who saves or witnesses her suicide attempt at the start of the game. The boat manages to locate a signal for help from a nearby area called Mobjack. In hopes of finding survivors or more supplies, Michonne and Pete disembark to investigate while the rest of the crew stays aboard. On the coast, the duo finds a troubling site of potential murders, and when supplies are finally within reach, they are ambushed by Samantha and Greg, two siblings. Before they're able to finish arguing on who gets to keep the goods, a group of mercenaries led by Randall arrive and take the group hostage. It turns out that Randall and his sister Norma run a nearby settlement, and are hunting Sam and Greg for stealing their supplies. From there, the group must fight for survival and escape both the undead and Norma's men.
Notably, this is the first time in the TDW series from Telltale where players assume the role of an existing character from the comics/TV show. This means that fans familiar with the lore are likely to get a bit more out of the game, however if you've only played the Telltale seasons and aren't familiar with the rest of the thematic universe, you're still able to enjoy the story. For most of the adventure, Michonne and Pete are in some sort of predicament, which helps the game keep a brisk pace. Even so, there are still genuine moments of tension and memorable situations which speaks to the quality of Telltale's writing. This is also the first TWD game from Telltale that has some potential jump scares and a somewhat haunting feel to it. Michonne's uncertainty over the fate of two daughters, Colette and Elodie, is a key driving force for the psychological tension that appears throughout the game.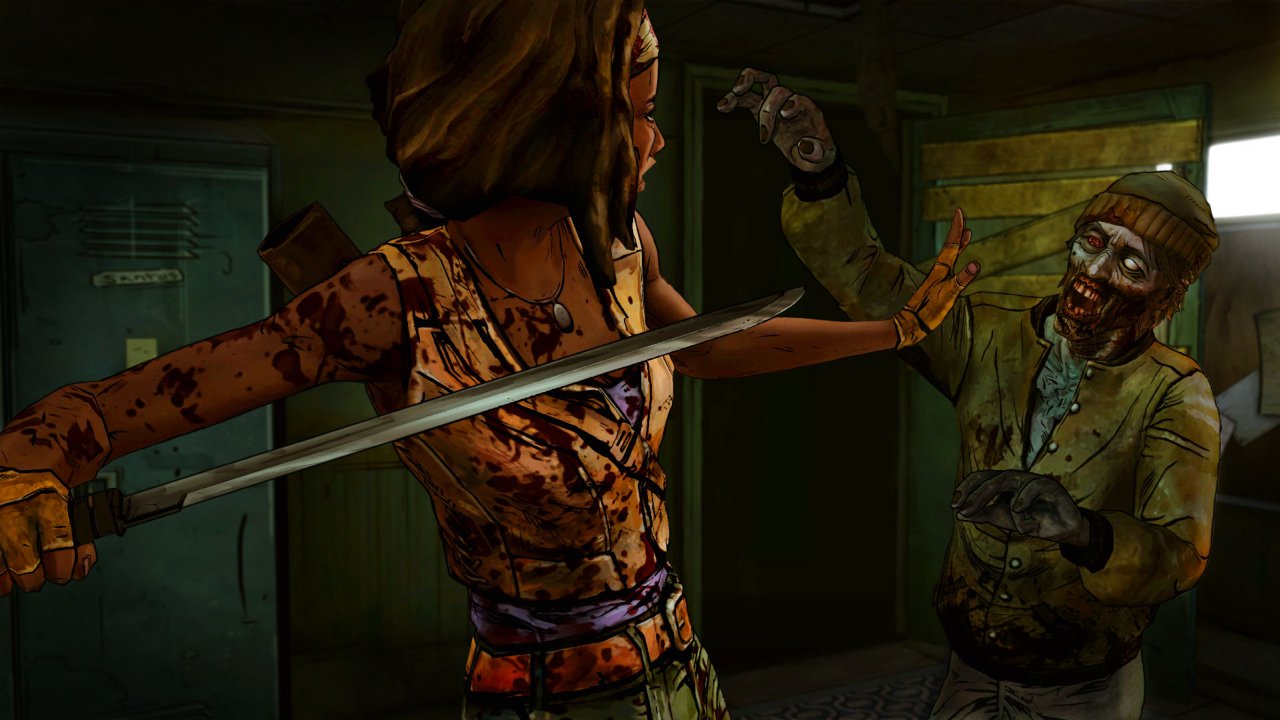 But not everything is quite up to par. The plot is engaging, but due to the game's reduced running time, there is no opportunity for character development or downtime. While Michonne is well rounded, some of the other characters must resort to stereotypes and there are few aspects that are morally grey. This leads to choices that, while significant, aren't as ambiguous as in other games and are somewhat easy to make because the characters don't have many redeeming qualities. As is expected for a Telltale game, player choice affects many outcomes and scenarios and there is some replay value, but things usually end up working out roughly the same.
Much as the choice/consequence are familiar, as is the rest of the gameplay. You'll explore some small environments, participate in conversations with dialog options, and engage in some action that comprises of quick time events. If you've played any recent Telltale game, you've seen it all before. It is straightforward and rarely challenging, though quick reactions are still sometimes needed to save your own life, or the life of another character.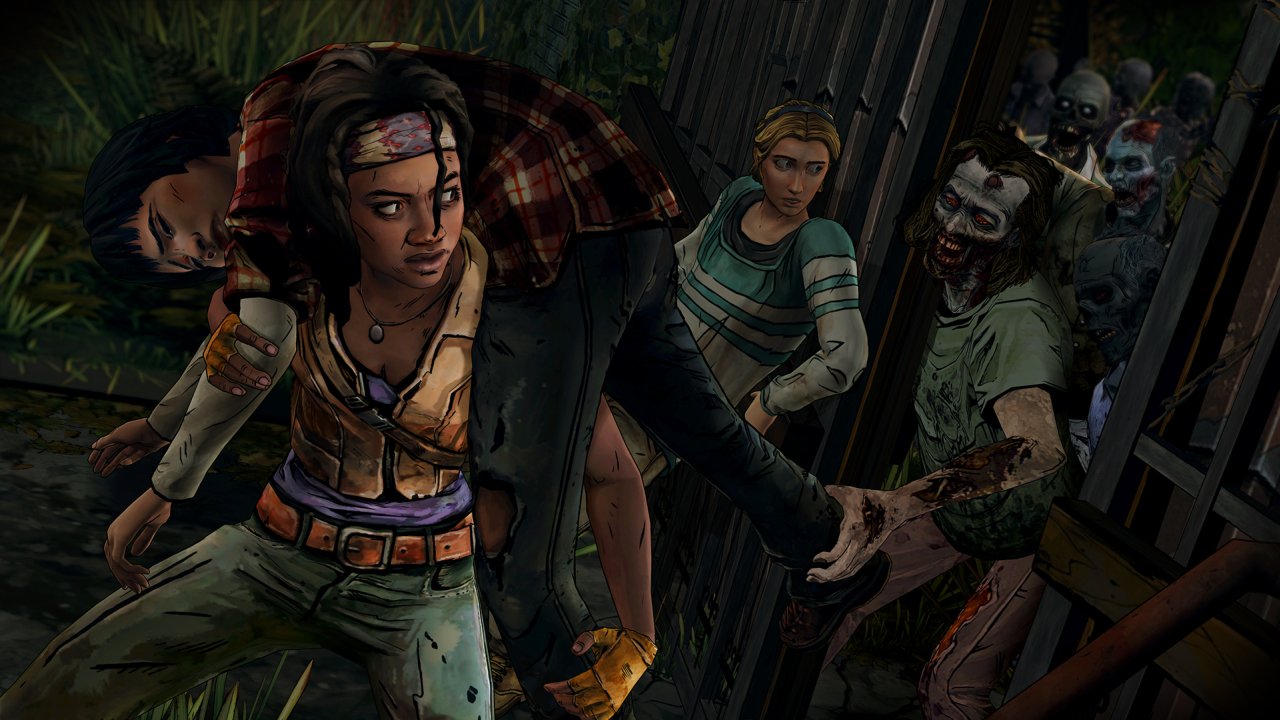 The same goes for presentation and technical performance. Along with some good writing is above average voice acting is a great original song. TWD: Michonne employs the cel-shaded visual style that is now almost synonymous with the developer and their franchises. Animations are decent, but the engine continues to struggle technically, sometimes hitching during scene transitions and intense action. The game is notably brutal and unflinching with its gore, even pausing the camera view on the aftermath of your actions - something that hasn't been the case before in the franchise, at least in recent memory.
The Walking Dead: Michonne is a good standalone slice of adventure. It effectively uses a pre-existing character, and tells her personal story of survival and emotional struggles. All of the expected elements are here – choices, dialog options, and action wrapped in a familiar visual style. It carries with it the problems that plague the overarching main series, such as stale gameplay and technical issues. But the game does a good job of telling an engaging tale, and though the three episodes obviously can't pack as much story or character development as a full series, it's well worth checking out for Telltale and The Walking Dead fans.
Our ratings for
The Walking Dead: Michonne
on PC out of 100 (
Ratings FAQ
)
Comments
blog comments powered by Disqus