MLB The Show 16 Review
Now is the time to step up to the plate
Baseball is a sport difficult to love for the uninitiated. With its 162 games season, long history filled with legendary names, and weird stats used to evaluate players, the game is somewhat impenetrable. Baseball is a sport that doesn't cater to the typical fan and isn't enjoyed with the fast pace of most other pastimes. For those who aren't familiar, let me put it this way: baseball is like an RPG series with years of lore, unexplained stats, and a barrier to entry that would make Souls-Like fans have second thoughts. Sony's exclusive, MLB: The Show has always indulged in these challenges instead of trying to work around them.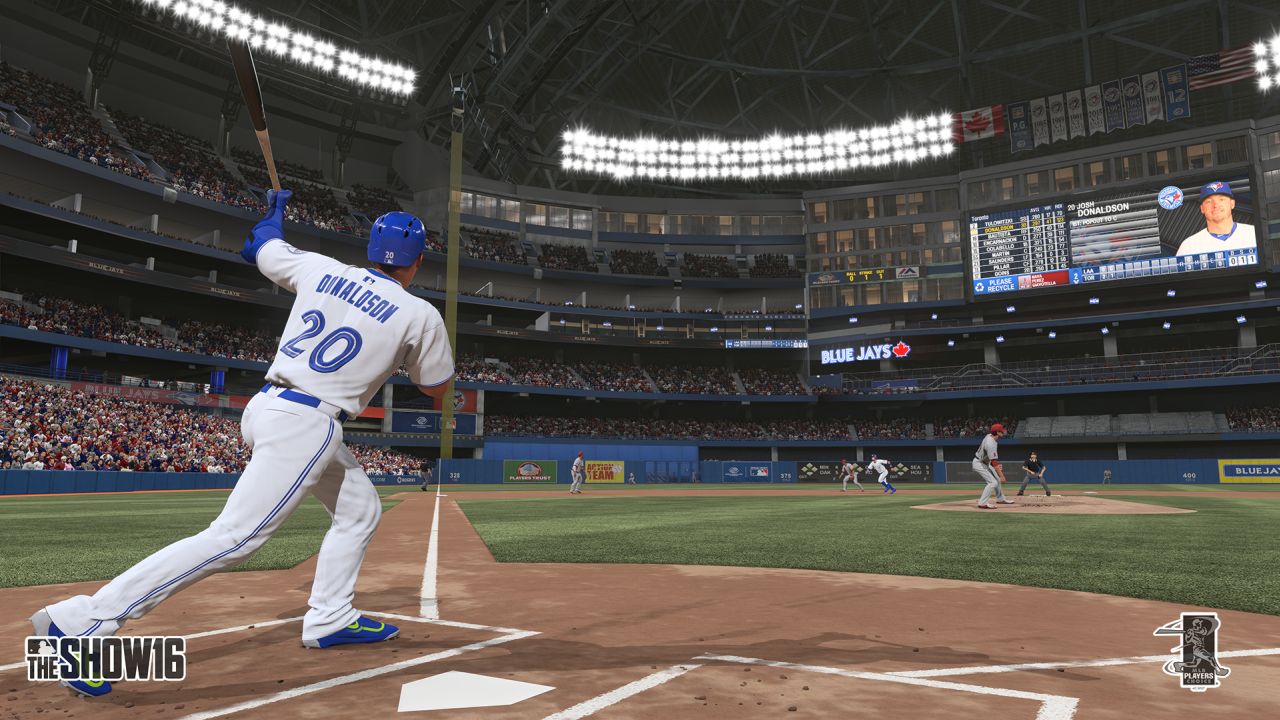 The Show 16 feels like the most accessible one in a while. But make no mistake, it's still going to frustrate you at the plate. There were still plenty of times I called the right pitch, right location, timed the swing perfectly and hit a liner out to right field - only to have the fielder lazily jog underneath the ball and make a routine out. MLB The Show 16 attempts to focus its gameplay around patience, timing, and mastery of the controls, but this year's game is far easier to learn than past iterations.
I'm used to spending hours upon hours with Sony's baseball exclusive, trying to get the hitting timing down, learning CPU pitching tendencies, and trying to improve my offense. This year I actually found myself boosting the difficulty after only a few hours. To further improve the experience, The Show features all of the different hitting and pitching mechanics from over the years, allowing you to customize the game to what you like best. Changing difficulty will alter the gameplay automatically - setting it to rookie will set the interface to meter pitching and simple batting, but if you want you can change to pulse pitching or the controversial analog batting that first made its debut in 2011, it's all there. You could always change these setting in previous iterations of the game, but 2016 is the first one that really makes it easy and obvious how these changes can be made.
This leads me to the best improvement in this year's The Show. The menus and loading screen have never been easier to access and navigate. For years the games have featured the slowest menus and lengthiest loading times in sports games - or all games. It was so inconvenient and so common that it was almost a staple of the series, a tradeoff for the game's impressive visuals. But the days of sitting on long load screens are finally over. Last year the series introduced a patch that sped up loading times, but there is no need for a patch this year. The game quickly loads in and out of matches at an impressive rate. The annoying delays of pulling up menus and searching through stats are all but gone. And it doesn't seem like The Show sacrificed anything to make these improvements. You have to tip your hat to Sony San Diego for their work here.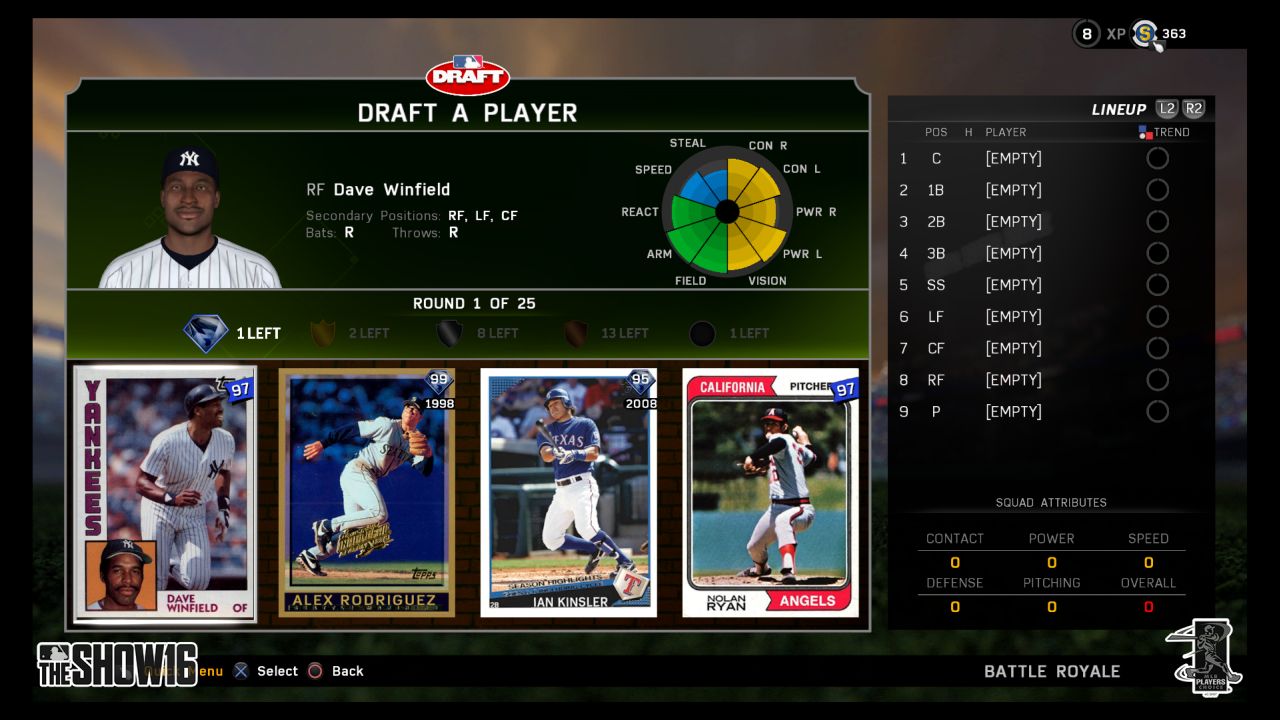 A smaller, but much appreciated improvement, is how Sounds of the Show is back. With the PlayStation 4 now being able to read USB files, you can once again import your favorite walk-up music, pre-game tracks, home-town chants and home-run celebrations into the game. These little quirks were one of the things that made MLB The Show so fun, and they're back. The customization process itself is rather impressive for that matter. The game continues to nuance its swing animations and batting stances so that every customized character can get a little more depth. From taking a pitch to walking to the plate, there are more custom animations than ever before.
The Show also continues its impressive ability to import saved games from years past. My Minnesota Twins save file was ready and waiting for import as soon as I turned on the game. This continues to be a singular feature of the series that really stands apart from any other. If you want to play with the new players and ratings of current MLB rosters, they'll be ready for you - but if you have a thirteen year franchise you're not ready to part with, you can import it and jump right back to where you were.
However if you import your Road to the Show character, you'll be missing out on the new addition of Scout Day. Here your newly created character participates in a series of drills and scrimmage games in order to determine the player's draft status. Your ratings are still pretty awful, so you can't affect too much change, but it's a nice little touch.
At the core of The Show is the familiar mechanics and long-commitment seasons that players should be familiar with by now. Baseball is a day-in, day-out sport and MLB The Show 16 continues to reinforce this. If you really want to make the most out of your Road to the Show character or really invest in a franchise, be ready to spend dozens - if not hundreds of hours - with the game. Simming games and skipping through seasons will still largely impede your progress. The Show is expecting you to play every pitch - and it's best for you if you do.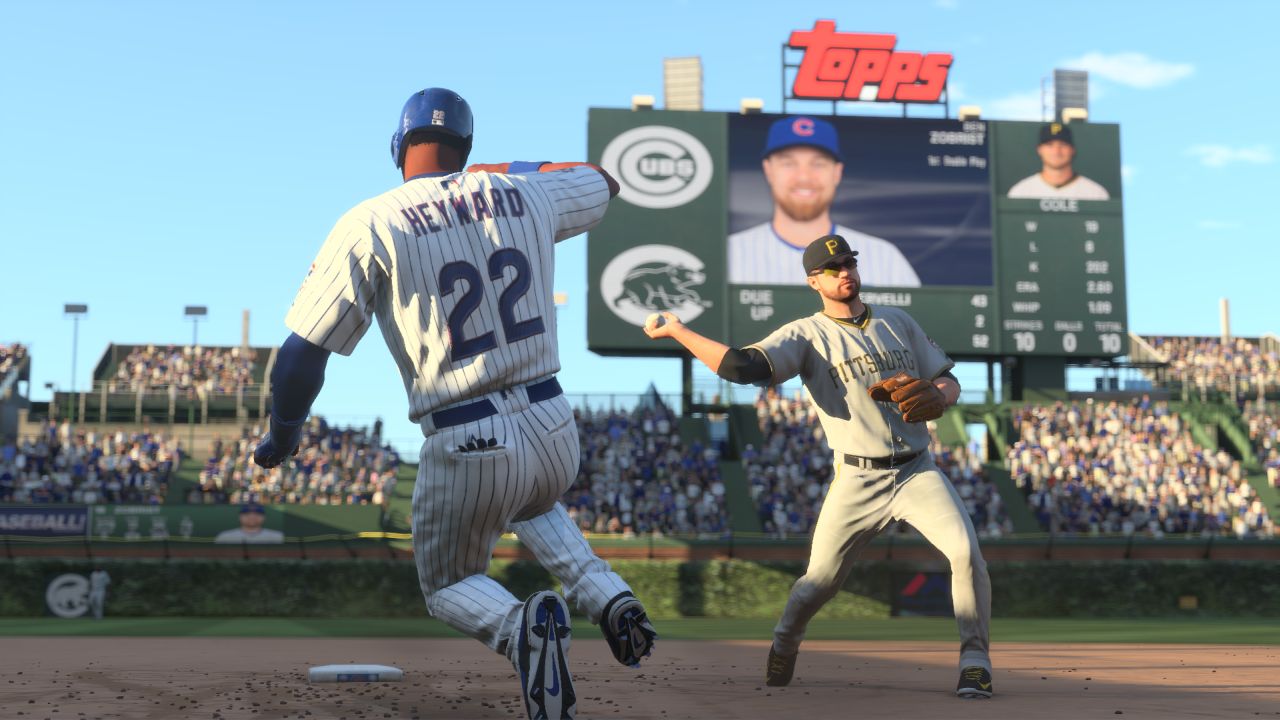 While the core is the same, there are some ripples to The Show this year, particularly in Road to the Show. The first change is the perks system which grants you bonuses if you're wearing certain equipment. You can use certain perks to get the pitches you want or make the computer do something stupid in a crucial situation like attempting to steal a base when you're ready for it, or serving you up a fastball with runners in scoring position. It's a nice little RPG touch, and is cool in theory, but I found it hard to earn upgrades for my equipment. There also is a new mechanic called ShowTime - a meter built up through positive play allowing you to slow down time when needed. This is most crucial in the field when making a diving play or WebGem-worthy catch. It's not quite as effective at the plate because you've spent so much time trying to learn the timing of your swing that slowing everything down just makes it more difficult. These new additions are interesting, but not fully fleshed out.
It does feel like there is more balance in MLB The Show 16 and, mercifully, the matches skip along more quickly than in previous iterations. Quick counts don't feel as punishing as they did before, allowing you to hop into the middle of an at-bat, speeding up the process of playing. Though, the best change to the in-game action is that you can now set the presentation to be as realistic as you want. If you want to see instant replays of every hit, out, and run, you can set it to be that way. If you want to get the occasional instant replay you can change the setting. If you really want the game to snap along without much instant replay and analysis, that's also an option. This allows to really get the barebones experience when you're looking to crunch out a handful of games in an hour or two.
And it's probably for the best. While the presentation is still serviceable in MLB The Show 16, and the game added over 2,000 lines of dialogue to the commentary, it still feels repetitive. I heard the same lines over and over again, and was far from interested in the analysis provided. Part of that is natural. When you have to play 162 games in a season, you're bound to run into more repeated commentary than the shorter seasons of Madden or NBA 2K. But that's a difficult excuse to use when The Show is pushing for you to play each game of a season.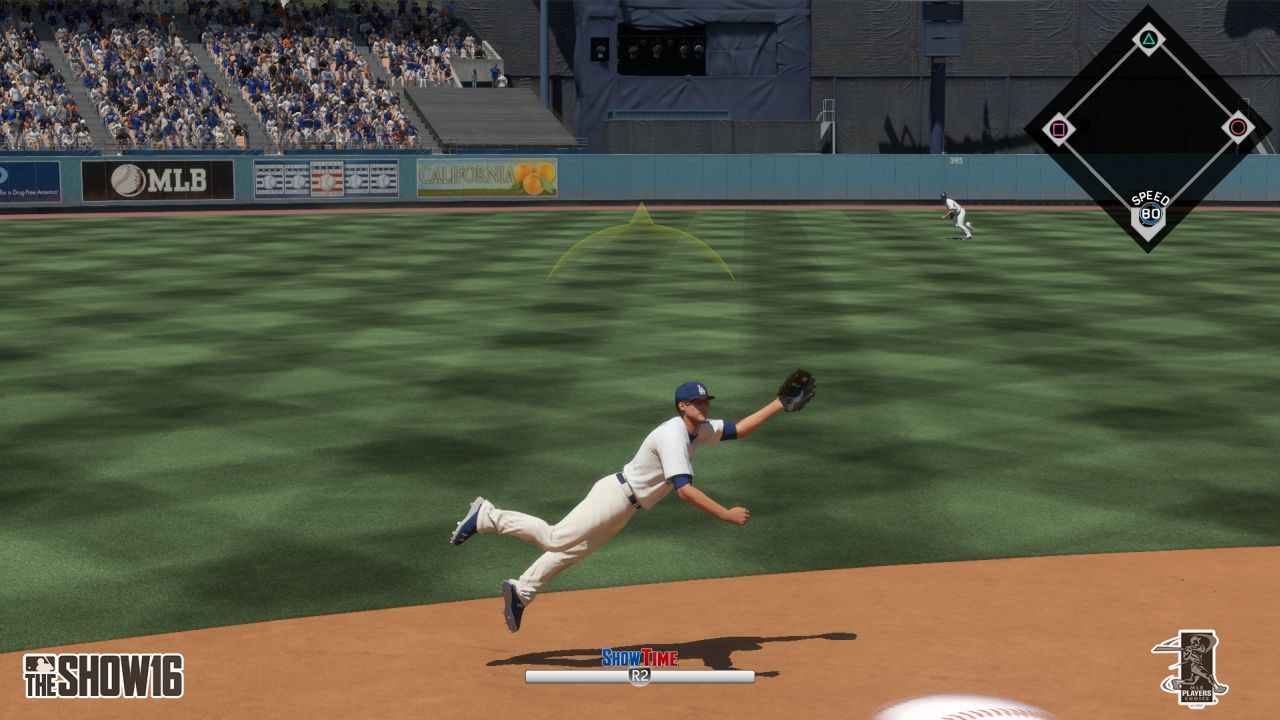 The Show 16 has also put some time into improving Diamond Dynasty mode. Fair warning: I'm not a huge fans of these card collectible, build-a-team modes in any sports game, but I've always found The Show's version of it to be particularly lazy. Sony San Diego has tried to counter that this year by adding captains, big-name players you unlock as your level improves. Playing any mode will improve your level quickly, so it doesn't take long to unlock some big name players whom you can add to your team in this role. You can also buy unique stadiums like the Polo Grounds or Ebbets Field, which is pretty cool. But Diamond Dynasty still feels like a sports game equivalent to Candy Crush, constantly pointing you towards the many microtransactions that can make the mode feel less futile.
There are other modes in this year's MLB The Show, in case you still didn't feel like you were getting your money's worth. Conquest mode turns The Show into a strategy game as you attempt to win fans across the country, slowly drawing them away from other MLB franchises with board-game-like strategy and winning shortened games. Then there is the Battle Royale mode, where players draft a team and compete in online tournaments. Battle Royale is a cool idea, perhaps the most interesting way a sports game has attempted to build a competitive online community in a while, but in order to compete you need to pay an entry fee using in-game currency. So again, players are forced to save up in order to participate or head over to the store and pay real cash.
It's hard to imagine any of these modes becoming the focal point of the franchise. Instead they feel a bit tacked on, little accoutrements designed to enhance the value of the game, as if the mega-hours you would sink into Road to the Show and a franchise aren't enough.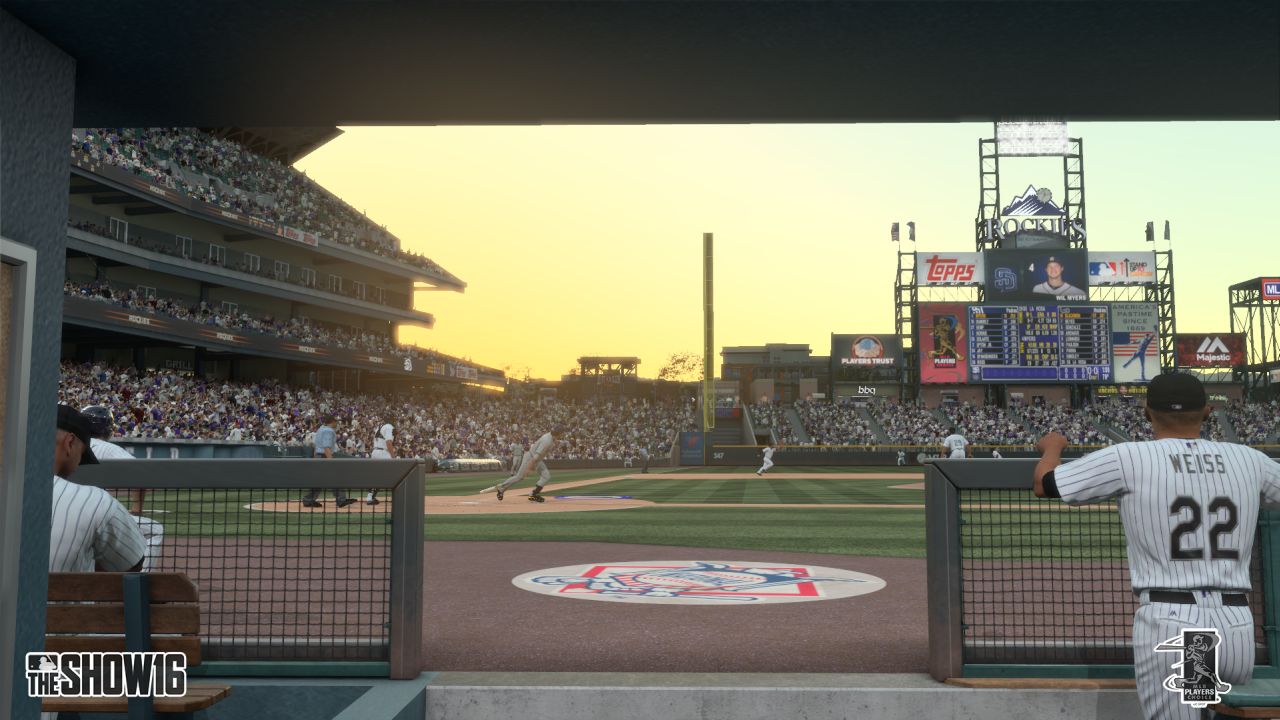 Despite my disinterest in the new modes, I've been playing MLB The Show for years now and this feels like the one to own. The series has long been stuck in a rut of trying to figure out how to streamline a complex sport without losing the minutia that has so long been the calling card of the franchise. The Show 16 feels about as perfect a balance as can be expected. Sure, the game demands a lot of your time and is filled with frustrating moments - but that is baseball in its purest form. It's a sport that is designed to have the very best succeed only a third of the time. It's supposed to be a game of deliberate pace and patience. If those are your problems with MLB The Show, your problem is with baseball - not this video game. Yet, if there's going to be frustration and patience, the video game needs to find a way to snap along and not further punish the player with bad menus and long loading screens. This has long been the plight of The Show, but not this year. This feels like the best The Show has been in a long time. So if you've been hesitant to jump back into Sony's baseball exclusive, you can stop waiting.
Our ratings for
MLB 16: The Show
on PlayStation 4 out of 100 (
Ratings FAQ
)
Comments