Hitman - Intro Pack Review
The stealth franchise returns with a new release format
It's the return of Agent 47. After getting a disappointing second helping of the film adaptation this past summer, the stealth action franchise returns to gaming four years since the enjoyable, but forgettable outing in Hitman: Absolution. This return sparked an interesting thought that stuck with me throughout my time with the first bit of Hitman's episodic release: can this franchise gather enough momentum to live on?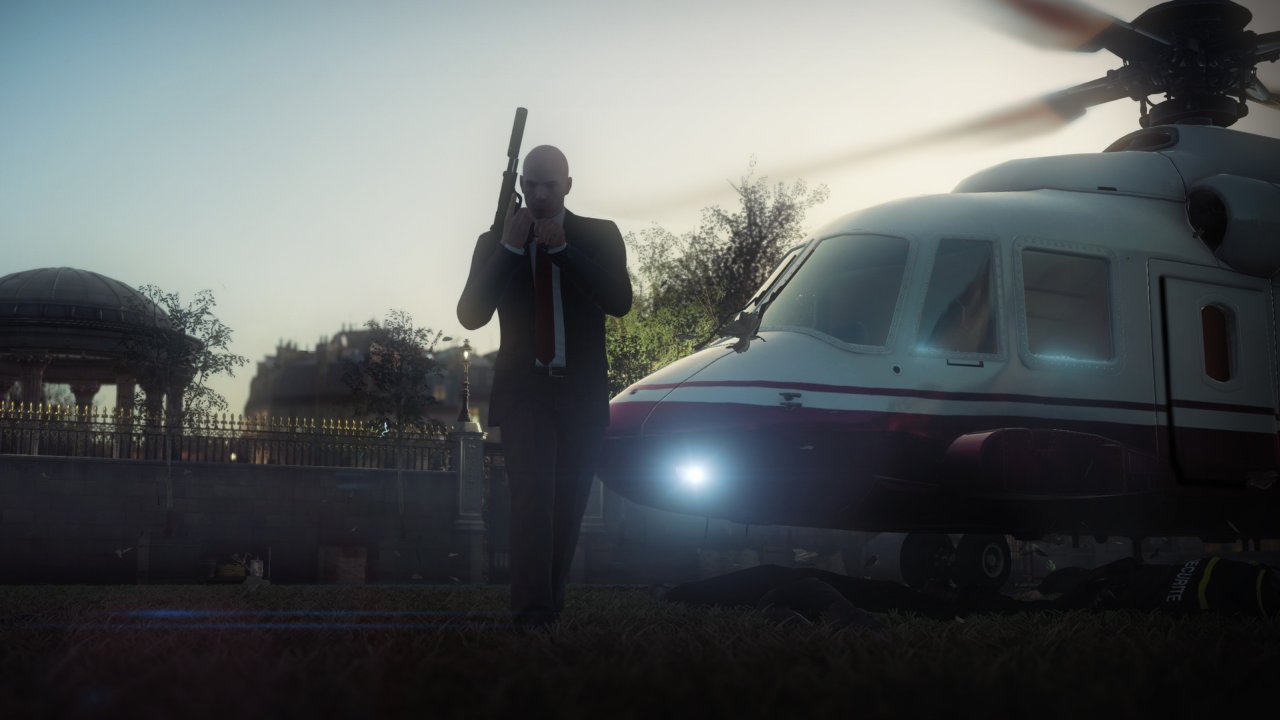 While the series has been around for over 15 years, it doesn't have the feverish fan base as some other series. The franchise seems to exist because people are somewhat familiar with the name, the bald protagonist, and the concept of what he does. But I haven't heard of a Hitman faithful that gobble up each new entry from IO Interactive. Sure, there are people who thoroughly enjoyed Blood Money, Silent Assassin, or even Contracts, but Hitman has ever ascended into the high end of the video game zeitgeist for me. So what is the importance of Hitman's return? And can IO help the bald assassin remain relevant?
The answer is: Maybe? There's just not enough in the Hitman Intro Pack to get a sense of how good the series will be. During my training missions and my first target, I found the game unbearably frustrating sometimes, and delightfully clever at others. But while the experience is mixed, it is most notably short and lacking in content, and attempts to make up for it by adding user generated content while we wait for more story missions to become available. I would even hold off on purchasing the $15 Intro Pack. The reduced price isn't as much of a gamble, but the first section of Hitman just feels so thin. There's stuff to like and stuff to dislike, but even as a standalone episode, this isn't a purchase I'd readily recommend. Yet, there's bright spots that give me hope for the future of this episodic model.
The game begins with Agent 47 entering a testing facility where he will train to be part of the ICA. There's a brief exchange between 47 and his handler, Diana Burnwood, and it's from her perspective that we watch the narrative unfold. A constant throughout the series, Burnwood is usually used to give 47 more life and personality, and it seems like the latest iteration of Hitman is no exception. The character constantly repeats that she sees something special in 47, and since we know we'll be assuming that role we want to believe her. There are hints of narrative threads that may continue throughout the full game, but the plot is pretty thin in the first chapter of Hitman, which just makes it on par with the rest of the game.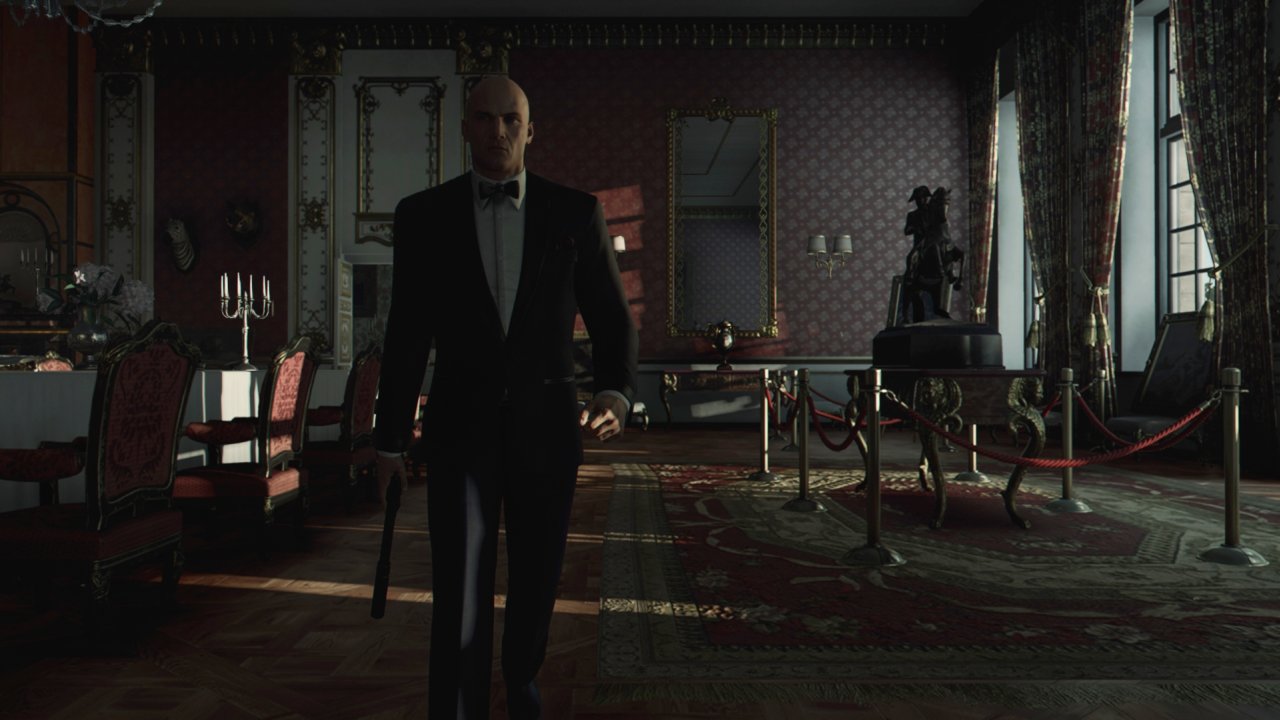 Hitman wildly fluctuates between looking pretty and looking pretty awful. It seems some extra attention was paid to the cutscenes, but there are some in-game character models that are rather ugly. Agent 47 is able to disguise himself as many people because so many characters look as generic as he does. This might be intentional on IO's part, allowing you many options for a disguise, but it means there's a lot of cookie cutter characters wandering around. The large crowd scenes are impressive; the Parisian palace and elegant yacht party feel like they chock-full of people, but once you start finding more personal space and get close up with the characters they look pretty bland.
There are also some technical hiccups. I found the frame rate unsteady a few times in Paris. The loading screen takes forever and there are serious delays on the menu screens that make them a pain to navigate. The worst is when the attack/subdue action doesn't respond and the precise timing required to execute a kill is wasted. None of these issues were devastating to the game, but they certainly were annoying. I attempted playing offline (where you can only do the story missions) to try and see if that would help, but it didn't - in fact, the mission loading screen felt even longer.
There are three locations in this first batch of Hitman content - a yacht party, a military hangar, and a Parisian fashion show. Each location has their own target(s), sets of challenges that should help you complete your hit, and obstacles to get in your way. Hitman begs you to try different options with each level, finding new paths to the target and new ways to kill them. Despite this encouragement, I didn't find the options to be as robust as the game boasted. In each level there seemed to be key individuals, isolated from the rest so that you could take them out in strategic places throughout the map; and these opportunities feel like the only options open to the player. I never felt like I had an abundance of freedom in how I carried out my task. In fact, I often found myself saving before making a critical move because whenever I'd try to improvise (i.e. drop a chandelier on the victim's head instead of shooting them) the game would push back, as if it hadn't accounted for someone thinking outside the box. Whenever I would get creative, I felt like the game would constrict, and force me back to the more traditional approaches that the developers had in mind.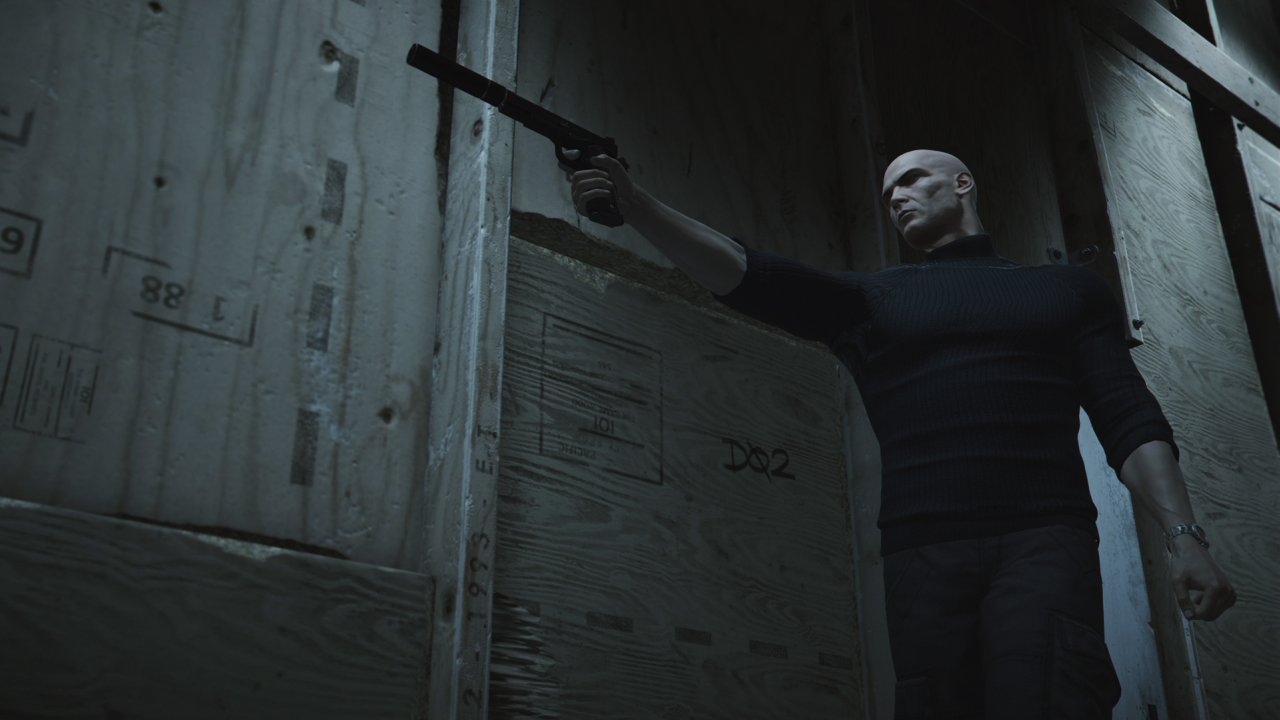 Adding to this trouble is the inconsistent AI. Sometimes the reactions of guards and party-goers are predictable, thanks to a little indicator that tells you who will be able to see through your disguise and arrest/attack you; but it isn't always so easy. At times I would walk past guards who wouldn't respond to me until I was a ways past them and then suddenly turn violent because I was trespassing, instead of catching me at the door like they normally would. In one disguise I could draw a gun, shoot my target in front of a crowd of people, and walk away undetected. With another disguise, the moment I held a letter opener someone called for my arrest because I had a 'weapon'.
But there are fun elements in the trio of Hitman locales. They are impressively alive and filled with people who are interacting with each other and some who are carrying out little storylines you might stumble upon - all contributing to the scenario and allowing different avenues toward your kill. You can eavesdrop on conversations that will tip you off to objectives and help you complete the mission. Listening to these conversations and having a plan form in your head is fun - and even more so when you can pull it off. Variations of staff each have different limitations of access. This means you'll be switching disguises multiple times in each level to try and find the one that will get you within striking distance of your target, providing some problem solving that is equally fun and challenging. Again, there's not an abundance of these options, and sometimes you'll have to hang out in an area for a few minutes to identify these opportunities, but when you do find them they're interesting.
Unfortunately, there's just not enough of the game right now to get a sense of which Hitman we'll be seeing more of over the following year - the frustrating, single-minded version or the robust, interesting one with little vignettes playing throughout. Without more content it's hard to recommend jumping on board for the whole package. The story missions offer about 2-4 hours of gameplay, and are supplemented by the user-created contracts which use the same locations and set up as the story missions, but change the target and allow certain perimeters to be set (i.e. you must kill this guard by specific means while wearing a waiter disguise). Even though a curation process has been set in place for this content, ideally propelling the best to the top, these mission didn't feel unique enough to warrant return to the same location half a dozen times. The game also offers a couple of different modes to challenge the player - Elusive mode where you only get one shot at your target before failing the mission and Escalation mode where you are given five objectives which grow increasingly difficult - but they suffer from the same issues as the contracts in that they're all just different riffs on the same environment.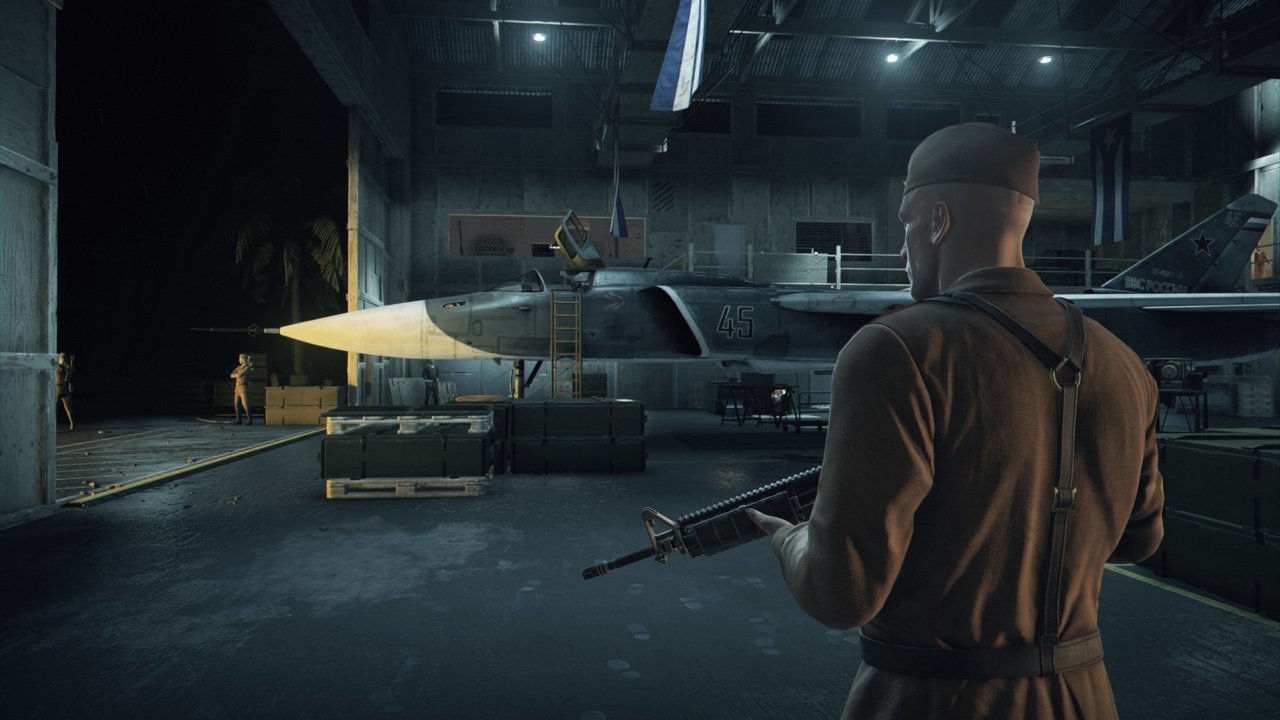 There is a fair amount of content yet to come for Hitman. The locations of Italy, Morocco, Thailand, USA, and Japan will be added over the next five months, and if you're buying them individually, they'll cost $10. You can also purchase this Intro pack and upgrade to the full experience for $50 at a later time. The episodic release model gives me hope that IO is cooking up must-have content, believing that they can keep bringing people back with solid gameplay instead of the cliffhanger tropes most narrative games use. It's a unique concept with a game like Hitman, and if the episodes can highlight what works with these story missions, I'm definitely down to play more.
There's a good game to be found in the new Hitman. With more fun locales that are vibrantly different, filled with interesting little storylines that lead to the climatic kill, I could see myself really enjoying the game. If IO can drop new content every month that features a thoughtful, interesting scenario, it could make for a good stealth game uniquely broken up into chapters that breathes new life to the franchise. But if the game continues to lean too heavily on user-created content and providing only thin slices of DLC each month, it just doesn't justify your investment - on any level. So let's just wait and see which direction it will take.
Comments