Mario Tennis: Ultra Smash Review
There isn't much to "Love" about this tennis game
In keeping with the game's "Mega" theme, I was pleasantly surprised to see some semblance of a "boss" in the form of a giant Bowser, which awaits you after a long and tedious run of facing each character throughout the Knockout Challenge. This encounter offers at least a dash of a new experience. However, once you've gotten past the neat, yet brief Magikoopa cinematic that sets the stage for this showdown, you are essentially just playing yet another game of tennis, the only difference being that you are now facing off with a gigantic and more challenging CPU. Despite how little the single player Knockout Challenge mode offers, you will be bummed to learn that this is actually the bulk of the gameplay, at least when it comes to the single player modes.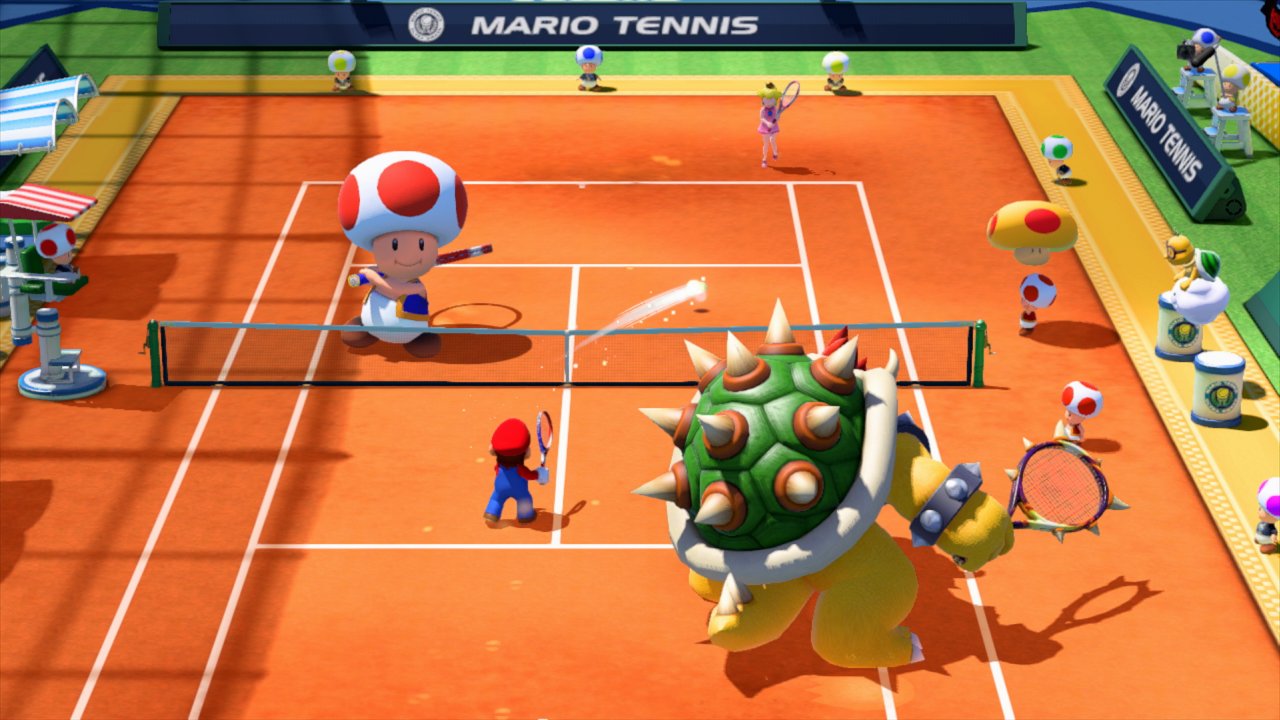 The secondary single player option, "Mega Ball Challenge," comes off as little more than a drawn-out practice mode, as your only goal is to face off for as long as you can against a CPU opponent. The only differentiating feature is the behavior of the ball, which starts out large and floaty, and gets progressively smaller and speedier (and thus trickier to stay with) the longer you carry on without missing a return from your computer opponent. This has very little staying power, and I quickly found myself bored with it, even when facing off against the higher difficulty AI, which actually has the ability to keep the streak going without flubbing. Not even the lure of racking up coins (of which you are only granted few anyway) could entice me back to this one.
Speaking of coins, these are basically your universal Ultra Smash currency, which allow you to purchase a modest selection of twenty-five total unlockables. These include everything from additional courses, extra players, increased difficulty settings, and "star" versions of each player, which supposedly provide you with a powered-up version of each character, though I didn't notice much of a difference upon testing them out. These unlockables bring a touch more to the experience, and provide at least some sort of incentive to play on. However, once you've snagged them all, most of that incentive quickly evaporates, as your coins become virtually useless. You also have the option to unlock most of these goodies via in-game tasks, though I found this to be mostly pointless, considering how quickly and easily you are able to gather coins. A few good win streaks during the Knockout Challenge and some quality online matches, and suddenly you find yourself able to rattle off a large chunk of Ultra Smash's unlockables in one fell swoop.
If the quirky aforementioned features aren't your cup of tea, you are granted some nostalgic simplicity with the Classic Tennis mode, which includes Standard and Simple modes. The former tosses the mushrooms aside, making for a more balanced match, and the latter provides you with an absolute stripped down Mario Tennis experience, ditching all the distracting and largely tacked-on gimmicks. Like in the Mega Battle, you can choose to play singles or doubles, complete with a varying number of sets, matches, or a single tiebreaker game, in which the first person to hit seven points wins. There isn't much to say about this feature, yet considering all of the bizarre and somewhat flawed additions found elsewhere, this is not necessarily a bad thing.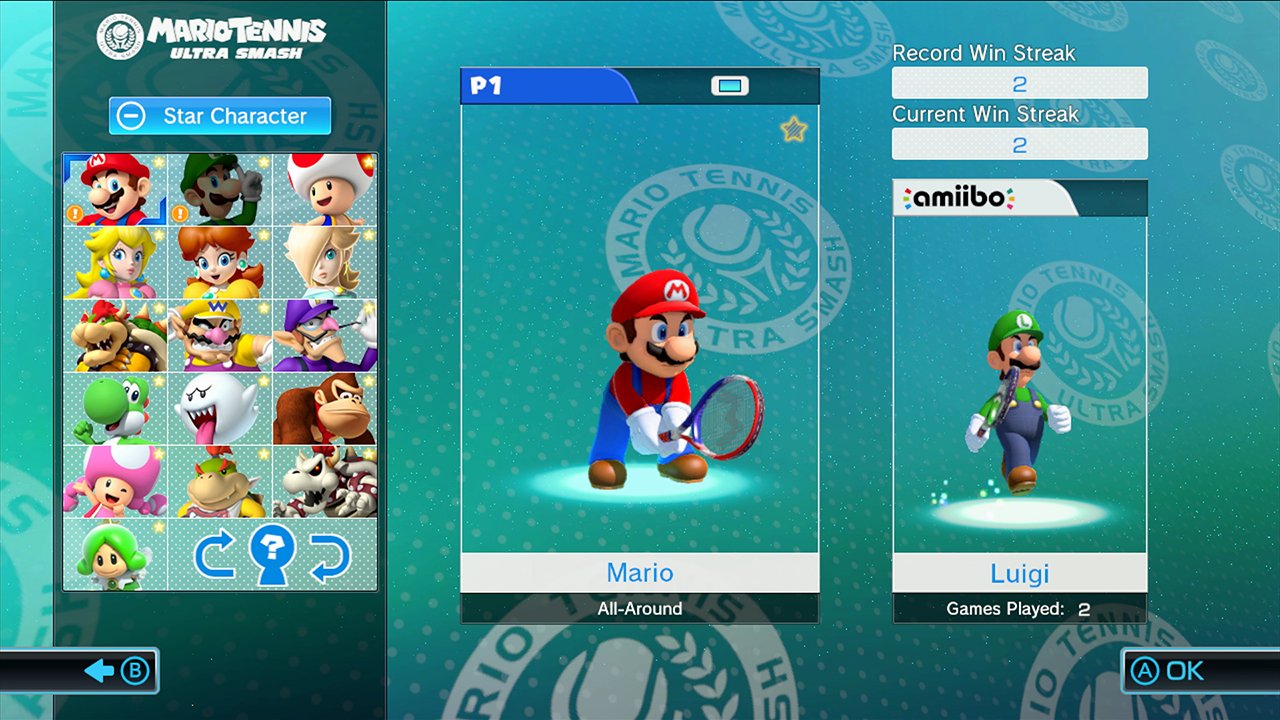 The online mode is admittedly a great addition, and one that almost single-handedly acts as a sort of saving grace for this otherwise lacking sequel, if there was one to be had. Not surprisingly, there isn't much to it, though there doesn't really need to be, as the mere ability to square-off randomly with opponents online is a refreshing oasis of fun amongst a desert of dullness. I did run into some lag hiccups and the occasional disconnect, but overall my online experience was surprisingly pretty smooth.
Like the other modes, Ultra Smash offers the choice between singles or doubles when playing online. On top of this, you may chose to engage in a more serious battle, which provides you with a rank similar to the recent Mario Kart entries, or can decide to play it more casually with the "Play for Fun" mode, which generally pits you against some simpler competition. You can chose whether or not you wish to have mushrooms or Chance Shots in the mix as well. Nintendo thankfully included the convenient option to search for any type of game, with any number or sets. This was a wise move, as I discovered that getting specific in your matchmaking preferences led to some long waiting times. Not surprising, since there are likely few out there to even match up with in the first place. This was especially apparent when attempting to play doubles online. We're not talking about Call of Duty here when it comes to the size of the online community, after all.
One side note is that there is amiibo support throughout the game, which helps to add a bit of depth here and there. At the same time, there could have been more to it than Ultra Smash offers. Scanning an amiibo provides you with a glorified AI comrade, similar to the latest Smash Brothers entry on Wii U. This makes both the Knockout Challenge, as well as the online doubles mode, a tad more interesting as you are able to team up with your AI character. Unfortunately, the usefulness of your virtual partner leaves much to be desired, and actually seems to hinder more than assist. You will likely have some frustrating moments where your amiibo doesn't get to the ball, or ends up whacking you in the back of the head when they do hit the ball. This becomes less of an issue throughout the course of the game, as you are able to train your amiibo through earned stat points. Oddly though, the points are randomly spread across different abilities, and the only real control you have over this is the mostly pointless option to spend coins to reset your amiibo's learning progress. I suppose this feature is worth giving a go if you happen to already own a supported amiibo, but it certainly isn't worth shelling out for one just to use for this game.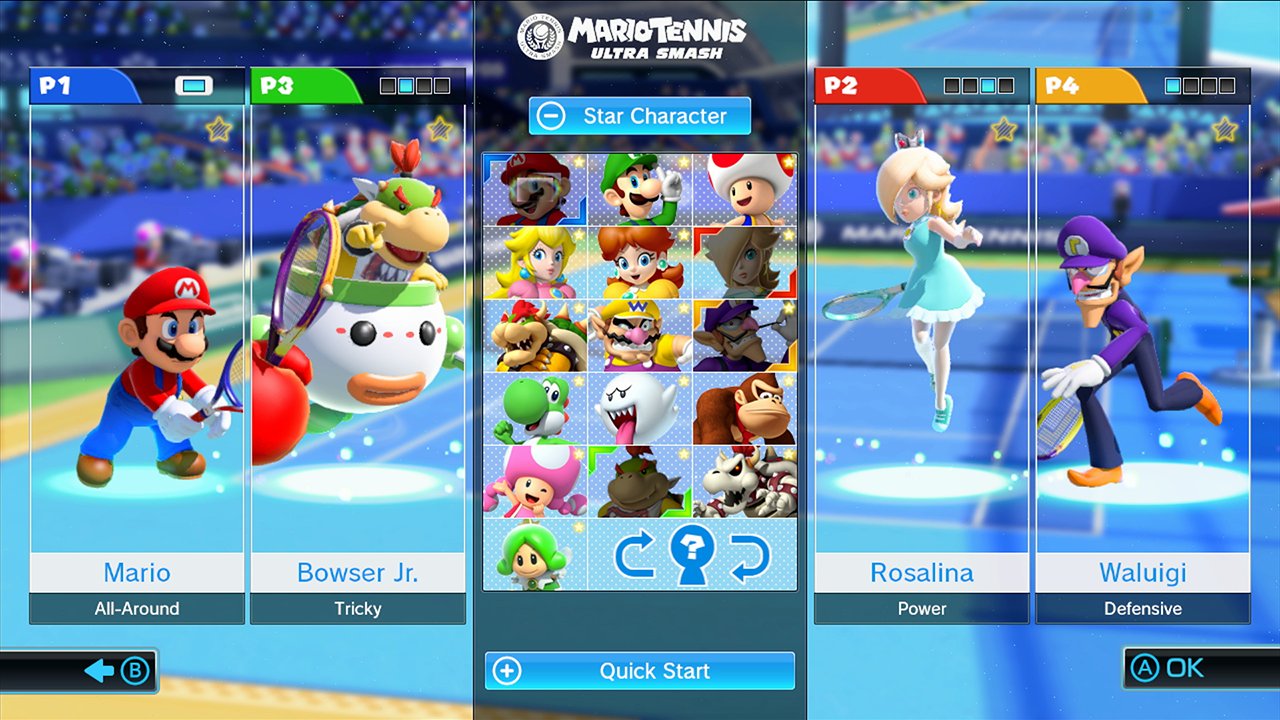 At the end of the day, Mario Tennis: Ultra Smash is a mediocre sequel at best, and one that just doesn't have much of a point to it. It's hard to even recommend at a discount price, unless you are planning on playing with a friend, or heavily utilizing the somewhat enjoyable online play. Indeed, the online functionality, while pretty basic, provided me with the majority of the fun to be had in this game, and is essentially the sole element that makes it worth even giving this a second thought. The game just feels rushed, thanks largely to its lack of features and shallow gameplay that somehow manages to be too simple, and at the same time, provides moments of confusion as a result of its lack of in-game explanations. Unless HD graphics and online play are that big of a deal breaker for you, you're better off simply opting for the original classic on the N64, which can still be enjoyed on the Wii U via the virtual console, and at a much cheaper price to boot.
Our ratings for
Mario Tennis: Ultra Smash
on Wii U out of 100 (
Ratings FAQ
)
Comments
blog comments powered by Disqus