Game of the Year Awards 2015
Showcasing the best games from the past year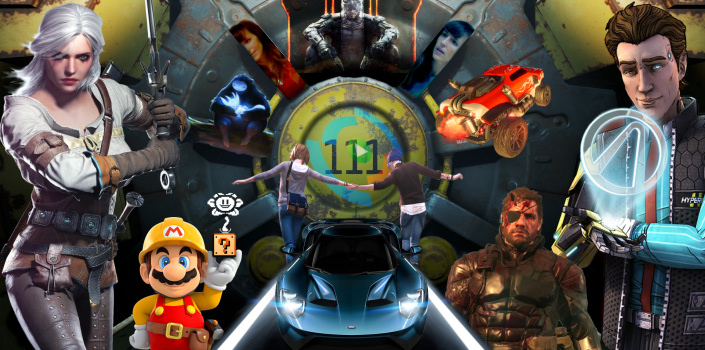 2015 offered tremendous variety in the world of gaming, even though on the surface, it appeared to be business as usual for the industry. Popular franchises returned with their annual entries, including FIFA 16 and Call of Duty: Black Ops 3, while others offered the first entry in a while, with the likes of Fallout 4 and Halo 5: Guardians. Two years into the console generation, games are starting to make the most of the newest hardware. Publisher support for the previous generation has practically ended, and now the industry can move forward in one large step.
Some might remember 2015 for the games that were funded and/or assisted by gamers themselves. Numerous awesome Kickstarter-backed games were released on PC, like Pillars of Eternity, Satellite Reign and Project Cars, demonstrating that there are alternate routes to the publisher-funded model. Similarly, DiRT Rally, Invisible Inc. and Crypt of the NecroDancer made good use of Steam Early Access to refine and polish—despite some other games remaining in the program for years.
But the impressive variety came from quality titles across all genres. It was an excellent year for RPG fans in particular, with Fallout 4, Bloodborne, Witcher 3 and Undertale offering a little bit of something for all fans of the genre—shooting, slashing, sword-fighting, and simpatico. Racing fans were covered with Forza Motorsport 6 on the Xbox One and the crowd-funded Project Cars. Story-driven adventure games were broadly represented, ranging from the horrors of Until Dawn to the hilarity of Tales from the Borderlands, and let us not forget the charming, time-bending adventure of Life is Strange. Even the platforming genre was packed with artistic excellence from the likes of Tearaway Unfolded, Ori and the Blind Forest and Kalimba. Strategy gamers took a step back in time, historically with Total War: Attila and stylistically with Grey Goo emulating games from the golden era of the RTS genre. There was no shortage of wonderful supporting games such as Rocket League, Cities: Skylines, Everybody's Gone to the Rapture and Her Story being massive surprises that strengthened the year.
It hasn't been all good news though. Konami and Hideo Kojima had a massive falling out, yet Metal Gear Solid V: The Phantom Pain turned out great anyway. The PC version of the impressive Batman: Arkham Knight was a technical disaster at launch although it improved slightly with patches. And on a sad note, Nintendo CEO and creative mastermind Satoru Iwata was lost to us this year, just months before the release of the creative Super Mario Maker.
Despite this, 2015 was an impressive year for gaming due to the diversity and quality offered. There was something amazing for everybody. At New Game Network we have enjoyed looking back through the year. Read on as we reveal our awards for the year and find out which game will be crowned the best in 2015!
Comments
blog comments powered by Disqus