Call of Duty: Black Ops 3 Review
Well-designed maps and fluid movement combine to produce excellent multiplayer action
Here we are, back again. Treyarch is at the helm of this year's Call of Duty title—the thirteenth major release in the franchise since 2003. In those early years, Treyarch was just a secondary team behind Infinity Ward. Things are different now, especially after the turmoil at Infinity Ward and the uninspiring Advanced Warfare from Sledgehammer last year. Treyarch have returned to their popular Black Ops sub-franchise, yet the campaign shares minimal connection to the previous games—there are no returning characters and the story is standalone. Black Ops 3 is the most futuristic Call of Duty game to date, set in 2065, and it deals briefly with human augmentation and artificial intelligence. The multiplayer has undergone notable changes, putting nine distinct combatants against each other with thrust-jumping and wall-running for good measure. The Zombies mode returns too, taking place in a rather confusing film-noir city set in the 1940s. Perhaps the most prominent franchise addition is that the campaign now supports co-operative play with up to four players.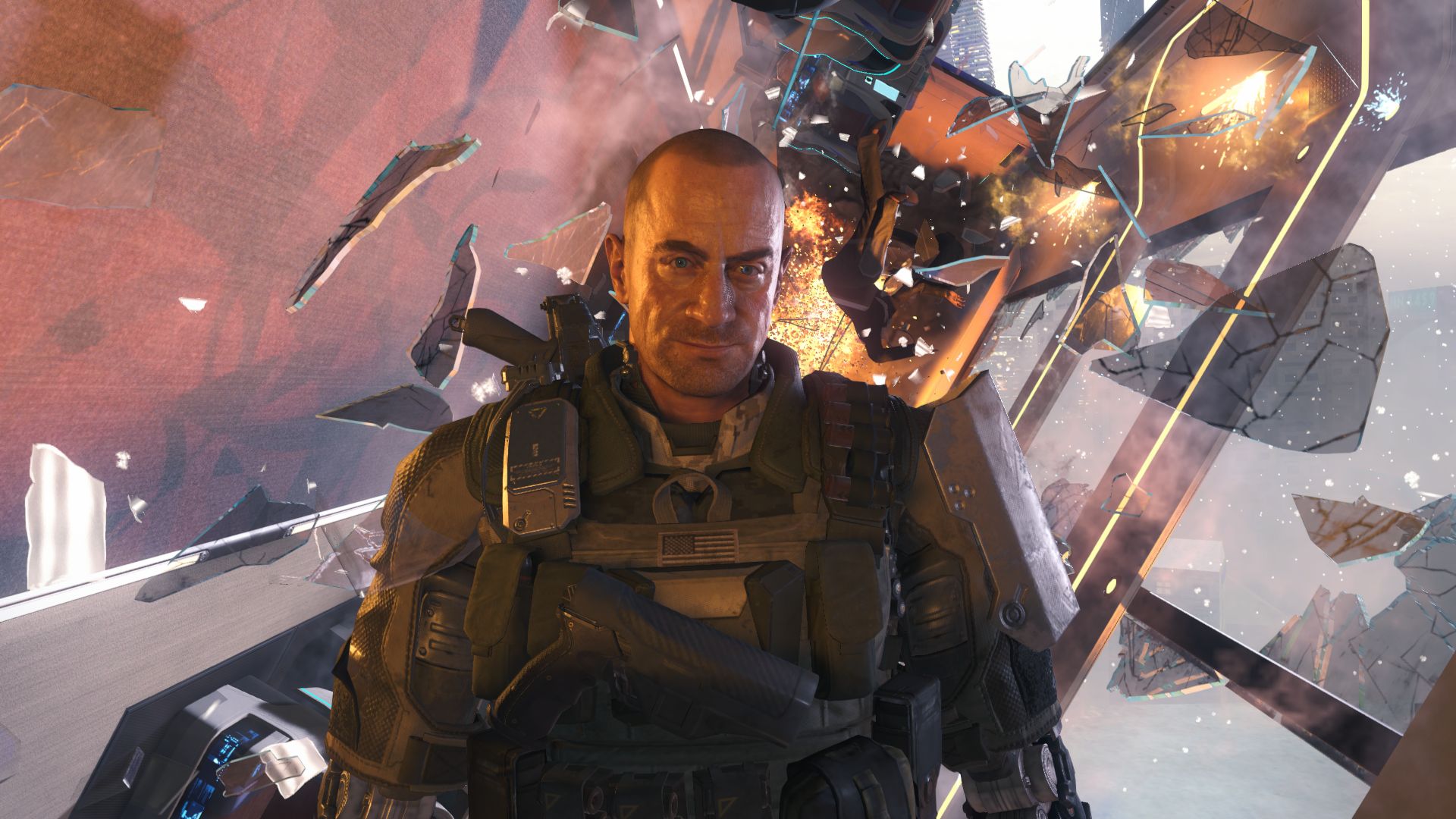 Playing with others is not required for the campaign, in fact things progress much the same as previous titles when going at it alone. The action starts during a mission to rescue a VIP from the hands of a tortuous faction. Things go haywire—of course they do—and a combat droid removes your limbs and pummels you into unconsciousness. Advanced Warfare started in a similar way, but events get more interesting than Kevin Spacey's quest for world domination. With life threatening injuries, a special-ops team helps integrate advanced technology into your brain to give you an edge on the battlefield. The Direct Neural Interface (DNI) allows you to gain real-time tactical information and hack various devices. The neural implant forms the backbone of the story, as it becomes clear that some characters have shifted allegiance.
After the first mission, you undergo a lengthy simulation that introduces the DNI skills. This tutorial brilliantly introduces major characters and what role the DNI abilities take during combat. There are three Cybercore skill groups: Martial, Control and Chaos. Martial involves speed and cloaking, Control allows remote access to drones, and Chaos lets you destroy or distract. Taking control of airborne drones and killing enemies is analogous to the multiplayer scorestreaks, offering satisfying mayhem for a short time. Using Chaos to carefully destroy groups of combat robots helps as the campaign is much more difficult than last year's entry. Sadly, you can only use one Cybercore group at a time although armories, placed before combat areas, allow loadout changes. The Cybercore skills are neat and exclusive to the campaign but you will still be shooting most of the time.
Your character for the campaign is an unnamed and customisable avatar that can be male or female. Various outfits and weapons can be equipped from inside a safehouse, with progression working much like it does in multiplayer. The safehouse is a small area you visit between missions, used to run test simulations or upgrade DNI skills. As you undertake missions across the globe—the story is still linear—the safehouse changes location, from Singapore to Egypt, but it always feels empty. None of your immediate squad members can be found inside, relying instead on voice communication. The safehouse is just a staging area for co-op players, and wasted potential for the campaign.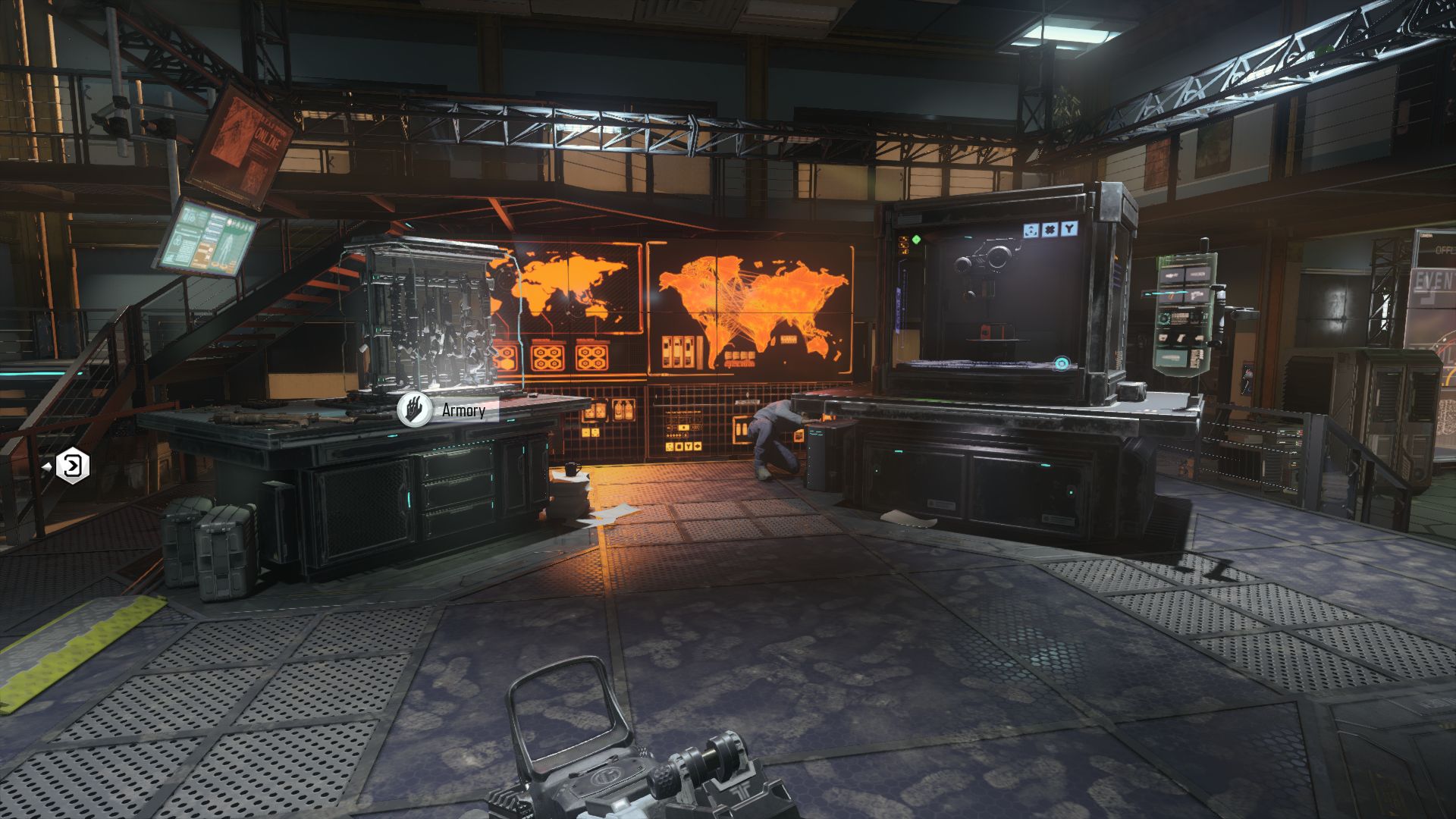 The safehouse lets you gear up and upgrade skills between missions
The biggest change for the campaign comes from the open combat arenas. These are not huge areas, but they are big enough to flank enemies from the left or right, and sometimes above or below. This means fighting many soldiers, and some bullet-sponge units, before moving to the next area. Treyarch have even repackaged the standard Call of Duty trope that involves destroying a tank with a rocket—now the target is a four-legged robot walker and the solution is less rigid. Thankfully the AI has been improved slightly to adjust to the broader level design. These arenas do make the action more dynamic as you take up position anywhere. It also helps to make it one of the longest Call of Duty games ever, at just over nine hours long. Unfortunately the open areas can be draining, especially after you take up cover near one of those infinite enemy spawning locations. The experience is less focused overall, and this means fewer moments of awe as you churn through enemies.
The single player is doing more visually compared to its predecessors, although it comes at a cost. There's detailed geometry, water simulation, full-body awareness, smoke shadows, high-res textures and more. Audio is not quite up the standard set by EA's Frostbite, but the sound environments are usually good. Even the main characters look great when textures are set to high or above. Unfortunately, all this eye candy requires a huge amount of system memory, hard to justify when other games manage without consuming half as much. So you may need to turn down some settings, but at least they will make a significant difference to performance.
One minor campaign disappointment comes from the patchwork narrative. It crumbles towards the end. Despite presenting stunning and twisted virtual landscapes, it fails to explore artificial intelligence in depth. The incomplete narrative is encapsulated when two secret antagonists are given a soapbox in the last mission, trying to bring clarity to this mess. It doesn't work. Also the ending is completely unsatisfying and wastes at least two decent characters. There are no choices that alter events, one of the best features from Black Ops 2, even when the campaign screams for them. The references to the previous Black Ops games are inconsequential. The incoherent story may be the result of the co-op experience, but that is no excuse.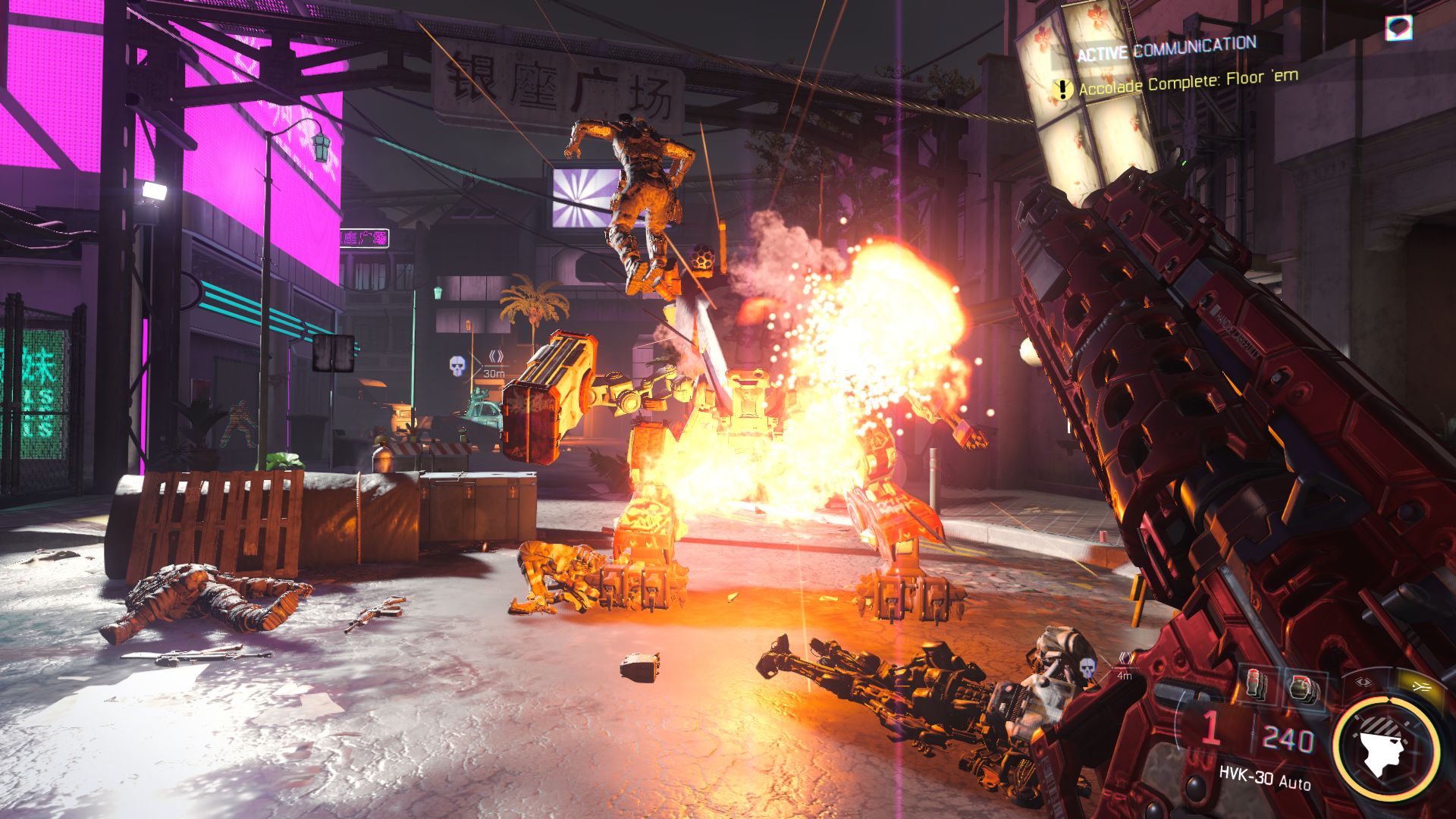 Still plenty of explosions in the campaign
While the single player is okay, the big addition is the four-player co-operative campaign. The larger combat arenas suit four players quite well, although the tactics don't change much. Taking up opposite positions to attack—a classic pincer movement—comes naturally. But there are other areas where the co-op struggles. The sequel has many hand-holding moments, and while they are seamless when playing alone, they can be dull in co-operative play. At some points you will be watching one of your quadruplets—three other players that look like Ben Browder is quite disturbing—interact with an object while you do nothing. Other times a player might skip ahead, teleporting you into a scripted cut scene while you were deciding on a weapon. The clever part is that the cut scenes always put your own character on screen, hiding all other players until the game returns to the action. The co-op implementation is a bit inconsistent although not without moments of enjoyment.
The co-operative campaign is also easier despite adapting to more players. There might be an extra APC during a chase, more snipers on the rooftops or another bullet-sponge enemy halting progress. Even standard combat situations have extra regular enemies to provide slightly more challenge. While the AI is decent when there is only one player, they have trouble prioritizing between multiple human targets. The differences in co-op are noticeable but not drastic. It is not tightly scripted, nor is it teamwork orientated. It would have been better without technical issues—disconnects, host migrations, spawning between enemies, endless loading screens, and white screens—that make completing missions quite difficult. And perhaps this is why it has taken so long to bring co-op to the franchise; aside from not being easy to implement, it has not added much. The campaign tries to appeal to both co-op and solo play and just misses both. It is still entertaining when it works, but not quite the carefully-paced experience it could have been.
Fortunately there is another co-op mode—Zombies—which has four players exploring a maze-like film-noir 1940s city. Zombies are tough, and death comes quickly when the shambling horrors surround you in the cramped and beautiful city streets. But the drive to survive more waves is certainly addictive, especially as you earn money to buy new weapons or set traps. You'll play as one of four characters who provide some humorous quips as they perform rituals and drink powerups. Sadly, the narrator—the Shadow Man—repeats the exact same lines for every round. Also the rounds are too similar. Oh, the zombies come from different directions—they adjust superbly to your changing position around the city—but the matches start the same: zombies, faster zombies, flying-yellow-bugs-that-need-to-die and then a boss monster. Not ideal for a mode designed to be replayed. Also the city is quite confusing and it is easy to get isolated from others when the action gets intense. The objectives are not particularly clear, which means relying on experienced players as a guide. The sole zombies map will take hours to learn, but the difficulty and confusion might ensure that most never bother.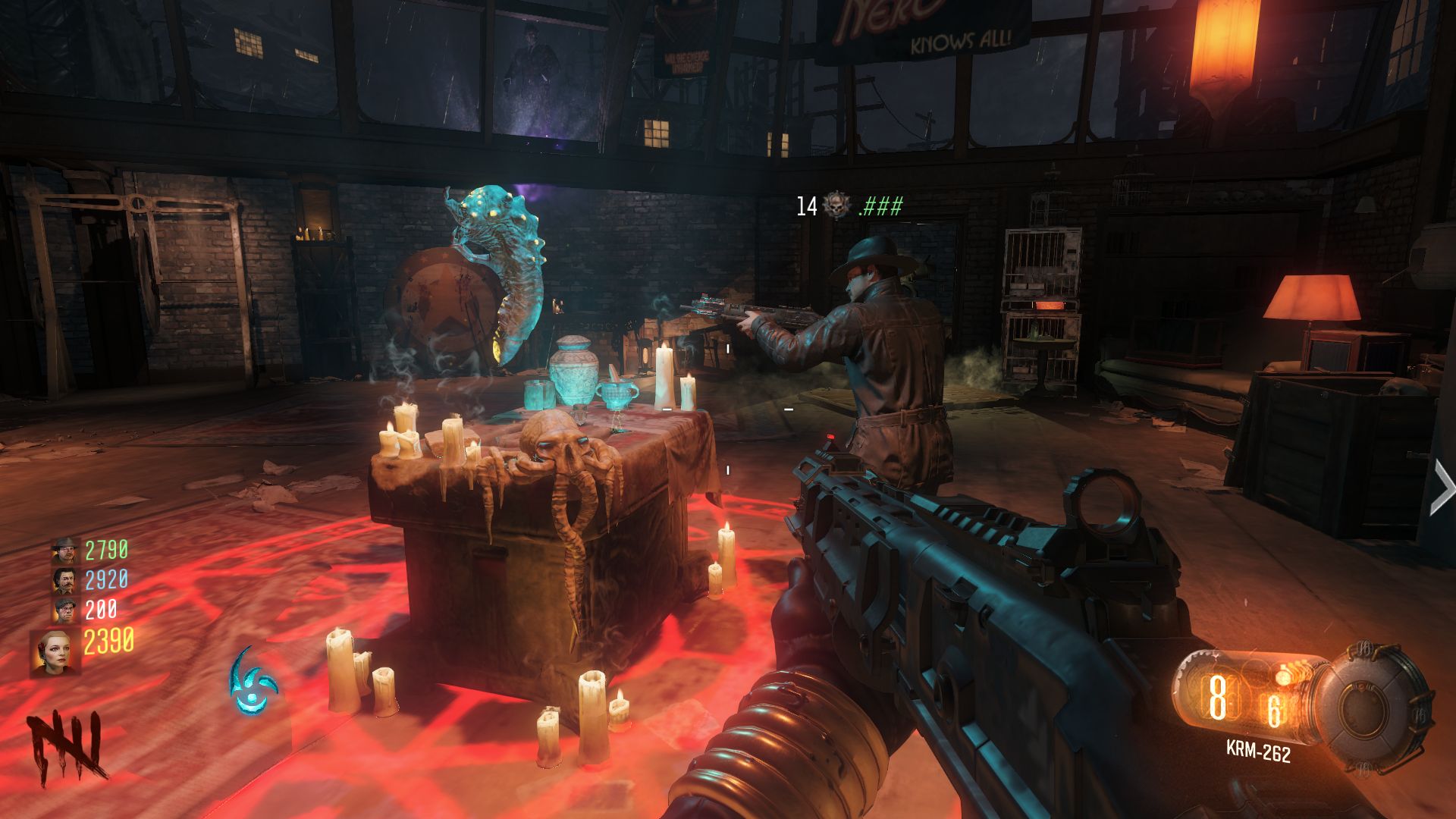 One of the zombie rituals
If you really need more zombies, then there is another mode called Nightmares which repurposes the campaign missions once they have been completed. The order of the missions is jumbled but the actual mission content is nearly identical. Instead of combat robots and humans, you are mostly fighting zombies. This change is refreshing when it comes to the action, allowing free movement around the open levels without the constant bombardment of bullets. The story and cut scenes play out exactly the same as the campaign proper, but they are muted and replaced by a Zombie apocalypse story as a voice over. It's nice, basic zombie-killing mayhem, although not much more than a modification that replaces the enemies.
Comments
blog comments powered by Disqus