Call of Duty: Black Ops 3 Review
Well-designed maps and fluid movement combine to produce excellent multiplayer action
Multiplayer is the best part of Black Ops 3, both from a technical and entertainment perspective. It is a careful mix of old and new. Most modes are still 6v6 and many previous scorestreaks return. The major changes involve wall-running and thrust-jumping. You can run along any wall, but many of the maps have specific wall-running locations—either to circle the map or to take a shortcut between action lanes. Falling off walls can be deadly but some mistakes are less dangerous. When wall-running, you're in motion, vulnerable, but also able to surprise. Getting the jump on enemies is tremendously satisfying as you see them gaze up towards your rain of bullets. Thrust-jump offers some verticality to combat without the discrete exo-jump that was present in Advanced Warfare. The gunfights are smooth because you are not abruptly changing aim, but still need to account for the third dimension.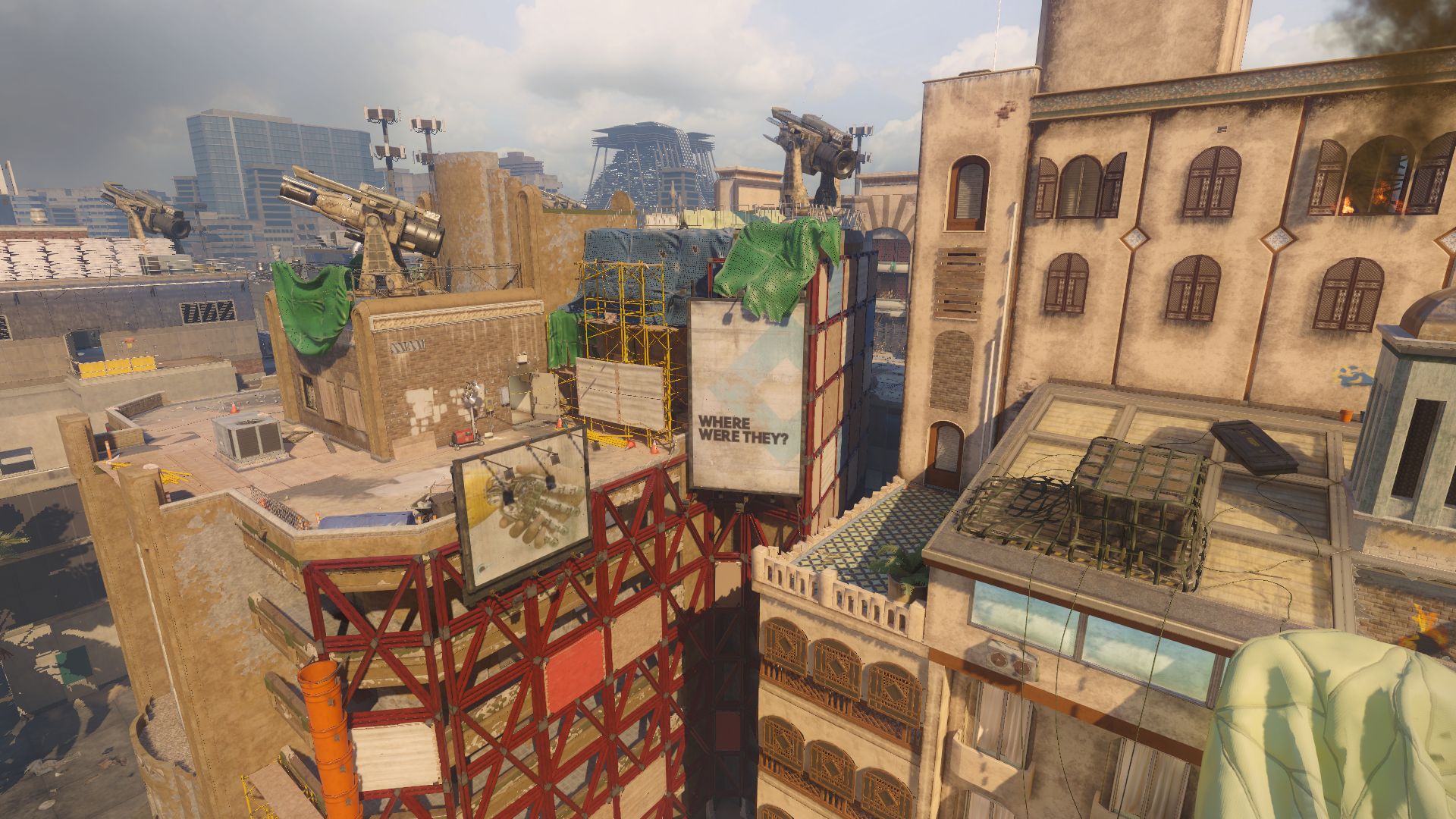 Breach is one of the maps that has good wall-running channels
Map variety and structure is up with the best in the series, with good sight lines and encounter zones. The game focuses heavily on action lanes—usually three—and you cannot use thrust-jumping to shatter the intended design. But never fear, there are plenty of opportunities to flank. Some maps are more traditional because they forgo the obvious walls to run along, one such example is Exodus which takes place in cramped city streets. These traditional maps help give a broader spectrum of action as you are not constantly forced onto walls just to flank. Breach is one map that uses wall-running quite heavily; it's set atop of high-rise buildings and uses billboards as action lanes. Maps with more wall-running routes are the most exciting and frantic, with plenty of laughs from fatal mishaps. Managing thrusters carefully will reduce the number of times you fall to your death. All 12 maps exhibit good structure and variety, and all are enjoyable to play.
Specialists are new to the franchise—players become one of nine unique characters in multiplayer matches. These are not classes, since they can use any weapon, scorestreak or perk. Each character has a unique personality that brings some flavour to the start and end of matches. The main difference comes from their exclusive weapon or ability that is unlocked during normal multiplayer progression. These are basically unique scorestreaks that constantly recharge, boosted by kills. Every player will get to use their ability (or weapon) a few times per match although they are easily wasted. When it comes to specialists' weapons, you are still vulnerable and you have a limited time to use them. So you need to make sure you are near action and not about to die. There is equal parts excitement and pressure when deploying the specialist weapon or ability.
There is good variety across the nine specialists when it comes to abilities and weapons. Seraph's unique ability accelerates her acquisition of scorestreak rewards, or she can use a powerful revolver that penetrates through multiple enemies. Prophet can use an electrically-charged weapon or equip a skill that allows him to teleport to an earlier location, getting him out of trouble. Other abilities include a speed boost, powered armor, flame thrower and chain gun. One character even exploits a lunge-knife attack that is brutal in close quarters. It will take around 15 hours to unlock every specialist, but the early ones are always potent. Just like all the standard weapons, each Specialists will rank up and this unlocks cosmetic outfits that are most prominent during the winners circle post-game. The specialists add just enough flavour to the multiplayer experience without breaking the fundamentals.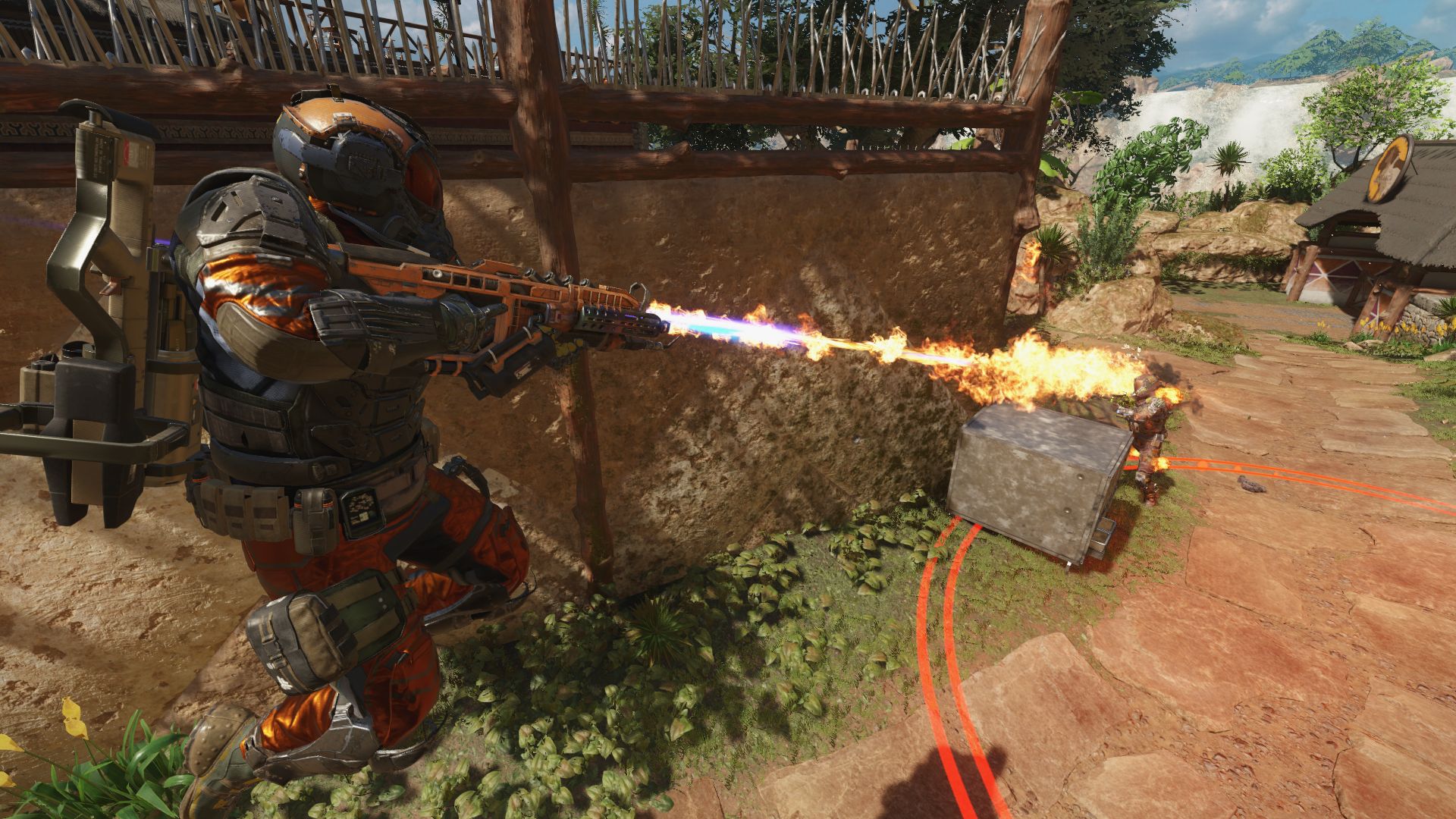 Firebreak's unique weapon is a potent flamethrower
The action in multiplayer is quite balanced. Most weapons are viable but, more importantly, each component has equal importance during a match. For example, scorestreak rewards are more subdued and not so powerful to smother the game flow. The specialist weapons or abilities are infrequent and only last a short time—they are also easy to spot once you've played a few hours. The Pick-10 system keeps all of the perks, attachments and weapons evenly spread while offering ample choice. Wall-running and thrust-jumping is common, but they aren't required during gun fights. The most popular modes, Deathmatch and Domination, had no spawning issues apart from allies deploying a bit too close. This overall balance for online matches will prove an asset going forward.
Online performance and connectivity is quite good for the PC version this time around. The multiplayer framerate is considerably better and smoother than the campaign. All servers are dedicated, offering consistently low pings without migrations or host advantage. Text chat in the lobby is quite nice and matchmaking usually worked quickly for the most popular modes. The only minor issue came from frequent game updates that segregated players temporarily or caused problems when connecting online, but this should reduce in the weeks ahead.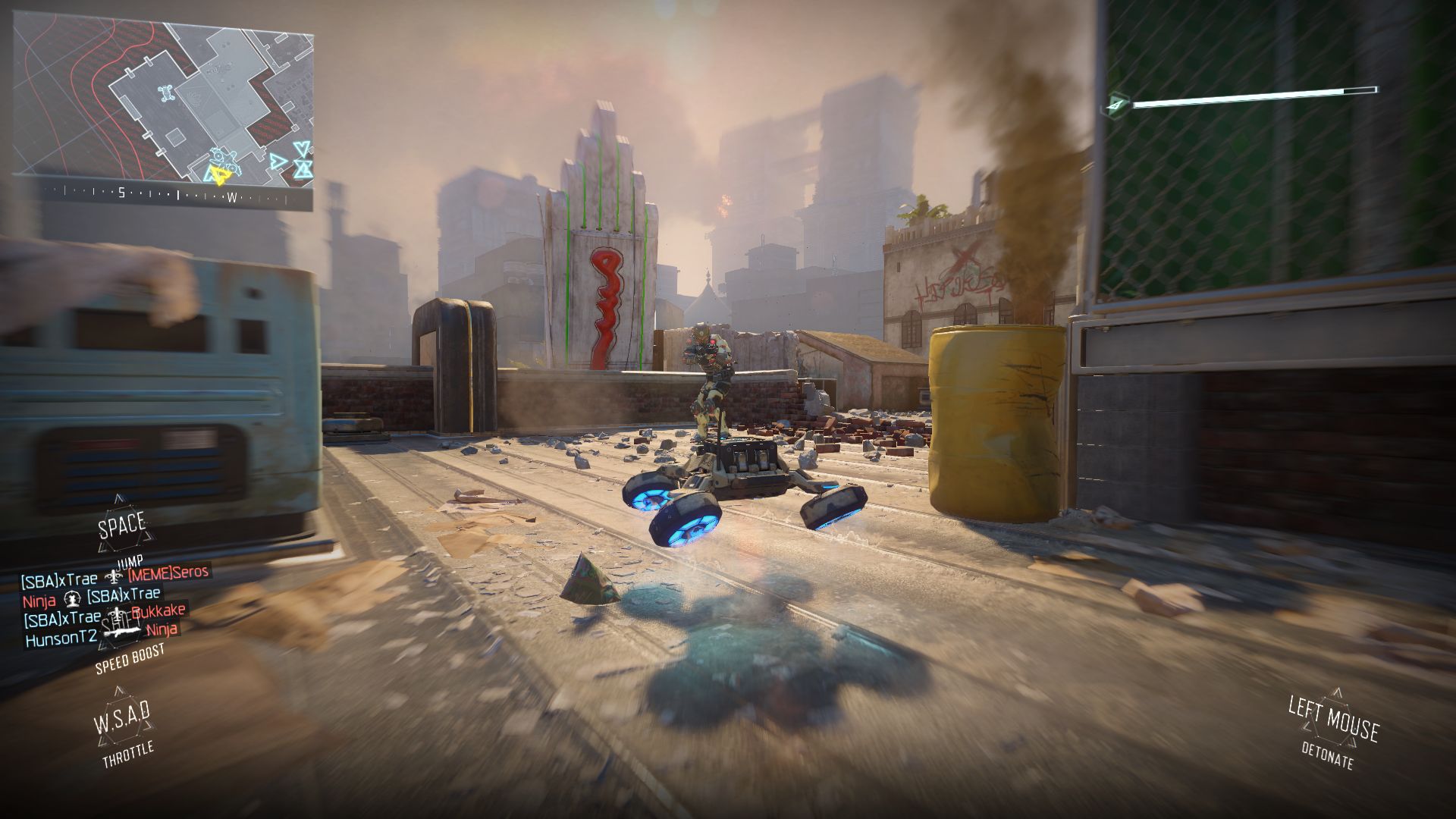 The HC-XD is awesome, it can drive along walls and hover over water
Call of Duty: Black Ops 3 is not going to change your mindset if you have become jaded with the franchise over the years. Nor will it impress if you desire a coherent single player shooter that creates equal parts of awe and excitement. Even the Zombie experience is a bit clumsy, made slightly better with a zombified campaign. However, if you still believe the multiplayer portion of the franchise has potential, then this game will bring you back into the fray. Multiplayer gets things right across the board, from the connectivity to the map design. It's not a retread because the thrust-jumping and wall running change the combat appreciably in the affirmative direction. The new specialists provide brief moments of power and tension without upsetting the balance. They also bring some more personality to the online matches. The value of the entire package is impressive, with multiple ranking systems in the campaign, zombies and multiplayer. Black Ops 3 does more than enough to satiate your thirst for an intimate and frantic multiplayer experience.
Our ratings for
Call of Duty: Black Ops 3
on PC out of 100 (
Ratings FAQ
)
Comments
blog comments powered by Disqus