Guitar Hero Live Review
Make some noise, the music franchise that started it all is back
There were doubts about the Guitar Hero franchise from the start. At first, it seemed like an expensive arcade fad, letting people rock out with plastic guitars on their home consoles. But with the ever-increasing popularity, Activision had created a series that went on to define the new music genre, and spawned competition from the likes of Rock Band. Unfortunately, the craze did fade after a few years of seemingly dominating every house party. The game releases became too frequent, the DLC overwhelming, and the interest from the general public seemingly faded.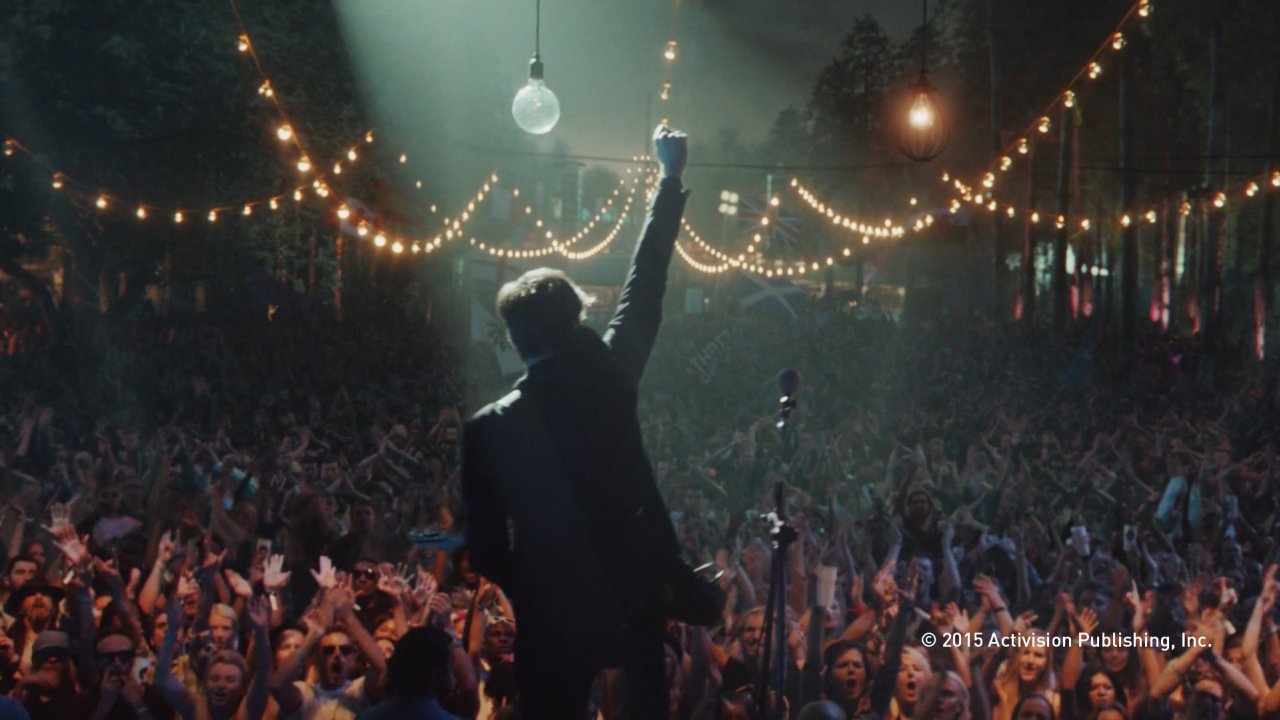 In the tail-end of the chaos, Activision purchased developer FreeStyleGames following their work on some of the Guitar Hero DLC. That studio went on to create the unique DJ Hero and its excellent sequel – but unfortunately, whether due to poor timing or too small of a target audience, that franchise never got a third entry. However now, five years later, FreeStyleGames, gets to take the reins once again, this time with Guitar Hero Live, as it looks to reinvigorate the genre.
The basic concept is the same – you get a new plastic guitar, and you'll use it to simulate playing as a lead guitarist across a variety of music tracks. But let's start with the guitar – gone are the classic five colored buttons in a row, in their place two rows of three buttons. The top three buttons are directly above the bottom three, so when you're playing, there are immediate notable differences. With only three note lanes to work with, you'll need to move your fingers up and down, instead of along the neck of the guitar. It makes for a more realistic, but also a much more comfortable experience – no longer do you need to stretch your wrist and pinkie finger. The notes get creatively complex – sometimes forcing you to hold down the top and bottom button of the same pair (directly above one another), or scramble your brain and press the top and bottom notes of different pairs.
Fans that spent their share of quality time with the previous Guitar Hero games will need some time to adjust, but most should be able to get comfortable rather quickly. As mentioned, it's physically more comfortable to play, even as you crank up the difficulty. The strumming and whammy bars remain largely unchanged, and the whole build of the guitar feels of decent quality. With any rhythm game, controller precision is highly important, and in that regard the new hardware holds up well. There are occasions when it feels like the game misses or doubles up your inputs, breaking your streak, and these occasions can be frustrating. Because the game is notably lenient on missed notes, you'll know when you've messed up, and when the guitar did. The whammy bar on our unit is notably squeaky. Still, the hardware seems decently well designed and will hopefully hold up over the years, unless you get unlucky with a manufacturing fault.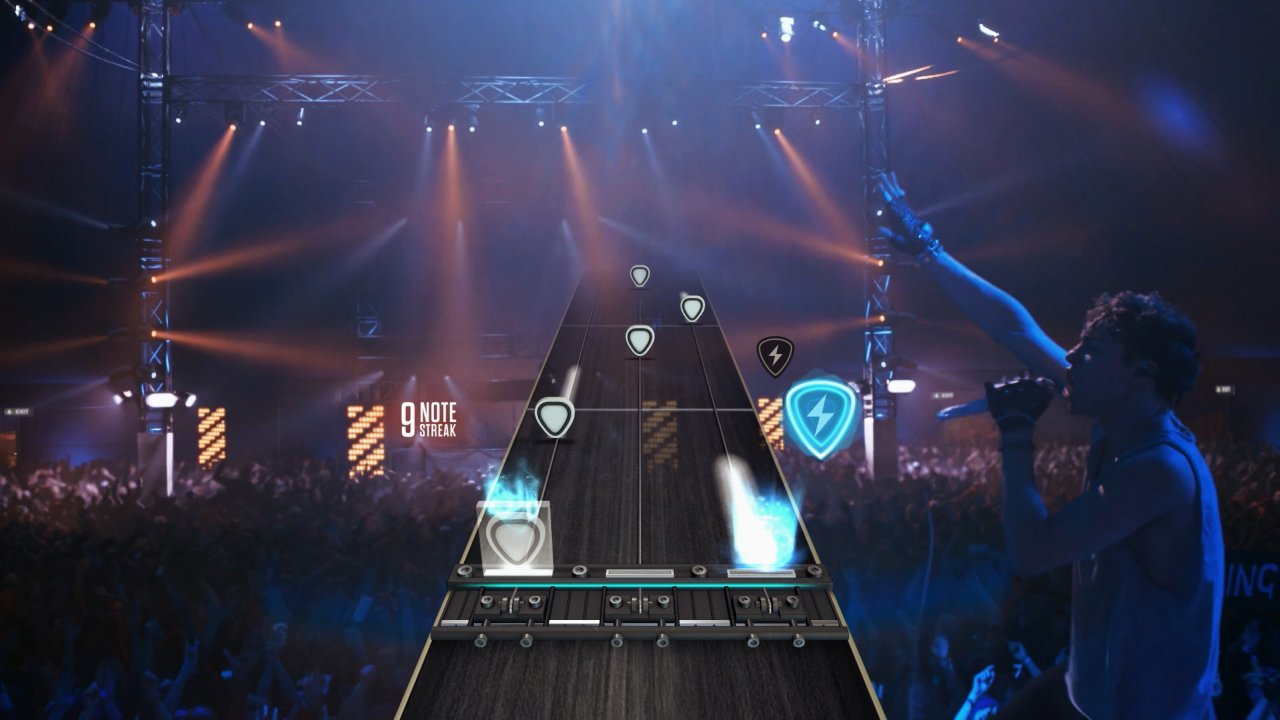 The innovative new guitar input translates into the same solid Guitar Hero gameplay that fans have come to expect. Frets come down the track, and you've got to hit them in rhythm to score points. There are notes sections that offer power-ups if you hit them all. As mentioned, note combinations may include multiple buttons at a time from different rows. It's fun, and it also feels innovative enough to be easily distinguished from predecessors or competition.
The solid gameplay combined with a touch of novelty in the new guitar culminates in the game's equally fresh career mode. Titled GH Live, the game offers players the opportunity to perform most of the songs included on the disk using real life footage. That means, like the rare FMV games of old, in the footage you're greeted by bandmates, handed a guitar, and arrive on stage in front of a cheering crowd. Then, you just play. The game's unique approach to presentation is a standout highlight – it makes Guitar Hero Live feel fresh and modern, as the cartoony visuals of old are a distant memory. Anytime there are no notes to play for a while, the HUD disappears, letting you soak in the scenes. But it's not just generic live band footage – everyone on stage is actually performing these songs with you, everyone is into it, and even crowd sings along with the choruses. It will put a smile on your face, and give you goosebumps.
You career progress is determined not by score, but rather if you can impress the crowd at each concert. You only have one power, and the game doesn't even show your score until afterwards. Though you can't outright fail songs, if you play poorly, the crowd will turn on you (too quickly, actually) and start booing and even throwing stuff on stage. These video transitions between crowd moods aren't perfectly smooth, blurring your screen, but the idea is decent. The venues range from a small club where people are in your face, to big outdoor locations. Despite a few rough spots, the footage should really be credited for creating a very fun and immersive atmosphere, with tons of little fan and band interactions that will make the whole experience very memorable on your first time through the game. It may not sound very impressive in theory, but when you experience GH Live career for yourself, all doubts will be cast aside.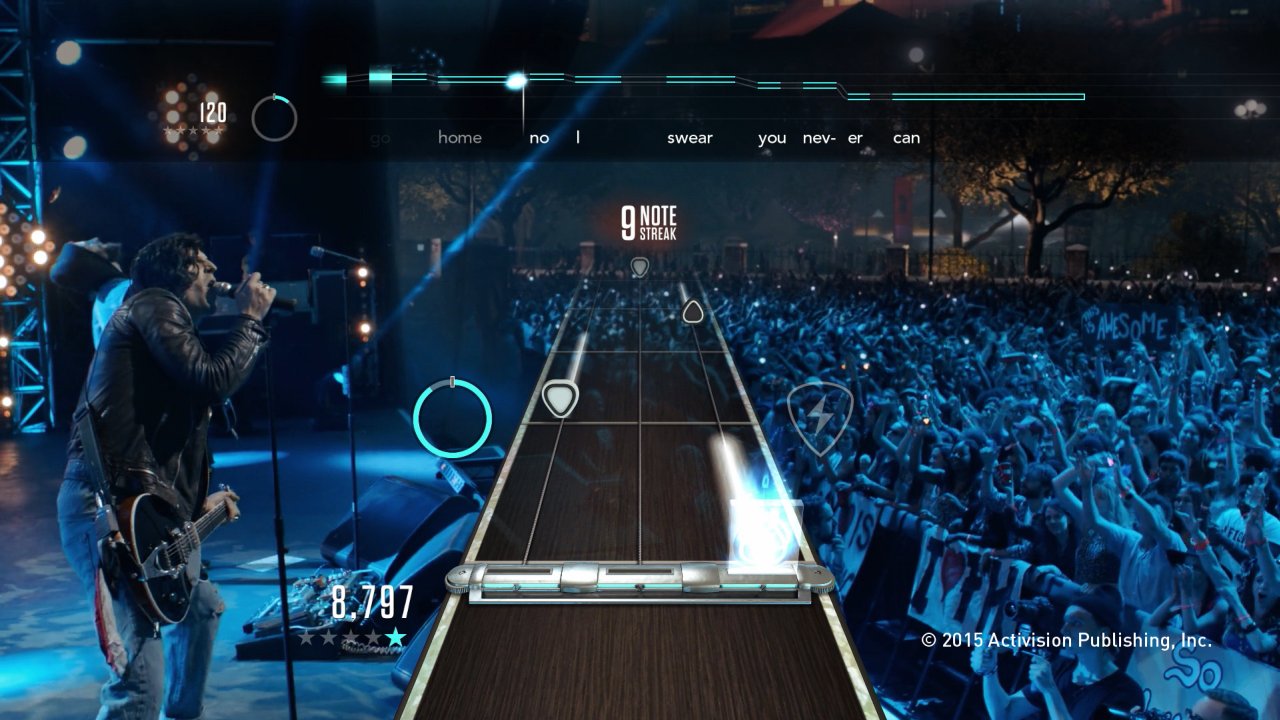 At these fun but brief 3-5 song concert sets, you'll be playing a variety of songs included in the base game. Unlike older releases, there are only about 40 songs to play though, and none of the content from the previous games is supported. That's only about half of the initial size of previous GH releases. And while there are reasons why it doesn't support previously owned content – a whole new guitar layout makes backwards compatibility difficult – it hurts, especially for those who have invested a lot of cash in DLC. And seeing as how Rock Band was able to let users carry their content onto the new console generation, it stings even more.
The song selection offered in the game still manages a lot of variety – and will be enjoyed by some players more than others. Rock tracks from the likes of Blink-182, Rise Against, and Green Day are mixed with softer alternatives from Paramore, Good Charlotte and Fall Out Boy. It goes as soft as Katy Perry, Avril Lavigne, and One Republic. Eminem and Skrillex are odd choices as well. But thanks to the live concert footage from first person perspective, almost all songs are at least fun to experience and play, if not to listen to. And you never know, these are popular hits for a reason, they can be quite catchy and you might even consider enjoying them by the end of the set.
Comments