NBA 2K16 Review
Annual basketball franchise continues to put on a strong performance
NBA 2K set a high bar a few years ago when they introduced the new MyCareer Mode, which took the already established concept of following a singular, created player through their NBA career, and reinvented the idea with a story, relationships, and the drama that comes with such a high-stakes position. This year the perennial basketball franchise attempted to take another step forward with their MyCareer mode by bringing on celebrated film director Spike Lee to oversee the MyCareer story. While the results are mixed, they're hardly indicative of NBA 2K16's quality, a franchise that still continues to outpace the competition by understanding that sports are more about the interpersonal relationships than the raw numbers on the court.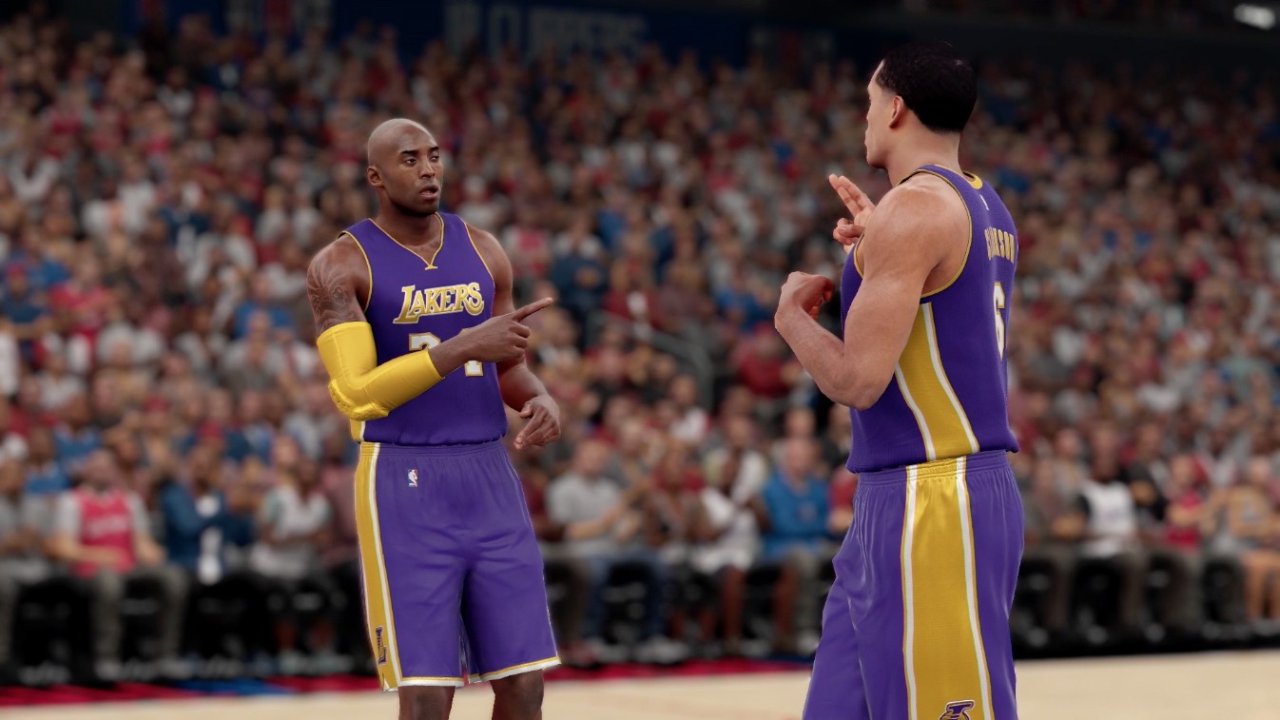 Spike Lee's vision of MyCareer mode is an ambitious leap for the series. Players begin their story at the high school level, earning the attention of college scouts who attempt to recruit you to one of the dozen or so schools available in the game. You play one year of college basketball and then head to the pro-level with an agent who promises you big things. No matter what you name your player, you'll most often be referred to as "Freq" an abbreviation of the nickname "Frequency Vibrations". Once you reach the pros, things go sideways as your player is torn between family, money, expectations, friendship, and romance.
Family, friendship, and romance in a sports game. Never thought I'd see the day. Lee's heavy-handed cutscenes walk a precarious line between being grounded and melodramatic. The best part of his storytelling is the mockumentary interviews with the characters in Freq's life. These moments are revealing, honest, and interesting. But mostly the story fills its time with cliche characters screaming at each other.
The biggest issue is one that has plagued NBA 2K for a while now. With all of the time invested in playing your high school and college career, you would think that you'd be building stats for your character as they get ready to enter the pros. But that isn't the case. MyCareer still has you start your NBA journey as possibly one of the worst draft picks in league history. For the first season you'll be wildly overmatched as you try to take your scrub and improve them to the point of respectability. The cycle goes as such: Your player is terrible so it's difficult to contribute, when you don't contribute you don't gain experience points, because you don't gain experience points to make your player better you continue to be terrible. It's nice that MyCareer has condensed the experience of playing a season down at a handful of games to keep things moving along, but it only makes it more difficult to develop your player.
To take it one step further, all of this seems like a much bigger deal because it directly conflicts with Lee's story. In every cutscene Freq talks about how he's blowing it up on the court, his agent is telling him how he is a star. The problem is that you're not a star, you're a role player at best and before you think about your shoe line, movie deals, or other big-league drama, you really need to deal with Freq's terrible play on the court.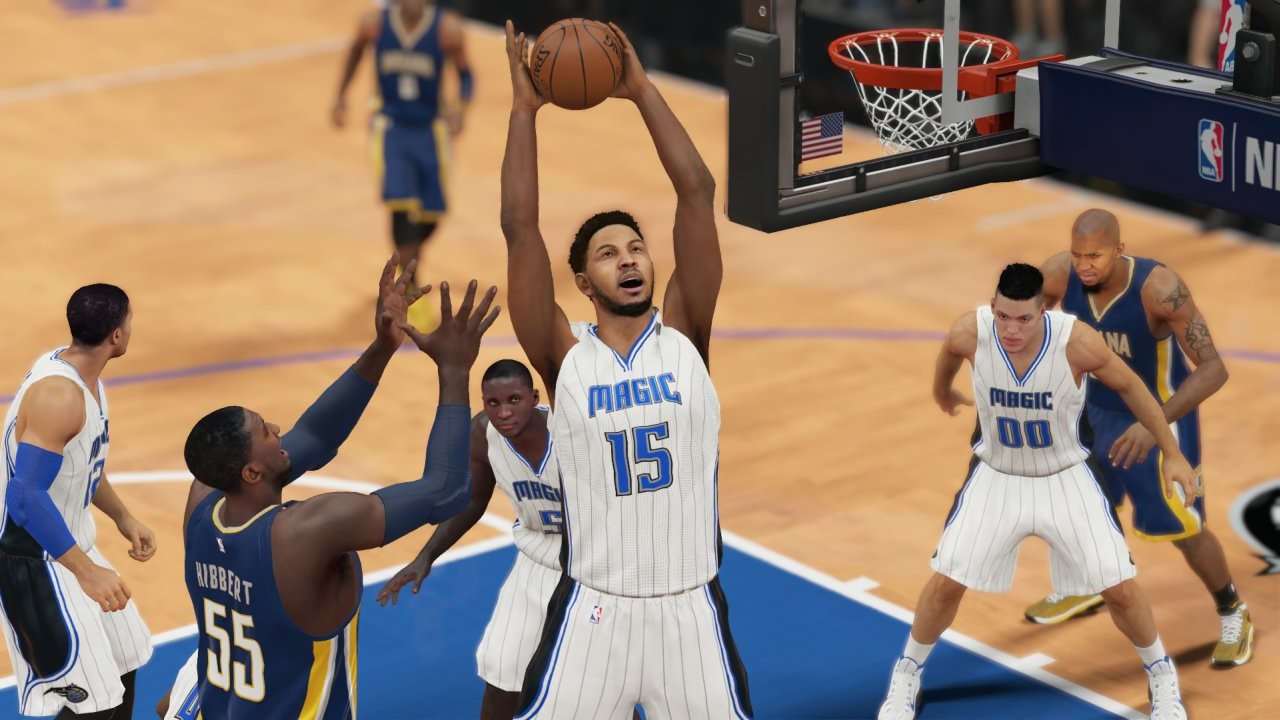 The actual gameplay is relatively unchanged from last year's version. The play calling is a little more effective and it's easier to see the shooting meter - a couple of nice changes. But it still has the hallmark frustrations of the series. Players feels a little clunky and the slow response to controls can lead to dumb errors like inadvertently stepping out of bounds, running into the crowd or backcourt violations. The passing system still isn't as refined as it could be and newcomers are in for a nasty surprise when they take a look at the controls menu because there's a lot to learn for those who haven't kept up with the series.
While the cutscenes in MyCareer aren't all that polished, the TV-style presentation is great. Kevin Harlan (for my money, the best play-by-play voice in sports) returns and while there isn't a ton of new dialogue for the commentary, it still feels fresh every time I hear it. The one addition is the post-game show featuring three fourths of the TNT studio team (apparently Charles Barkley was too good to lend his likeness). Each year it feels like 2K adds another piece of the presentation into place and NBA2K continues to be an impressive looking franchise.
The best part of NBA 2K is still the MyGM mode where players assume the role of the General Manager and attempt to build an NBA franchise while managing the larger-than-life personalities. It felt like I was spending more time coddling players or giving them some tough love, but it never derailed the game for me. Keeping a team happy is still the focal point while you attempt to move the right pieces in place for an NBA championship, something that is more easily said than done.
While many sports games make it difficult to strike the right balance between simulation and actually hopping in to play a game, NBA 2K has got it right. With simcast you can watch your games play out, jumping in at the most pivotal moments to experience the best part of an NBA game. It keeps the things moving and you still feel involved in the outcome of each game.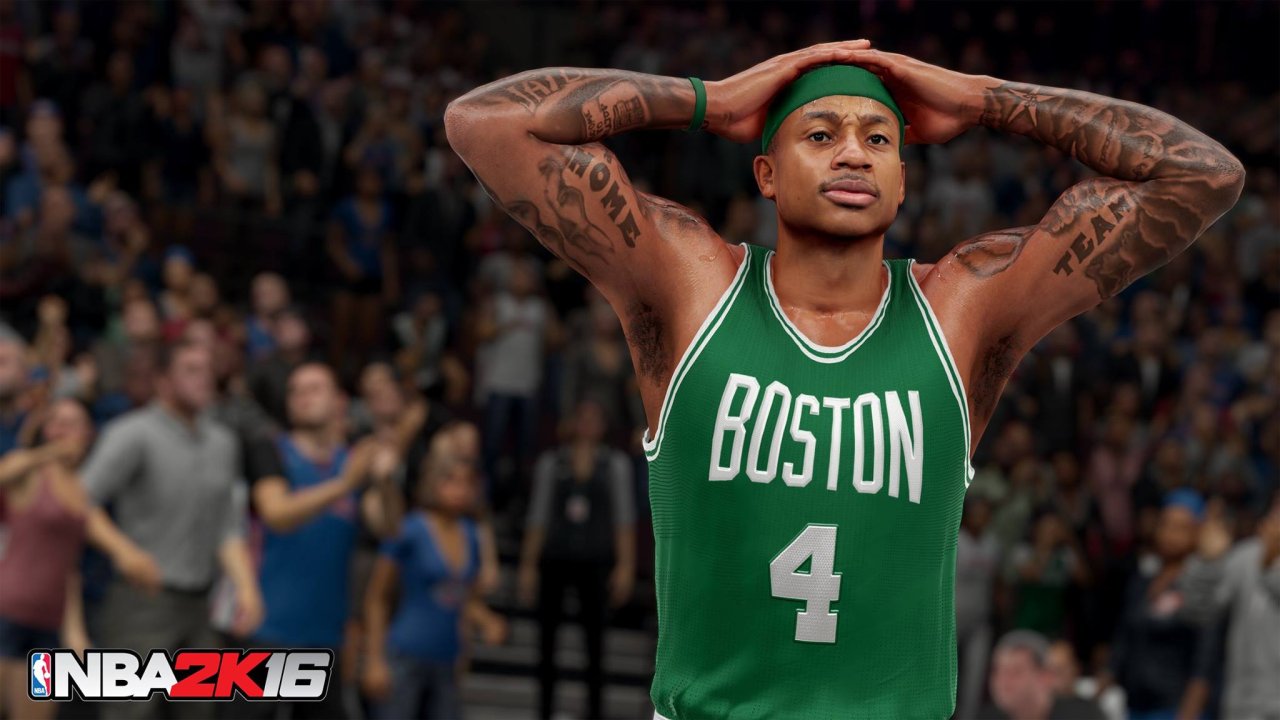 The biggest change to MyGM mode is the ability to relocate a team. As far as create-a-team modes go in sports games, NBA 2K's is fairly impressive. It can be difficult to secure the votes to move a team early in your career as your budget is limited, but finding a location for you new franchise, loading up logos from the internet, and seeing the final results before your eyes is rewarding.
Another impressive part of NBA 2K is the robust multiplayer options available. The Pro Am mode replaces Jordan Rec Center giving players the opportunity to band together under a created team with customizable options for jerseys and arenas. There's still MyPark which allows players to take their MyCareer players to an online hub with more of a Rucker Park kind of vibe. Lastly, you still have the option to play in a more traditional online setting, pickings teams and playing one-off games.
The Pro Am and MyPark modes can only be accessed after you've created a MyCareer player. So you'll have to invest heavily in that experience before jumping in. But playing as part of a collective team is fun, though putting a game together in MyPark still isn't as easy as you would hope. The multiplayer options are interesting, but they're not the reason to pick up NBA 2K16.
The biggest drawback to NBA 2K is still its horrendous load times. Whether you're waiting to start a game or even for a cutscene to load, it still takes far too long. In MyGM mode these loading times can compound quickly as anytime you need to talk to a player about playing time, evaluate scouting reports, discuss strategies for important upcoming games, or anything else that takes you away from the homescreen, you're looking at a significant load time. No joke, there's enough time to catch up on your favorite TV show with all of the loading times 2K16 has.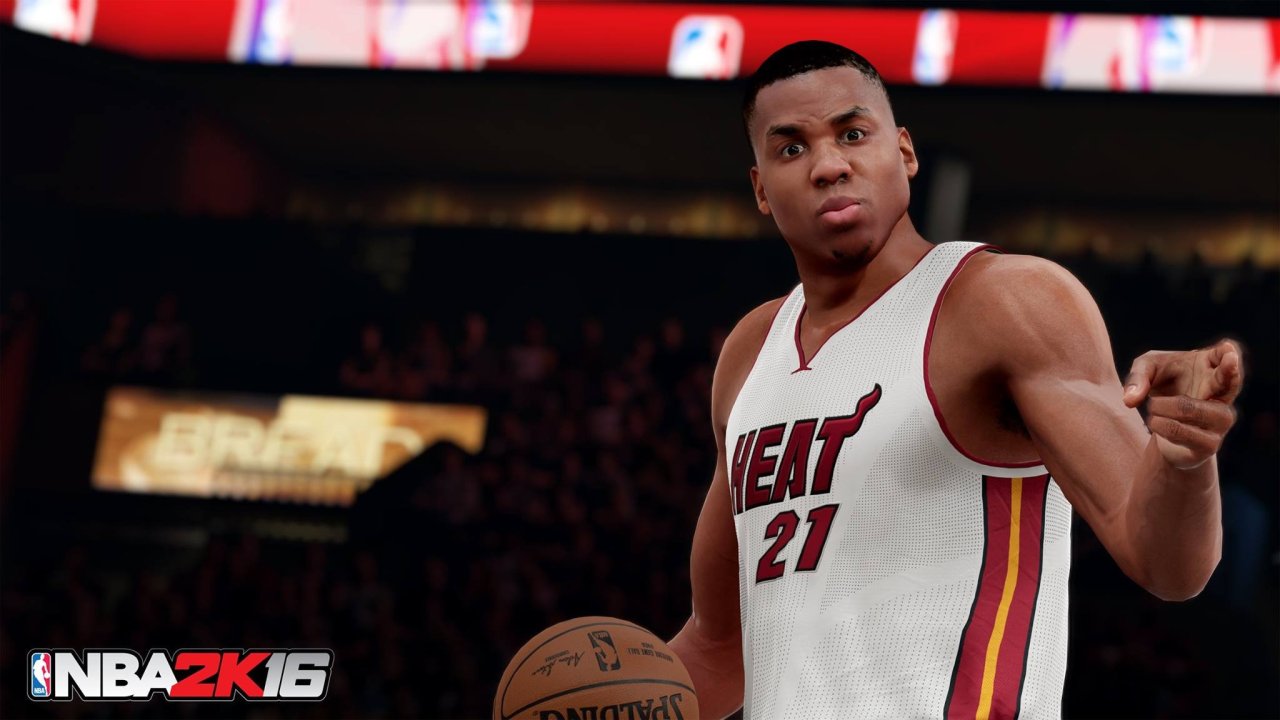 Despite its shortcomings, NBA 2K16 is still one of the strongest sports franchises around. It delivers an experience that focuses on the personal stories which surround the court as much as the drama of the game itself. While the final results aren't always as compelling that they could be, NBA 2K is the only franchise that understands sports are more about people than they are about scores and stats. Whether it's going head to head with a rival team in MyGM mode or inflating your ego in MyCareer, NBA 2K puts a focus on the players off the court as much as it does on the court. With a large selection of modes to enjoy, there's plenty to sink your teeth into with NBA 2K16.
Our ratings for
NBA 2K16
on PlayStation 4 out of 100 (
Ratings FAQ
)
Comments
blog comments powered by Disqus