Skylanders SuperChargers Review
Time to get those tiny engines started
Publisher Activision has faced a lot of criticism for creating new entries of their most popular franchise, Call of Duty, on a yearly basis. While setting numerous sales records over the past 10 years, that particular series has been in decline recently. But away from the spotlight and video game discussion forums, another annual franchise has taken the reigns of Activision's financial reports. With Skylanders, the publisher has created not only a hugely popular kids-friendly experience, but also a new "toys to life" genre that has since been followed by the likes of Disney and Warner Bros. The huge success of Skylanders comes due to a polished, entertaining experience year after year, plus the sale of all those extra toys.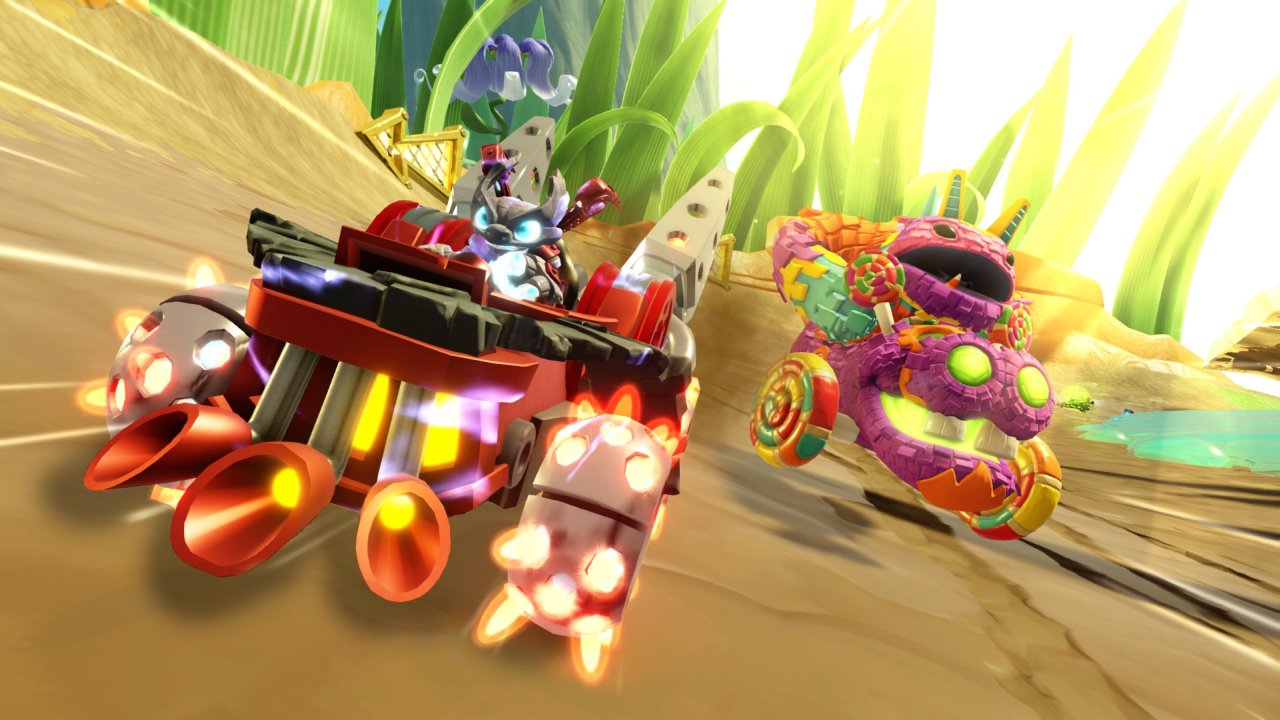 This week's release of Skylanders: SuperChargers marks the 5th entry in as many years. Thanks to a fantasy setting and a wide variety of gameplay possibilities, the series has managed to bring something new with every iteration. Last year's Trap Team let players capture in-game villains and play as their avatars, while the game before that, Swap Force, let you create new characters by swapping body parts. With SuperChargers, developers Vicarious Visions are back at the helm, and the main selling point is the introduction of vehicles.
There are 18 vehicles and 18 SuperCharger Skylanders that will be released for the game in total (with an extra 2 pairs on Wii U), and as always, for the purposes of this review we'll focus solely on the Starter Pack. Picking up the pack, you'll get a copy of the game, the portal, and two Skylanders - Spitfire and Super Shot Stealth Elf; and a Skylanders Vehicle - Hot Steak. It goes without saying that the Skylanders figures are all still very well designed and look as great on the shelf as they do on the game Portal. In this similar vein, Hot Streak is a high quality toy vehicle with spinning wheels. Younger fans can enjoy the toys both during and between gameplay sessions.
It's good that the franchise has returned to offering three figures in the Starter Pack, as the Totems in Trap Team weren't exactly toys. For obvious reasons, the physical toys can't fit inside the vehicles as they do in the game. The Portal of Power itself has been redesigned again, this time being larger so it can fit vehicles. It no longer features lights or sound, which can be good or bad depending on your level of immersion/annoyance with those features.
Firing up the game, fans of the franchise will be in familiar territory. The evil mastermind Kaos has created a new super power device called the Doomstation of Ultimate Doomstruction, and subsequently abducted many of the citizens of Skylands. It's up to an elite team of Skylanders, called SuperChargers, to undertake missions in the game world and rescue their friends and restore peace to the game world. Because Kaos' new weapon has brought so much destruction to Skylands, simply jumping around isn't an option, and that's where vehicles come in.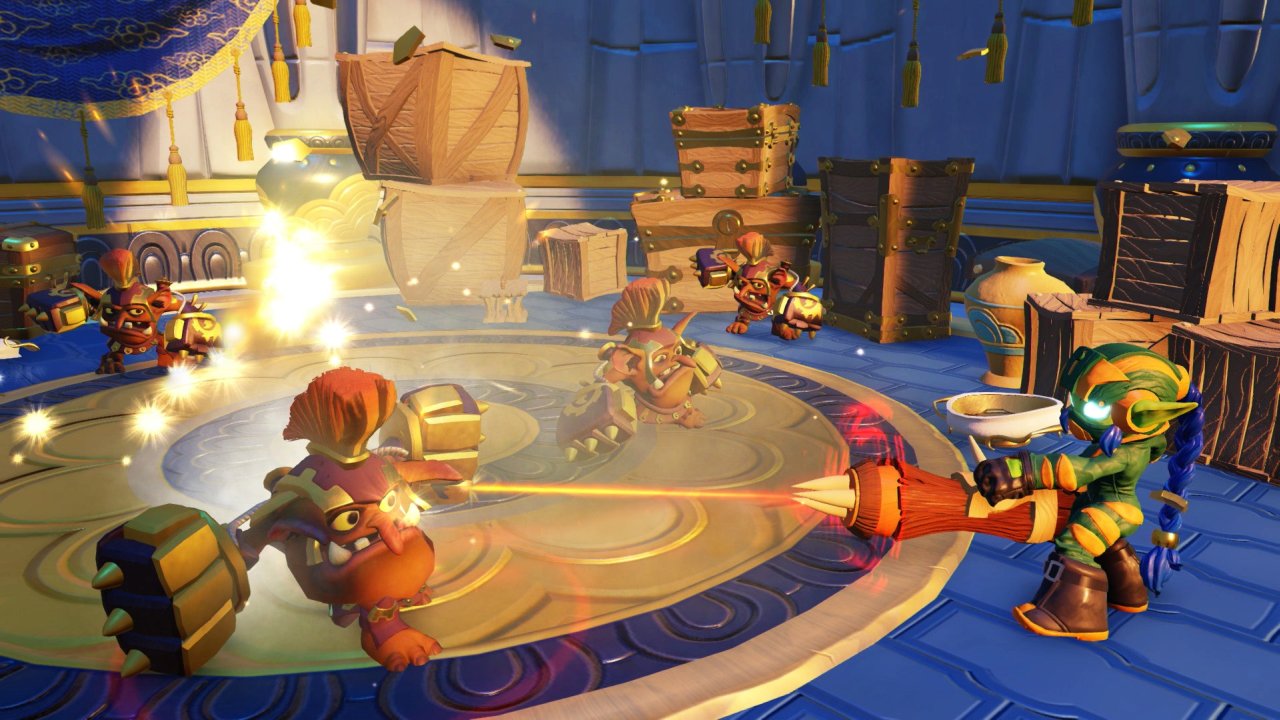 The game offers three types of vehicles – land, sea, and air. As one might expect, this means that a lot of content in the game utilizes a vehicle. Players can only use vehicles in specific sections, and if you lack the required vehicle type, you'll have to bypass the area. The good news is that the campaign can be completed using only Hot Streak, thus not locking players out of completing the story. But if you want to play through large sections of aerial dogfights and underwater exploration, you'll need to at least purchase one sea and one air vehicle. It's no secret that this type of "physical DLC" is a great success for the publisher, and players will be locked out of two brand new gameplay modes until they spend more cash (or their parents' cash). But on the other hand, in a welcome move, there appear to be no more "elemental gates". This means that, unlike in the past games, players won't need to purchase a variety of different Skylanders in order to unlock every single thing in the game.
Any Skylander from the previous games can be used in this one, as usual, and they can also even use the vehicles; it leads to amusing results when the bigger heroes try to cram in. When you pair the vehicle with its designated SuperCharger, such as Hot Streak and Spitfire in the Starter Pack, you're able to unlock the supercharged version of the pair. This allows you to get performance and visual updates in the game, which are purchased after collecting enough gear bits; the currency scattered across vehicle levels.
With Hot Streak, the game becomes either an arcade racer along the lines of Mario Kart, or a combat arena. During the former, gameplay is very similar to what you'd find in arcade racers. The controls are easy to pick up, and the tracks are impressively diverse both visually and structurally. There will be obstacles to dodge, jumps to perform, and lots of items to collect. Players can pick up a variety of power-ups during races, from shields to limited use weapons and abilities. Sadly, the game doesn't allow for much strategy - anything you pick up is used immediately. Still, the races can feel chaotic and fun.
The other gameplay style for Hot Streak is an action-based arena scenario. Here, you're driving around a larger open area while shooting at opponents. Compared to regular racing, the controls in the arena sections can be cumbersome and frustrating, though it is a change of pace and a new gameplay mechanic. If you get a land or air vehicle, you'll be able to participate in underwater 2D sidescrolling sections and dogfighting, respectively.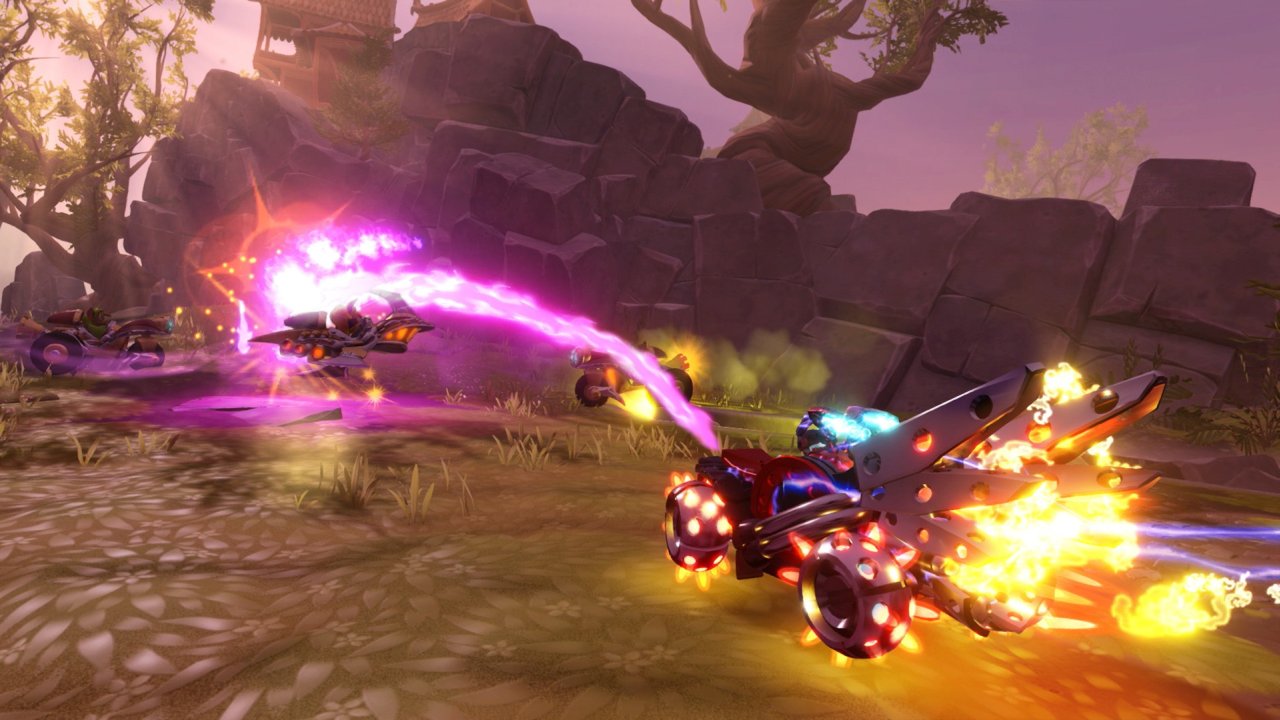 Outside of the vehicular mayhem, SuperChargers plays like its predecessors – it's a polished, accessible, and entertaining third person platformer. You'll be shooting familiar and new foes, jumping, solving puzzles, as well as participating in minigames. The campaign design is notably creative and varied as well, from gravity-altering level, to one that takes place inside a children's book, to a fast food industry themed level. While the main experience lasts a decent 5 or so hours, there's so much more to do in the game world, from collecting items to finding hidden areas, to completing side quests. You will also spend time at the central Academy hub, where you can play a card battle game, or take on new vehicle specific challenges and events. It's also where you upgrade your Skylanders, using coins collected during the adventure.
SuperChargers continues to offer some multiplayer options as well. With the addition of vehicles, there's online racing with up to 4 participants. Alternatively you can play cooperatively in the campaign. When playing together, one player takes the wheel, while the other controls the weapons; players can switch roles on the fly. Voice chat is allowed with friends or friends of friends. Online play performs well, as does the rest of the game. SuperChargers is probably the best looking Skylanders game so far, not only with the same colorful and bright visuals, but also from a technical standpoint; the framerate is smooth, menu navigation feels faster, and the textures are sharper. Voice acting and music continue to be pleasing and appropriate for the younger target audience.
After 5 years and 5 editions of the franchise, Skylanders refuses to slow down. Activision has seemingly created a whole new genre and a new way to get kids into gaming, and that's a great thing. Despite not being a hugely popular property like Marvel or Disney, Skylanders has managed to set sales records and continue to deliver a highly polished and enjoyable gameplay experience – something the competition still struggles with. So much so, that it would have likely been a successful game even without using toys to life as a core concept. While there will always be a focus to sell more toys, Skylanders SuperChargers shows that it's possible to be financially successful while also delivering a good experience for those just looking to play – whether you're young, or young at heart.
Our ratings for
Skylanders SuperChargers
on PlayStation 4 out of 100 (
Ratings FAQ
)
Comments