Minecraft: Story Mode Preview - PAX Prime 2015
The adventure game makers take on yet another franchise
When Telltale announced they would be bringing the world of Minecraft to life with their own brand of decision making and choose-your-own dialogue storytelling, it was a welcomed surprise. Minecraft has been a popular franchise and Telltale has proven with Tales from the Borderlands that they are quite adept at taking big name worlds and telling interesting stories within in them. But, it's also difficult to imagine Telltale getting to their tell their Minecraft story with total freedom when there is a Minecraft movie in the works over at Warner Bros. So I didn't quite know what to expect when I sat down with Telltale's next adventure.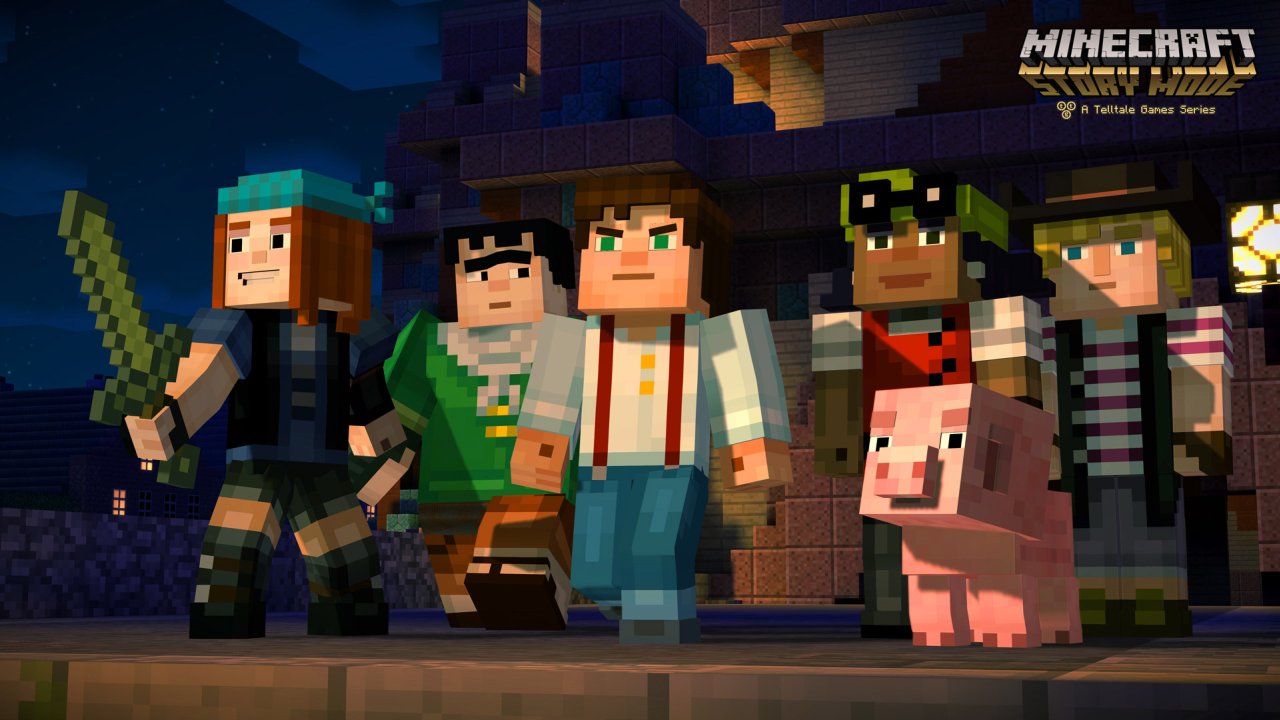 What I got was exactly what you would think: A Telltale Game. It's easy to be dismissive when I say that Minecraft: Story Mode is just another well-written, chuckle-inducing effort from Telltale, but the studio continues to deliver quality stories and interesting takes on established properties. My time with the game was fun and whimsical, but concluded with dark and bizarre climax. But like all of Telltales recent efforts, I found myself invested in the story and characters, excited to play more.
Minecraft: Story Mode follows the story of Jesse. The biggest change to the Telltale formula is that as opposed to previous games, Jesse can either be male or female of various skin colors. The female version of Jesse is voiced by Catherine Taber (Star Wars: The Clone Wars) and the male version is voiced by Patton Oswalt (Ratatouille). Only Oswalt was available for the demo at PAX Prime, but I would have chosen to play as him anyways - I mean, it's Patton Oswalt.
Again, the gameplay works much as you would expect from a Telltale game. Jesse has lost his pet pig, Reuben, and must journey through a dark forest to find him. Joining you in your search is your friend Petra, voiced by Ashley Johnson (The Last of Us). As you split up to find Reuben and continue to your destination of Endercon, the game becomes a much slower and exploration-heavy affair. The atmosphere was quiet, the dark night only illuminated by moonlight. As I slowly made my way through a few scenes, I searched the environment and found a wooden sword.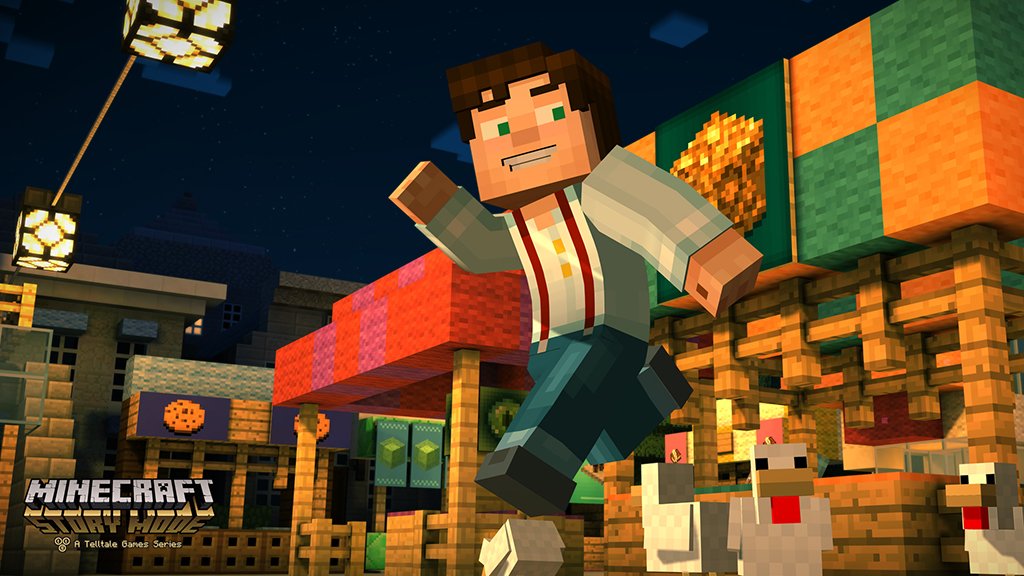 It wasn't long until I was putting the weapon use. Upon finding Reuben, Jesse is attacked by zombies and has to fight his way out in order to escape with his pig. Just when things are looking bleak, Petra turns up and saves Reuben and Jesse from the undead. All of the action sequences are, again, standard Telltale fare. You follow button prompts, occasionally have to move the cursor over enemies and press a button to fight them off. There wasn't anything different from the standard formula here.
It wasn't until Petra brought Reuben and Jesse to her underground hideout that I found something new. Petra instructed Jesse that he should build a sword to better protect himself and he could craft it in her hideout. Digging in a crafting box Jesse took out two parts stone and one part wood, then used a crafting table to make his weapon. It's unclear how much crafting will go into Minecraft: Story Mode or how much Telltale plans to hold your hand during the process, but it is a unique feature specific to the new series.
Upon arriving at Endercon, a giant black, tentacled monster attacked the village and Jesse had to escape with the Order of Stone who are the only ones who can save the world. An exciting action sequence follows, which is your standard Telltale button prompt, and concludes with another Telltale staple of choosing one of two lives to save.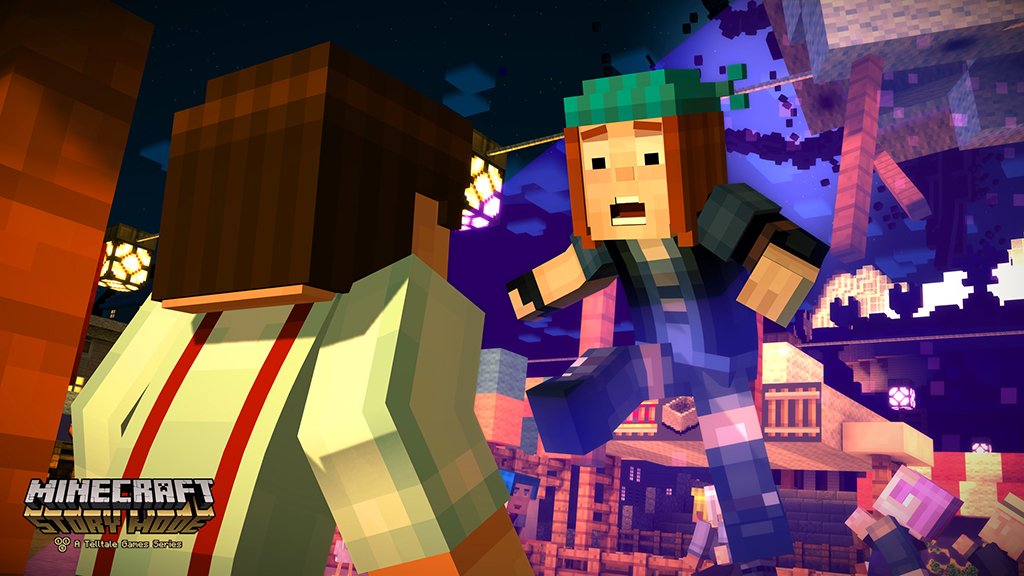 Minecraft is targeted at players of all ages, but the scene was far darker than anything I would have expected from a Minecraft narrative game. The disturbing creature, which looked like something out of a Hayao Miyazaki film - but blocky - tore through Endercon and laid waste to many members of the Order of Stone as they made their escape. While Minecraft: Story Mode may target younger audiences, there's still a lot of gravity one would expect from a Telltale narrative.
Minecraft: Story Mode also helps hide a lot of the age in the Telltale engine. Large, blocky characters with rigid animations don't look weird in the Minecraft universe as there is no need to shoot for any sort of realism, like Telltale was forced to attempt in Tales from the Borderlands and especially in Game of Thrones.
Telltale's run of narrative-heavy content is quite impressive. While not every series resonates with everyone and while every episode isn't a must-play, there is a consistent level of writing and voice acting which remains the cream of the crop in video games. Two years ago Telltale showed off The Wolf Among Us at PAX Prime, last year they had Tales from the Borderlands available, and this year Minecraft: Story Mode looks to continue the trend of quality games the developer has debuted at the expo. You know what you're getting with a Telltale game, and overall, that's a good thing.
Comments