Disney Infinity 3.0 Edition Review
Star Wars joins the toys-to-life franchise
With Disney Infinity, what started out as a careful experiment for Disney to enter the toys-to-life market, has now become an annual excursion. With the success of the original and the follow up Marvel Super Heroes, the company now looks to continue their momentum. Once again teaming up with the developers at Avalanche Software, Disney Infinity 3.0 Edition hopes to grab players by using yet another absolutely huge property – Star Wars.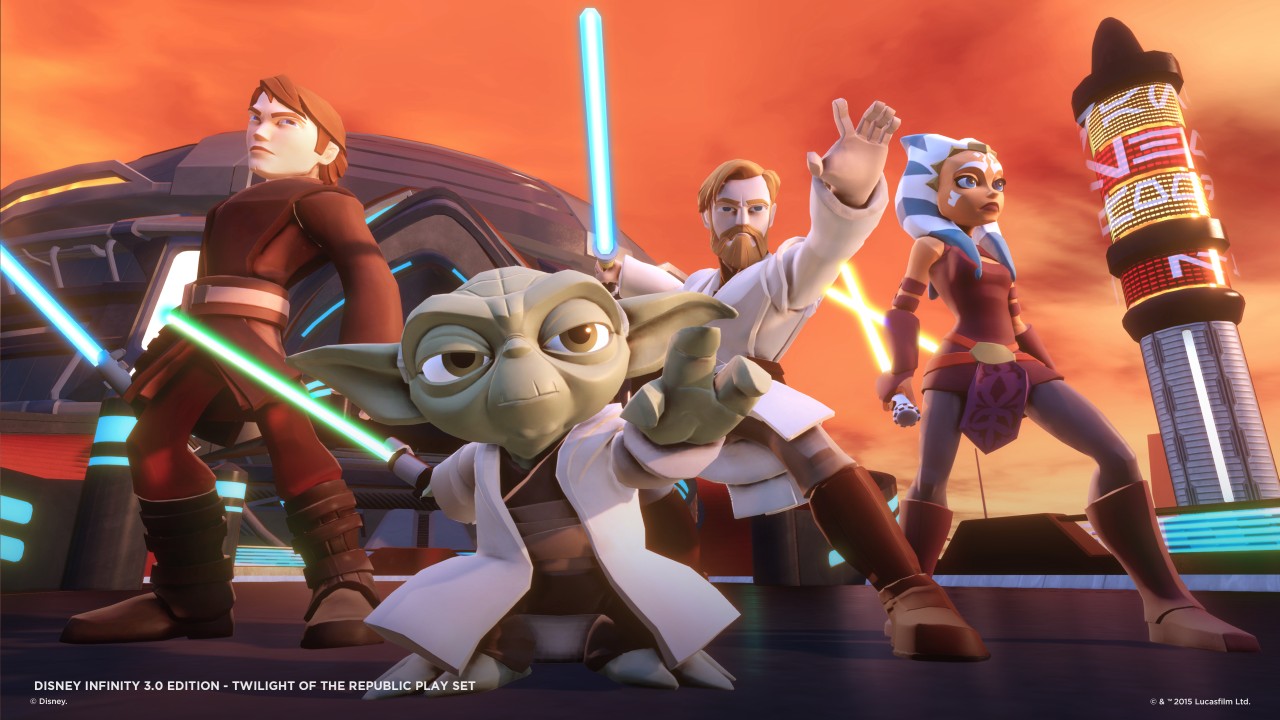 This review will take a look at the 3.0 Edition within the scope of the Star Wars Starter Pack, specifically the Twilight of the Republic version. The pack includes everything you need to get started – the game, the base, Two Star Wars figures: Ahsoka Tano and Anakin Skywalker, and the Star Wars Twilight of the Republic Play Set. Fans of the franchise will note (and it's disappointing to start off the review in this manner) that you are getting less and less with each passing Infinity release. Compared to the original's three play sets (campaigns), and three figures, and last year's Marvel Super Heroes with one play set and three figures, the declining initial offering is painfully obvious. No Power Discs are included, either.
The fact that so many new characters and play sets are coming out so soon - or are already on shelves as physical DLC of sorts – makes the new edition a bitter pill to swallow. There is an option of the Saga Edition – which includes 5 figures and two play sets – but that costs nearly twice as much as the regular Starter pack. But at least existing fans of the series aren't shut out – once again, all the figures you already own will be compatible with the new game.
Having said that, let's discuss what players do get. The included Ahsoka Tano and Anakin Skywalker figures are well crafted and look very nice, which should come as no surprise. Collectors will continue to be happy with the physical toys that Disney is releasing for this franchise. The base remains nearly identical to the previous editions – slim and functional.
The Twilight of the Republic campaign follows a story based on Star Wars: The Clone Wars. It's set between Star Wars episodes II and III, as players jump and fight their way to stop Darth Maul and the Separatists from executing their evil plans after a Battle Droid factory is activated. Players will get to visit four different planets (Geonosis, Tatooine, Coruscant, and Naboo) throughout the game. Most of the campaign will be spent traversing various environments and fighting enemies, but there are also fetch quests and other optional objectives to distract players. Even then, the play set doesn't feel particularly long and can be wrapped up in half a day.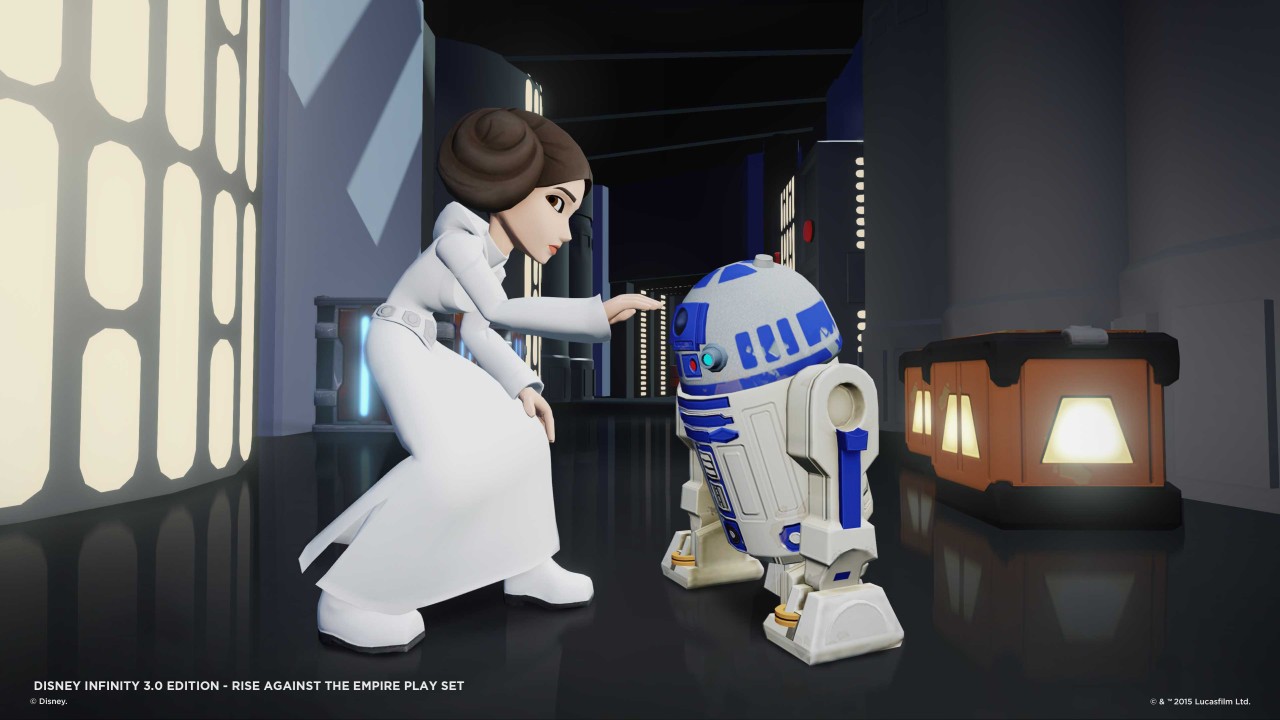 Fans that had a chance to play the 2.0 Marvel Super Heroes will be familiar with the gameplay – much of the same mix of platforming and melee fighting. The introduction of Force powers, lightsaber combat and aerial combos leads to some satisfying action, though there's nothing here particularly groundbreaking or even evolutionary for the series. No doubt, this is thanks to the fact that Ninja Theory was brought in to assist with the gameplay. Still, whoever thought it to be a good idea to map the primary attack to Triangle wasn't thinking clearly.
Skill trees also return, this time re-organized into different tabs based on function. It's worth noting that because all of the Star Wars characters have fairly similar play styles and powers, the game can be enjoyed regardless of who you play as. The gulf in character class, such as between being Iron Man and a powerless Black Window in Marvel Super Heroes, isn't an issue here. But that also makes the heroes feel kind of the same. There could be some differences with other characters such as Darth Maul or Yoda, but we won't know until they are released – and need to be purchase separately.
After wrapping the campaign, you're likely to jump into the other big mode that Infinity offers – Toy Box. As ever, this is a playground for your imagination and creative skills. In its third iteration, the changes here are incremental and aimed at getting more players to create content. This is helped with the lengthy and accessible intro to the mode, that should help even the most creatively challenged players (such as myself) get started and mess around with iconic properties and items. Players can create simple open environments or complex minigames in a variety of genres, or use the newly added doors to string up to 10 Toy Boxes together, thus creating multi-stage experiences. The newly redesigned Toy Box Hub can be overwhelming at first, but it's worth exploring.
A new feature is farming, where players can grow food to boost stats of your sidekicks. Sidekicks return from 2.0 Edition, with more costumes that can be used. These little guys are meant to help you overcome various challenges in Toy Box Games, and feeding them can unlock new attacks. There are no Toy Box games that ship with the Starter Pack however (that "value" thing is haunting again), but later on players can individually buy new Toy Box Expansion Games, Toy Box Speedway and Toy Box Takeover. These promise to showcase a whole new dimension to the Infinity gameplay, and what's possible with the Toy Box.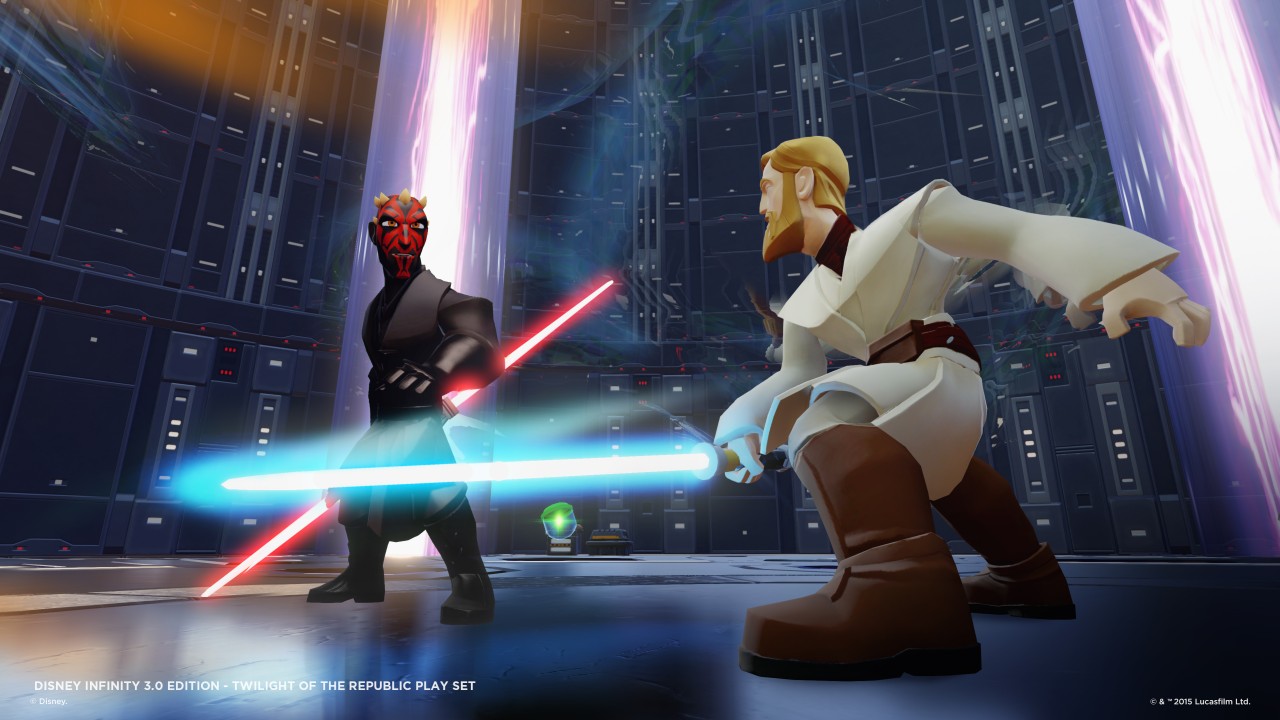 For creators, a new Path Creator tool lets players guide objects along a path. This can be used to create movement for characters, objects, or even the camera when creating cutscenes. With the new music note creator, players can compose simplistic tunes using a variety of sound effects. And of course, there are tons of new buildings and objects that can be used in your Toy Box creations. The Toy Box remains a powerful tool, and one that's on par with the iconic creation modes found in other games that focus on user generated content.
The 3.0 Edition looks quite comparable to its predecessor. Some of the environments look more detailed and lively, perhaps thanks to the Star Wars property, which brings yet another chance for visual and item variety. Audio remains fairly basic and voice acting can be inconsistent. Loading screens can drag on, and there are bugs you'll discover that should belong in a lower-budget game (such as disappearing items and audio cutting out) .
Disney Infinity: 3.0 Edition is an okay iteration for a franchise that has so many incredible properties to draw from, but has yet to create a gameplay experience to match. The fact that other studios are being brought in to help with the campaigns, and offerings such as Inside Out Play Set from Avalanche Software could offer totally new ways to play – but again, this is all extra content for extra cash, and not covered in the scope of this review of the Starter Pack. In this edition, the action already feels a bit more satisfying than in 2.0, and we've gone far beyond the simplicity of the original; but there are still some ways to go to reach greatness. Toy Box continues to grow and become more accessible and more powerful. And yet, the diminishing value is rolling in like a dark cloud; you'll need to buy more items to bring the overall experience to more enjoyable levels. As it stands with the Starter Pack, Disney Infinity: 3.0 Edition will satisfy those already invested in the toys, and of course fans of Star Wars, but there's little here that pushes the franchise forward.
Our ratings for
Disney Infinity 3.0 Edition
on PlayStation 4 out of 100 (
Ratings FAQ
)
Comments