Forza Motorsport 6 Review
Sim racing franchise returns to form with its second entry on Xbox One
Your mods are set, and your car is tuned and roaring to go. You may yet choose to undertake a practice session, as there is no qualifying. But for those that enjoy living on the edge, it's time to race. Forza Motorsport has never had an issue producing a solid car racing simulation, and FM6 is no exception. All of the cars in the game feel different, unique in their own ways, and the calculations that go on under the game's hood result in a realistic race day experience. But there's an important aspect to it - it's fun. FM6 makes it a joy to drive, from the everyday Honda to the extreme LaFerrari. From the sometimes annoying understeer and slippery roads of FM5, Forza Motorsport 6 handling feels smooth and purely enjoyable.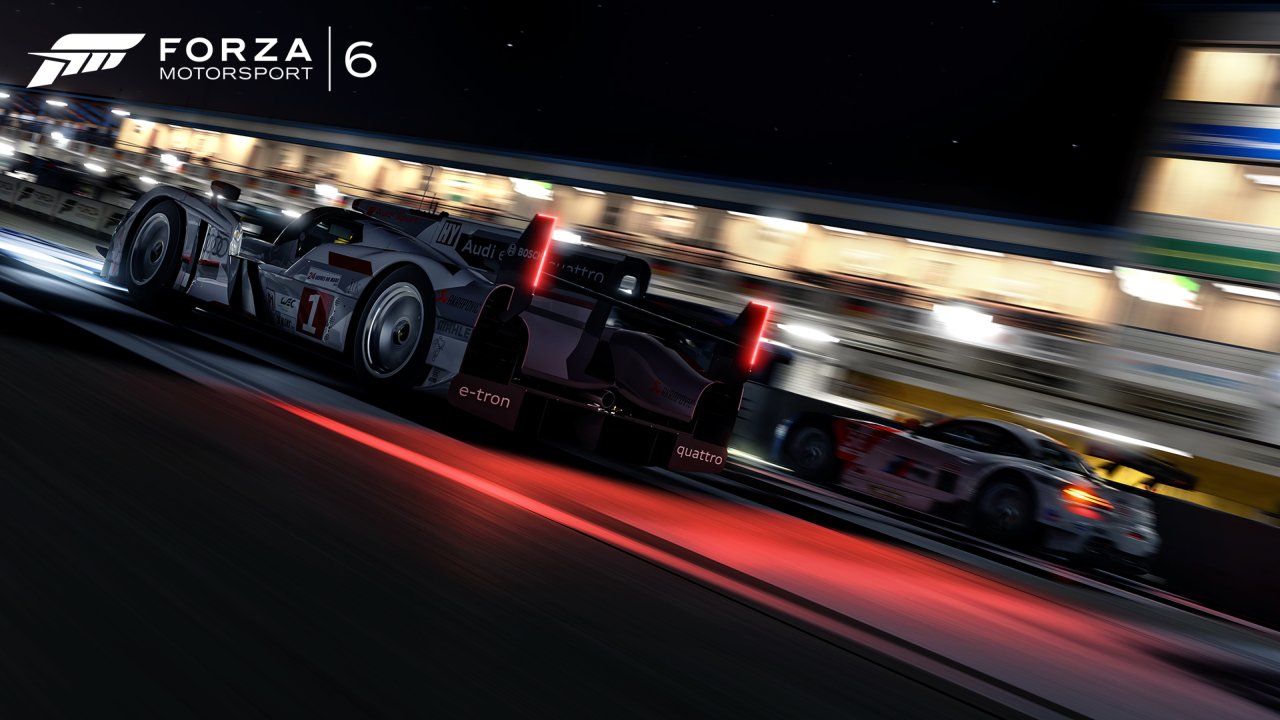 That being said, on medium settings this is probably one of the less challenging games in the series; it will be a great entry point for newcomers, but veterans will need to tweak their assists and Driveatar difficulty to be challenged. The Driveatar system returns, letting you race against the profiles of other real players that mimic human behavior. Not much has changed in this regard.
While the nighttime racing may impact your lap times because you can't always see where the next turn is, rain will certainly challenge drivers to be at their best. While it's only found on a few tracks, the rain is simulated very well. From the slippery road itself to the deadly puddles that form, not only does it look realistic, your car responds in an appropriately unpredictable manner. It truly is a test for all drivers, and you'll be just as happy keeping your car on the road as you will leading the race. With 24 cars on the track (making for some very congested areas), it's a free for all out there.
You'll probably encounter your most intense racing, rain or otherwise, during online play. Here, also featuring up to 24 cars per race, is where your true skill will be showcased. Unless someone slams into the group on the first corner, that is. But that's the joy of playing with strangers. The multiplayer system is similar to what we've seen in the past - there are a number of different disciplines to choose from, and you can also create your own private lobbies and tweak just about every aspect of the race day. If you happen to join a public lobby with a race in progress, you can now jump in and observe it thanks to a spectator mode. When it comes to the races themselves, FM6 doesn't showcase any glitching or teleporting cars, even when playing with folks across the world. As long as your connection is good, you'll have a smooth online race.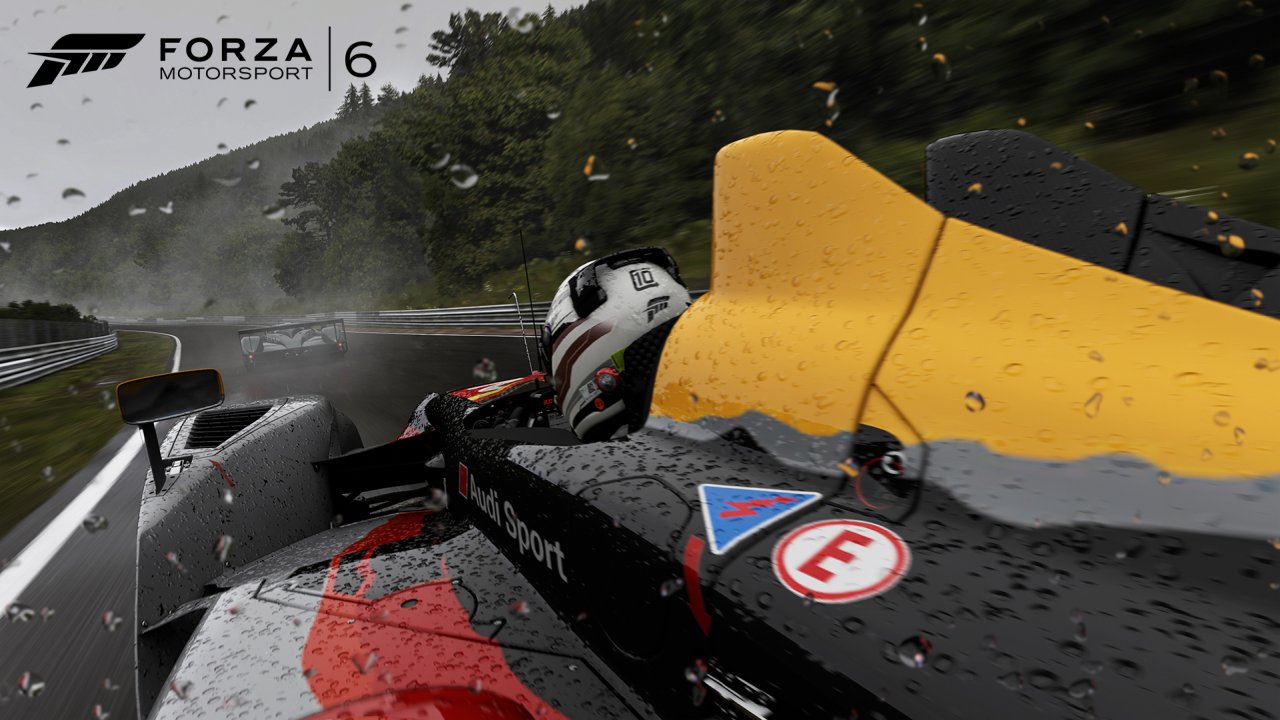 Also returning is the Rivals system. Much as before, the game will constantly compare your times against friends and random online opponents, and challenge you to beat them. Doing so results in a reward payout and a new opponent. Thanks to a helpful new feature, you can see and download the tune (and also paint) of every player on leaderboards, in multiplayer lobbies, and so on. So you'll know you're trying to beat a Rival using exactly the same car and tune they did. A level playing field for all leaderboard hopefuls.
A whole new subset of multiplayer is Leagues. Here, the developers create various races for players to participate in, that have a start and end date. As you continue to race in the League event, you'll earn points based on your results. When the League ends, your payout will depend on how well you ranked - your standing can be seen at any time on the League leaderboard for the current event. Leagues also offer skill based matchmaking by placing you into one of five divisions. The more you race and the better you do, the more likely you are to be moved up to higher tiers. Developer-controlled Leagues are a nice structured addition to the multiplayer of FM6.
The Forza Motorsport franchise continues to be a good looking game with its sixth iteration. It's the amount of detail that is impressive, rather than perhaps the technical prowess. The game does look good, no doubt, but there are signs of inconsistent quality - some jagged lines reveal themselves on certain cars, there are notable draw distance issues, and the objects on the sides of the road can look poor. Car damage modeling remains very limited. However, these are minor imperfections in a game that's immersive during night/rain, features 24 cars on the track, has a great sense of speed, and does it all at an unwavering 1080p and 60fps.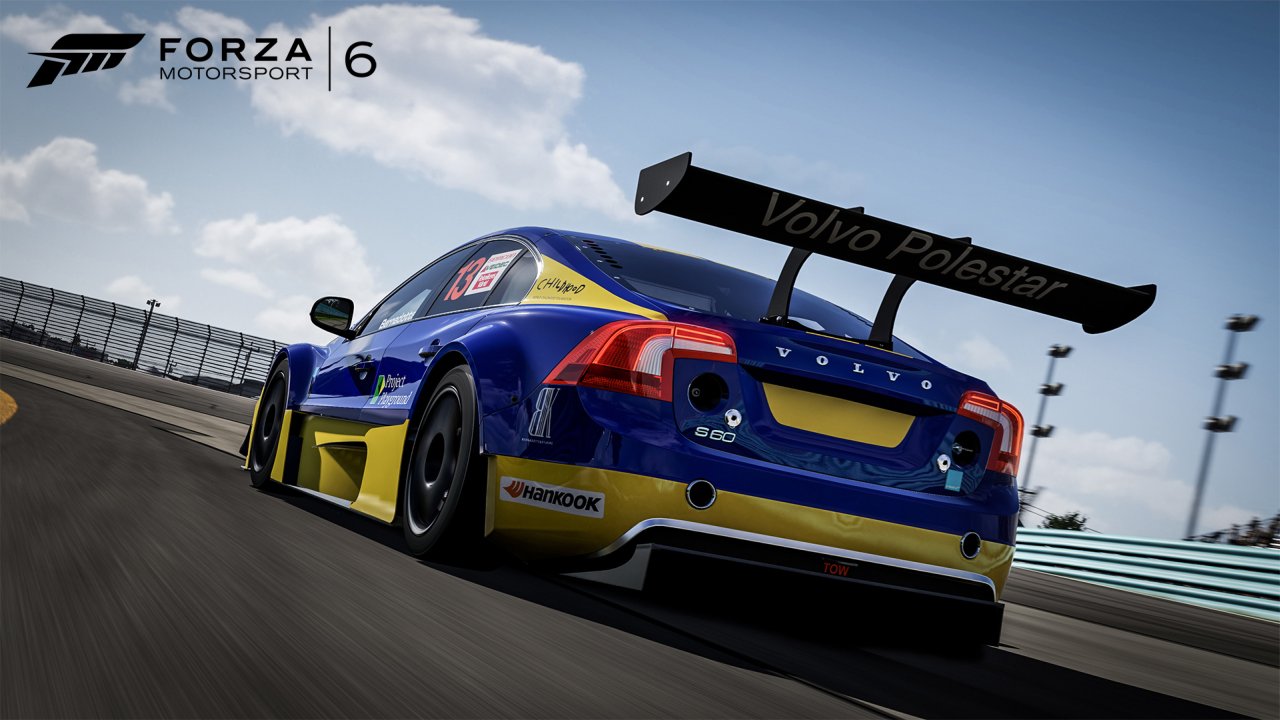 Audio design is similarly great. From the roar of a 2015 Corvette Z06, to the more sophisticated purr of a Ferrari or Lamborghini, to the ear-splitting road of a 2015 Lotus E23, you won't find any hiccups in the audio. Further, the Top Gear partnership means you'll hear the voices of Richard Hammond and James May for every car class. Various racing car icons also narrate relevant showcase events.
Forza Motorsport 6 marks the full, overwhelmingly impressive debut for the racing franchise on the Xbox One. With this release, it's difficult not to look back at FM5 in a negative light, because this time around the game gets almost everything right. From the huge amount of offline racing, to the extensive roster of cars and tracks, to the well organized multiplayer. There's not much that FM6 gets wrong, and even though it comes up a bit short in some areas, and lacks innovation in others, what is here is well worth the gate admission ticket.
Our ratings for
Forza Motorsport 6
on Xbox One out of 100 (
Ratings FAQ
)
Comments