Rise of the Tomb Raider Preview - E3 2015
We join Lara Croft on her latest adventure
2013 saw Crystal Dynamics reboot the Tomb Raider franchise with a new Lara Croft and whole new beginning to her story. One year ago, the treasure hunting adventuress returned to E3 during the Microsoft Press Conference, and while we didn't know it at the time, this foreshadowed a deal to bring the sequel, Rise of the Tomb Raider, exclusively to Xbox consoles. This year we saw even more of Lara Croft in her new game, and while the stage demo during the Microsoft Press Conference certainly showed a graphical face-lift for the franchise, we saw much more when we got to see the game behind closed doors at E3 2015.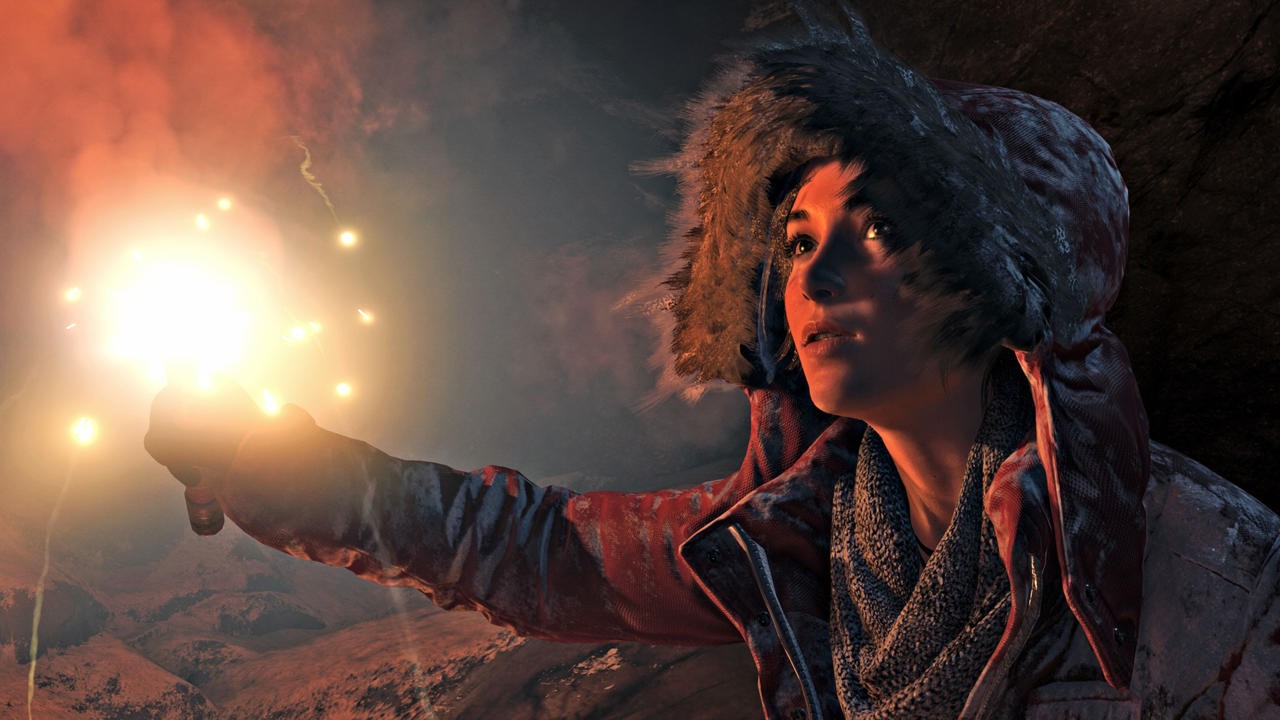 While meeting with the members of Crystal Dynamics, it was clear they had heard the Tomb Raider fans loud and clear after their first reboot effort, and were excited to show how they had responded to the criticisms. They talked about how they wanted to make Rise of the Tomb Raider a game where Lara explored lost civilizations, how they had been inspired by real life explorers. It all sounded like PR speak, but what came afterwards reinforced the message.
Our demo picked up after the E3 trailer. Lara is separated from her companion after being buried in snow and now must navigate the wintery, windy peaks surrounding her in order to survive. She immediately begins wandering through the snow, looking for shelter.
One way Rise of the Tomb Raider hasn't changed from the previous game is the constant abuse of the protagonist. We're barely seconds into the demo and Lara is already limping, cradling her wounded arm. While Lara isn't in great shape, the game itself looks great. As our hero trudges through thigh-high snow it's impressive to see this next-gen effort from Crystal Dynamics.
Finally, Lara finds an old campsite, however it's been abandoned for some time and she needs to collect wood to get a fire going and build a shelter. After finding some downed trees, Lara chops the wood she needs and returns to start a fire for warmth. Once Lara has ensured her survival for the night, she enters a hastily constructed hut she's made and falls asleep. While she grabs some shut-eye there is a time shift and when Lara wakes up it is to the sound of two men talking, mentioning the name Trinity, an organization whom Lara opposes in the new game.
When the men have moved on, Lara uses her base camp to craft upgrades and weapons. She can use the wood that she chopped earlier to improve her bow and she uses surrounding poisonous plants to create poison arrows. Some crafting elements will be easy to find, others will be specific to the environment you are in and more rare.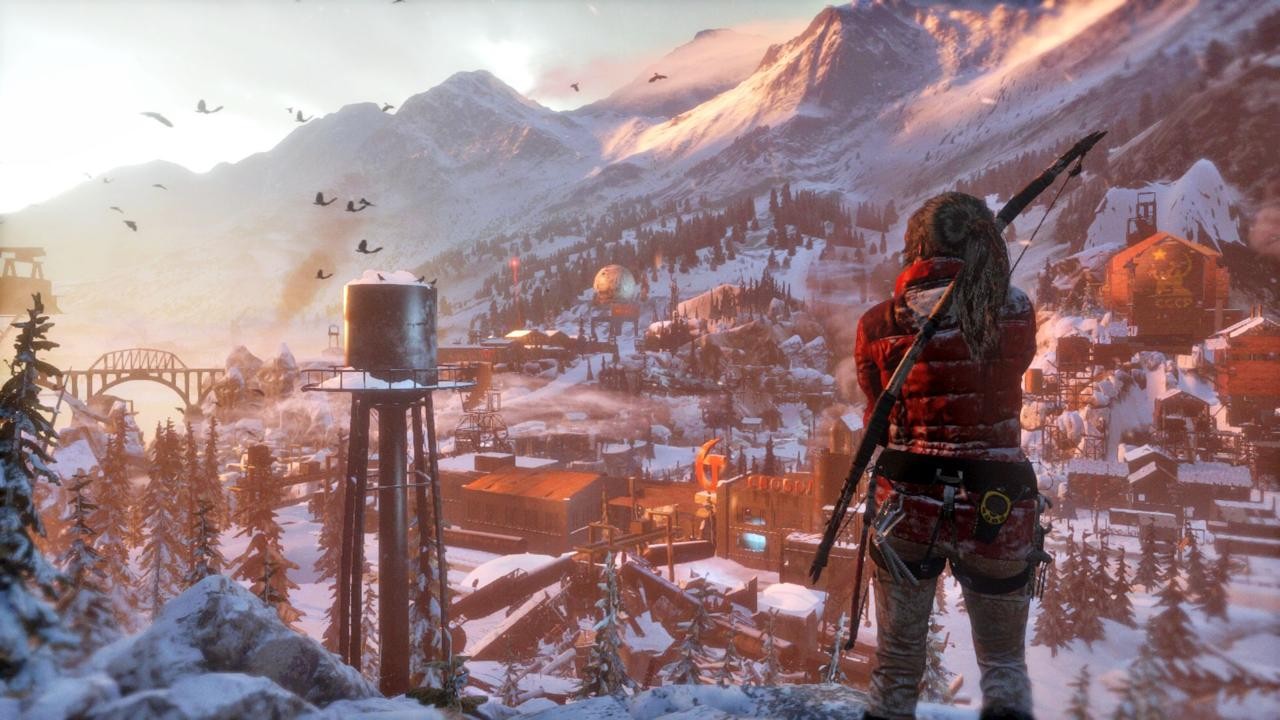 After upgrading her weapons and preparing for a fight, Lara leaves the safety of her camp and goes on the hunt for the men working for Trinity. Instead of searching the ground, Lara hops on the stump of a fallen tree and leaps into the branches of another. There is more verticality to the movement, and I couldn't help but think of the wilderness traversal in Assassin's Creed III.
Once up in the air, Lara tracks the patrols in the surrounding area. The level is more open, unlike the linear encounters of the first game. After she stumbles upon the men, she uses her poison arrow to release a toxic gas into the air, taking out two of the guards. She then quickly descends from her perch and grabs a radio from one of the dead patrols. She throws the radio near a clump of guards, drawing them to the noise. Once they are all huddled around the radio, she tosses a Molotov cocktail at them and they're soon burning alive.
Her enemies vanquished, Lara's continued search through the wintery woods leads to a bear cave and before long the massive owner comes running out to take a swing at Lara. She tries to dodge, but is quickly overpowered by the bear. Another element returning from the first Tomb Raider reboot entry is the grisly kills. I watch in horror as the bear clamps its jaws down on Lara and shakes her body like a rag doll until she is dead.
Lara decides to give the bear fight a second try; this time she is able to dodge out of the way of the massive jaws and trigger a quick-time event where she uses her ice pick to stab the bear in the face. She and the bear battle back and forth until finally the animal is dead and Lara is left horribly wounded and limping, yet again.
The bear cave leads to the world hub. Crystal Dynamics has expanded the sections of this Tomb Raider game so that each stage is like its own open-world map. In these open areas you can complete the main mission, secondary missions, hunt for collectibles, and explore secret tombs. There is a renewed focus on exploration in an open-world with Rise of the Tomb Raider.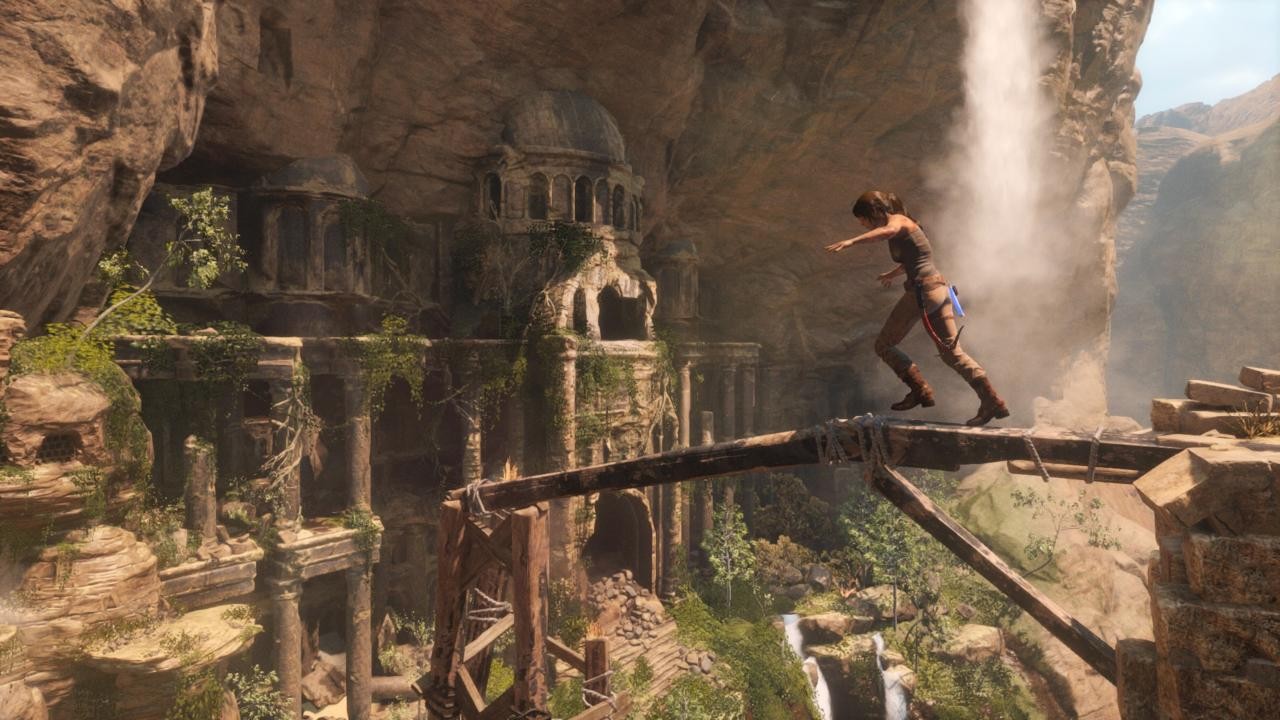 But there is still more to show us, so Crystal Dynamics takes us to an earlier section of the game as Lara wanders through a sunny, dusty canyon, finding an ancient temple. Upon her approach she listens to notes that her father had left behind. I've already mentioned this earlier, but Rise of the Tomb Raider really boasts some improved cinematics. Some of these improvements are obvious, but the facial reactions and motion capture has taken notable strides forward. That being said, it likely won't be half as impressive on the Xbox 360.
While combat was a big part of the first part of the presentation, Crystal Dynamics now wanted to show us how engaging the new Tomb Raider could be without ever using a weapon. Throughout the world Lara will find murals and other items which she can interact with and read. Doing so will grant you language proficiencies that will help unlock more secrets across the game world.
As Lara finds one of these secrets she again talks about her father who seems to be a big influence in the game. Soon after this, Lara sees helicopters fly overhead and realizes that Trinity has arrived at the site. In her rush to get away she jumps over a crumbling platform and falls into a dark pit. Once she gets a torch lit, she finds herself face-to-face with a skeleton.
After the fall, Lara is forced to slide her way through a tight tunnel, trying to avoid the skeletons and creepy crawlies that reside in this cramped space. Once she gets outside of the tunnel she sees the ancient remains of a great battle. It's explained to me that with the right language skills, Lara would be able to find clues about this battle and learn its history. This is where out demo ended.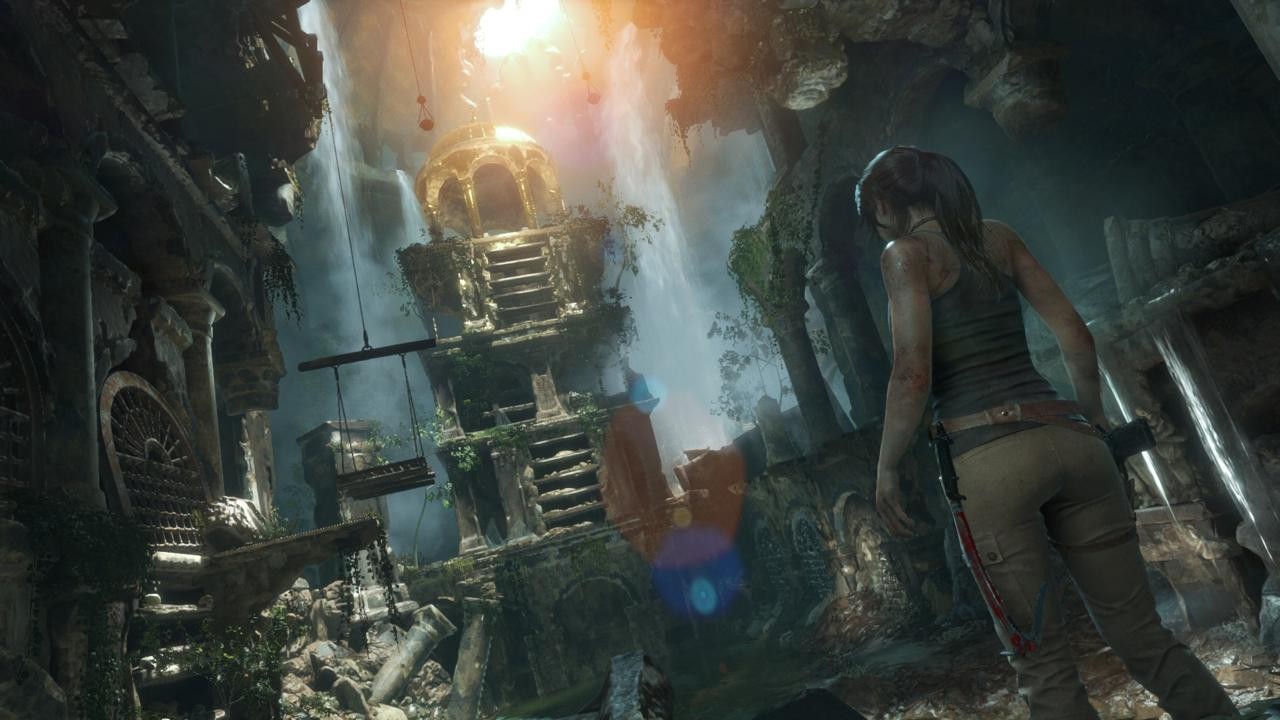 It was impressive to see so much of Rise of the Tomb Raider, and it was clear through their confidence that Crystal Dynamics has high hopes for their second entry in the series. There has been a lot of depth added to this Lara Croft adventure and I am excited to see the finished product.
Rise of the Tomb Raider will launch exclusively for the Xbox One and Xbox 360 on November 10th, 2015.
Comments
blog comments powered by Disqus