Disney Infinity 3.0 Preview - E3 2015
We take a look at the Star Wars themed entry in the toys-to-life franchise
Disney Interactive Entertainment has found itself in a very strong position in recent years. Thanks to the acquisitions of its parent company, the games company was able to bring many beloved characters to the Disney Infinity toys-to-life franchise. The original game featured many strong franchises from the current and back catalogue of properties, while the sequel went all-in on Marvel heroes. With Disney Infinity 3.0 Edition, the developers at Avalanche Software have yet another huge property line to work with - Star Wars. At E3, we got a chance to see some of the content planned for DI 3.0 as well as play through one of the playsets.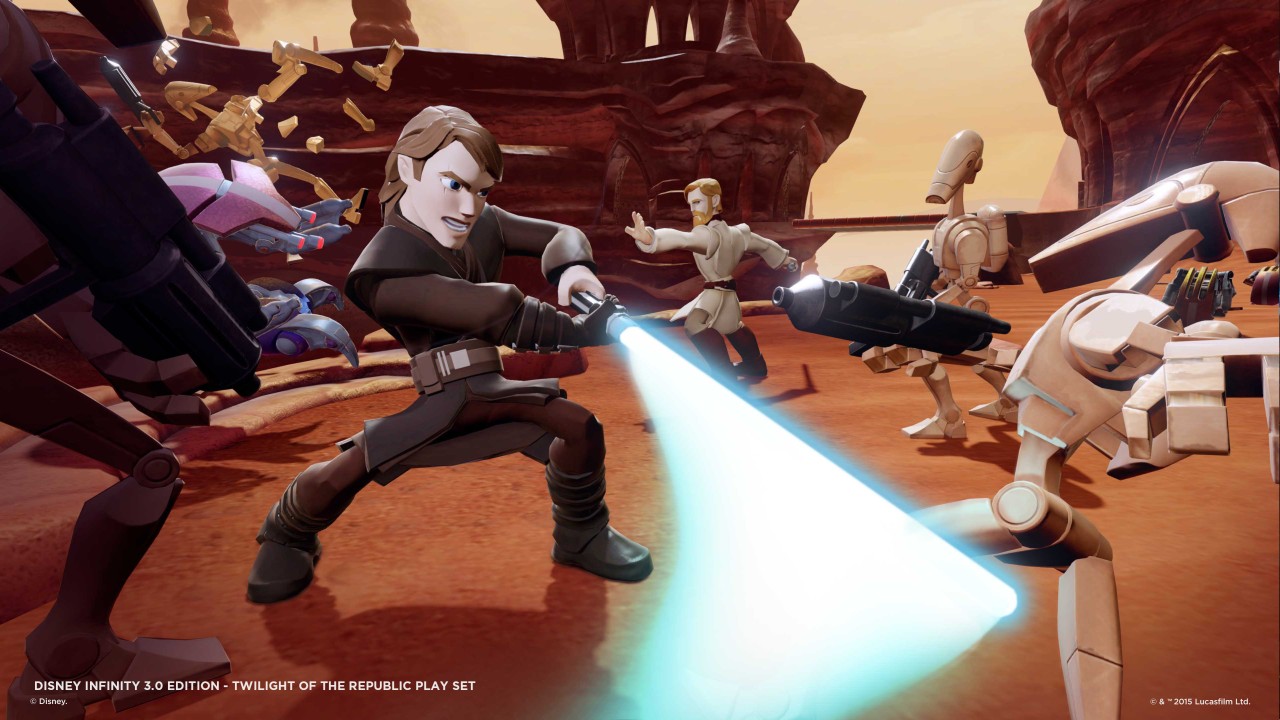 .
For our demo, we had a chance to play through a section of the Twilight of the Republic playset campaign using Anakin Skywalker figure. The developers point out that the playset based on the original trilogy of Star Wars films will be a re-telling, while the Rise Against the Empire playset based on the prequels will be a recreation of the events with some new content.
Players familiar with Disney Infinity will be quick to pick up on the new edition. The controls have been tweaked a bit to allow for more buttons to be used, but it wasn't ideal. For example, Anakin's basic attack was bound to triangle which isn't exactly intuitive, while using square activated our Jedi power and we could pull enemies closer. Using the circle button Anakin could dodge, and holding down X let us jump extra high. There was also a dash ability bound to one of the triggers. While the controls were responsive, it was needlessly difficult to adjust to using triangle to attack. Square is used not only for the force power, but also to interact with contextual prompts, which sometimes results in awkward animations. And no, controls are not reconfigurable we were told.
While exploring this factory level, we fought through a number of encounters against basic foes. The battles were easy and enemies went down quick, as is usually the case with this franchise aimed at a younger audience. Some enemies did require a bit of time, particularly those that always blocked - the only way to take them down was to dodge away from their attack and then counter. There were elements of platforming as well, as we dodged dangerous swinging objects, climbed on pipes and jumped above bottomless pits.
After making our way through the factory, it was clear that Avalanche are trying to continuously expand and improve on their 3D gameplay, but from what we've played there's still some work to do. The mechanics are fine, but they didn't feel highly polished (especially the platforming and climbing) although at least it was all very easy and can be recommended for kids.
As in the past games, the character progression system returns. You can level up your heroes and unlock new powers and abilities as you go. Finally, players should be able to use any character in any playset. This also means that original characters can join the fun - the example provided was an amusing situation where Rapunzel was using a lightsaber.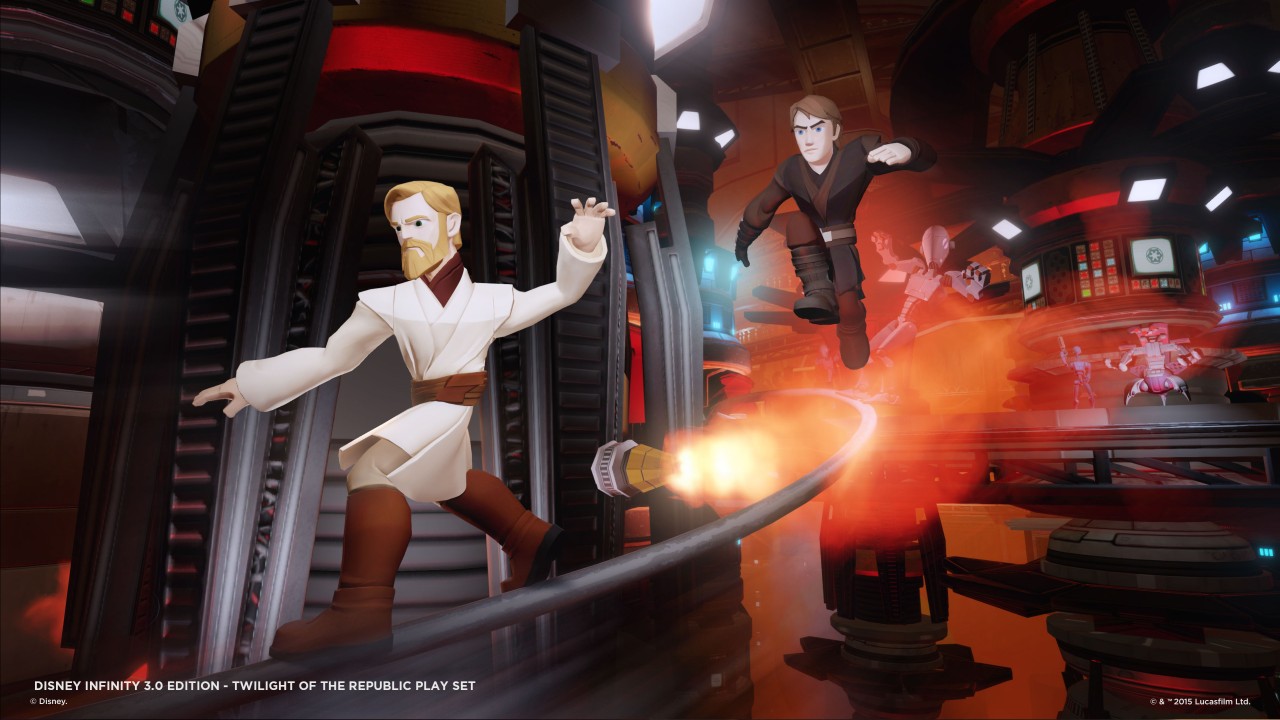 We also got to see a couple of extra content packages. The first is a standalone racing game, Toy Box Speedway. Developed by Sumo Digital, who worked to improve vehicle handling, this racing minigame comes as a standalone experience for $20 and lets players race with any characters they own. All cars have similar stats to ensure fairness, but handle differently depending on their size and type.
Another such standalone experience is the Toy Box Takeover, an isometric top-down action exploration game where players can again use any character. Originally titled Villain Takeover, this new minigame aims to improve on the Disney Infinity 2.0's Escape from the Kyln Toy Box. These standalone experiences allow Avalanche to create unique scenarios that aren't bound by the lore of the full playsets. The Takeover also provided us with a glimpse at the new sidekick system - you can customize these little guys who provide assistance in combat, and even grow food for them to level up.
The Toy Box itself has also seen some changes to make it even more user friendly. One of the common complaints for the franchise remains the overwhelming nature of the Toy Box content creation tools, so the developers took the time to craft even more tutorials to ease new players in. For advanced users, there will be some new tools such as the Spline tool, which basically lets players script certain AI behaviors or control the camera with precision when creating custom content.
As has been the case of Disney Infinity, more playsets and toys are already planned beyond the initial Star Wars starter packs. We got to see a glimpse of the Inside Out playset based on the new movie, and this will be another unique offering from Avalanche. The playset will offer 2D platforming gameplay, which is something the developers haven't done before. More figures from all Disney and Marvel franchises are also on the way throughout the year.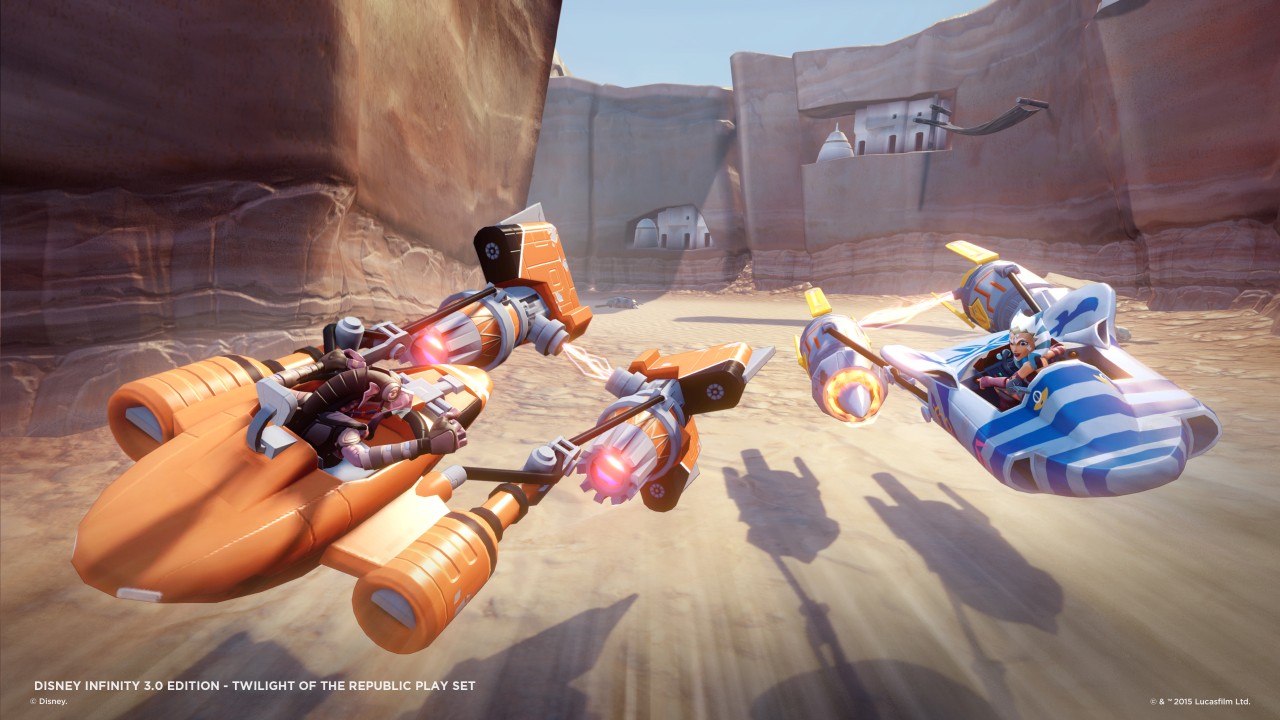 Disney Infinity 3.0 Edition has a lot riding on it - using a franchise as hugely popular as Star Wars is sure to draw fans in, and the gameplay needs to live up to fan expectations to match the quality of the toys and the brand. From what we saw at E3, there's probably some tweaking still to be done, and we hope that the starter pack will offer a decent amount of value and not reign it back as Disney Infinity 2.0 did. Look for Disney Infinity 3.0 Edition on PC, Xbox One, Xbox 360, PS3, PS4, and Wii U this Fall.
Comments