Space Hulk: Deathwing Preview - E3 2015
Marines vs Monsters, in space
Games Workshop, the creators of the hugely popular Warhammer and WH 40,000 brands, have been very well represented at this year's E3. From action and shooter games to RTS, the company's worlds seem to be around every corner of the gaming landscape at the moment. One such title comes in the form of Space Hulk: Deathwing from Streum On Studio, whose first title was E.Y.E: Divine Cybermancy. We got to see the game in action at E3 2015.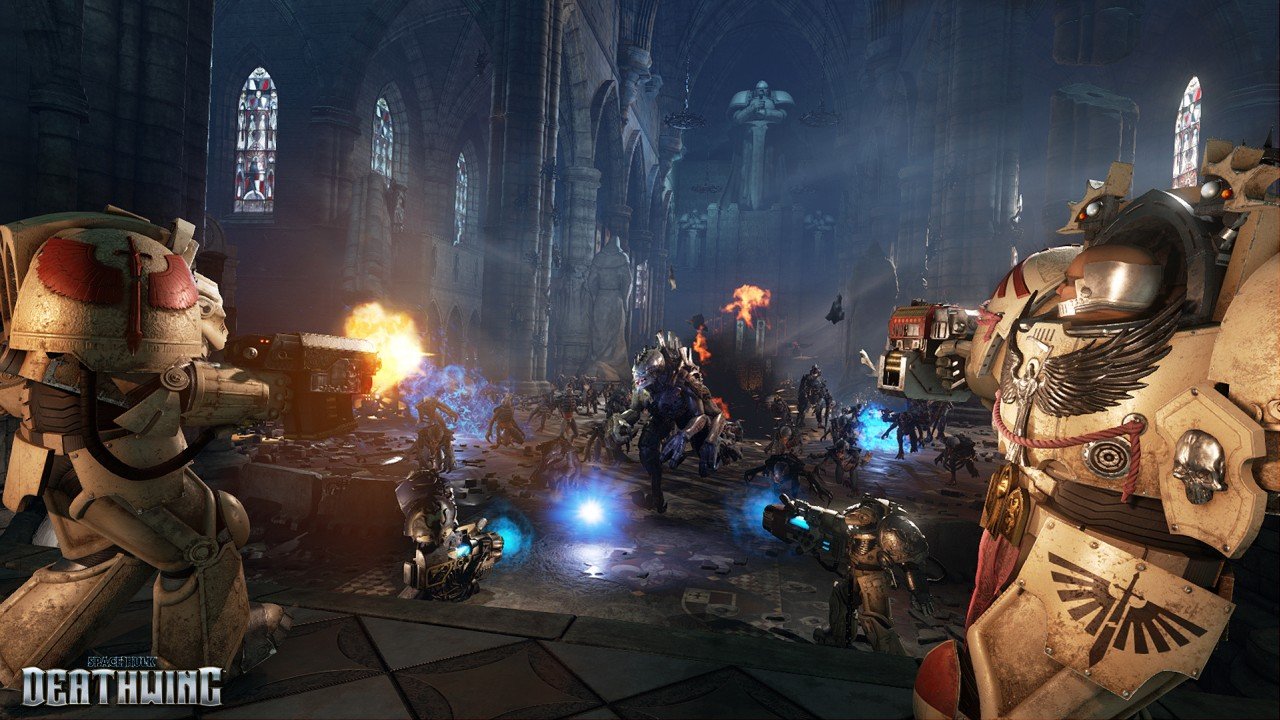 Space Hulk: Deathwing is a first person action game, developed on Unreal Engine 4 and based on a Warhammer board game. The main focus of the game is the battle of the Marines against Genestealers in the claustrophobic tunnels of a Space Hulk. As with most modern action games, players will gain skills, new abilities and new equipment with XP unlocks. You also earn Fervor Points, to spend on 4 skill trees allowing you to improve your abilities, unlock new powers, access powerful relics and new weapons.
Players take on the role of a Space Marine from one of the most secret companies: the Deathwing from the Dark Angels. Not being overly familiar with the Warhammer universe, I can't really comment on the accuracy of representation of this apparent elite unit in the game. What I can tell you, is that they look absolutely bad-ass. As the folks running the demo were going through the various customization options for our 5 marines - primary and secondary weapons, armor, and so forth - the characters shown on screen exuded a kick ass attitude and an impressive level of detail.
Once we actually began the demo level, the game became a little less impressive. Enemies began to rush from all directions, and the character simply bashed everything with a huge hammer until bits of flesh and body parts stopped flying through the air. Although impressive and very chaotic at first, the combat quickly felt repetitive and there was absolutely no hope to tell, in any level of detail, of what was actually going on. Whether it's because of too many enemies, or an overabundance of visual effects, but there just didn't appear to be any involving elements beyond knowing to occasionally block.
It didn't help that, true to the game name, the level we were shown looked tiny in terms of its pathways. There was barely enough space to have two marines standing side by side, as the tunnel-like factory hallways were indeed claustrophobic. But rather than incur a sense of fear or discomfort, it looked annoying having to play the shuffle with five heavily armored dudes in a room that clearly wasn't meant for their occupancy.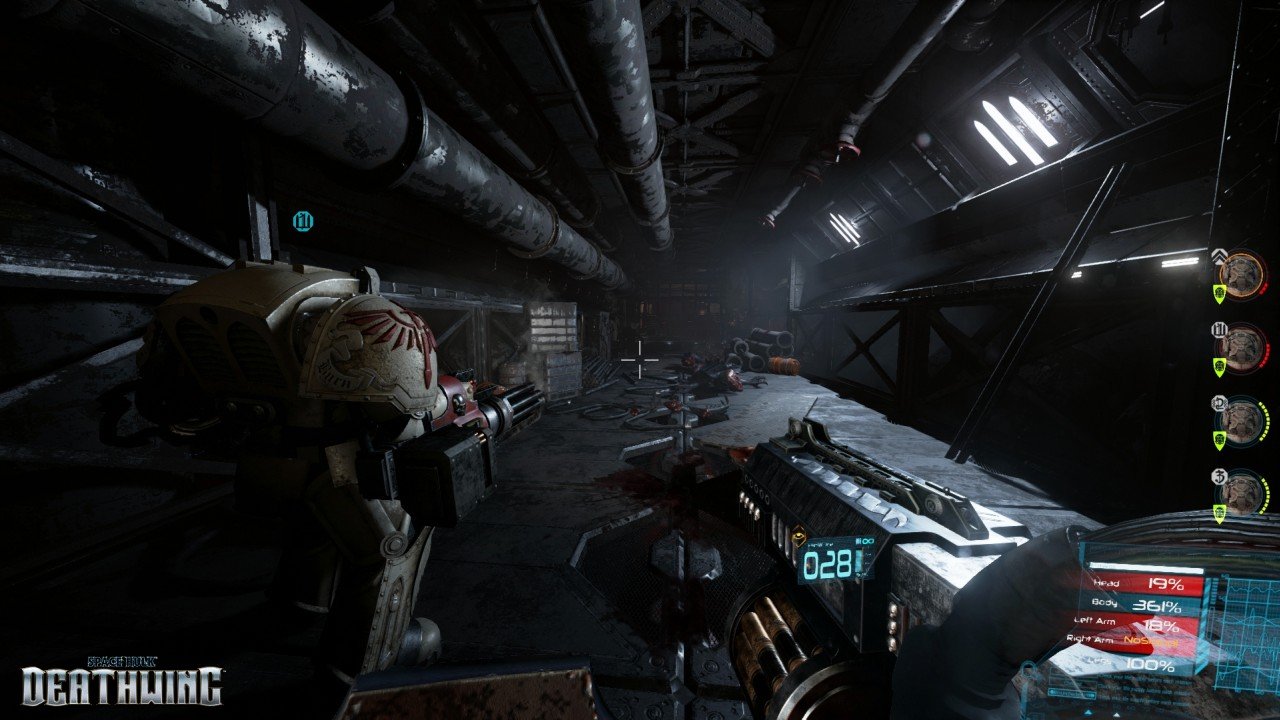 The demo was being shown in solo mode, so the player is able to swap between the five members of the marine squad on the fly. This is advantageous because each can wield different armor and weapons, and can be more useful depending on the situation. If you're playing with others in class-based cooperative team-play, those other characters will be taken up by real players. But in our demo, it was the AI, thus allowing us to swap, and also issue commands. Using the overhead map, we could order our comrades to open/close doors, take up strategic positions, or flank a group of opponents.
Space Hulk is said to feature a dynamic AI system, which means enemies scale depending on the ability of the player squad, ensuring players will always be challenged. If you're doing well, the Genestealers will intensify their assault, but as you begin to weaken, they'll reduce their numbers.
Eventually, we made our way to a fairly open cathedral-like room with a high ceiling. The goal here was to activate the statue by casting a spell, which would allow us to progress. You guessed it - it was time for defending the objective from enemy waves. We positioned our AI comrades around the room, and prepared for the onslaught. When the enemies did begin to swarm in, the same hack and slash, hectic combat took centre stage. We got to see a couple of the special abilities used to clear out the larger hoards, and eventually had to fight some boss-like creatures that had a ton of health. In this massacre, we actually lost all of our comrades. Swapping between the team members, all but one eventually succumbed to waves of foes. It wasn't clear if the dynamic AI had taken into account that all but one of the heroes fell, or it was just great timing. Regardless, the survivor moved on beyond the gate, where he destroyed a turret, and where our demo concluded.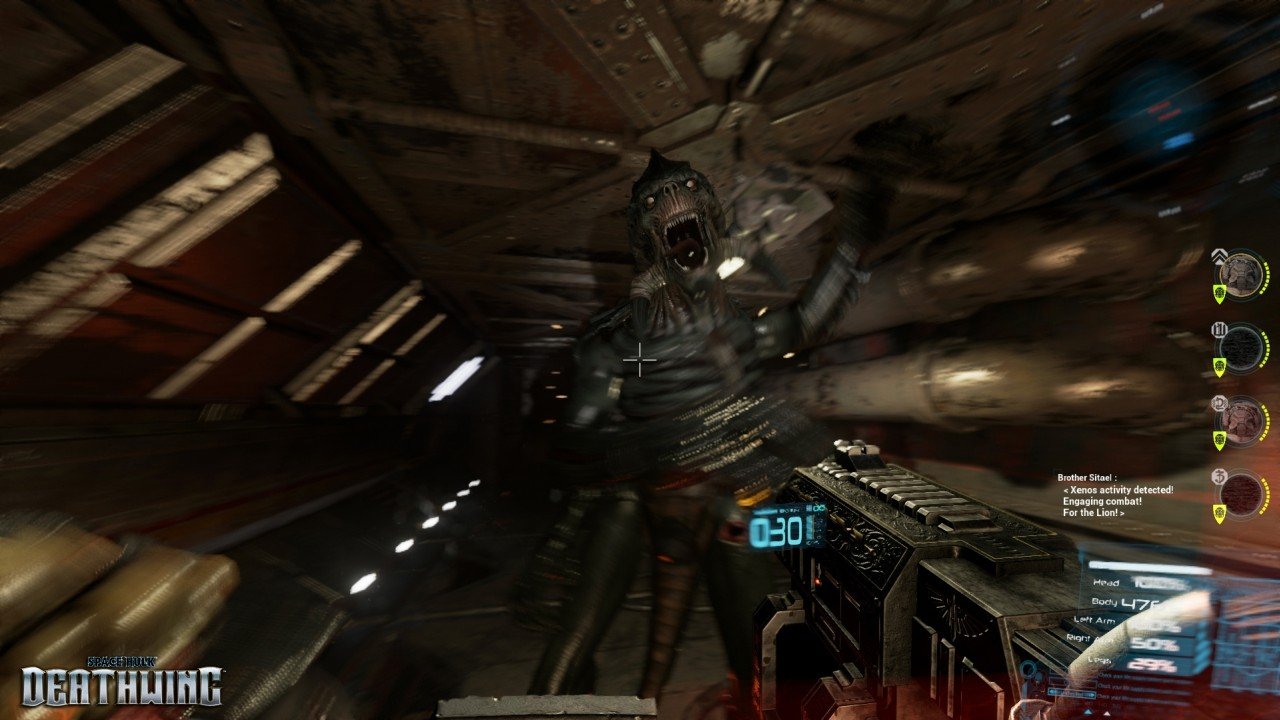 Of all the video games taking advantage of the Warhammer lore at this year's E3, Space Hulk seemed like the most obvious choice. A fast paced, brutal action game that's heavily into melee combat. But what we saw at the show didn't exactly blow me away. The visual design is impressive, and some of the squad managing and RPG elements seem solid - but the action itself looked like pure chaos and wasn't much fun to observe. Perhaps it plays better.
Space Hulk: Deathwing will release in 2016 on Xbox One, PS4, and PC.
Comments
blog comments powered by Disqus