Guitar Hero Live Preview - E3 2015
Rocking out with the latest entry in the music franchise
So, Guitar Hero has dispensed with the numbers yet forgone the classic industry colon, in favor of a simple "Live" in its latest iteration. At one point in time, not so long ago, Guitar Hero was a cultural phenomenon and a common feature in many households. It was a great party game that introduced people to new music from a diverse selection of artists and brought a whole genre of instrument peripheral gaming into the spotlight. Before Guitar Hero, games like it were mainly found in arcades. While some had guitars, there's no denying that they evolved from Japanese rhythm games.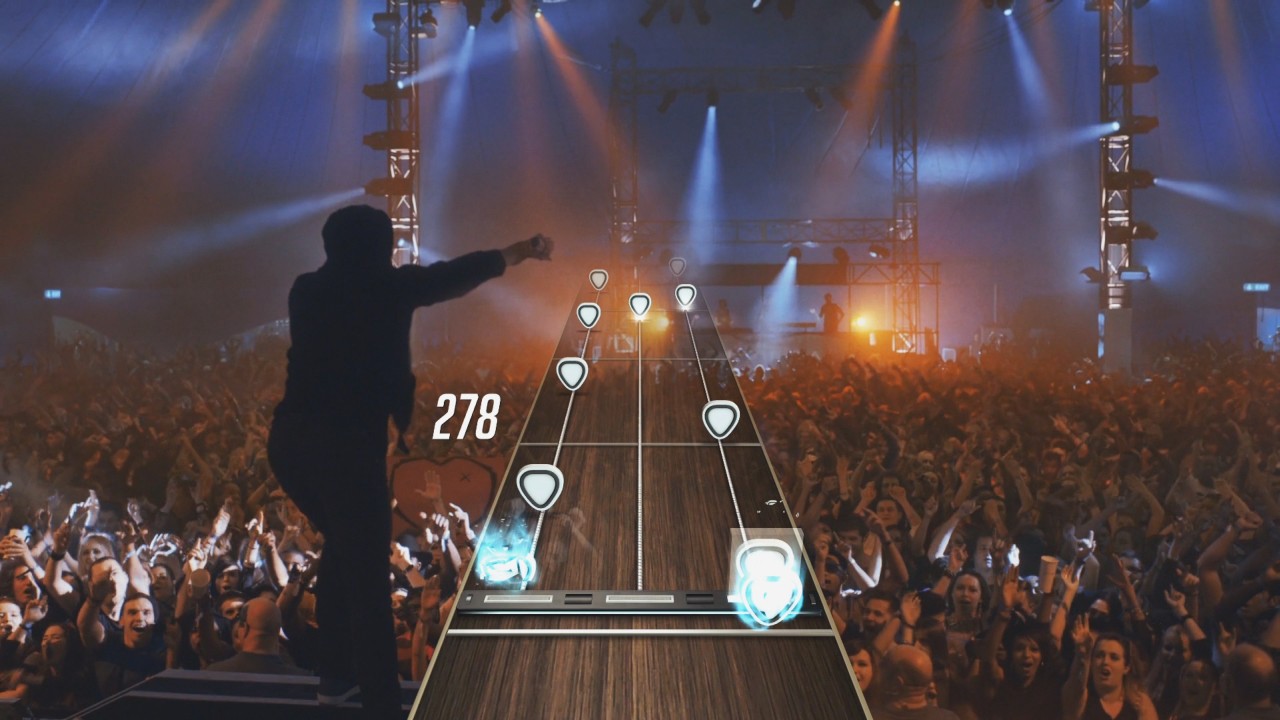 I'd not thought much about Guitar Hero since the third in the series, which may have been their most popular entry. It was fun, but I believed I had gotten all I needed from the game and its ilk. The most enjoyment I had with Guitar Hero 3 was having a few friends come over, getting a little tipsy and then slapping at the buttons like those inflatable arm-flailing tube men.
However, time marches on and trends fade. These games reached their peak and have since waned. But being at E3 this year, you'd think that musical peripheral games have received an encore. Guitar Hero Live and the new Rockband drew the crowds and created a great atmosphere. I checked out the former to give my digits a workout and see if I still knew Through the Fire and the Flames on expert difficulty.
FreeStyle Games, who were the studio behind the well received DJ Hero and DJ Hero 2, have developed Guitar Hero Live, introducing two new ways to play the game. The first-person mode places you as the titular Guitar Hero in an attempt to make you feel like you're at huge concert, not sat at home languishing on your couch in your underwear. The second innovation is GHTV, which acts like an online multiplayer mode where you can drop in on 24-hour streaming music channels and compete against other players.
Firstly, I had chance to watch one of devs display the new first-person mode. We joined the British band Royal Blood during a performance of Little Monster. If you've lived in England over the past year, you will have heard this band played to death. You, the Guitar Hero - scratch that - Bass Hero because the band consists of downturned bass guitar and drummer, played along while checking out the crowd's reaction.
This crowd mechanic works like real-time feedback. You play well, the crowd cheers and whoops. You suck, then they start booing and your band mates look upon you with such abject disgust it is as if you have just dropped the guitar and begun some vulgar verbal tirade. In short, they are not happy. The crowd's mood swings back and forth like a ferocious emotional pendulum. What I did ask the team was if I would get the full festival experience by having a beer bottle brimming with questionable fluid tossed at my head during a particularly disastrous performance. They said no.
The team made all these crowds bespoke, meaning it is all originally created footage from giant festivals to cramped bars as you progress through your musical career. I think it is an original and interesting concept. However, when playing, I didn't find myself looking at the crowd to much, save for stealing chastened glances during a sustained chord or pause in the music. I'm sure after tearing through a lengthy and complex solo it'll be a more gratifying experience, but I had yet to feel it.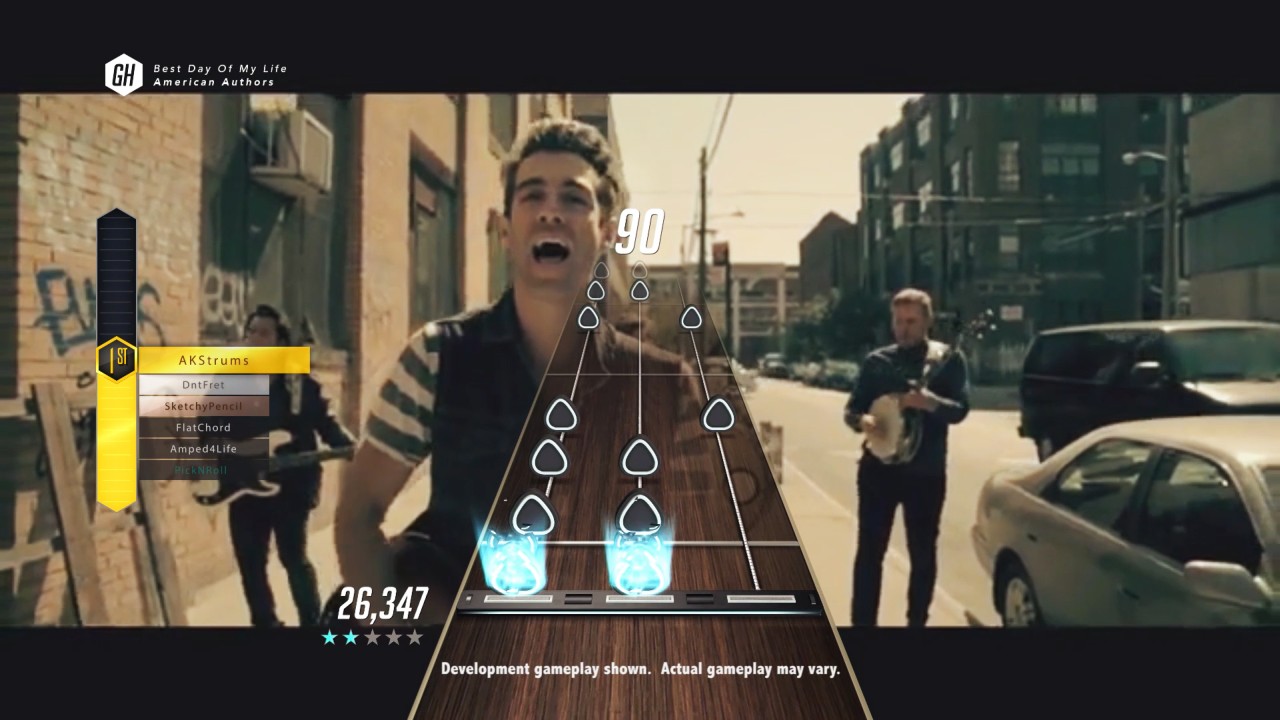 GHTV is, as I mentioned, a streaming music channel that covers various genres from hard rock to more easy listening tunes. We're all quite familiar with the notion of music television (although there is a peculiar retro feel to it all). Pick a channel and play along with a handful of other people who're online. You can dip in and out as you like. Technically, you continually play ad infinitum, as there is no break, aside from the end of track bringing the results screen.
The poster child(ren) for GHTV live are Pierce the Veil, part of the '80s glam revival scene that all them whippersnappers seem to be so fond of. There's also a broad selection of tunes if your tastes lie elsewhere: The Black Keys, Fall Out Boy, Queen, Alice in Chains, Pearl Jam, Soundgarden, Rage Against the Machine, Gary Clark, Jr., Green Day, The War on Drugs, The Killers, The Rolling Stones and Blitz Kids, with more on the way. They missed out Norwegian Black Metal but I'll forgive them.
Well, it wouldn't be a Guitar Hero game if we didn't talk about your axe; the periphery itself. Instead of a line of six larger buttons, the controller now has two rows of three buttons to, and I quote, "better reflect the way people naturally play". Well, they're not wrong; I held it like a guitar and not, say, a salmon, but it's like moving down a couple of frets. You can make bar chords (chords that have your index finger holding down more than one string), but it's not really an authentic experience. It's a game.
I found getting used to the system similar to my other Guitar Hero/Rockband experiences. It's tricky for the first few songs, but if you have an hour-long session, taking it easy, you'll pick it up pretty quickly. The simplicity is what made the previous games a lot of fun and the sign of a great party/social game. Even if you've never picked up the plastic guitar, you'll get used to it rather quickly and be able to feel empowered jamming along.
In Guitar Hero Live the RPG/progression elements have received an upgrade. You fill up your respect gauge which will unlock new songs, personalized items like Highways (the moving fretboard), and premium content such as real concert footage. Musical maestros can also unlock boosts and hero powers that allow you to rack up the points quicker. You can, for example, improve the speed at which you reach boost status. Reaching "Hero Status" lets you get your hands on higher badges, premium content and vanity items.
The micro-transactions in the game are quite standard and fair. You can unlock everything by simply playing the game. However, you can buy coins that allow you grab "plays" quicker. Plays let you listen to songs before you've unlocked them. You can also outright buy songs with coins if you just fancy jamming along to a specific tune. There are, however, special vanity items that can only be unlocked by playing the game and completing challenges at the highest level, in an attempt to distinguish the amateurs from the pros.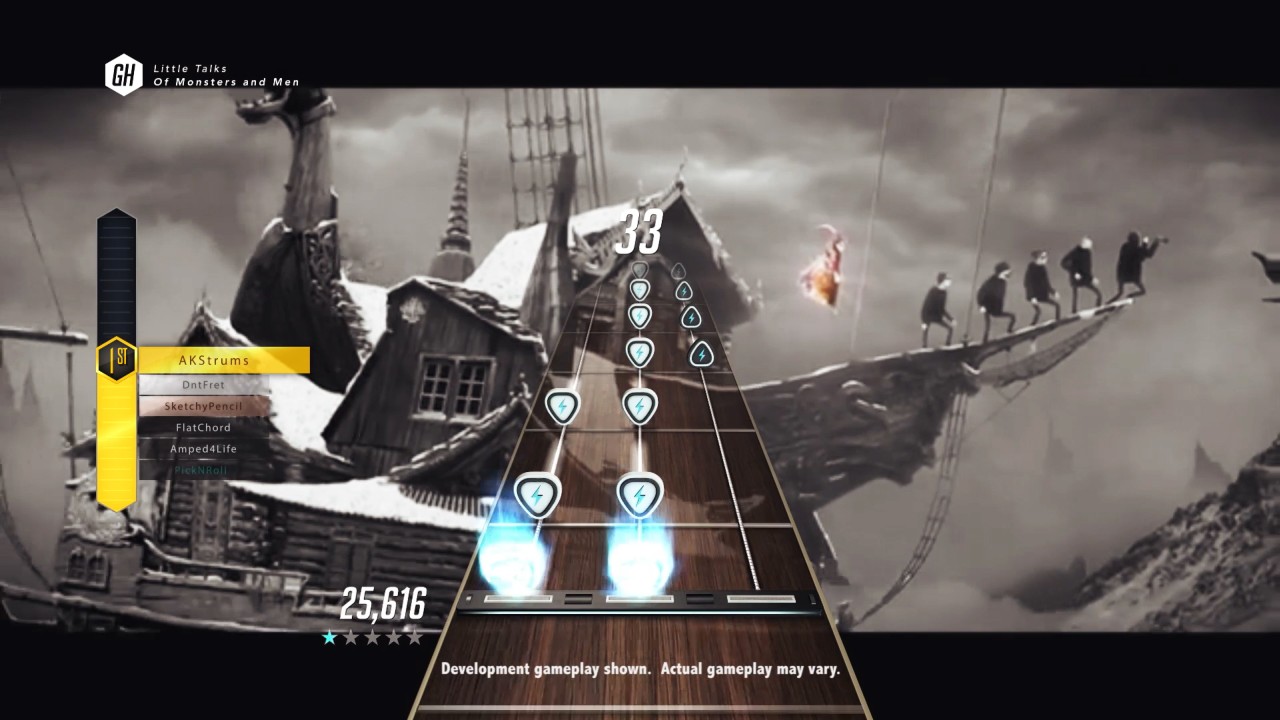 I feel like Guitar Hero live is a gamble. At least, that's the impression I came away with. The game has no endorsed artists making appearances in the game, i.e. Tom Morrello/Slash guitar battles. There was also no word of whether there will be any exclusive content - song-wise - like we saw for previous versions. I was assured music channels will be updated regularly and that it can act as a platform for artists to debut new songs and music videos, as well as a platform for new artists. This sounds like a great way to interact with fans both old and new. Plus, there really is a lot of songs that players will learn to love.
Was Guitar Hero Live fun? Yes. I always have a blast playing music periphery games, but buying it is another question. For those who want a fun party game, it will do you just fine, and the online play is a great way to test your noodling skills. However, aside from the modes available, I don't think too much has changed other than rearranged buttons. It's familiar, but not the bad kind of familiar.
Guitar Hero Live will be on PlayStation 4 and PlayStation 3, Xbox One and Xbox 360, and Nintendo Wii U. Select mobile devices will also be able to rock out, meaning you get the same experience as console versions. The game is set for release in October 2015.
Comments
blog comments powered by Disqus