Ghost Recon Wildlands Interview - E3 2015
We sit down with key members of the development team to chat about the new shooter
After the big E3 reveal of Ghost Recon Wildlands during the Ubisoft E3 Press Conference, New Game Network had a chance to sit down with Nouredine Abboud, the senior producer and Eric Couzian, the creative director, to ask them about how they planned to rejuvenate the franchise and explore their new open-world setting.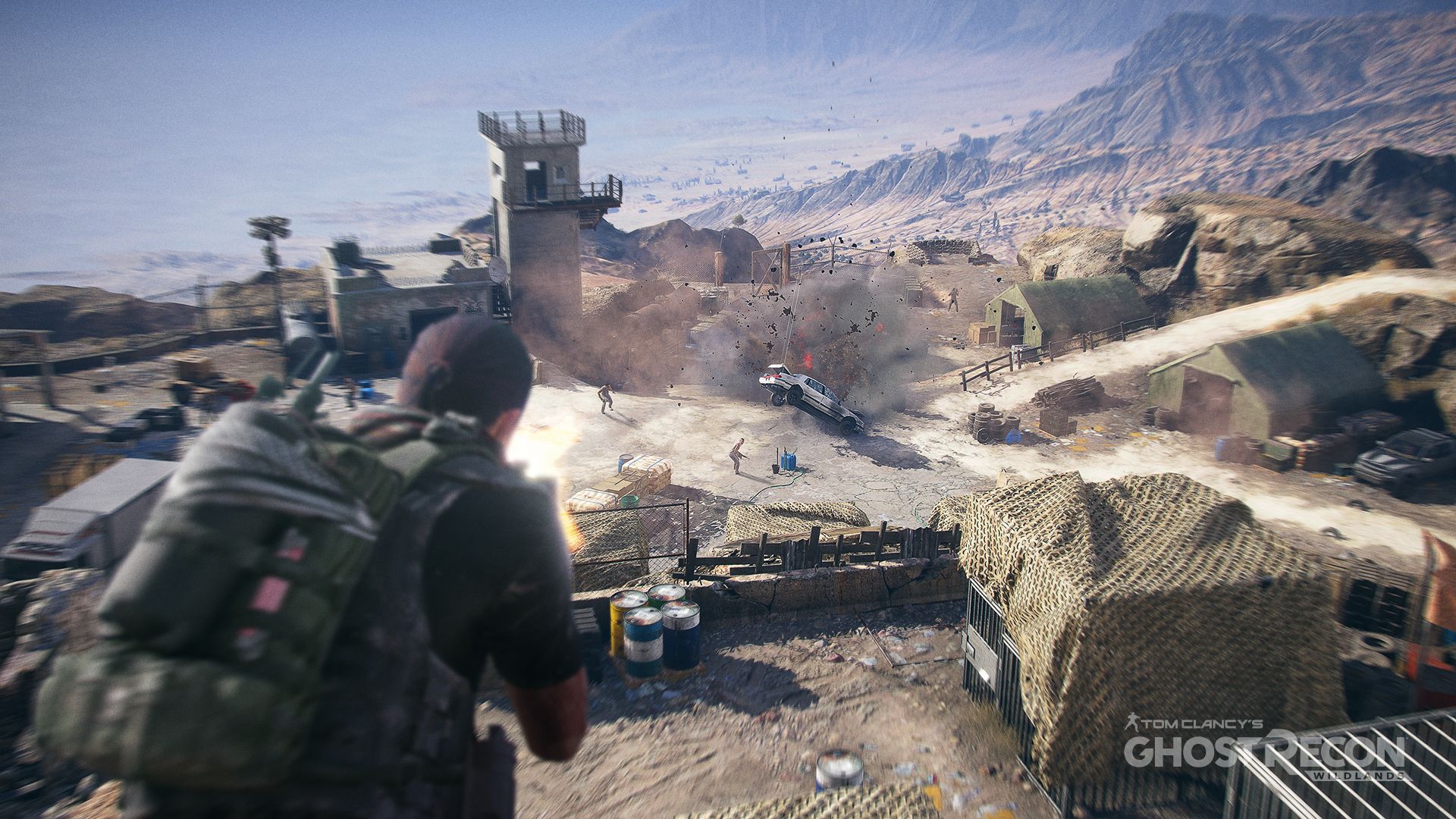 New Game Network: Thank you for taking the time to speak with us.
Nouredine Abboud: It's our pleasure.
NGN: Let's start with the big E3 reveal that you guys had. Ubisoft is known for these reveals at the end of their show. What's it like to be backstage, watching your game being shown for the first time?
Abboud: You know the big thing is we have been working on this game for three years, so we've been working in secrecy. We couldn't tell our families or friends at all, and we keep telling then, "Once it's out we'll talk about it!" So that is the biggest change in our lives.
You see, this game is very unique, being at the same time a military shooter, co-op, and open world. It is the sort of thing that at the beginning you don't believe is possible, and just by talking about it, sharing it, it feels really good because other people can see it and it's not just us preparing it. When you're working on something that unique, you're so proud and happy to be able to show it and show all these years of work.
NGN: You brought up that you're doing a lot of thing with this Ghost Recon. What was the core of the series that you wanted to keep alive?
Abboud: Eric and myself and many people on the team have worked on previous games and felt that Ghost Recon was a tactical game. The core of it is a tactical element, and every game that has been in the series, be it Future Soldier or Advanced Warfighter, were all an expression of those tactical elements. And what is important here is that the creative team decided to go fully tactical with the open world, which was the best way to give lots of tactical options to the player - more than ever in the history of the [series].
Eric Couzian: What we wanted was to give the total freedom of choice. We are talking about tactics. Tactics becomes very interesting when you have total freedom of your actions - total freedom of actions means you can travel the world with multiple vehicles, explore different environments. You can drive motorbikes, buggies, fly helicopters, planes and everything.
It encourages the player to have complementary behaviors when you play in co-op. The open world is made in such a way that we did not want to copy the regular open world systems. In Wildlands all the missions are open at the same time, you can complete them in any order. It's a real game-changer when you play. Also, every decision you make, every choice you make has a consequence. It can be a long-term or mid-term. For instance, you saw in the demo the player is at an inter-faction fight and because of the consequences of previous actions the balance has been changed between factions. Nothing is good or bad, but depending upon your play style, you can change the whole balance in the world.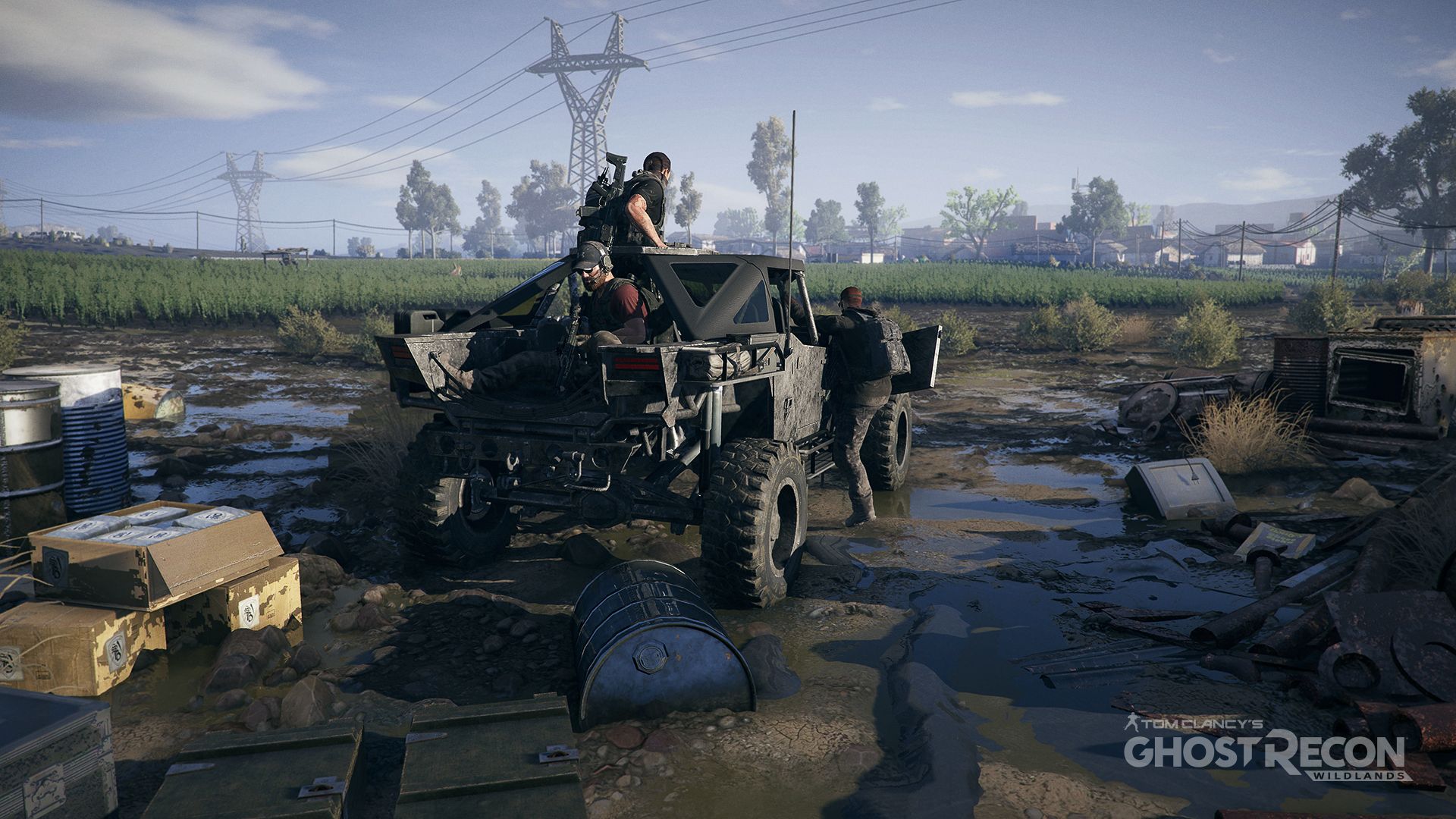 NGN: You brought up a lot of different factors in the game - you've talked about choice-based consequence, co-op, open-world, and tactical shooter. How do you bring all of those things together?
Couzian: What we show in the demo is that you can play solo or co-op with up to four players. At first we show how you can play separately, how you traverse the distance of the vast open-world. Then, when you decide to do a mission, you can pull your friends into the same world. Then we show how the players can coordinate and organize to complete missions.
For instance, in an optional mission you are getting intel about the layout of a camp when you have to extract someone you know will give you useful information to dismantle the cartel. It all demonstrates how you can play in a complementary way, even if you're playing in a group you're not constrained by the group. So it's tactical, but it's not constraining.
Abboud: This team has worked on previous games and has a lot of experience in military shooters. And co-op has always been at the core - I know Future Soldier had co-op - so the key for us, the biggest addition, was the open-world. And Ubisoft, as a company, has a strong knowledge about [open worlds]. We changed the way we work developing our games to create all of those choices and consequences. At the end of the day we were leveraging fields in which we have a strong knowledge.
So that's, like I said, why we're so relieved to be able to talk about it. It looks insane when you say, "How can you mix all those elements?" But at the end of the day for this team, this is a military title and leveraging things in which we have a strong knowledge and expertise.
Everything you see in the trailer - obviously not the cinematic, but everything else -
Couzian: - straight from the demo.
Abboud: Excluding the part of the character being tortured, but everything else is straight from the game.
NGN: Ubisoft has a lot of games that use different elements of these ideas. You can play co-op in Far Cry 4, which is also an open world. You have military tactics in The Division or Rainbow Six Siege. How has all of this influenced what we're seeing in Ghost Recon Wildlands?
Abboud: Again, as a company that is full of talented people we are always searching for ways of working together, but all of the games have their specificities. Being a military shooter, with co-op, in an open-world, that is the specifics of this game. Of course, this is new for Ghost Recon, it's new for Ubisoft, it's new for the whole game industry. Every game is trying to push something forward. In our case, what Eric insisted on, it's exploring the tactical elements and that this open world is very different in terms of the freedom it give you.
Couzian: Yes, we share this knowledge at Ubisoft, but our first thing when we started the project, as I said before, we wanted to prove was that we could have a different kind of open-world. It's refreshing when you play because it doesn't have any of the contours of other open-worlds.
Abboud: On top of that, I will say [this game] is its own story. With Ghost Recon we really focus on the fact [the story] is about the Ghosts being sent on the ground to dismantle the evil alliance between drug cartels working hand-in-hand with the local government. So it's not just the game design, but the story we are telling.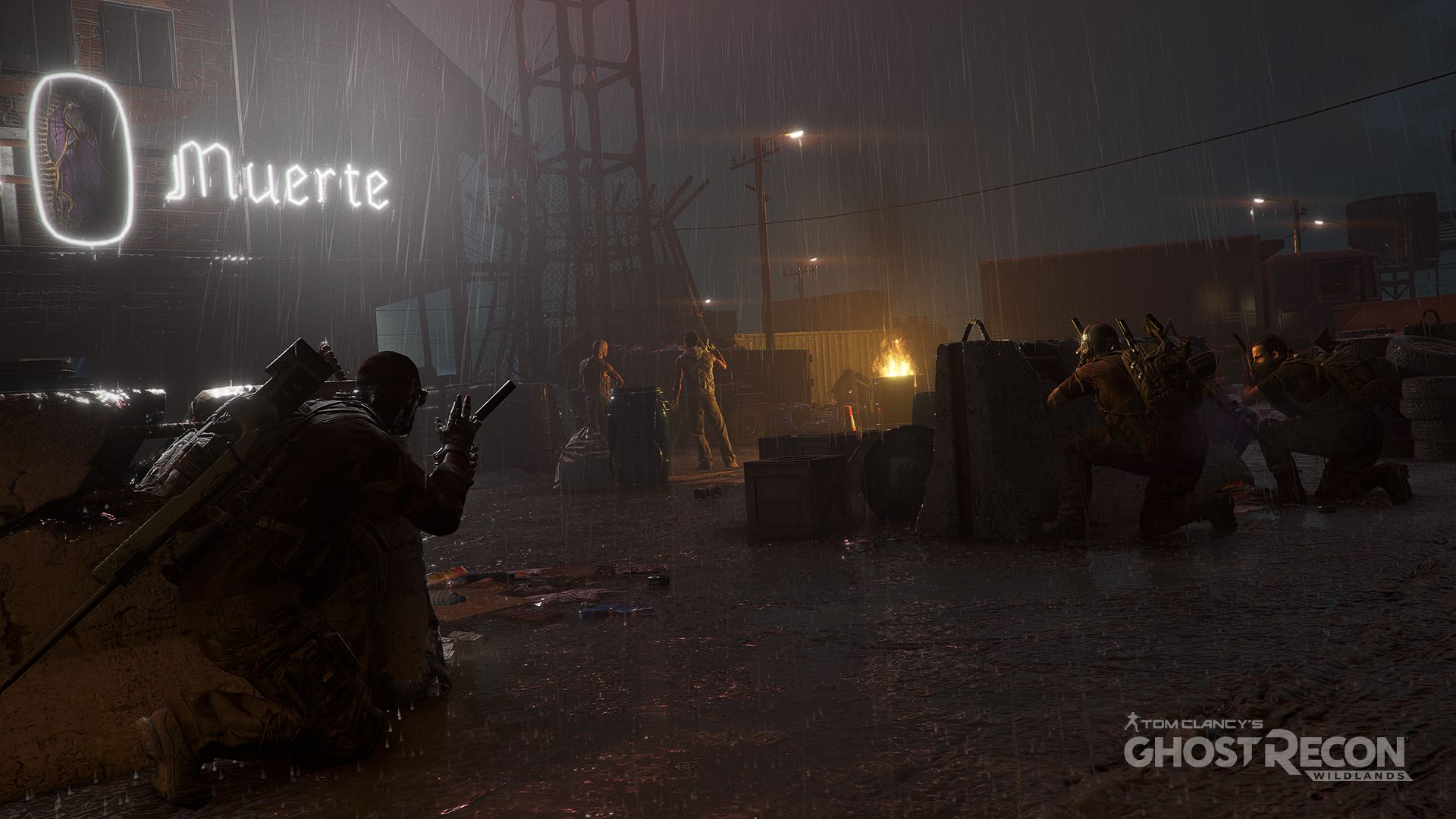 NGN: Can you tell us more about the game's setting and world?
Couzian: So the game it takes place in Bolivia, four years in the future. As Nouredine said, there is an alliance between the drug cartels and the military. We have nine different environments in the world. The team stayed in Bolivia for two weeks, not only for pictures but to understand how the people live there. The world is really brought alive when you play. Every enemy has their own agenda, his own faction and job. It's to recreate the authenticity of Bolivia and how the drug cartels are organized.
Traveling to nine different environments means all of the different vehicles and tactics will change. So desert, for instance, is really huge and different because you're looking for cover and don't have to tell your friends what you see, but in the jungle it's completely different and your line of sight is very short so you have to talk to your friends to communicate everything you notice. We have the Death Road, which is the most dangerous road in the world. We created it entirely in the game.
NGN: Thank you so much for your time!
There's no launch date for Ghost Recon Wildlands yet, but it will be released for PC, PlayStation 4, and Xbox One.
Comments