Halo 5: Guardians Preview - E3 2015
We go hands-on with the new Warzone multiplayer mode
The Halo franchise has a very long legacy behind it. More than 65 million copies of Halo games have been sold worldwide since the dawn of the series, which generated some $4.6 billion in worldwide sales to date. And despite a switch in development studio, the latest entry Halo 4 was able to please both fans and skeptics. Now, there's a feeling in the air that the iconic shooter franchise is truly ready to step forth with 343 Industries, and to debut on Xbox One. We got to see and play Halo 5: Guardians at E3 this year.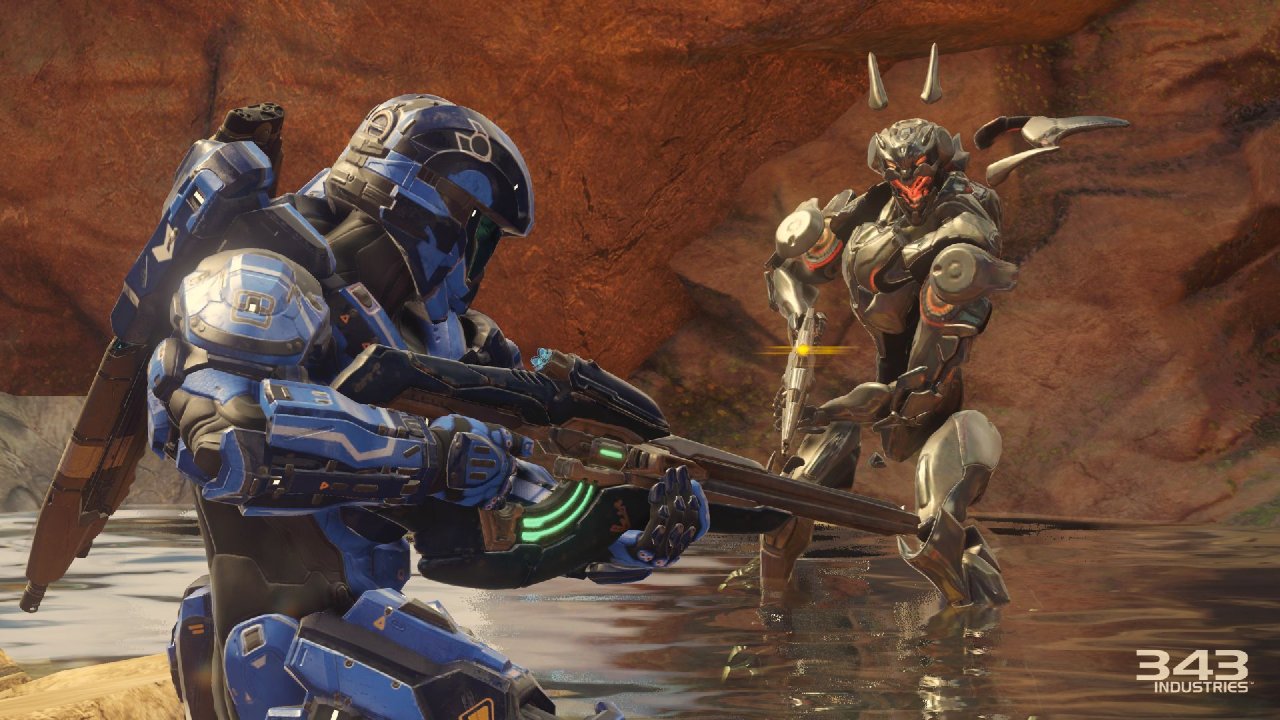 In the game, a mysterious force threatens the galaxy, while the Master Chief is missing and his loyalty is being questioned. Herein lies the central conflict of the game - UNSC's elite man hunter, Spartan Locke, and Fireteam Osiris have been tasked with finding Chief and brining him and his Blue Team to justice, whatever it may be. Meanwhile, players will also get to experience Chief's version of the story, which will undoubtedly be different and show a glimpse of reason for his actions. It's an interesting two-perspective approach that certainly seems ambitions for a franchise that always stuck with a single viewpoint of events.
Returning to the game with Halo 5 is the inclusion of online co-op for the campaign. Up to three friends can join you on the adventure, which likely means there won't be many chapters where, like in Halo 4, you'll feel truly alone and lost in space against all odds. With a squad by your side for likely most of the game, they can be either friends over Xbox Live or AI (the latter will follow your commands, probably better than real friends do). It's nice to introduce the option for co-op in an obviously multiplayer-focused title, and many fans will appreciate it - though as mentioned, the atmosphere may not feel as daunting as it could have when playing solo.
The core gameplay will remain familiar, but of course bring some new additions in order to make the game stand out. From new Spartan Abilities to tweaked gunplay, new movement systems and more physical interaction with the game world, Halo 5 will likely satisfy most of what you crave from the shooter franchise. Halo 4 already did that thanks to introducing some new enemy types for the first time in forever, so hopefully this new entry can also carry on that legacy and keep brining new gameplay elements that will help the franchise thrive on the new console generation. Since the game was built for Xbox One from the start, 343 Industries promises leading edge graphical and audio quality, in addition to smooth 1080p, 60fps visuals.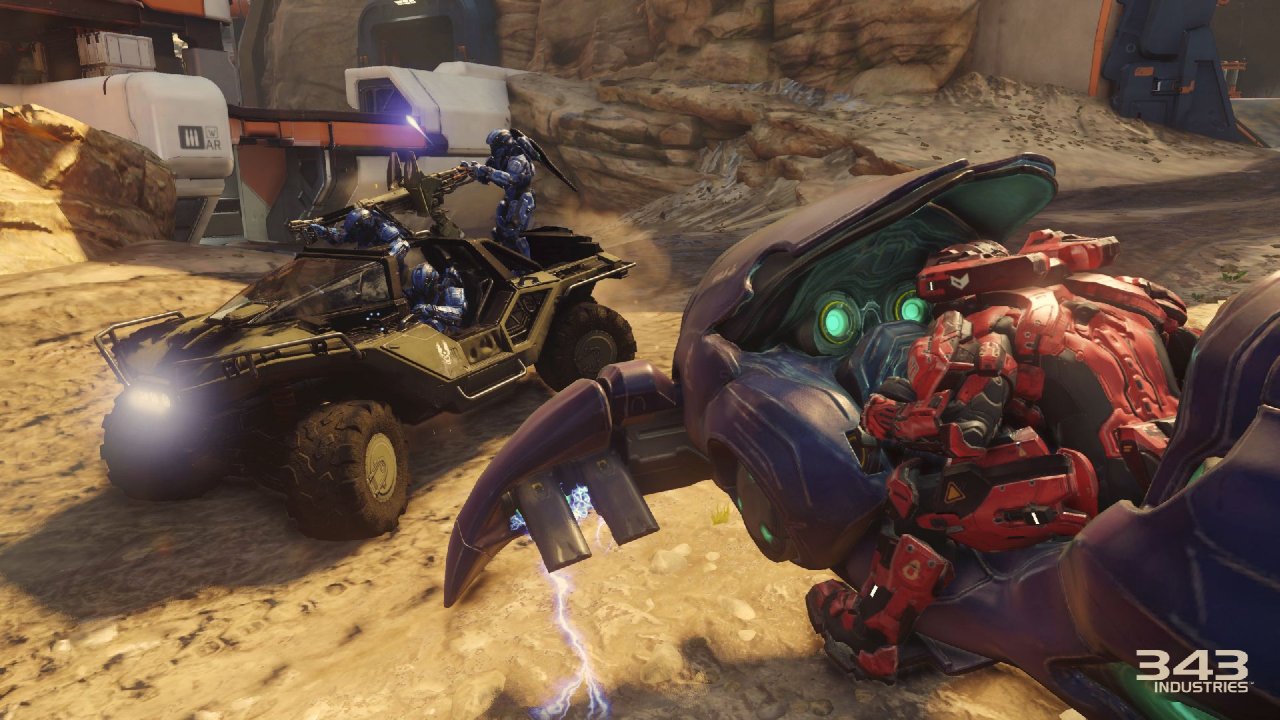 In multiplayer, an undoubtedly huge part of the appeal, there are some new additions as well. The classic Arena mode, where competitive and skilled players go to fight in 4vs4, promises to include new maps, modes, and weapons. CSR (Competitive Skill Rating) system and spectator mode are some of the additions that hope to push the game into the eSports scene. Warzone, meanwhile, is a whole new mode that's focused on large-scale warfare of up to 24 players. The maps here are very large compared to the usual franchise fare, with multiple objectives that can be tackled while you're fighting against an opponent team as well as AI forces. Tying together the multiplayer experience is the Requisition System. Players earn REQ points after matches, which can be redeemed on new armor, weapons, skins and more. But it's used in-matches as well, as you need REQ points to call in vehicles in Warzone. This latter mode is what we got the chance to play at E3.
Things started off pretty well. Our Blue team burst out of the gate, cleared out our home base, and at this point the Warzone mode unlocks the rest of the map for play. Using default weapons was our only option at this time. As we battled our way to the next contested area, the AI wasn't putting up much resistance, and we grabbed the next two objectives to hold. The red team showed up on occasion, but was quickly dealt with. During all this mayhem, the Halo 5 arsenal was notably satisfying to use and quite familiar in feel and look. It's not long before you have enough points to start getting better rifles and grenades at the dispenser stations.
Then it all began to fall apart somehow. With enough time passing and enough frags accumulated means the red team had enough REQ points to start calling in vehicles. Our team, throughout the whole match, seemingly refused to. The battle turned against us and we were pushed back to nearly the starting area. Warthog, Mantises, and even Phaeton (a new Promethean vehicle) dominated the field of battle and mercilessly thinned our ranks.
To try and save the day, we turned our attention to the objectives, one of which was to kill an AI leader. Fighting him was no easy task in itself, but we defeated him before our opponents did, thus earning a large bonus helping of REQ points. We called in some of our own vehicles, but it was too late by then. The Warzone match runs with the first team to reach 1000 points, and we were down 900-500.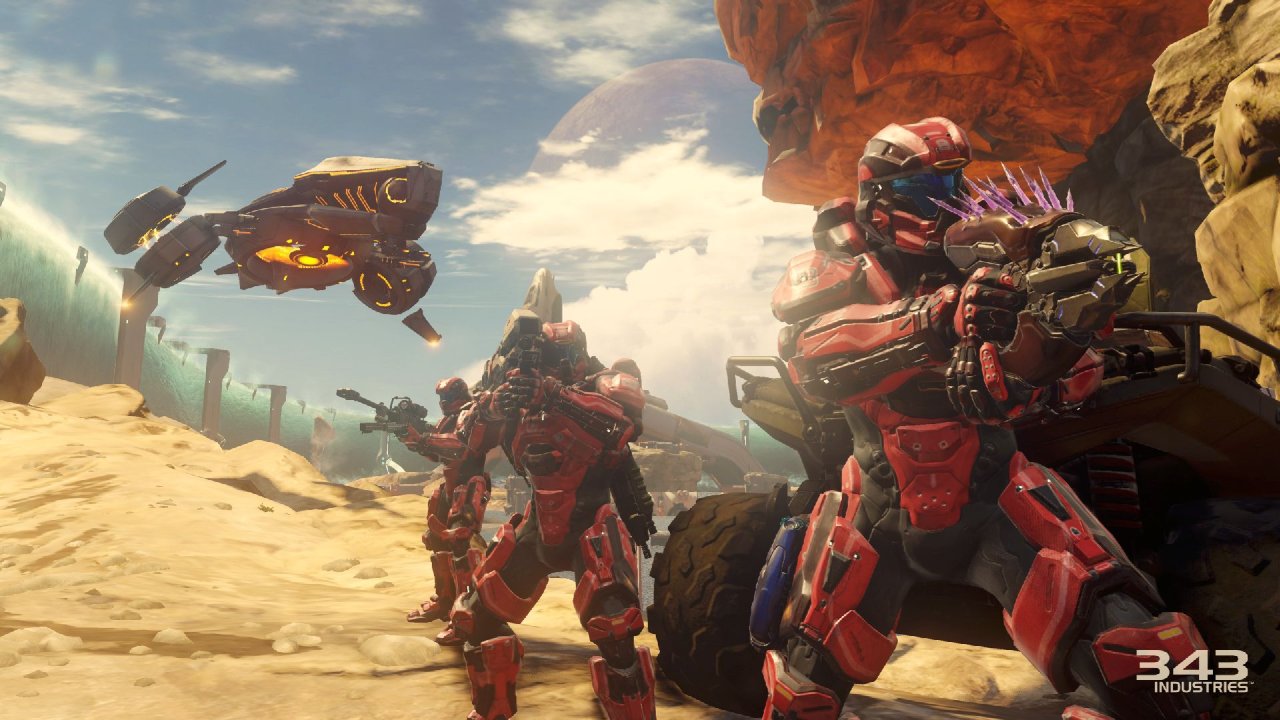 All in all, Halo 5's Warzone was a satisfying romp, even though we didn't have the maximum amount of players per side. Earning of points, calling in vehicles, and a third-party AI enemy force creates a unique experience, at least for this franchise. All of these elements have been done before, years ago even, but it all comes together seamlessly enough here as well. We're not calling this a revolution for multiplayer by any stretch, but Halo fans bored of the usual Arena combat may very well find some solid entertainment in the Warzone.
With an intriguing plot and a wealth of multiplayer options, including a beta that likely helped 343 Industries fine-tune the experience further, this looks to be a very solid debut for the franchise on Xbox One. Look for Halo 5: Guardians to launch on October 27, 2015.
P.S. Though not directly related to Halo 5, this must be mentioned. We got to try the new Microsoft HoloLens technology as part of our demo. All we got to do was watch a rather long demo on the Warzone map we were about to play, but the real focus was on the HoloLens itself. After seeing the announcement earlier this year and watching the tech appear at E3, we were still unsure of how this tech actually works and what the user sees. Well, it turns out to be just that - what you've seen in the Minecraft HoloLens demo during Microsoft's E3 press conference is what the user sees. It's an incredible experience that defies logic and sends your imagination running wild with possibilities. To be able to create this Minority Report-like holographic images seems so futuristic, so sci-fi, and yet we were there. And we saw it with our own eyes. If this was a tech site, that would have been our "Best of Show". But for now, all we can do is indulge in the awe-inspiring memories of using this device, and dream of what the future of HoloLens can bring. Not just to gaming, but for all of entertainment
Comments