Uncharted 4 Preview - E3 2015
We get to see an extended demo of the upcoming action adventure title
Nate and pals return in Uncharted 4: A Thief's End, bringing with them all the heart stopping, one-line quipping, treasure hunting action. At last year's E3, we only had a glimpse at the game, but the excitement was, of course, tangible. To see some of the gameplay at Sony's E3 2015 conference - non-responsive controller aside - was a real treat. But getting into Sony's booth, to check out a couple of Naughty Dog's team play through the extended demo, is what really dialed up our excitement for the game.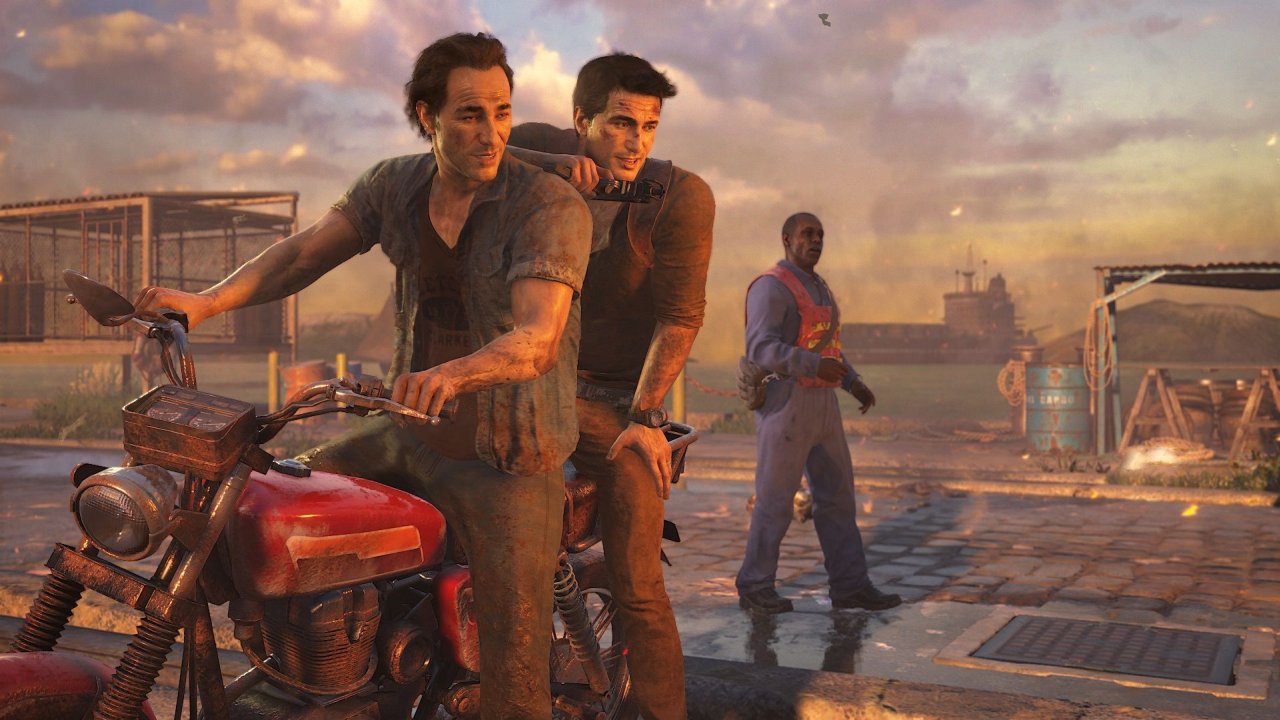 From what the shorter demo showed us, we saw Nate and Sully weaving through a Madagascan market in search of Sam, Nate's brother. However, some military types show up and proceeded to chase the two through streets, their sights set on locating Sam too. Here, we got a taste of cover-based combat, which hasn't changed too much, but did toss in some cool contextual animations. Nate can leap from upon high and take down enemies ala Batman, as well as QTE himself out of surprise grabs.
Soon, Nate was in a jeep and tearing downhill while dogged by hoards of angry soldiers. These extended vehicle sections add another welcome and seamless layer to Uncharted's action. It establishes "acts" - shooting, driving, movement, contextual - in a rhythm that grabs the player's hand and drags them through the game.
Where the original demo cut out was shortly after Nate had used a hook to secure himself to a tow truck's crane while leaping out of a moving jeep. He crashed against wooden scaffolding, took a dip under the water - then it ended. However, we got to see what happened next.
Still very much attached to the crane, Nate was dragged through the mud, displaying the game's environmental effects on Nate's clothing. He was very brown, to say the least. You then have to navigate through the sludge, being swung from side to side as motorbikes and trucks whizz by. When enemies encroach, Nate can whip out a pistol and fire off a few rounds to buy himself some time.
Finally pulling himself from the mud (and looking no worse for wear), Nate scrambled on to the back of the truck. A few well-placed fists sent an enemy tumbling over and into the muck, just as our hero was forced to duck for cover under the vehicle's flimsy metal railings. This reprieve only lasted for a second before he had to leap onto a parallel truck, chuck a foe off the side and boot the driver off the wheel.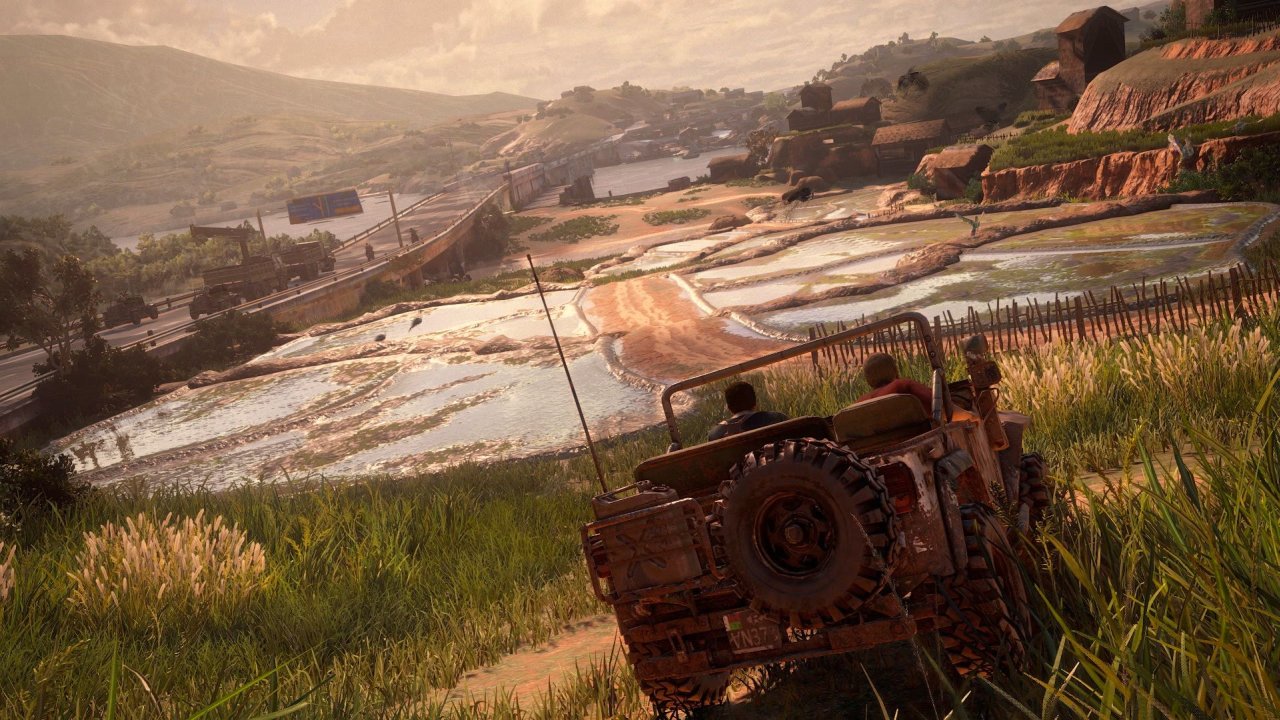 Back to driving once again, while throwing a little gun fighting in there as Nate slid around streets. A moment and several more dispatched enemies later, Sam turns up on his motorcycle and the two bicker before the truck is jackknifed. All the while, the camera stays on the action, flipping and shaking as we follow the truck's hazardous crash.
Thrown into a contextual button-mashing event, Nate has to wriggle his way to freedom as the vehicle catches fire. Then, he dispatched a few more guards and waited for his brother to pick him up, jumped on a bike, and equipped a machine pistol. Now we've returned to sliding frantically around the Madagascan countryside while pursued by what must be a fair percentage of the country's populace. Nate caps a few more drivers while Sam weaves through tight streets and narrowly avoids contending vehicles.
Finally, the "boss" appears, as much as a giant armored truck can be a boss. Now Nate's forced to use that machine pistol and aim at the vehicle's weak spot for massive damage. The weak spot being its front grill.
Little by little, the metal chips away and sparks begin to ignite. Sam has now abandoned the countryside for a docking area, replete with warehouses, metal containers and other port side scenery. Turns are sharp, escapes narrow, and we have a behemoth nipping at our tire tread.
A few more well placed shots and the truck ignites with a boom, flipping into the air and narrowly avoiding the bike. The two brothers screech to a halt, share a few quips with confused and probably terrified workers, before its fades to black.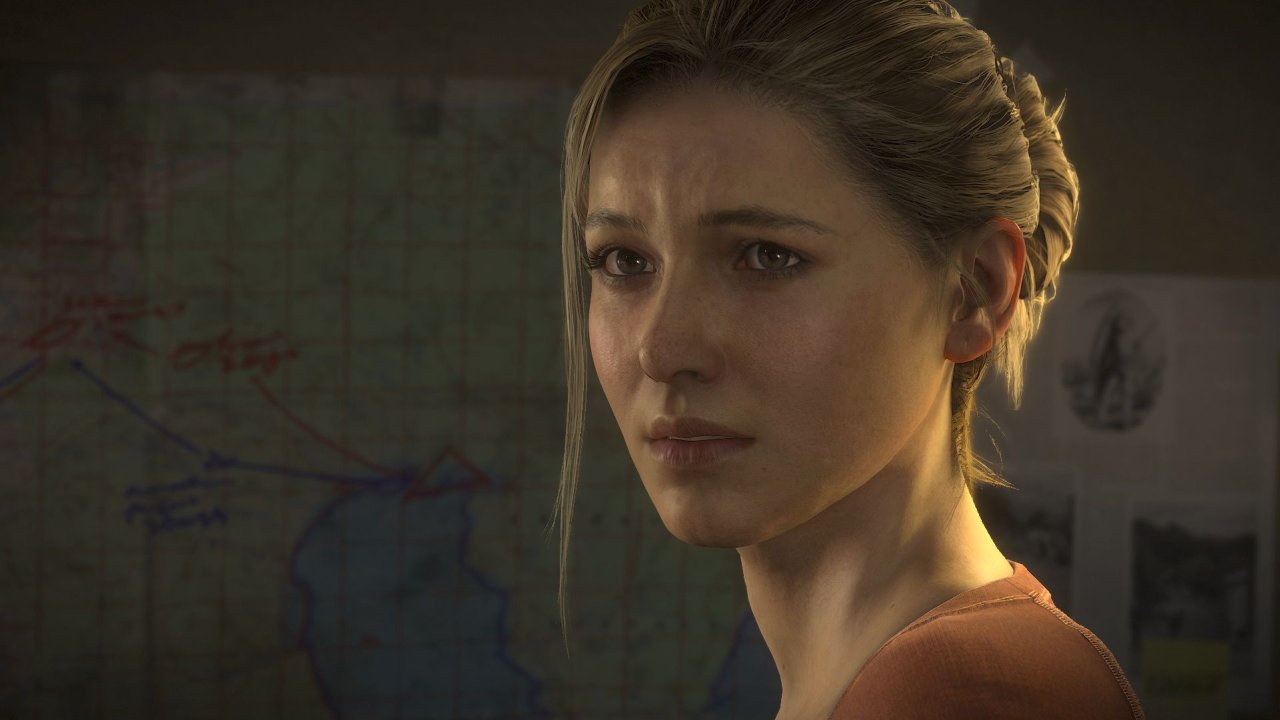 After all that action, it's time for a little story to flesh this whole thing out. It seems like Sam has discovered the location of some lost pirate treasure. What's more, it seems these pirates weren't fond of sharing, so they have horded an inordinate amount of goods in a cluster of islands. That's pretty much our setup, and when the team ventures back to their hotel to ride out the adrenaline and take a much needed bath, Nate discovers an old friend waiting for him. Elena Fisher. And, if you took a look at the jeep's number plate during the chase, there was a little treat waiting for sharp-eyed fans.
Uncharted 4 is, of course, a PlayStation 4 exclusive. From the looks of it, the game is back to its non-stop ridiculously adventurous roots. Even with a short demo, its layered and diverse action throws players right into the scene, always allowing them to have control, which the series has done so well. I'm rather excited to see where Uncharted 4 plans to whisk me away to.
You can start treasure hunting with Uncharted 4 around Spring 2016.
Comments