Project Cars Review
A decent but inconsistent simulation title that will appeal to a specific audience
Before Kickstarter and other crowd-funded initiatives took off in the video game space, individual publishers had already started to engage their fanbases directly. Through the 'World Of Mass Development' portal, racing veterans at Slightly Mad Studios were able to successfully raise over 3 million dollars for the development of a simulation racing game that would compete with the publisher-backed titles. After 13 months of public funding, as well as contributing over 2 million of their own funds, Slightly Mad Studios received enough to create the game they and their backers wanted. The result of these efforts is Project Cars, a sim racing title that delivers a solid experience, but feels lacking in some areas compared to the staples of the genre.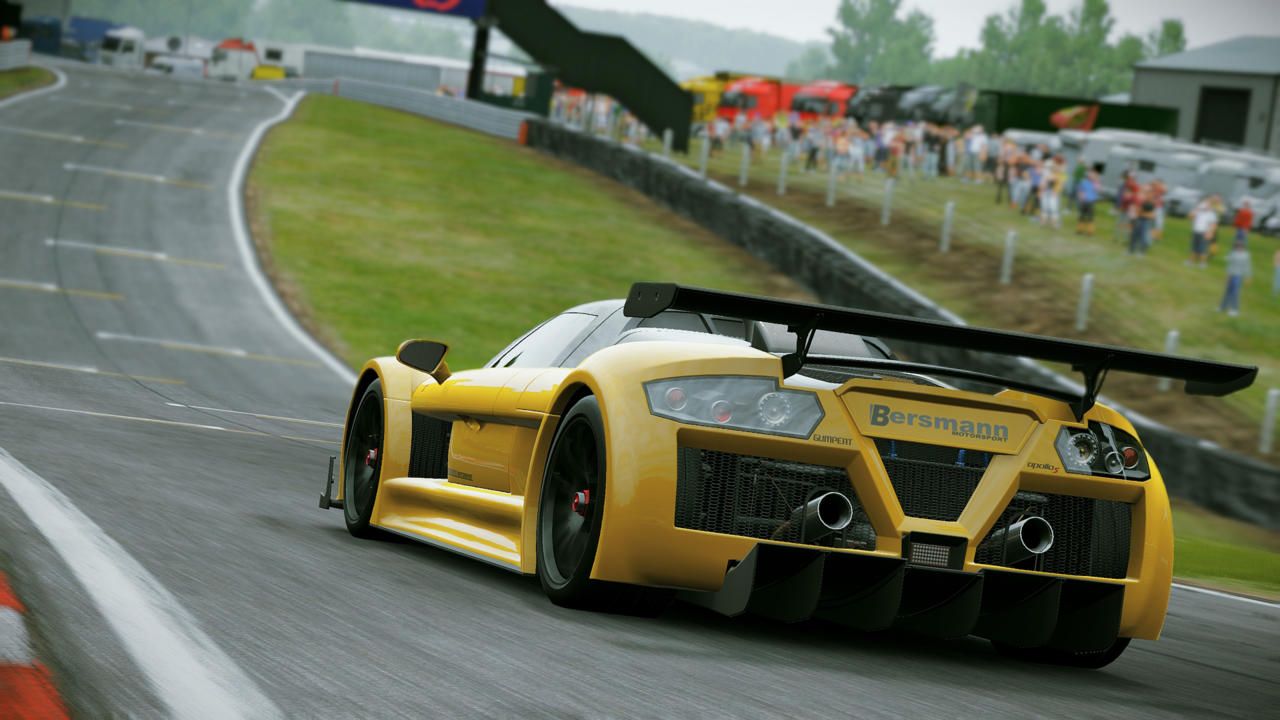 Before we get into the nitty-gritty of the simulation racing, let's talk features. If you are coming into this game expecting a rich, progression-based and focused career mode akin to Forza or Gran Turismo, you'll be disappointed. Having said that, some fans will appreciate the fact that all racing disciplines are unlocked from the start, and you can begin a career in any of them. From karts to GT3 and GT4, all the way to cutting edge Le Mans Prototypes, there is a lot of variety here. In a way, Project Cars is like an open world sim racing game, the first of its kind in recent times.
During the career, you'll get offers from sponsors for a racing season, which will dictate what events you'll participate in, as well as your car. But beyond that, there's not much to do. The game presents three "lifetime" goals to aim for, but the season to season gameplay gets boring quickly. You're at the mercy of the game to give you decent sponsorship offers, so if you hoped to switch to another racing discipline after three seasons of Karts, you better hope to get lucky. Similarly, after dominating GT3, your next season offers may very well include only lower disciplines. Occasional invitation events attempt to break up the monotony by offering one-off races. Still, there's just not much point to the career. There is no experience to gain, no currency, no levelling up and no car collecting or upgrading. You'll race what's given to you, and like it. The only visual customization option is buried deep in menus.
There's no real reason to play career mode over the free play modes. Project Cars doesn't have to be the same car-collecting, XP-heavy game as the major console racing franchises – but it still needed some sense of achievement and constant upward progression. It's not like a career in a sim game has to be so barebones - other sim games, such as recently reinvigorated MotoGP franchise, handle it much better.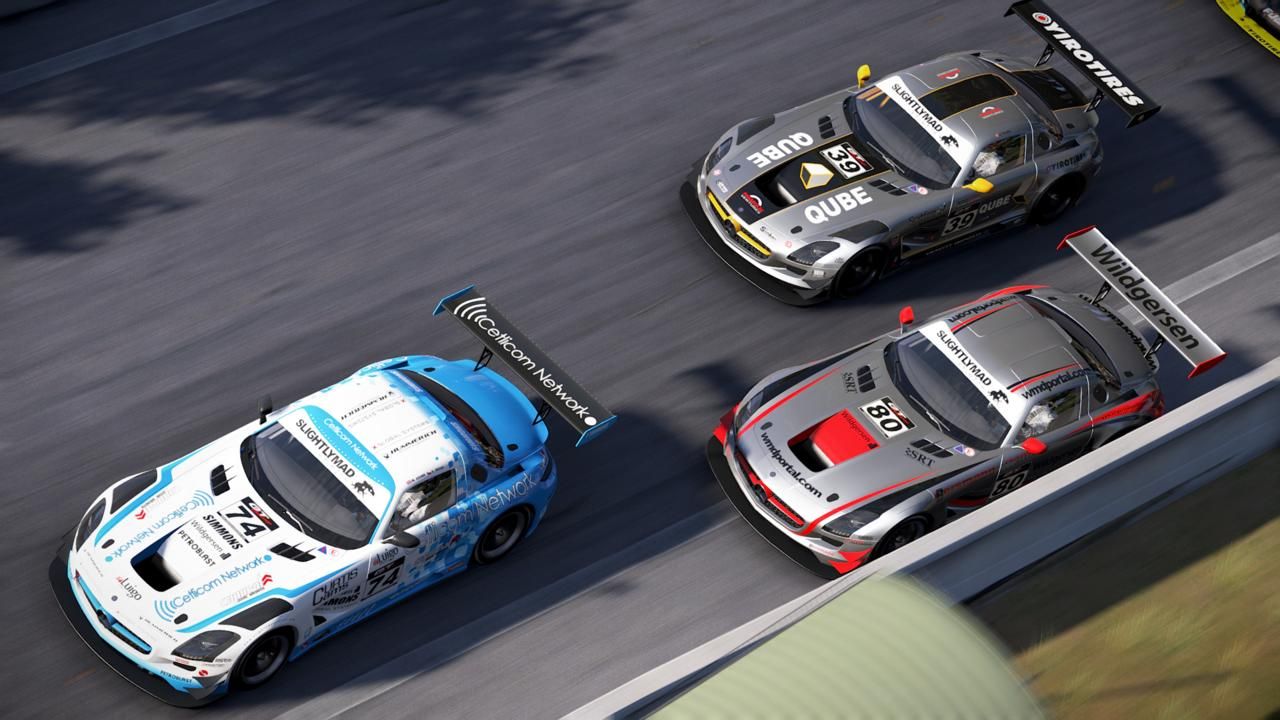 In total, there are over 100 tracks to undertake (many being partial or otherwise modified versions of the same 30 locations), each offering a unique set of challenges. The genre staples like Nordschleife, Sonoma Raceway, Laguna Seca, Silverstone and Road America are joined by newcomers like Circuit Zolder, Oulton Park, and Brno Circuit. Though the tracks are obviously well representative of their real life counterparts, dedicated simulation fans may be disappointed that they were not all laser scanned for perfect accuracy. Some of the details on the sides of the track are also of varying visual quality.
A modest car selection list will greet players after the track is decided upon. Vehicles fall into a number of categories, from Retro Touring, Road, GT and Open Wheel all the way to modern stars like McLaren P1 and the Pagani Huarya, or even Le Mans Prototypes. Mercedes, RUF, and BMW are well represented. It's a decent selection, given the wide variety of racing disciplines on offer, though fans of Forza/GT would likely wish there were more. Iconic brands like Ferrari, Honda and Nissan are missing, and the total number of cars is below 70, though more are promised as free or paid DLC. And as mentioned, all content is unlocked from the start.
Gearheads should have a good time with the cars. Each can be tuned in a variety of ways, not unlike other racing games, from tire pressure to gear timing and fuel load. How accurately these miniscule modifications affect the actual experience and the simulation is probably beyond my skill level and understanding. For what it's worth, all of the options don't provide much explanation of their function beyond a short blurb. You can get a glimpse of how changing a setting might affect your car's behavior, but beyond that you'd need to be an expert and/or do some online research before tweaking the finer aspects of your ride. And since there are no high-level changes to make (such as new parts), this in-depth tweaking is all the customization you get.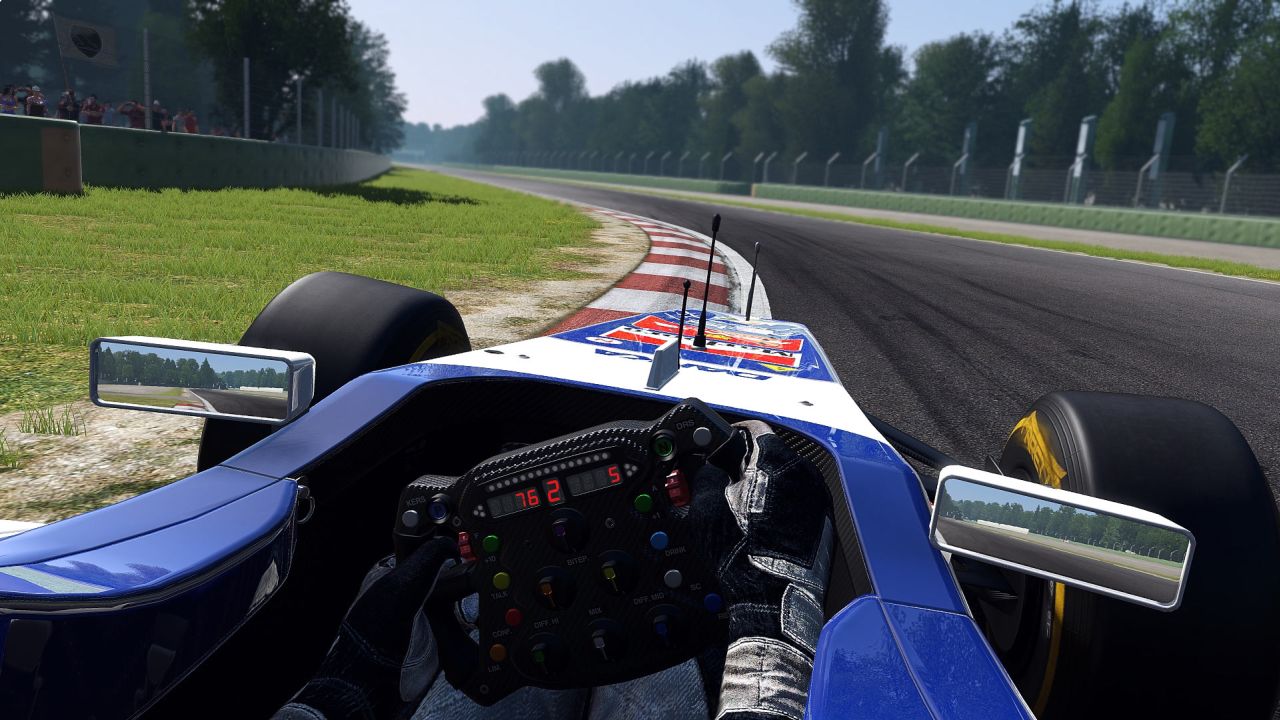 As you prepare to finally feel the asphalt through your perfectly tuned ride and calibrated controller, you'll note that the game annoyingly fails to present the layout of the track at any point before the race. Now is also the time to make any final adjustments to the car, select appropriate tires, and so forth. If you're not the sort to spend a lot of time reading the previous paragraph, there is an option for automatically generated settings to be used. Depending on the type of event you're entering, tires need time to warm up before you're able to fully push the corners. After that, you're off the mark.
The handling in Project Cars is a mixed bag. It's pitched as a simulator, and should you be a daring soul that selects the most realistic handling settings at the start of the game, I hope you have a wheel. For the purposes of this review and what I imagine most players will use, a controller and the medium/Pro gameplay settings were employed. Coming from Forza, Gran Turismo, or recent DiRT games, you're in for a different kind of thrill. Slightly Mad Studios did create the more forgiving Need for Speed Shift and Shift 2 Unleashed, but Project Cars is much more in line with the company's previous sim-focused classics like GTR2, when they were still under the banner of SimBin Studios.
To determine if Project Cars is any better at simulating car racing than other games of its ilk, like iRacing, Assetto Corsa or Rfactor, would probably take an expert of the genre. As someone who's put in his time with GTR2 back in the day, and all the latest "simcades" on PC and console, the handling in Project Cars is decent but unreliable. Managing your throttle, cornering, and braking are just some of the unforgiving keys to success. But, the handling can be inconsistent. It often feels like you're losing grip for no reason, and there is no real feedback from the game when the car starts to slip. Skidding off the track and losing grip are the themes of every track day. You could take on the same corner multiple times in a race (obviously in the same car) and despite your best efforts, you'll often end up with different results. Sometimes you'll nail it, but the following attempt will be a near-catastrophe, even as you follow the racing line perfectly and applying exactly the same throttle and wheel turn. You can go from dominating to last place in a second, and the frustrating part is that you don't always know why. There are no arcade-style rewinds, of course.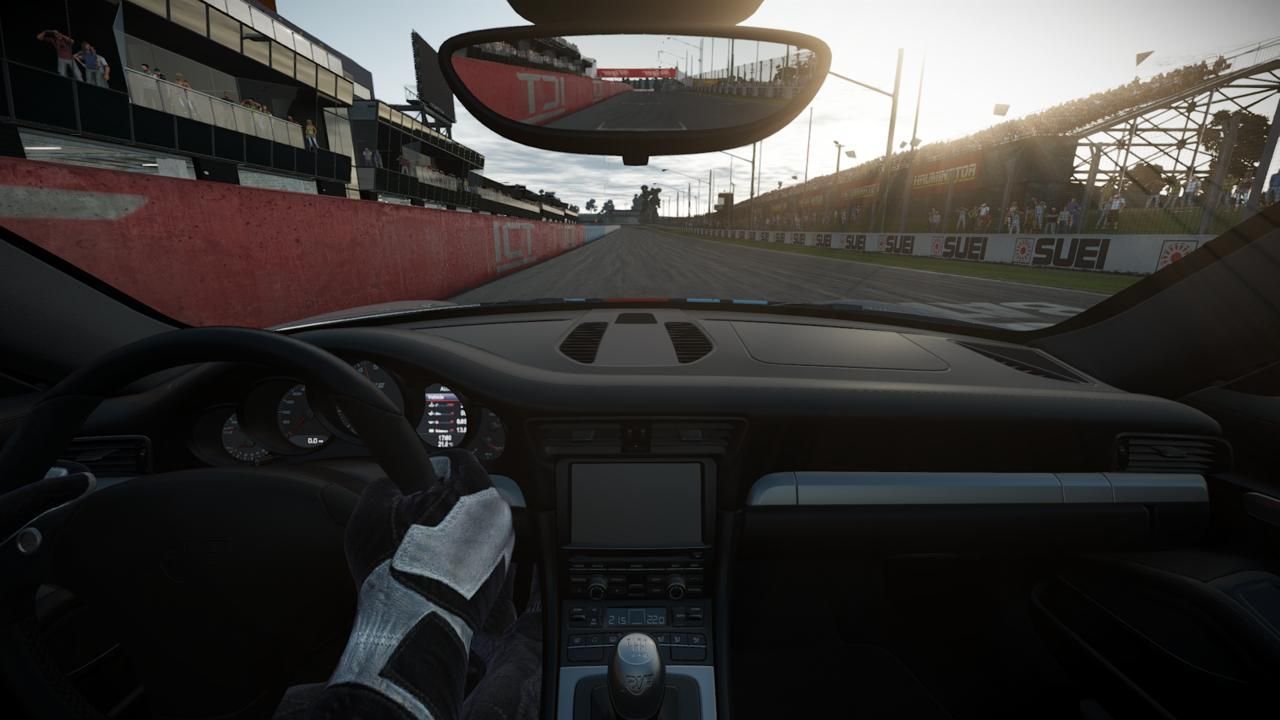 When things go wrong, the game loses itself a little bit. The physics seem to give out when your car is involved in a crash. If you are in the air or on the side (or upside down) the cars behave very awkwardly, but that's a common problem with racing games. The damage looks very realistic though, as metal bends and parts fly in a multitude of directions. If you're not off track due to your own negligence, the AI will occasionally assist. The drivers you'll be competing against are rather generic, ranging from aggressive to passive behaviour, but are mostly there to provide some virtual companionship. Their difficulty can also be adjusted before every race.
Despite being in development for a long time and with numerous closed beta tests, Project Cars has a few bugs to contend with. Occasionally, your car will disappear during replays. A full pit-stop crew that was actually in earlier versions of the game is gone, leaving one lonely bloke to hold up a metal grate in front if your car, while the rest of the activities (such as swapping tires or fuelling) is done automatically. Pit stops also cause problems for AI drivers, as they may often crash or get stuck trying to maneuver around. At the start of races, if you're holding down the accelerator the wheels and throttle jump into 100% use the moment the game gives you control. That's hardly realistic, causes you to lose traction, and the AI doesn't have that problem. The punishment you get for cutting the track is often inconsistent, and that becomes particularly annoying during online play.
But the absolute worst issue of all is the bug that would randomly drop me into last place during a race. It occurred on a number of occasions, particularly in karts racing. Despite leading the pack, the HUD would suddenly go from 1st to last. I watched all opponents finish the race and pit, as I helplessly continued to lap, not realizing what the problem is. If I had the HUD off, I could still be at the track to this day.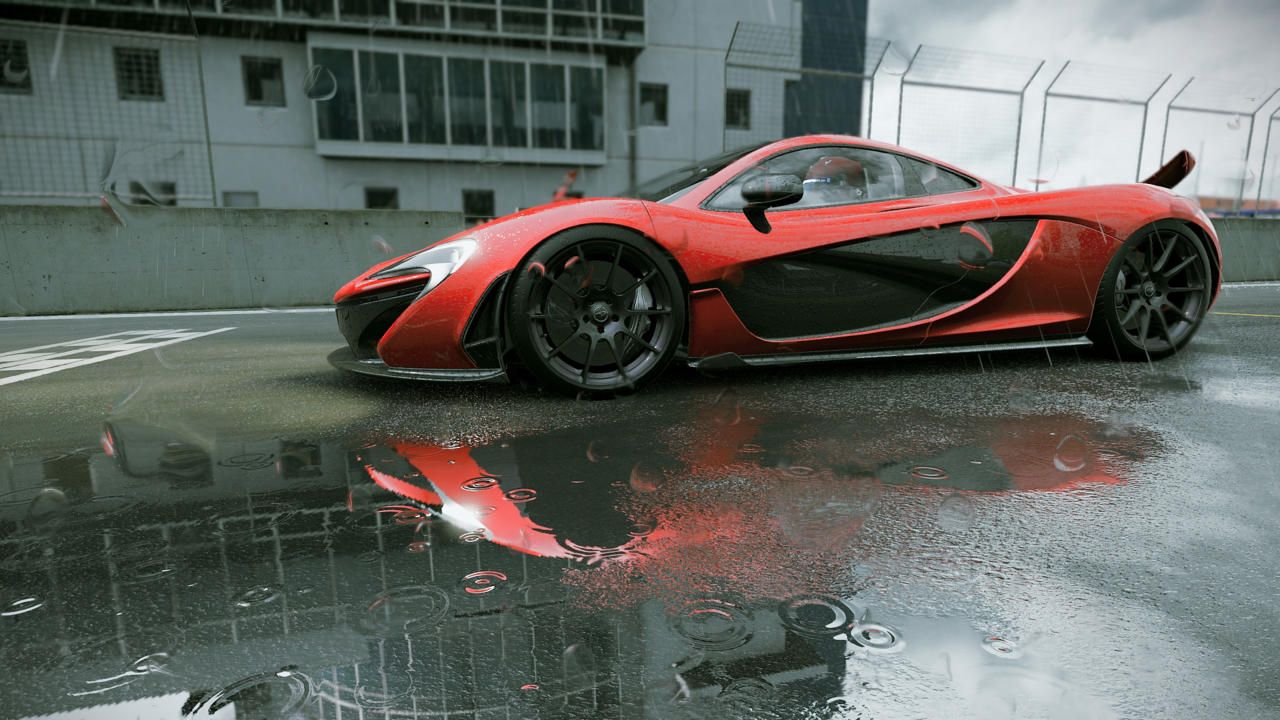 Once you've had enough of solo play, you can try venturing online where you'll find the small community of players is already heavily divided. There's always going to be jerks who try to ruin races, but in Project Cars it becomes a contest of hardcore sim fans and more casual players. The former are using tuned cars and own racing wheels, while the latter are going by automatic settings and using a controller (or, heaven forbid, a keyboard). Herein lies the vast divide of skill, before you even choose the track or the car. Up to 16 players are supported on 32-bit PCs and 32-player lobbies are available for PC players in 64-bit mode.
Then there's also the Driver Network, where you can compete against others in asynchronous challenges and keep track of your career as a racer. It's a way to keep highly competitive players satisfied, setting a record with the same car and track and seeing how you stack up against others who did the exact same event. But there are balance issues that draw attention, such as the way cars are assigned to a class they may not belong in. For example, you'll find the powerful Zonda R in the same leaderboard class as the GT3 category cars. On the whole, online play is about what you'd expect from a simulation title - the community is small and on even ground thanks to lack of car upgrading or experience systems; those who know the ins and outs of the track as well as their cars will be the most successful. No light hearted fun to be had here.
Project Cars does shine in its presentation. The audio design is absolutely impeccable, with cars sounding unique and very much as their real life counterparts. Music selection is varied, mostly techno, and I even recognize a couple of remastered tracks from GTR2. On the other hand, the menu design is rather convoluted. One would think that creating a decent user interface has been perfected at this point, but Project Cars manages to create a confusing and unintuitive menu system. Navigation is the main culprit, as you never know where you'll be taken when you hit "back"/circle or how to swap between different screens.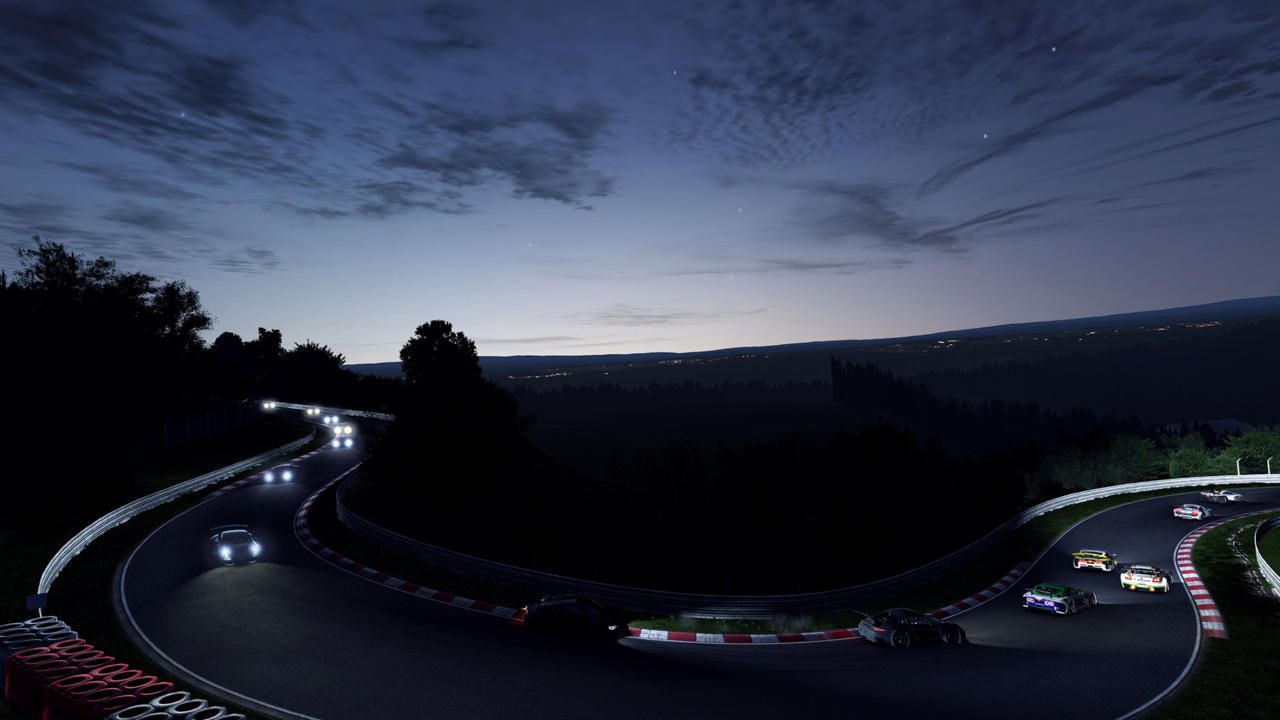 The cars and tracks look great, with tons of detail and accuracy. An advanced weather system looks beautiful at times; clouds roll in on a sunny day and a storm develops, or a night time breeze brings in patches of fog. The game is very pleasant to look at, though some of the areas on the sides of a track could use some more details. The game performs well on PC, holding a very steady framerate even during the largest races. Loading times are quick, and advanced options include FOV sliders as well as an in-helmet camera option from the days of NFS Shift.
There are no performance issues during the day, even when the weather changes. But at night, the game can slow down to a crawl when you're faced with a starting grid full of cars and their headlights, and this is further exacerbated when it rains. In that scenario, the game becomes utterly unplayable, and you need to adjust your visual options. The cause possibly stems from my AMD brand of video card, which is apparently having known performance issues with the game. Hopefully it is addressed soon, because the game otherwise looks quite lovely and even atmospheric at times.
If you're a big fan of car simulation, Project Cars can probably satisfy your needs. One can argue at length about the game's merits against other leaders in this specific genre niche, but it does well what it promises. The track selection is formidable, and the cars on offer are varied, if not particularly large in number. A completely open-ended progression means you can jump into any discipline and play exactly how you want. Online play is similarly geared towards hardcore racers. If, on the other hand, you're more familiar with "simcades" of recent times, Project Cars will put you off by a non-engaging career mode and very inconsistent handling with the controller. Regardless of what group of players you fall under, you'll be impressed with the visuals and audio, but frustrated by the menus and abundance of bugs. Project Cars is a solid enough outing for Slightly Mad Studios, but one that could have been so much better. And with free DLC and further patches, one day it might be.
Our ratings for
Project Cars
on PC out of 100 (
Ratings FAQ
)
Comments