Flower Review
An artistic masterpiece that will awe you
On the surface, Flower is one of those download-only titles on PS3 that was never going to get many sales. The usual "hardcore" gamer crowd would likely become very bored within just a level of the game, and find its visual style disorienting and possibly obnoxious. However, if you are not one of the folks who need to shoot something in the face every 30 seconds, and are looking for one of the prettiest and most relaxing games on any platform, past and present, then you should go and get Flower right now.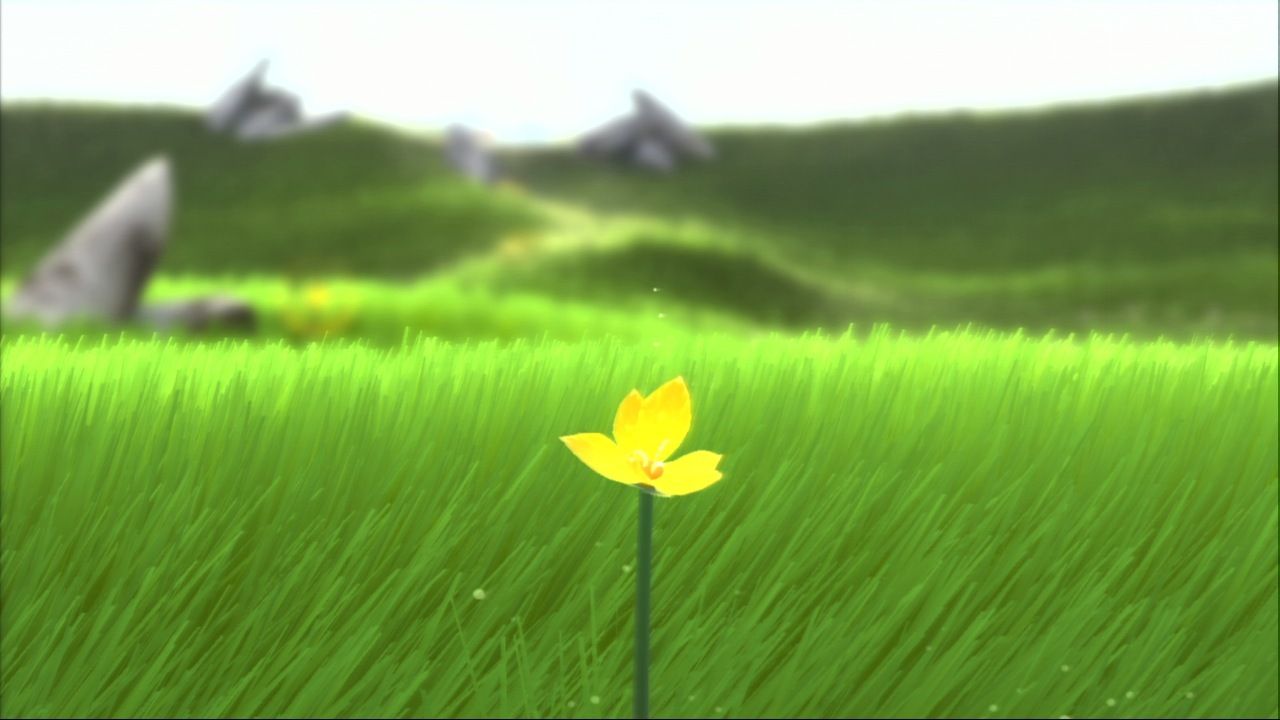 The premise of Flower is simple. You are the wind. Using the PS3's SIXAXIS motion control and the "X" button, you will experience a magical journey of a few flower petals, starting off on their own and slowly growing bigger and more beautiful by the minute. There are 6 levels in the game, each significantly different from each other and all excellently designed. Given that you take no time to look for the secret flowers, or try to explore the freedom of your surroundings by using the grass as painting canvas, it's possible to finish Flower within 3 or 4 hours. But even during those hours, there will not be a single moment when you regret purchasing this breathtaking title. Each level has a similar general premise – to "awaken" an area of flowers and grass, making them green and allowing you to progress. This process is very painless and I often found myself looking for any extra flowers that appeared before progressing to the next area, so that I could get them all. There is no actual reward for this, or any level completion percentages. It is simply a relaxing and beautiful experience that you can enjoy for a very long time. If you collect all of the special flowers, there is a small bonus at the end of the game, but again nothing is forced upon you.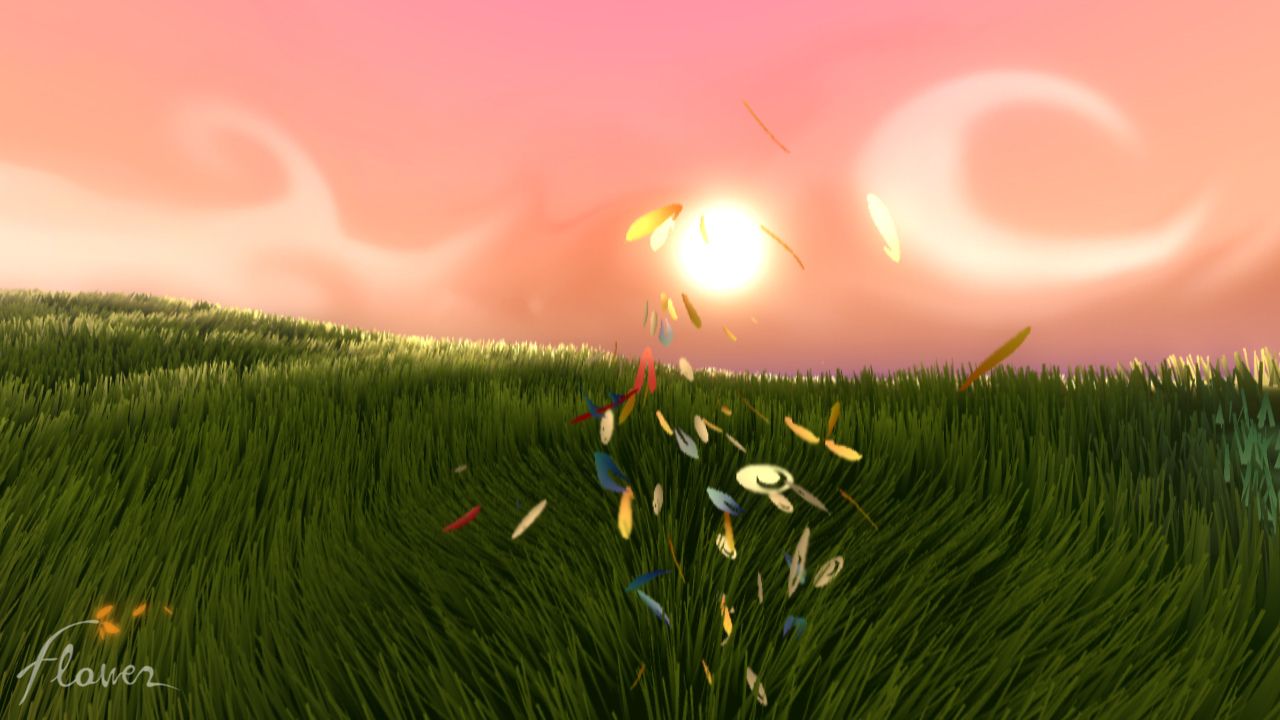 The level of artistic and even technological art in the game is absolutely groundbreaking. You may recall that FloW, the developer's previous work, was really not that impressive in any department. Flower, however, is one of the prettiest and well-rendered games you will find. Flower's designers said of the development process, "When we started, we didn't know what we were making. We just had this concept that every PlayStation is like a portal in your living room, it leads you to somewhere else; wouldn't it be nice if it was a portal that would allow you to be embraced by nature." And indeed, Flower succeeds at the highest levels of immersing you into the beautiful world of a simple flower petal. But don't think for a moment that this is a pretty light-hearted arcade. As you progress through the game, there is a definite storyline here, though not a word is said. It is almost reaching the excellence of Pixar's "Wall-E" by conveying emotion and thought without even saying a word. The cutscene imagery tells us of the planet slowly becoming polluted, nature having to fight back against the invasion of technology and humanity's slow degradation of the Earth. But, this is simply what I have understood from the game – none of this is explicit, and your understanding of the story may vary significantly from mine. There are definite "Green movement" ideas here, but don't let that stop you from trying the game for the fear of some Green Peace propaganda.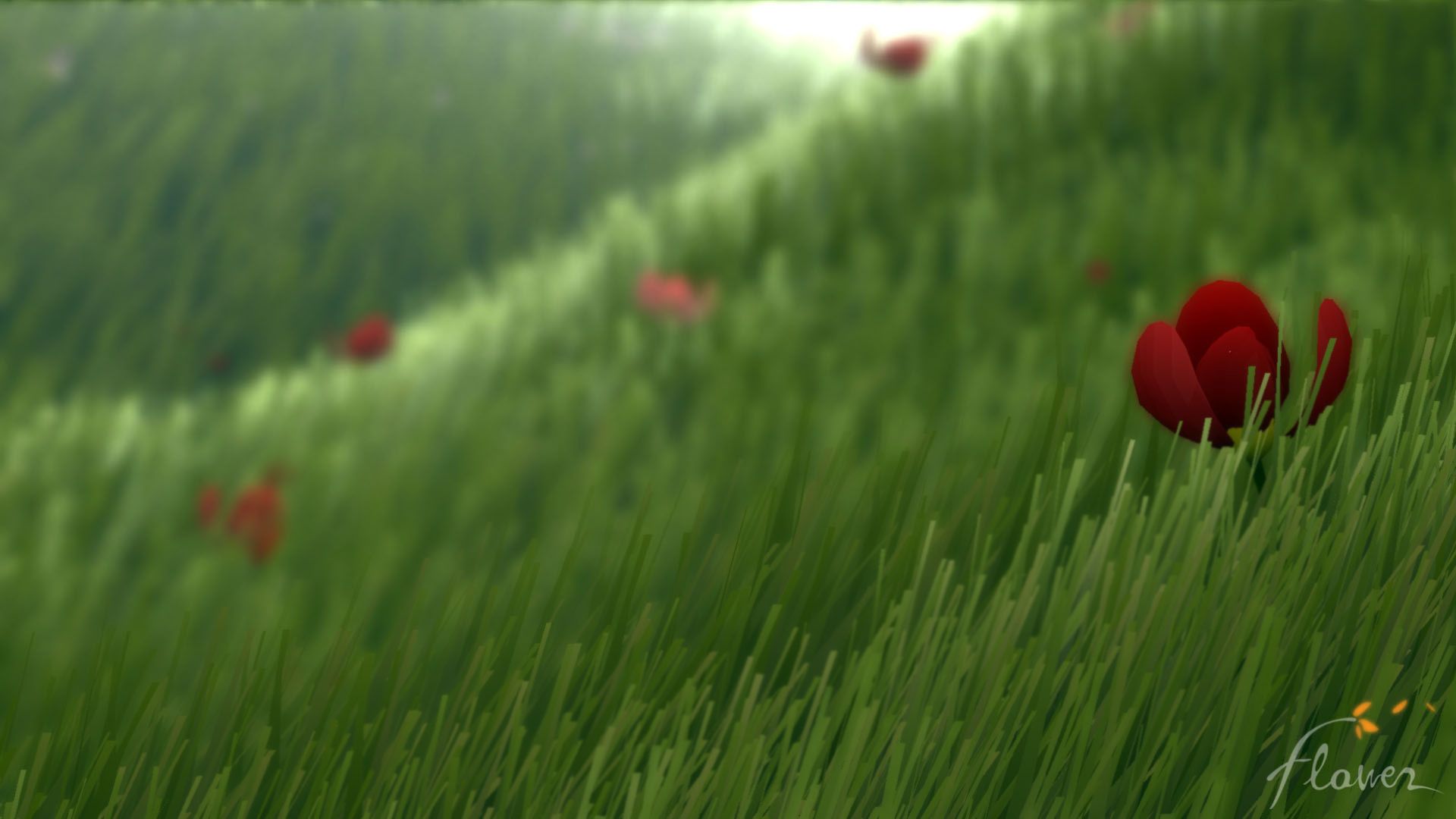 Not all of the gameplay is simple and free-flowing. There are a couple of levels where there is actually danger, and while it does not cause you to lose the level or "die", it is refreshing from the rest of the levels' peaceful floating. Chances are, you will want to go through the levels more than once just to experience the feeling that the game gives. Flower has probably the most beautifully rendered environments you have ever seen, with a special attention being paid to grass. Understandably, you are limited to a small area of a field where you can fly and collect more flowers, because rendering a large area of such amazing grass would likely be impossible on current technology. But, for the big open spaces that are accessible, the environment is absolutely beautiful and it has quite literally the prettiest grass you have ever seen and felt. The artistic and technological graphic levels here are excellent.
All in all, Flower is a true artistic masterpiece, and I do not say this lightly. As a game, things are very simple and relaxing, an interesting adventure that allows you to roam around beautiful fields collecting flower petals and building your trail. The motion controls work wonderfully, and the visual and sound design is absolutely top notch. If you have a finesse for indie titles with a unique artistic direction that is brilliantly executed, just try Flower.
Our ratings for
Flower
on PlayStation 3 out of 100 (
Ratings FAQ
)
Comments