Halo: Spartan Strike Review
An enjoyable sequel that's an improvement in almost every aspect
The top-down, twin stick shooter genre is commonly dominated by smaller and independent developers. So when an established franchise chooses to dip its toes into the genre, fans take notice. 2013's Halo: Spartan Assault was one such example, offering players a new experience firmly grounded in the Halo universe. Unfortunately, a poor microtransaction model and flimsy controls kept the game from reaching the heights Microsoft was aiming for. But they aren't afraid to try again, so 343 Industries and Vanguard Games have returned with Halo: Spartan Strike.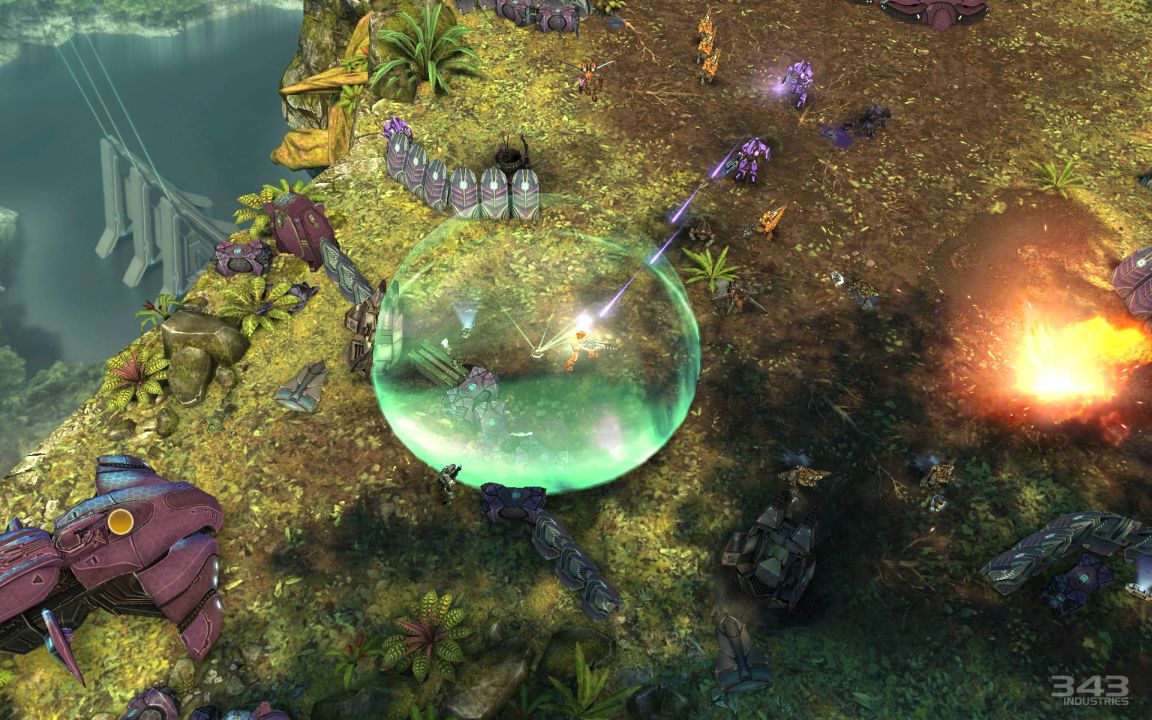 The campaign in Spartan Strike takes place after the events of Halo 4. Players assume the role of a Spartan IV soldier that leads UNSC forces against Covenant and Promethean enemies. The twist is that the action takes place within a combat simulation that is set during the events of Halo 2 on New Mombasa. This odd narrative set-up makes the player feel as if they aren't really making a difference in the Halo universe, but rather just training in some VR environment. While the mission structure in Spartan Strike does offer a cohesive and flowing campaign, instead of just a collection of levels mashed together as in its predecessor, the outcome still feels underwhelming since the events taking place aren't happening in reality, per say.
During the 3 to 4 hour campaign, you'll explore a variety of mostly linear locations, completing numerous objectives. While the narrative is fairly light (rescue intel, deliver important package, and so on), the game still manages to feel unified. Missions usually last 10 to 15 minutes and provide a great bite-size experience to jump into. As in any arcade shooter, there is a scoring system for every level, with global and friend leaderboards available to compare yourself against others. There are no other multiplayer options, which is a bit disappointing given that Spartan Assault had co-op. The game's environments are often fairly large and would have fit in well with multiple players.
As a top down shooter, Spartan Strike hits all the right notes. With controller support from the get-go this time around, jumping into the game is easy. You move the Spartan with one stick, aim with the other, and shoot with right trigger. Left trigger is your grenade throw, and two face buttons are used to cycle between two weapons and two grenade slots. There's a melee button as well, if you feel adventurous; or you can switch to mouse and keyboard controls. Spartan Strike has made notable improvements to the sensitivity and precision of player inputs over its predecessor. Despite the game still being designed with touch inputs in mind for mobile devices, using a controller feels responsive and satisfying. The occasional use of vehicles and weapon emplacements is also effortless.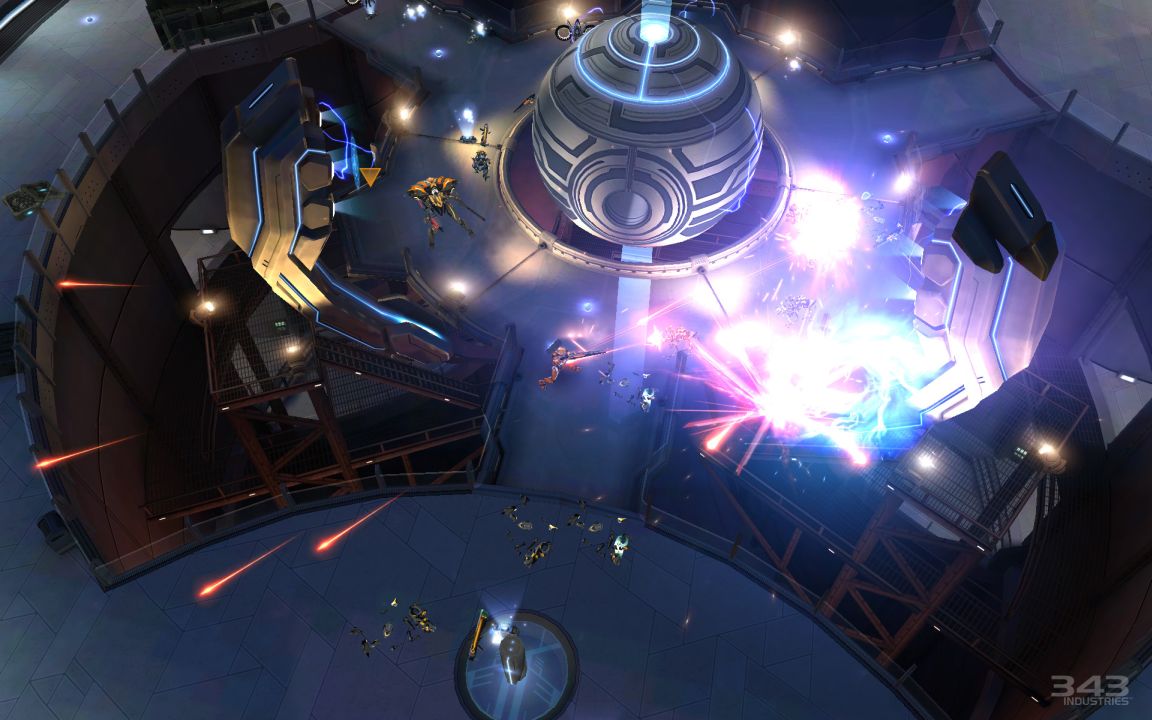 You get an extensive arsenal of classic Halo weaponry to use in the fights against the familiar Covenant and Promethean foes, including newer additions such as the Scatter Shot or the Binary Rifle. Some weapons even feature alternate firing modes. Your grenade selection also offers decent variety, from the standard pineapples to the sticky and shockwave ones. At your disposal are also a number of armor abilities, just like in the main Halo games. These abilities provide key buffs for a limited time, such as a regenerative shield, increased movement speed, or even outright teleportation. The depth of your combat engagement options is quite impressive.
You can further customize your gameplay experience (and earn better scores) by utilizing Skulls. Again, like in the main Halo titles, these modifiers apply specific gameplay changes in exchange for bonus credits. You could choose to turn off the HUD, reduce enemy ammo drop rates, or just disable shield regeneration altogether. It's a great way to tailor the difficulty, especially since the game doesn't offer any other option. Further credits are earned via various challenges for every mission, such as multi-kills, using only certain weapons, and so on. It's a bit annoying, however, to see endless 'challenge complete' notifications absolutely swarm your screen during more intense battles.
The abovementioned credits are the currency of choice in Spartan Strike. Since this is a largely arcade experience with replayability in mind, players can customize their weapon loadouts before every mission. Buying weapons and abilities before every mission is optional, and they can make your life a lot easier in later stages. They are also, of course, key to racking up high scores. As you might have guessed, the weapons you buy only last for one mission. This makes credits an optional but valuable means to get better gear to reach higher scores and improve your chances of survival. Unlike its predecessor, Spartan Strike doesn't offer the option to buy credits with real cash, thus rebalancing the game's economy in players' favor. You won't need to grind a lot for that sweet rocket launcher.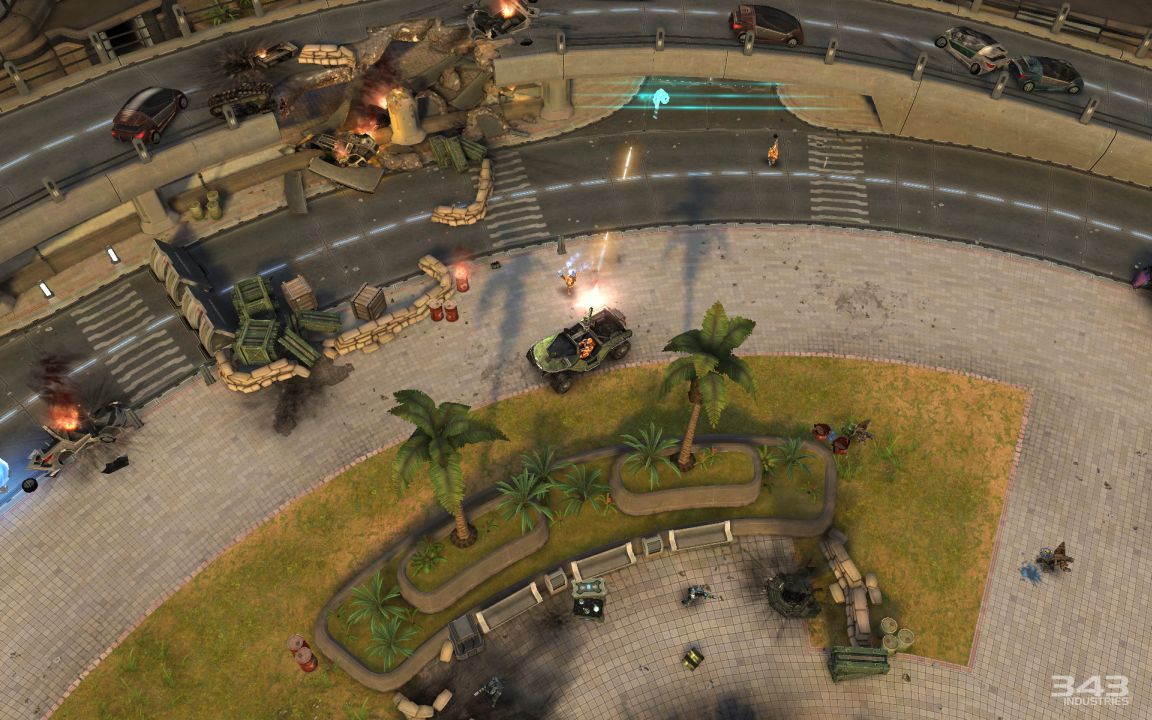 Spartan Strike is an unmistakable Halo game. Despite the isometric camera, the usual lore of the game world shines though. From the sound effects of your shield being depleted, to the visual style of the environments, to the gear you use and enemies you fight. You could almost expect to see Master Chief appear around the corner. The soundtrack is rather bland, but offers the skills of composer Tom Salta, who previously worked on Halo Anniversary remasters and Spartan Assault. There's no mistaking Spartan Strike for a game with ambitious technical visuals, however. The game runs very well, but the level of graphical detail isn't very high. The texture resolution is OK, and the effects are quite basic. A fixed camera keeps up with the action, though annoyingly the weapons and grenades you can pick up have tiny icons that are difficult to see.
Halo: Spartan Strike is a sequel that's an improvement in nearly every aspect. Tighter controls, controller support and surprisingly deep engagement options help the game offer a better experience. A more balanced in-game economy and lack of microtransactions ensure players will keep coming back to the title to improve their leaderboard rankings, but wishing a friend could join them. The game's mobile-friendly origins keep it grounded in the technical aspirations, but the Halo lore is unmistakable and authentically presented. For less than $10, this is a decently enjoyable romp for any fans of top-down shooters with a focus on solo play and leaderboard competition.
Our ratings for
Halo: Spartan Strike
on PC out of 100 (
Ratings FAQ
)
Comments
blog comments powered by Disqus