Game of the Year Awards 2014
Highlighting the best games from the year gone by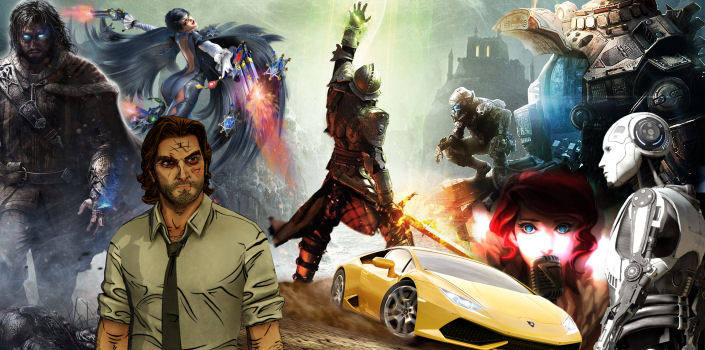 2014 brought more changes to the world of video games than many expected. Being the first full year after the debut of the new home consoles would surely give us glorious successes, and impress us with leaps in graphical fidelity. But things do not always turn out as we had hoped.
Some hugely anticipated games failed to live up to expectations. Destiny arrived with the advertising force of a freight train, but gathered lukewarm reception throughout the industry for being thin on content. In contrast, The Crew included an impressive open world but failed to utilize it. Assassin's Creed: Unity released in a state that many might call incomplete, and Ubisoft later offered free DLC as sign of apology. Driveclub promised some truly next-gen racing but was subject to numerous connectivity issues for weeks. These games promised greatness, but they left audiences underwhelmed or unimpressed. And late in the year, gaming services were attacked by groups that choose to spread ill will, bringing down the servers that help run our favourite games on Xbox Live and PSN.
Fortunately this was not the end of the story for 2014, as other games managed to collect our shattered dreams and piece them back together. Monolith returned in force, giving gamers the taste for Orc blood in Middle-Earth: Shadow of Mordor. Bioware also found form as they went back to Dragon Age for a third time in a mammoth adventure. Respawn Entertainment, formed from several developers that worked on Call of Duty, created a frantic parkour multiplayer shooter that earned much respect in Titanfall. Telltale continued their winning streak, completing two adventure games - The Wolf Among Us and the second season of The Walking Dead over the year.
But in many ways, 2014 will be known as the year of the unexpected successes from small studios. These small teams do not have the resources to compete, but they make up for that with passion and crowdfunding from their hopeful fans. Numerous Kickstarter projects finally came to fruition; Wasteland 2 sent gamers back in time as they experienced RPG mechanics from the 90s. The Banner Saga brought players into a hand drawn adventure that should bring back memories of Oregon Trail for some. Supergiant Games produced another hit with Transistor, a sci-fi RPG about Red and her special sword. Croteam decided to move away from shooters and went on to create The Talos Principle, an excellent puzzler.
In the end, some of games we expected to be raving about fell flat, and the games we never saw coming saved the year. They helped ensure 2014 will not be remembered as the year of disappointments, but rather as the year of the underdog.
As for New Game Network, we celebrated another solid year of content and coverage. We attended PAX East, PAX Prime, and for the first time ever, PAX Australia. Our E3 showing was our best-ever, with 3 staff on-hand to bring you a record of over 30 individual game previews. In total we wrote over 200 articles, which over 1 million of you read.
So Thank You, dear readers. Thanks for joining us for the past twelve months. To wrap up the year, let's take a look back one more time in order to recognize the best that the year had to offer - our Game of the Year Awards 2014.
Comments