Game of the Year Awards 2014
Highlighting the best games from the year gone by

---
---
Game of the Year
Dragon Age: Inquisition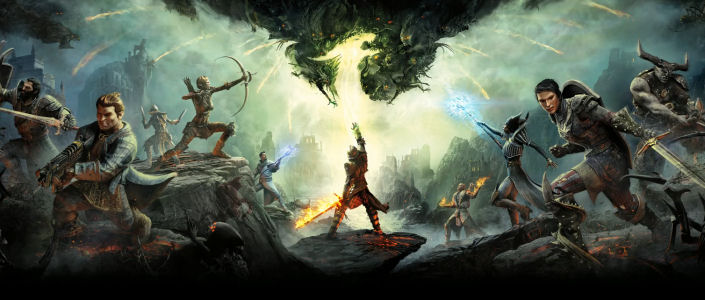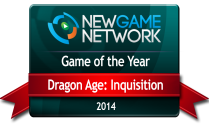 Dragon Age: Inquisition is a masterpiece that uses story, world and characters to create a truly enchanting single player adventure. The narrative is colossal as you deal with major issues across the land of Thedas before making key decisions that frame the narrative. With the Chantry in chaos, a small group forms an Inquisition to defend the world until order is restored. You become an integral part of this Inquisition and use the mark to close fade rifts across the land. The narrative successfully exploits themes from its predecessors while forging its own path. The returning themes include the Grey Wardens and the feud between the Mages and Templars.
The world design is exceptional for an RPG with this much narrative depth. The zones are littered with areas of interest, so just like Skyrim it is easy to go off on a tangent and forget your previous goal. The zones are repopulated with wildlife and enemies each time you return, and the respawning changes based on your actions. As you progress, additional quests are added to zones and you can venture into regions with tougher enemies. The panoramic views are jaw-dropping, so explorers will receive frequent visual rewards. Four years in development has been time well spent when the world zones are of this technical and artistic quality.
But it is the characters, predominantly the excellent companions, which glue the entire experience together and draw attention for dozens of hours. In most cases the companion mission structure is more natural than BioWare's recent efforts, and there is a gradual trickle of objectives as quests are spread into more difficult areas. Winning the favour of companions is difficult given their diverse motivations and backgrounds. The effort pays off though, as there is satisfaction when you begin to care and see them react. It is hard to not get excited when the camera fades into a cut scene, especially compared to the conversation camera that is never close enough. The weighty interaction with companions often takes precedence over saving the world.
Dragon Age: Inquisition is nothing short of astounding, from its immense world to the deep characters. The memorable adventure has flaws, but they pale in comparison to its numerous triumphs. Dragon Age: Inquisition is an extraordinary adventure that is impossible to forget, and it is our 2014 Game of the Year.
Honorable Mentions:Middle-earth: Shadow of Mordor, The Wolf Among Us, The Talos Principle, The Banner Saga, Titanfall.
Thanks for joining us for this year's awards! We look forward to an exciting 2015 and lots more great games to come!
Comments