Captain Toad: Treasure Tracker Review
Toadiana Jones
To most other companies, an idea like Captain Toad would likely be constrained to a smaller downloadable game or left on the cutting room floor entirely. But not to Nintendo. That's no detriment to what amounts to a highly enjoyable and charming game, but more a comment on the industry at large, and how rare a treat an offbeat gem like this is, especially in the retail space.
If you've played 2013's cracking Super Mario 3D World, then you'll have an inkling of what to expect from our mushroomy friend. In the aforementioned game, there were a handful of 'palette cleansing' stages in the form of 'The Adventures of Captain Toad'. In these diorama-like puzzles, you guided Captain Toad – the scaredy cat leader of Super Mario Galaxy's Toad Brigade – through a roughly cube-shaped level, collecting stars and reaching the exit. The real twist being that Captain Toad can't jump, which completely changes the way you look at and play a stage set in Mario's world.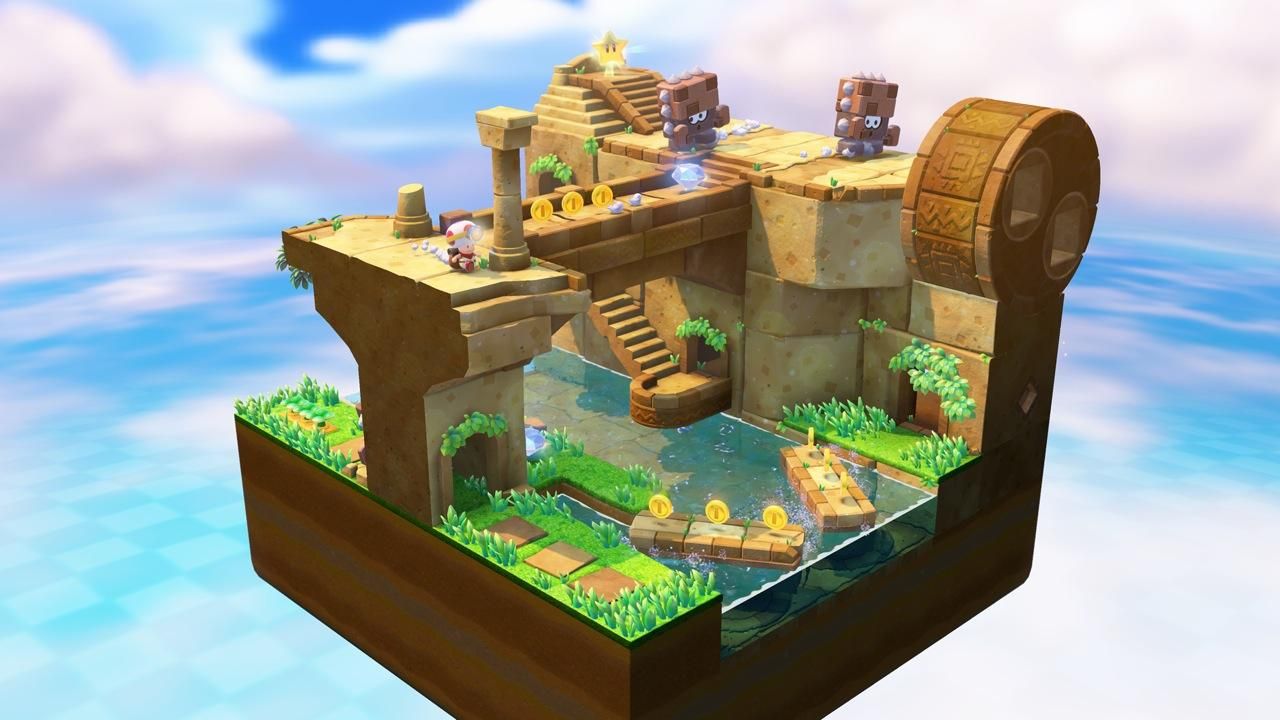 At the time, I remember often enjoying these little distractions more so than the main levels of 3D World and longed for more of them either in the form of DLC or, as Nintendo have chosen to do here, a full standalone release. And with that scope and freedom, the wizards over at Tokyo EAD have allowed Captain Toad to evolve into what it always had the chance of becoming – one of those weird and wonderful Nintendo creations that I can see becoming a cult classic. It reminds me of the bold invention of the Gamecube days; the bizarre Luigi's Mansion, the original Pikmin, and of course, the delights of experiments to existing series such as the Wind Waker and Mario Sunshine. It feels like Nintendo doing something new, which can only be a good thing.
So, how does a typical stage in Captain Toad play out, then? I hear you ask. Well, a little bit like this: you're treated to an eye-poppingly colourful stage, that more often than not is entirely visible within the scope of the screen. Yes, the levels are small, but they're intricate and fascinating, too, always housing a secret or two out of sight. And so you twist the stage around with the camera, like a child turning a toy in their hands, and suddenly you spot one of the three crystals hidden in every level. But how can you get to it? You march along – no jumping, remember – avoiding Shy-Guys and Goombas alike, and suddenly, by manipulating the camera a little more, you spot a secret entryway, grab the loot, and continue on your way, heading for the golden star that signifies the end of the stage.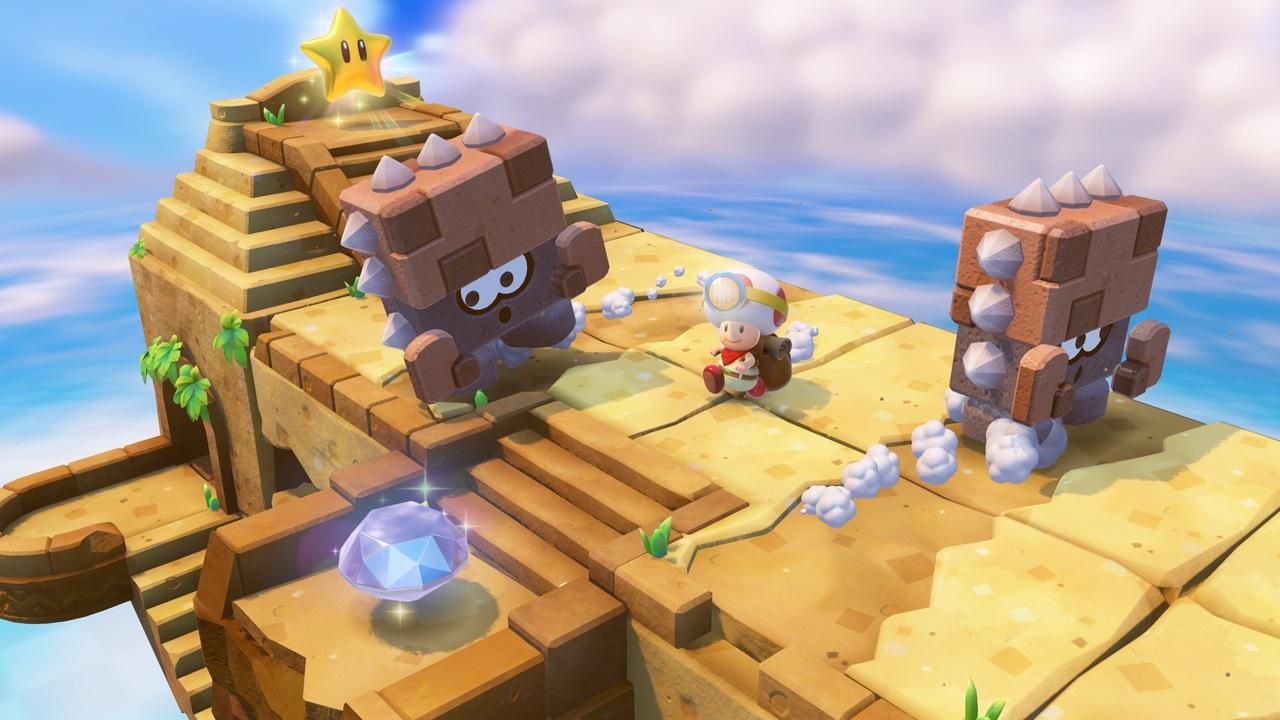 Each level is an expertly crafted puzzle, and many have themes, whether it's the one where you have to avoid being seen completely, or another that has a time limit, or one of the stages where you can literally change the shape of the level by tapping sections on the Wii U's Gamepad. There's always a new wrinkle or idea around every corner and the levels are perfectly bite-sized, meaning you can easily play one (or a few) even when you don't have much time on your hands, and yet it always remains satisfying and rewarding. Fun for the sake of fun.
If you couldn't tell already, I'm completely won over by Toad's charms, but there are a few little annoyances, and unusually for Nintendo, they're camera related. Firstly, for all the time that rotating the stages works, there were a few instances where it became a little cumbersome or awkward, but not so much that it really got in my way. But something that doesn't make sense to me at all is the fact that you can't control the zoom in the game. You see, the default setting feels a little too far out – granted, this is to give you a view of the full stage, but still it's sometimes tricky to spot everything from this distance – and then the zoomed-in option, which is great for detail or uncovering secrets, is too close to actually play out a stage with. I would have loved a middle option, or as previously stated, the ability to actually zoom in and out to find the perfect view for any given situation.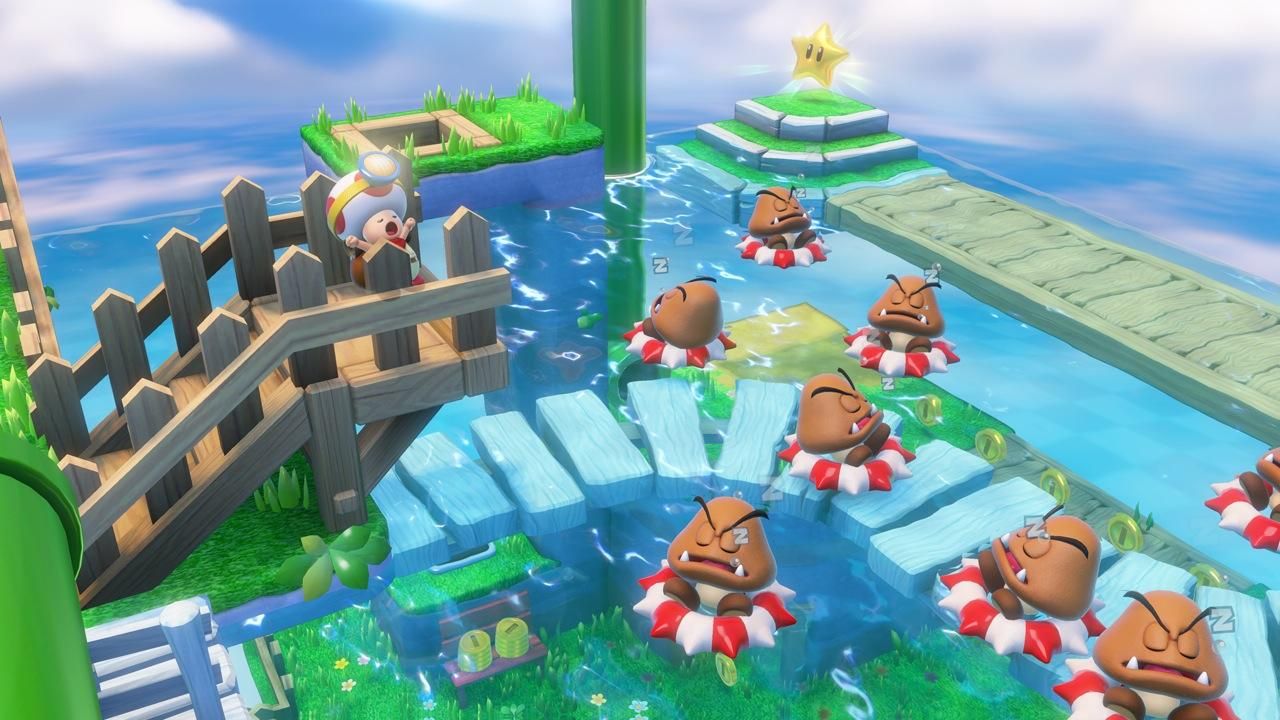 But these are mere quibbles in an otherwise astoundingly polished game. There are over 70 levels of toy-like bliss, in which you'll guide either Toad or his partner in crime, Toadette, each one wonderfully and lovingly crafted. It's clear the designers really had fun with this one. It's the kind of game I can imagine returning to frequently, whether to show it to a friend, or to go back to in order to complete the optional extra challenge for each level, such as unearthing hidden golden mushrooms in particularly difficult places, or collecting a certain number of coins, or even defeating all the stage's enemies, which, in a nod to Super Mario Bros. 2, is only possible by lobbing turnips at them.
Yes, that's right, poor old Toad doesn't have the strength to outright whoop the foes of the mushroom kingdom like a certain plumber does. After all, he can't even jump. But just remember, it's only because his bag is stuffed full of treasure, and my, what fun you'll have collecting it with him. Good hunting out there!
Our ratings for
Captain Toad: Treasure Tracker
on Wii U out of 100 (
Ratings FAQ
)
Comments