PES 2015 Review
The legendary sports franchise begins its new generation sprint on solid ground
Last year's entry into the long running Pro Evolution Soccer franchise was a disappointment. There's not really any way around it – PES 2014 was bland, lacked modes, and was a shell of its usual self. Part of the blame quite possibly fell to it being the debut of Konami's new FOX Engine. But now that the engine made its true appearance with Metal Gear Solid V: Ground Zeroes earlier this year, the way was clear for PES 2015 to return to glory and use a more refined set of tools to craft the football experience that fans crave. And while this latest title isn't quite a top drawer entry, it could very well serve as the catalyst for the franchise heading into a new console generation.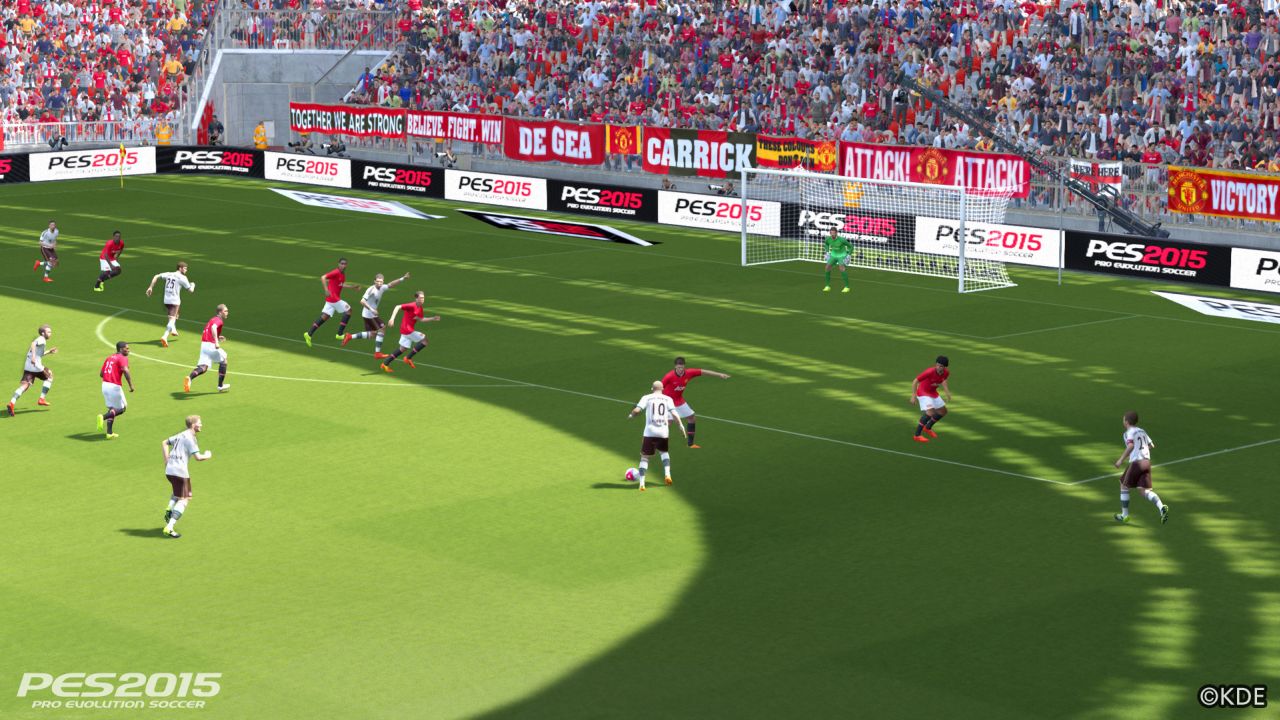 We begin as we always must, in noting that PES 2015 still lacks official licenses for many of the world's most popular clubs. But it's certainly not for the lack of trying. Europe's UEFA Champions League and UEFA Europa League competitions remain exclusive to the franchise, along with most associated graphics and music. South American Copa Libertadores is joined by a newly added Copa Sudamericana tournament. Stepping below the top flight, the game introduces second-tier teams for the first time, with Spanish Liga Adelante represented in its entirety, as is the French Ligue 2. English and Italian second-tier teams are also present, but they are not licensed. As is usually the case, most of the players are licensed, as are a few coaches this year. For hardcore fans of PES in South America and Europe (the strongest markets for the franchise), this may be enough. But ask any casual fan if they want to play a new footy title with Merseyside Blue (aka Everton) or Merseyside Red (aka Liverpool), and their answer will probably contain the words "I am going back to FIFA". Indeed, despite all the progress PES 2015 has made as we'll discuss later, the licensing remains its Achilles heel.
The main gameplay modes remain familiar. You can always just jump into any of the licensed competitions and play through their rounds, or get into the two main offline modes Master League and Become a Legend. The latter hasn't seen many changes, apart from more licensed gear to wear. You are still taking control of either an existing pro or creating your own with randomized stats, and living out their career as an individual. You can again, thankfully, choose at least what league you start in, and a manager trust level gauge makes its return. Annoyingly, there's still no skipping to the end of the match after you're subbed off. Master League, meanwhile, is still the classic manager mode of controlling a club and all its aspects. You can play with a randomly generated team or an existing one, and oversee all day to day operations plus play the actual matches. Two new added features are a team trust level and scouting reports, both rather self-explanatory. Plus, just like your Become a Legend player, the manager gets his own model and can appear in cutscenes as well as on the pitch. Another notable new addition is a tactical view mode for simulating matches, which lets you observe the action from a 2D perspective as if you're playing a Football Manager game. It's a nice touch for players who find the actual gameplay too daunting and just want to sink their teeth into the management of a team.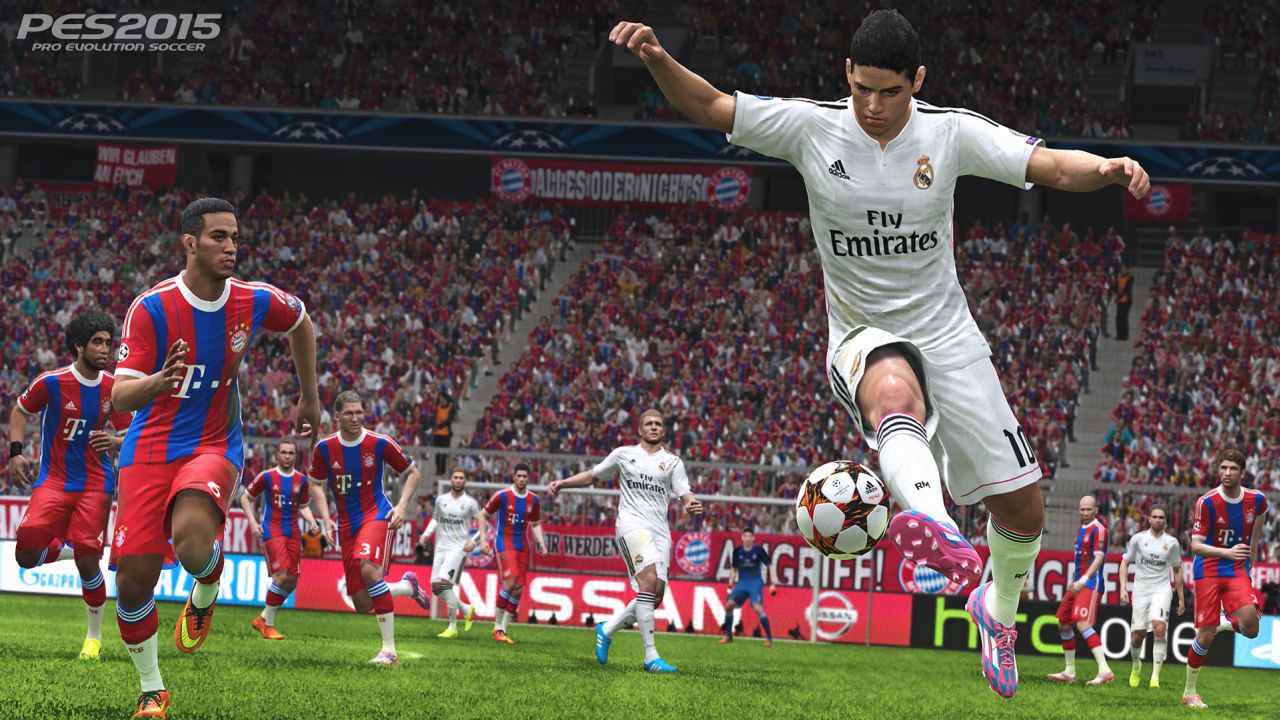 The brand new and deeply incorporated mode in PES 2015 is myClub, a Master League Online overhaul. With this mode, Konami is attempting to create their own version of the hugely popular FIFA Ultimate Team. Players select a team name, logo and kit to use, and are then given a random assortment of low level players, as well as a coach. From there, it is up to you to create the best squad you can. Your formation and tactics are restricted by the coach you've chosen. You'll also need to keep everyone under contract which spans a limited amount of matches. There's also a Team Spirit rating (similar to Chemistry in FIFA), though it doesn't seem to have a huge impact on the players. New players cannot be signed directly, and instead you use agents to select a random player. The better your agent, the better player you'll get. This is in stark contrast to EA's collect and trade approach, as you can't directly select or trade players and must always hope for a good random pick.
To support myClub, two new currencies are introduced in PES 2015. GP points are earned via in-game accomplishments in all modes, even those outside of myClub, by playing well, performing moves on the pitch, and so forth. The second currency is myClub points, Konami's way of introducing microtransactions. While these points can be earned via certain actions, the primary way to get them is with real cash. Players can use either currency on new agents, coaches, and contracts. Compared to FIFA's UT, myClub aims for a much, much slower club development. With no trading, and only getting one player for each agent you use, growing the team takes notably longer and players will need to be patient and play a lot of games to earn enough GP to build a decent squad. myClub is an okay start for Konami to start engaging players in a long-term squad building mode, and some of the unique elements work, but we hope that many ideas are more fleshed out in the future.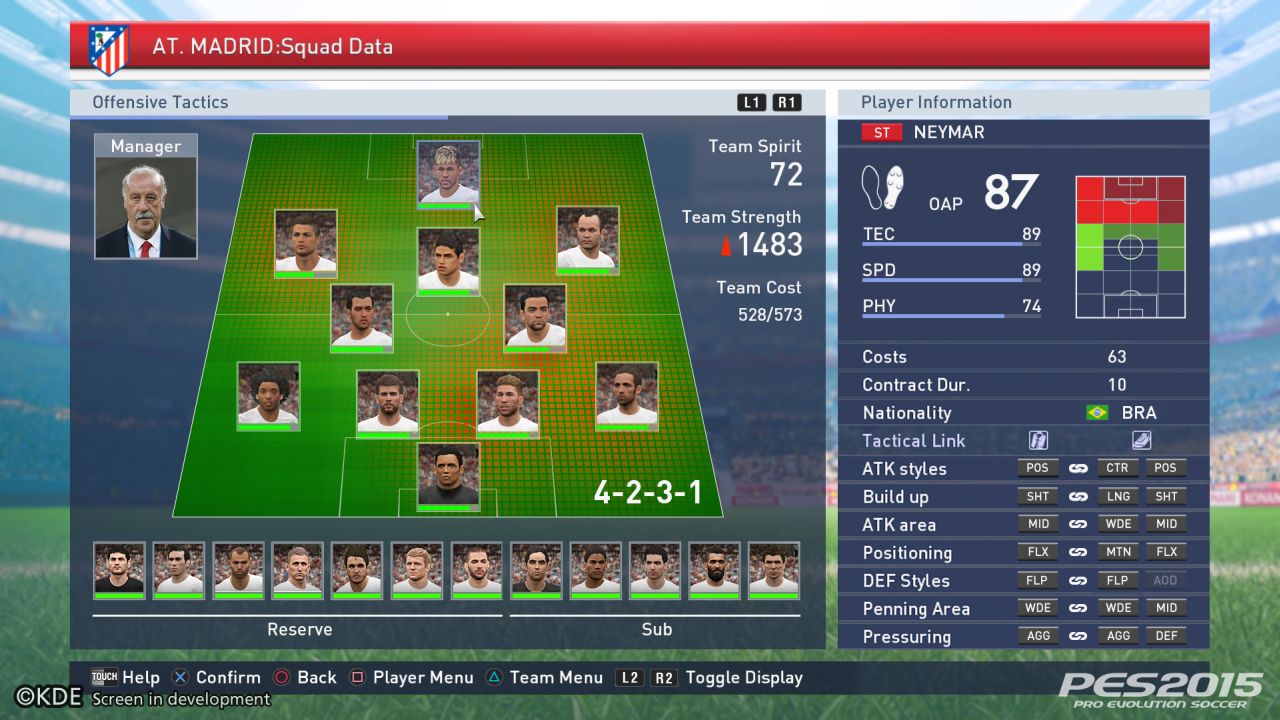 In myClub you can compete against the AI, or against other players. There are two different categories for online play, one is the classic division-based (also borrowed from FIFA) structure, while the other is a Sim division where players can only observe their squads compete as managers. The concept of online divisions also applies in the standard multiplayer modes (outside of myClub). However, it appears that the multiplayer populace of PES 2015 on Xbox One is very scarce. It takes a long time to find matches, and when you do, chances are you'll be faced with lag because your opponent is likely in Europe or South America. This isn't the game's fault per say, but something to keep in mind. For the Sim division, we actually have never been able to find a match, after dozens of attempts across different days. But if you're looking to at least school your friends, there are cooperative and local multiplayer options for almost every mode.
Adding some live data to the game are weekly updates, as PES 2015 promises to constantly update transfers and team line-ups across the English, French, Italian, Spanish and Brazilian leagues. With not many moves happening this early in the season, it's tough to judge how quickly the game will receive its updates. Player data and ratings are also updated based on current performances every week, and is automatically used in myClub, while remaining optional for offline career modes. Missing last year, the stadium editor is back, letting players customize colors of side lines and seats, as well as field and goal net design.
Comments
blog comments powered by Disqus