Uncharted 2 is a fine game (Blog)
Uncharted 2 complete, Torchlight coming. Metro 2033, Borderlands, Modern Warfare 2 and boycotts!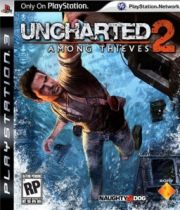 I finished Uncharted 2 a few days back and will say its an amazing single player game, better than the first game. The characters, dialogue and action are really amazing. It's very close in terms of pacing to what Valve has produced with the Half-Life series. I'm replaying the game on Hard and it's a great game with some minor flaws (camera glitches mainly).
I've played some multiplayer and it's not quite as consistent as the single player game., sometimes i'll get a bad server and some freezing, sometimes I get a server with near as I could tell spainish people talking. Other times it takes 5 minutes to find a group then a few people leave and the teams get unbalanced. I guess it's probably more telling of multiplayer on consoles than anything else but maybe I'm wrong there as well. I have played some two player co-op and that was very good, its just single player like action spread over a few levels, more enjoyable than the stock mp in my opinion.
You can read my review of it on NGN
So far the PS3 "experiement" is going ok. I'm using it less than before because I've gone through quite a few demos to see what it has to offer me. I hate to use the cliche but uncharted 2 almost makes buying it worth it, there are some nifty games I plan to pick up for it on the holidays - Little Big Planet, Killzone 2 for example. Any other recommendations are welcome, preferrably older titles I can pick up for cheap.
----
My PC however is not forgotten. I still consider this to be the best gaming platform in the market ;)
Torchlight is out in literally a few days, super excited for it and will be waiting for Steam to unlock it. Not been so excited for a game for quite some time actually (last was Crysis I guess) hopefully it brings back that Diablo feel and maybe spark a cyclic turn around for the industry
Borderlands is out the same day! 28th of October. And I did actually preorder it, call me a sucker for FPS / RPG hybrids. The game is actually preloading on Steam which is unusual because 95% of third party games don't seem to get preloads.I love preloads because my internet speed here in Australia is quite poor (150kb/s down) which means 8gb can take a while.
Although I don't really think the box art is very attractive
I'm hoping the game isn't just constantly trying to be silly in order to be fun. We will see!
THQ got themselves another European, post apocalyptic shooter in Metro 2033. I've been tracking this for a little while now but there hasn't been much news about it until now they release a pretty nifty trailer. It looks similar to STALKER, and there is a good reason for that - the guys that worked on the engine for STALKER are working on the game engine for Metro 2033. I'd say thats a good thing because I liked how the engine looks inside. Hopefully it doesn't have as many bug problems as the STALKER series.
It's coming to 360 as well, so maybe that will mean a bit more in terms of QA testing. Are you guys getting tired of post-apocalyptic shooters / rpg games? I'm certainly not as I feel the actual genre has not even come close to reaching potential yet.
Modern Warfare 2 hit Steam, with plenty of advertising. It's basically going to be using steam works, I think that means steam is required for Boxed versions even. Nothing wrong with that as I have many games that require steam, but some people don't like it.
MW2 is sitting on 3rd best steam seller right now behind borderlands and L4D2. Which tells me that the boycotts for L4D2 and MW2 aren't really making a huge impact on your average consumer who just sees game, pulls out credit card, buys game. I'm going to pick the game up, reluctantly, and I will see just how the lack of dedicated servers ruins the community (that is being optimistic btw).
For the record I'm still in the L4D2 boycott group - actually the leaders of the original group (40,000 members) decided to close it because they thought it achieved what it set out to achieve. WRONG. By the way those "leaders" were flown to Valve and given the royal tour of their offices for no cost, not a bad deal huh. Another couple of guys set up a new Boycott group which has 750 members so far.
Comments
blog comments powered by Disqus