Hatoful Boyfriend Review
Unlikely to set your heart aflutter
Back to characters. It's a shame that the game carries the threat of suddenly upending the angst bucket all over you without warning, because when they aren't revealing their dark secret or whatever the characters are actually fairly compelling. As a general rule they only have one character trait that practically defines them – the poncey pigeon, the creepy pigeon, the suave pigeon, the bookish pigeon, etcetera – which would normally pave the way to shallow one-dimensional cardboard cutouts, but the writing is believable enough to give them all a certain comical charm. Good thing too, since we're supposed to be falling in love with them and everything. Your peers compose a large percent of your romance-able spectrum, but if you feel like pushing the bounds of social acceptability then you can try getting friendly with your teacher (ahem) or even the school doctor (oo-er), so I guess you can't fault the game for being too restrictive. Cheers, Mediatonic.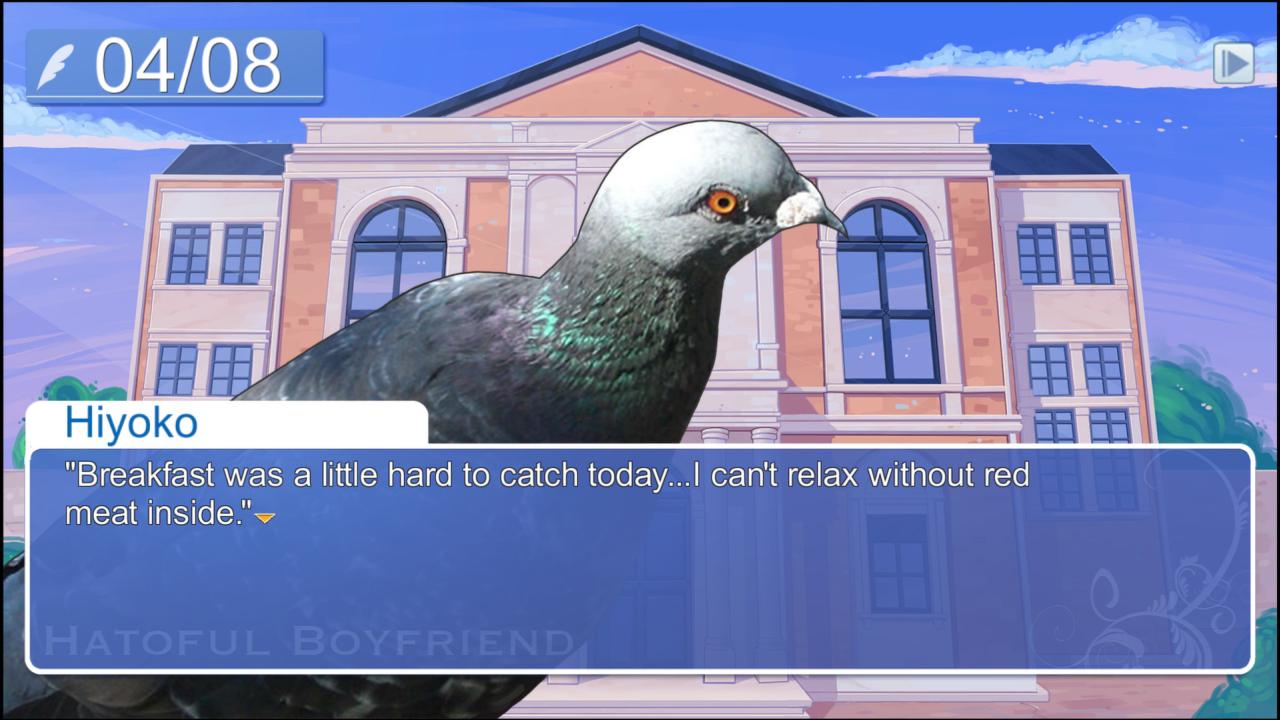 I sincerely do hope Hatoful Boyfriend doesn't intend to be taken seriously at any point. Taken as a parody, it makes a mockery of dating sims, which I think we can all get behind; taken as a legitimate game with meaningful mechanics, it just makes a mockery of dating. Essentially the game gives you a year's worth of events with associated choices to make, and at the end of that year you fall head-over-heels with whoever you've gotten close enough to. No complex conflicts between love interests or tough final choices; your entire gameplay experience is dedicated to making decisions that fill up invisible meters, the largest of which will dictate which flying rat the game will proffer you towards at the end. On my first playthrough I actually ended up partnering off with somebody completely by accident, simply because I'd had the decency to treat them like a human be— I mean, like a pigeon. Oh, there are special endings you get from playing things out in a particular fashion, but unless you're specifically chasing them they're particularly difficult to stumble upon, making them less of a legitimate result of your actions and more of a challenge for completionists. Why you would want to one-hundred-percent a visual novel is beyond my knowledge, but it takes all sorts, I suppose.
And Hatoful Boyfriend is all about the multiple endings, make no mistake. This is not a game you can play from start to finish just once and expect a satisfactory result. Quite apart from anything else the story won't make an awful lot of sense – what with it throwing in scraps of subplots that appear totally meaningless unless you go out of your way to explore them – but largely because without several repeated playthroughs the game is woefully brief. Your first playthrough is likely to tally up to about an hour – unless you read it out loud and give all the pigeons really silly voices, I mean – and the combination of a fast-forward button with large swathes of redundant exposition means that additional playthroughs are barely long enough to cover a coffee break. You'd expect that the 'novel' part of the term 'visual novel' would imply a certain affinity for text, but it feels fluffier than a pigeon-feather pillow. I wouldn't normally condone a game vomiting up reams of written narrative on the player, but when text is all you have, why not?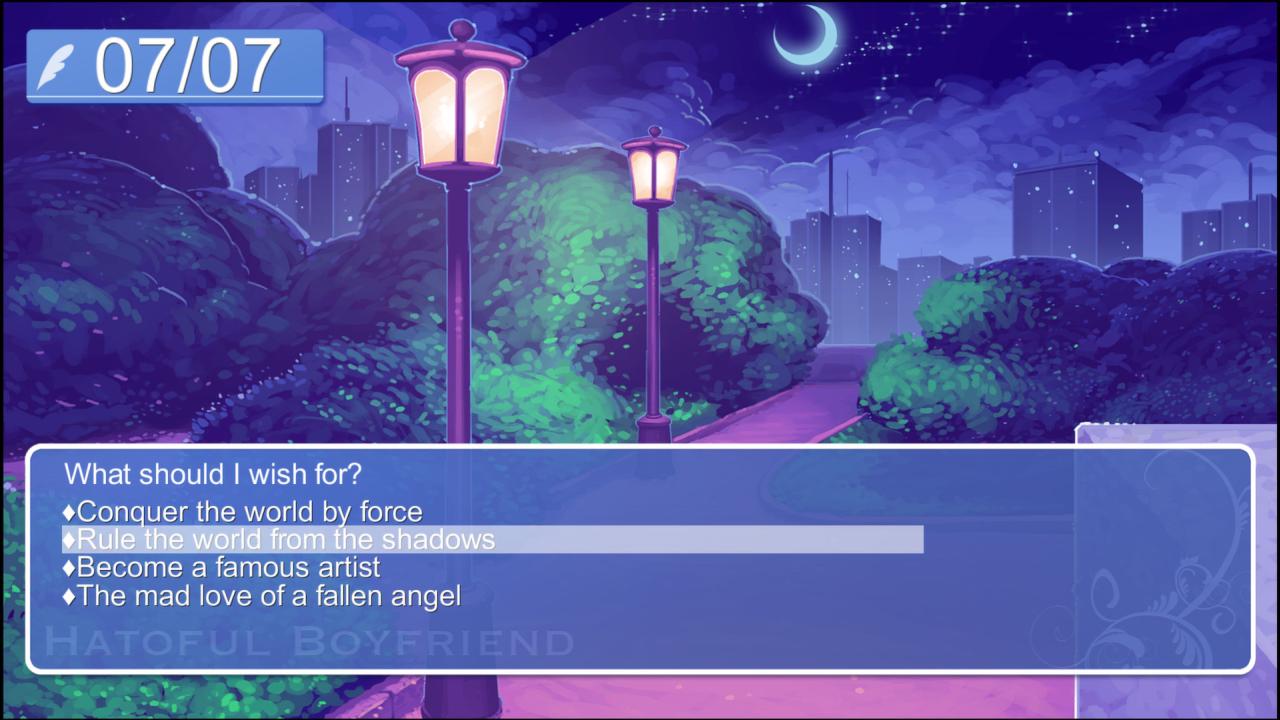 Alright, so you have the visual part too. This is where things get strange, because this game is not, strictly speaking, Hatoful Boyfriend: it's Hatoful Boyfriend HD, the shiny new remake that we Westerners can play without having to piddle about with fan translations or language settings or slightly suspect patch programs. Not to make it sound like I'm not grateful for that or anything, but was a graphical overhaul really necessary? This isn't Half-Life over here: we're talking about static backgrounds and pictures of pigeons. Unless the original game's art was done by a 14 year-old on DeviantArt armed with a copy of 'How To Draw Manga In Six Easy Steps' – spoiler alert, it wasn't – there's really not a large margin for improvement here. I suppose you could add lots of little Phoenix Wright-esque animations to make the characters more expressive, but when all they have are a beak and wings it sort of stymies that avenue of possibility.
I don't think Hatoful Boyfriend is bad, objectively speaking, but I just don't 'get' what its appeal is supposed to be. I went in expecting a visual novel and I got a visual novel, no more, no less, but it doesn't seem to have much of a focus beyond that. It's a bit funny here, a bit silly there, a bit jarringly dark once in a while, and all in all just doesn't have anything to say. It's not uncommon to hear about a video game concept that makes you stop and blink dumbly for a second while your brain processes the information, but normally we expect some kind of spin on it to make it sound more (or less) interesting than it actually is. Papers, Please is a grey bureaucracy simulator, but really it's so much more; Watch Dogs is an immersive open world where you can go anywhere and hack anything, but really it's so much less. Hatoful Boyfriend, conversely, is exactly what you've been told it is – a pigeon dating sim – and if that sounds like your cup of tea then you'll bloody well get a cup of tea. No big secrets, no concealed meaning, nothing. There is a joke, though, despite my initial apprehensions. It happens when you finish the game, close the window, turn to your friend – they just finished speedrunning Heavy Rain; see, it all ties together – and say "I was just playing a pigeon dating sim."
Then you both laugh, forget all about it, and go play something fun.
Our ratings for
Hatoful Boyfriend
on PC out of 100 (
Ratings FAQ
)
Comments
blog comments powered by Disqus