Gat Out of Hell Preview - PAX Prime 2014
We get a look at the new standalone expansion to Saints Row IV
Getting a chance to speak with Steve Jaros, Creative Director at Volition, I couldn't help myself but ask, "Seriously, how do you one-up yourself after this?"
Despite the repetitive nature of the question, it never fails to conjure a sparkle in the eyes of the fine people of Volition. Even a year after Saints Row 4, I saw the same twinkle in Jaros' smile. "We try not to think about one-upping ourselves," the scrawny, bearded man replied. "We like to think of it as pushing forward, rather than one-upping."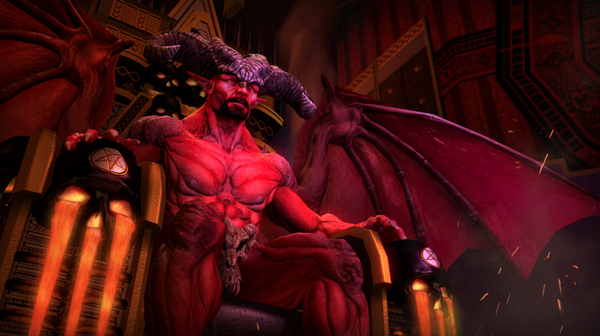 "But you have to be scared that the insanity of Saints Row is wearing out its welcome?" This is the question which had been nibbling at me since Saints Row: Gat Out of Hell was announced during the Volition panel on the first day of PAX Prime.
Jaros understood my concerns. "Absolutely. It's terrifying," he explained. "We spend so much time cut off from the outside, working on these things -- and you read what people say on the internet…When we showed that musical section of the game, I was terrified of how people would react."
Jaros' fears seem to have been for naught. If you were one of the lucky people to be sitting in on the Volition panel last weekend at PAX Prime, you know the warm reception Gat Out of Hell received. Capping off the panel was the musical number which made Jaros nervous, but after it was revealed, it quickly became the talk of the show.
The history of Saints Row is a bizarre one. One that begins with the little GTA-clone-that-couldn't and aggressively morphs into a world of criminal celebrities, nut punches, dubstep guns, and super powers. Coming out the other end of Saints Row 4, many people were a little overwhelmed at the insanity of the game. It felt great to use super speed and to fly, but when you throw so much ridiculousness at an audience, it can all dissolve into white noise.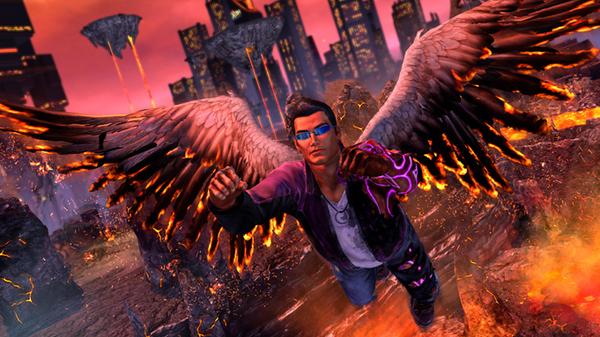 Gat Out of Hell seems to be aware of the limited welcome this nonsensical approach to open-world gaming has and is trying to make the best of its time with players. Gone are the structured narrative missions. Instead players can focus on doing the crazy, wacky side missions which really made Saints Row so enjoyable. Blow sh*t up, fly through a time trial, blow more sh*t up, hijack a monster truck which allows you to activate a rage mode, and then start again. Running around, creating chaos has always been what Saints Row is best at and Gat Out of Hell seems like it is trying to highlight this.
The story to Gat Out of Hell is about what you would expect from Saints Row. Snapping along with dialogue, painfully aware of its own insanity, Gat Out of Hell begins with Kinzie's birthday. During her birthday party she is given an Ouija board and while playing around with it, the Boss - your character from Saints Row 4 - is dragged to hell. Johnny Gat and Kinzie follow you down in order to rescue you. Being restricted to Gat and Kinzie takes away your ability to buy and wear the most ridiculous things you can find - and let's face it, punching someone in the junk is only better when you're dress up as an astronaut wearing a Lego head.
Gat Out of Hell is also missing the expanded selection of guns. Make no mistake, there are still weird weapons, like the arm-chair machine gun, but it's a more limited selection. These weapons can still be upgraded at certain stores, making them more powerful and adding functionality. You character also can level up as in the original game, but how that works exactly wasn't made clear in the short demo I played.
Hell looks a lot like Steelport. The dark sky makes the world feel oppressive and gloomy, interestingly juxtaposed against your wacky and chaotic actions. There are still tall buildings stretching up to the sky and the sci-fi aesthetic from Saints Row 4 has been converted to a rocky-lava look more appropriate for the setting. But it still looks like much like the previous game.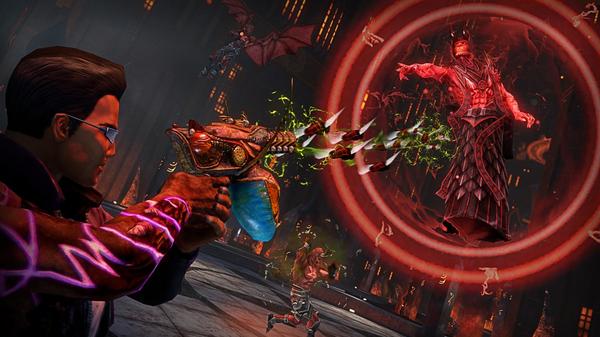 Gat Out of Hell also plays a lot like Saints Row 4. Blending superpowers and third person shooting mechanics together is still a good time. There's nothing quite like firing a grenade launcher, then speeding away while monster trucks blow up around you. The game is as bloody, explosive, and destructive as any of the Saints Row titles before it. The biggest difference being that - at around 5-6 hours - it's considerably smaller.
Saints Row has also been known for its use of music. Whether it is singing along to Sublime, shooting up a penthouse to Kanye West's "Power" or defusing a nuke to Aerosmith's "I Don't Want to Miss a Thing", the game's use of licensed tracks has been amazing. Unfortunately, according to Jaros, there isn't a spot in Gat Out of Hell for this kind of musical implementation. To make up for it, the game has inserted a Disney/Broadway-esque musical number. The scene was only shown to a room of loyal fans at PAX Prime and Volition prohibited videotaping. So that's definitely something to look forward to.
I won't lie, when I heard Volition was still working on Saints Row, I was skeptical of what I would see. I mean, when is does it all become too much? But once I was back in the maniacal world of Saints Row, I couldn't help but feel my lips twitch into a smile. So whadda ya say? Let's do one more go 'round with the Saints.
Saints Row: Gat Out of Hell will be released for PC, PlayStation 3, PlayStation 4, Xbox 360, and Xbox One on January 27th, 2015.
Comments