Infamous: First Light Review
A great looking, standalone origin story that lacks content
Released earlier this year, Infamous: Second Son was a graphical powerhouse on the PlayStation 4 console. It brought a new setting, characters, and powers to fans of this modern superhero franchise. While the game had its share of problems, the overall experience was a worthwhile one. Similarly to Infamous: Festival of Blood, developers Sucker Punch this week released a standalone title called Infamous: First Light. Focusing on Fetch and her neon power, this brief adventure offers some of the best elements of the next-gen Infamous experience, but also retains some of the problems.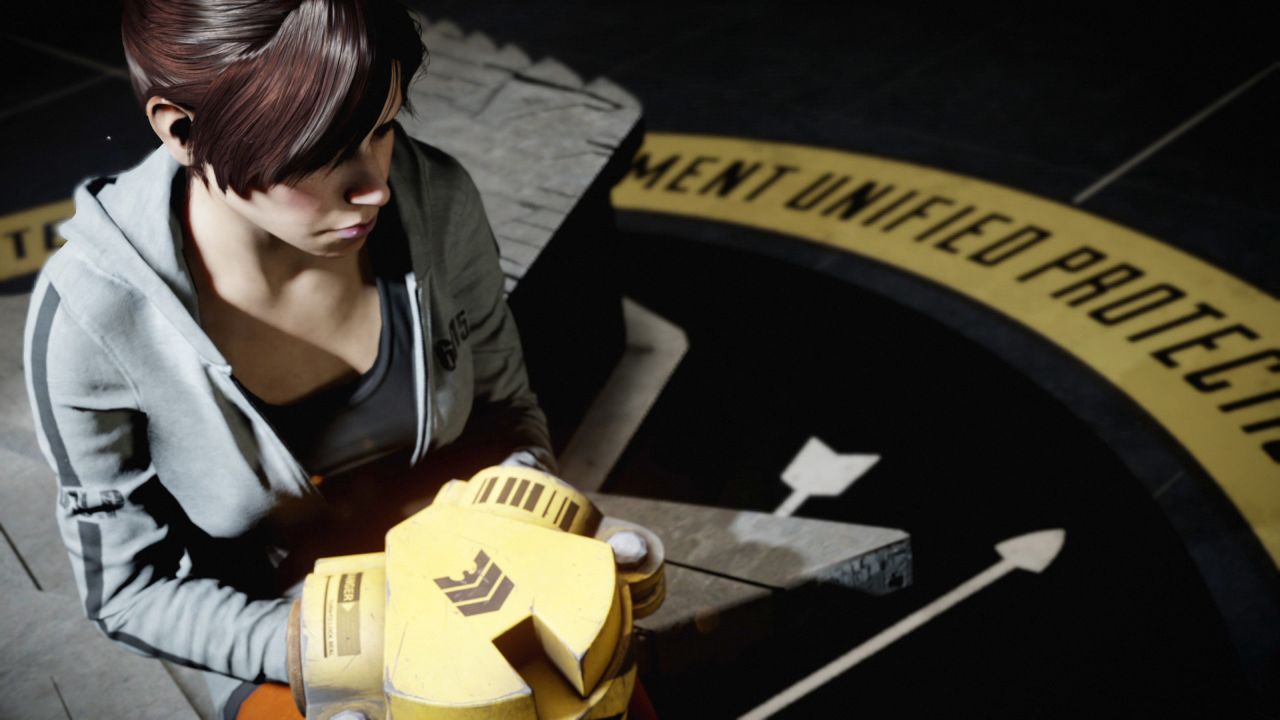 In First Light, players assume the role of Abigail "Fetch" Walker, a conduit with neon superpowers, and one of Delsin's friends from Second Son. Fetch was a good character choice for the developers, since she easily had the most extensive background in the cast of heroes. We follow Fetch during her early days in Seattle, having run away from home with her brother Brent as their parents had planned to give her up to authorities. Brent helped keep Fetch grounded, as they survived on the streets and even became addicted to drugs at one point. When the pair gets involved in a local drug war and a crime boss named Shane, things spiral out of control quickly. The game doesn't do a very good job of setting up the intrigue for players completely new to the franchise, but it still manages to pull on a few emotional heart-strings in the end. Undoubtedly, those who completed Second Son will get the most out of this origin story – even though you already know the most pivotal twist – which is a testament to good character development.
Like Second Son, however, the story missions in First Light are few in number and are rather uninspired. You could be guarding a truck from taking too much damage, or taking up a rooftop position to snipe enemies below, but they repeat multiple times during the course of the game. All said and done, the story is over in less than 3 hours and you're only left with side activities scattered across the island. Those activities are shallow, such as races to catch lumens, graffiti tagging, or destroying flying drones. They offer new twists – the flying drones now have a camera that you must watch in order to identify its location, for example – but are fundamentally similar to those found in Second Son.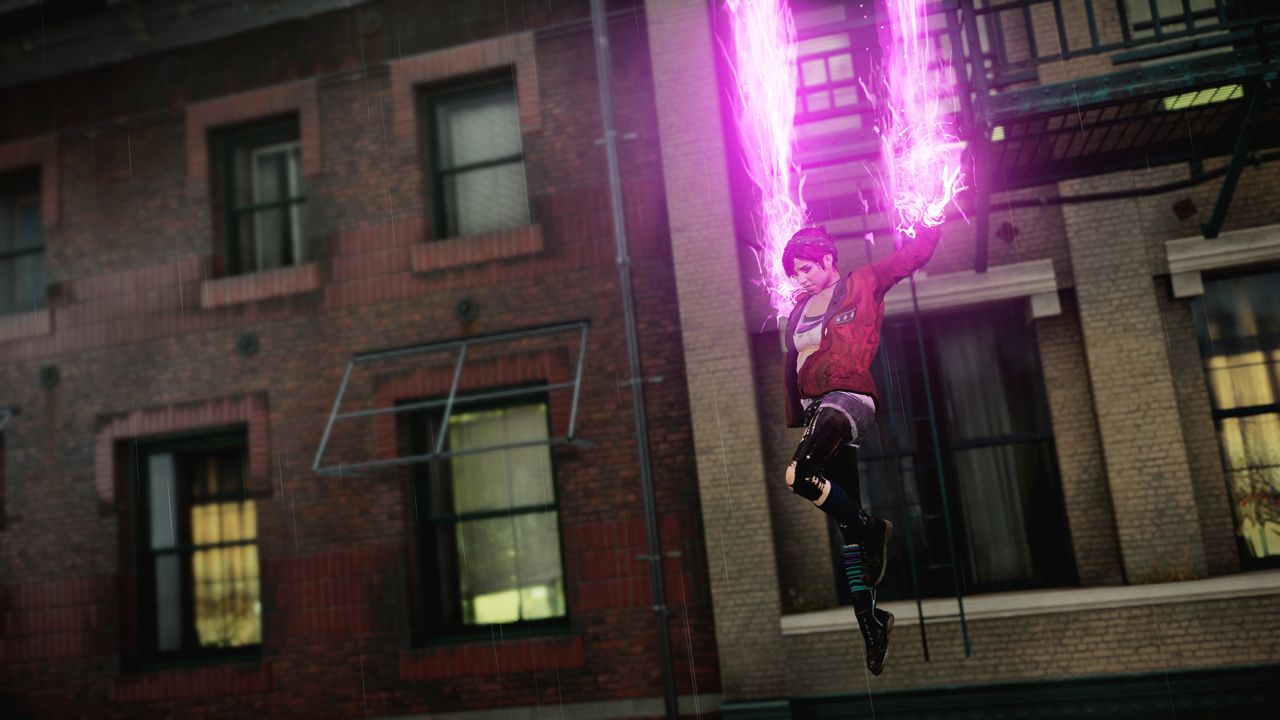 Since First Light focuses on just one of the four superpowers in the full game, the developers have clearly done work to improve it. Much as before, you collect neon lumens scattered around the city in order to unlock upgrades for your powers. You also earn additional skill points by fulfilling some of the numerous challenges in the game, from defeating enemies a certain way to completing all side missions. The neon abilities are fine-tuned, and some of them are a little different compared to Delsin's, but on the whole Fetch handles herself in a very familiar manner. Your melee is more visceral and personal since you no longer have a chain. The stasis and precision attacks work the same as they did in Second Son, letting you temporarily trap enemies in mid-air and dispatch them with one or two weak point shots. Homing Missiles automatically track and damage enemies, similarly to the same attack from the third power in Second Son. You also get a new ping ability that's used once or twice during the story to locate items of interest, and can also be used anytime to detect nearby enemies. On the whole however, it's a bit of a needless function.
The karma system has been done away with, so you no longer need to concern yourself with collateral damage. Defeat enough enemies and the Neon Singularity (aka the Karmic Streak) becomes available. It's a devastating attack that's still very efficient at defeating every foe nearby, but it looks and sounds less impressive than its counterpart in Second Son. The neon sprint helps to briskly move about the city, also with the aid of new neon clouds that boost your speed as you run through them. Some work has clearly been done to make sprinting more fluid, as you no longer get stuck on random balconies or other objects. However thanks to this improvement in environment traversal, the game world feels even smaller than before. The game is limited to one of the two islands from the main game, virtually untouched. The island is atmospheric, but feels lifeless as you blaze through it in a flash. In fact, because the D.U.P. haven't taken over yet, there are no outposts and the city feels even more generic. The one truly new area, a snowy mountain pass near Curdun Cay, is a linear and unimpressive trek through a few combat areas.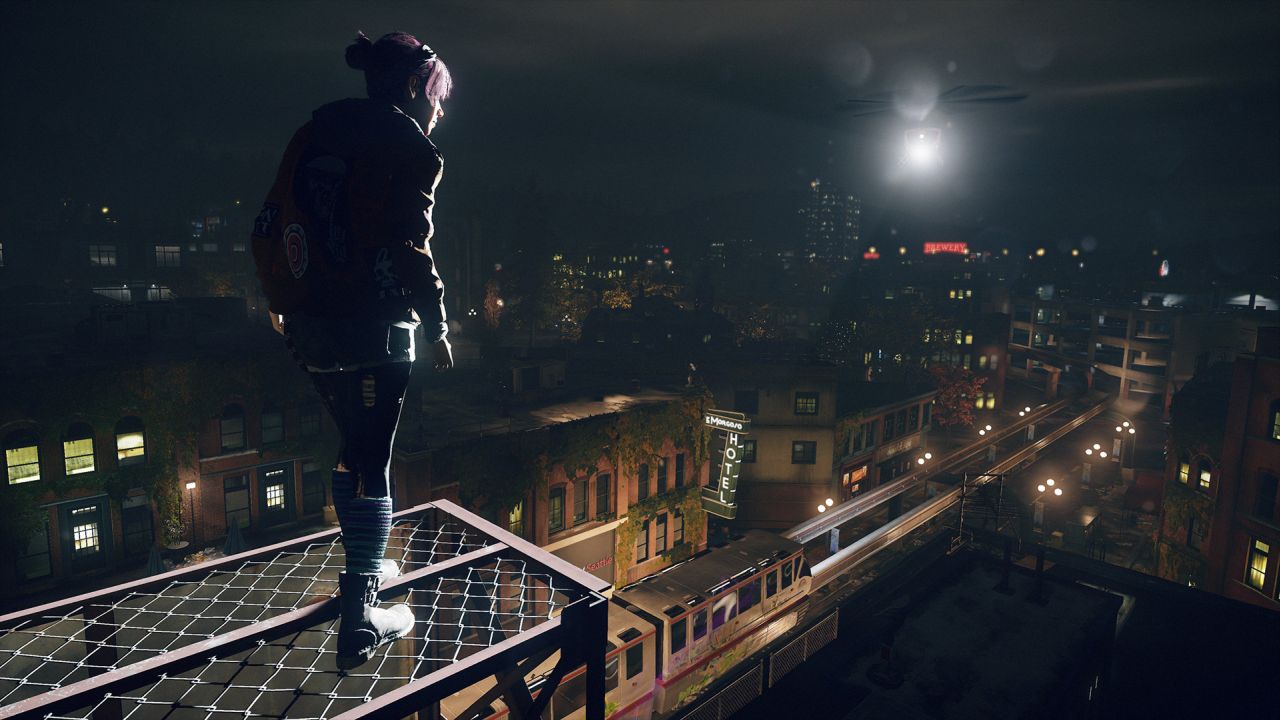 To help add some replay value, as the main story and all side activities last for barely 4 or 5 hours, Infamous: First Light includes a battle arena mode. Taking place in one of three arenas inside the D.U.P. owned Curdun Cay, Fetch is required to practice her powers there during the course of the story. After completion of the game, players are free to return to these arenas and participate in one of two game modes –a survival mode where you must simply stay alive against waves of enemies, and a hostage rescue mode where you must keep the occasionally spawning hostages alive while also battling foes. Both of the modes will truly test your abilities as they progressively scale in difficulty. The arena experience is great at making players use all of their available powers in focused, non-stop action, something that roaming in Seattle could rarely provide. There's also a scoring system based on enemies you take down, a multiplier for consecutive kills, and so forth. Global leaderboards based on your score in each arena and mode are offered to players who want to see how they stack up. Those who have a Second Son save file on their PS4 system can also use Delsin in these arenas.
If Second Son was one of the best looking PlayStation 4 retail titles, then First Light is easily the most visually impressive downloadable game on the console. From the technically impressive particle and neon effects, to the sharp textures, impressive lighting and solid voice acting, this is a downloadable game you need to see to believe. Combat and cutscene animations are also top notch. Sadly the background music remains largely unchanged from Second Son and fails to excite.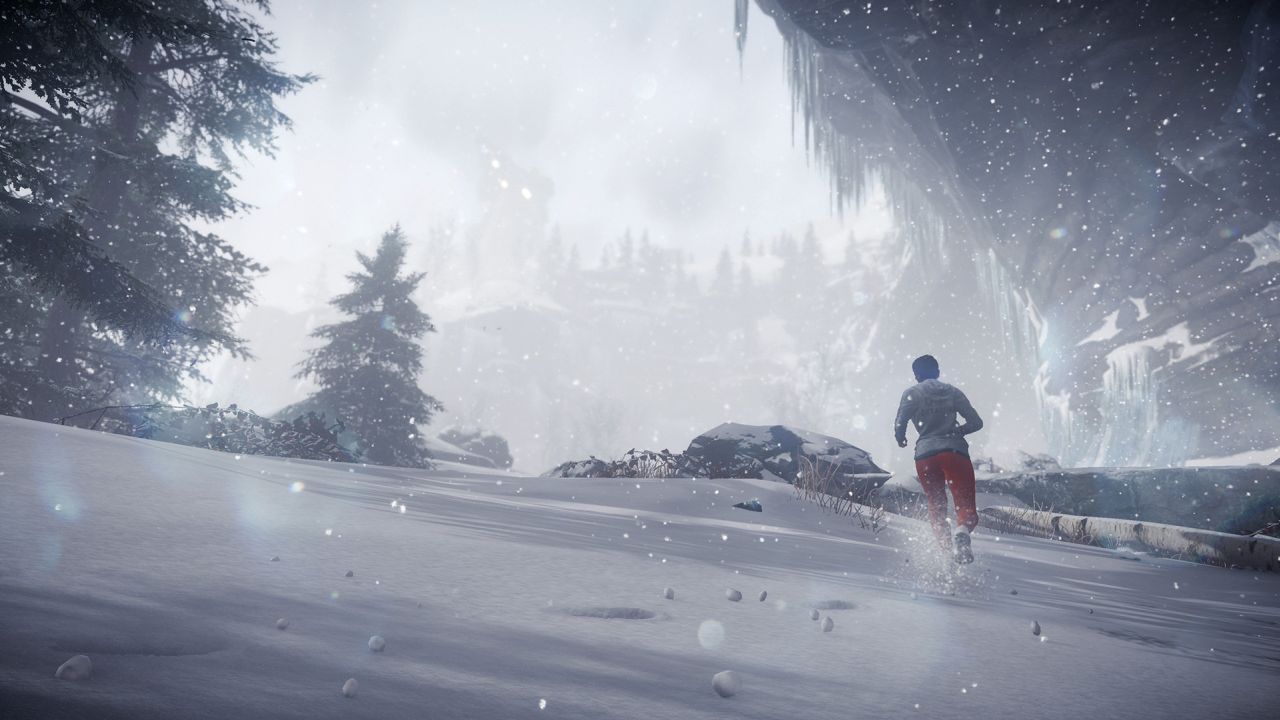 First Light is a good side story for fans that enjoyed Second Son. The neon powers have been tweaked enough to provide a gameplay experience that feels different enough to warrant its own hero. Fetch is a likeable character and her origin story is surprisingly touching even if you already know the outcome, and despite the short length and cliché twists. The half of Seattle you get to explore sadly feels as lifeless as before, with a bunch of scattered activities not really offering much in the way of fun or originality. Battle arenas try to help with replay value, and are a great opportunity to showcase the gameplay. While First Light gets a fairly easy recommendation for fans of Second Son, as a standalone title it's a bit more conflicting. The tweaked neon powers and battle arenas will showcase the best that the franchise has to offer, but a dull setting and an origin story for a character you're not familiar with may fail to impress. If you've not yet played Second Son, the suggestion would be to pick that up first (it's fairly cheap at this point) and then consider First Light if you want more of the same.
Our ratings for
Infamous: First Light
on PlayStation 4 out of 100 (
Ratings FAQ
)
Comments
blog comments powered by Disqus