Plants vs Zombies: Garden Warfare Review
A surprisingly fun spinoff that retains the visual charm of the franchise
Although it may have been unfeasible at one point to take an established franchise and reimagine it into a completely new genre, that's no longer the case. From the marginal revamps like Prince of Persia to the altogether new experiences like Fallout 3 and The Bureau: XCOM Declassified, gaming has seen its share of new experiences under familiar brand names. Even Electronic Arts itself has attempted this as recently as Syndicate in 2012. But while all those examples are of franchises that haven't seen a new entry in quite some time, by comparison Plants Vs Zombies is a fresh property. First debuting in 2009, the addictive tower defence game has sharply risen in popularity over the last few years, and now has a spinoff. Plants Vs Zombies: Garden Warfare may sound like a ridiculous idea and perhaps a cash-in for the franchise, but you'd be wrong to dismiss it on premise alone.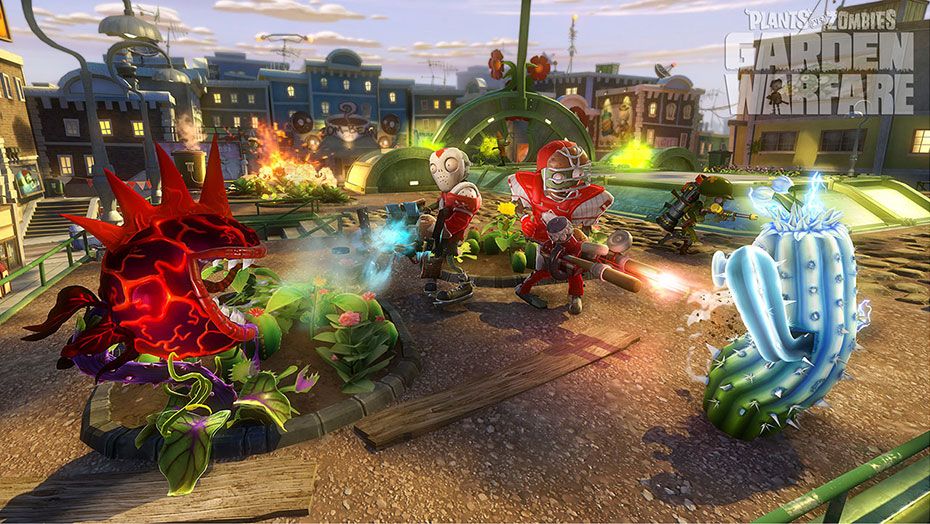 Garden Warfare is indeed a third person shooter. That may seem like a far cry from the 2D origins of the franchise, but the franchise creators at PopCap have managed to completely preserve the aesthetics and feel of this colorful universe. All of the environments are varied and colorful, if not wildly imaginative. The characters are both cute and deadly, while controls are easily accessible and are as simple as point and click. Unlike other games built on EA's Frostbit engine, no pea drop to account for here.
The gameplay is also deeper than you'd expect. This is actually a class based shooter, with four classes to choose from on both the Zombie and the Plants team. Each class has a familiar role that you may encounter in other shooters, and yet they are fully converted to feel right at home in this universe. For example, Sunflowers and Scientist Zombies are healers, while Engineer Zombies and Cactuses are the snipers. Everything is surprisingly well balanced, even though each class has three unique abilities that are also firmly rooted in this universe. A Chomper can temporarily borrow underground to avoid attacks and surprise their enemy from below, the Peashooter can increase its travel speed and jump height, and so forth. On the other team, the Zombies have similar, yet unique abilities – it is the Engineer who can travel fast and also stun foes, while the Foot Soldier has a rocket jump and an RPG attack. Everything works as it should, it's balanced and yet wonderfully unique and true to the franchise.
Because of the recent trend to employ microtransactions in various online shooters, and even with heavy criticism for PvZ 2 in particular, Garden Warfare manages to avoid problems. There's a card deck system, where players earn coins (or can buy them with real cash), and then redeem on packs which contain various items. The items bring new cosmetic customization options, potential upgrades for your weapon, as well as new variations of characters – such as Arctic Foot Soldier zombie or the Toxic Pea Shooter. Each of these unique characters can be customized in the same way as the default ones, and also have the same abilities. The only thing different is their weapons, which often provide various functional bonuses or simply alterations from the stock models. But these are largely insignificant, so you'll never feel that players who have special characters are overpowered. Still, if you aren't happy your Hot Rod Chompter got vanquished by an evil looking Shadow Flower, there are matchmaking lists where custom characters aren't allowed. PopCap has also promised not to charge for DLC, and so far they delivered, with free custom characters, maps, and game modes.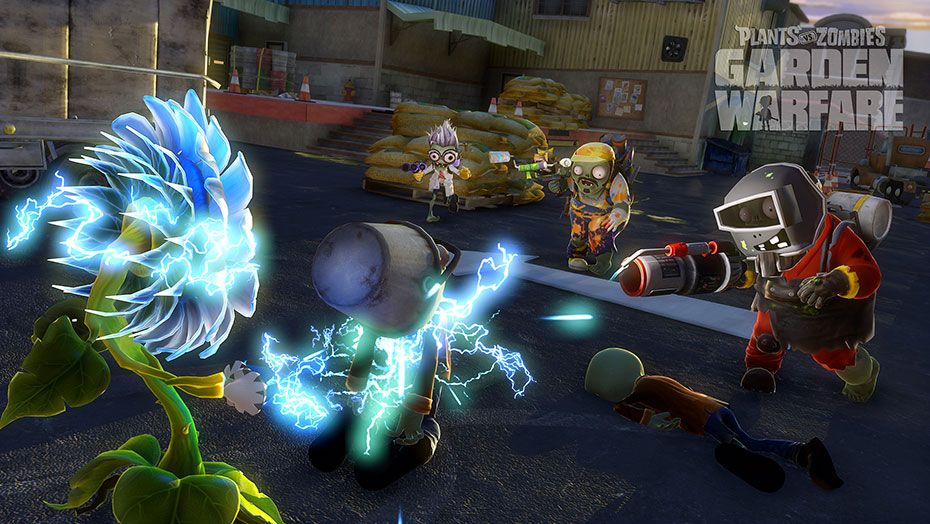 Each class you play as has their own separate level, which you can increase by performing various objectives. To start off, the game asks you to use abilities a certain number of times, and so forth. These objectives are a fun way to keep track of your progress and varied enough to get through each class. There's no experience system (other than your overall player profile) so your heroes only level as you complete tasks. And if something is particularly difficult, there are cards which let you skip one.
When you're ready to head into the fray, there are two main options – Garden Ops and competitive multiplayer. Garden Ops is a horde mode which sees a team of 4 plans must defend against waves of AI zombies. This mode is the direct reimagining of the original PVZ, except of course as a 3D shooter now. Players even get to plant many of the popular characters to assist them in this defence, much like they would in the 2D game. The number of plants in your inventory is limited, and more can be acquired via purchasing the card packs mentioned earlier. However, playing with a decent team on medium difficulty, these AI defender plants were rarely needed.
Venturing into competitive 12 vs 12 multiplayer, you'll be faced with a number of modes and maps, as well as the ability to play as zombies. The classic team deathmatch is joined by Gardens & Graveyards and Gnome Bomb. In G&G the plants must defend a number of gardens, while the zombies attempt to capture and turn them into graveyards. This mode is similar to base capture from other multiplayer shooters. Gnome Bomb is an 8vs8 mode where either team must find the Gnome Bomb to destroy each other's three Gardens or Graveyards. Since release, the PC version also got two more modes for free – Suburbination (a king-of-the-hill style mode to control three points on the map) and Vanquish Confirmed (must confirm kills by picking up orbs of fallen players). None of the competitive multiplayer modes are as imaginative as the character abilities or as pertinent to the PVZ franchise as Garden Ops, but they are well designed and executed.
Being an online only game, Garden Warfare doesn't feature any offline modes, so you can't easily play Garden Ops by yourself. You could start a private lobby and play alone, but you'd still be online – and miss out on the random fun of killing cartoony zombies with strangers. It's always entertaining to see other players' custom characters and try to increase the difficulty of the AI. Playing competitively does have its share of occasional lag, but overall there aren't any problems. The game also isn't very hardware demanding and should look well on a variety of machines.
Surprising as it may sound, Plants Vs Zombies: Garden Warfare is fun. It may not win any year-end awards, but this is a well-designed, balanced class-based multiplayer shooter that has tons of charm, with varied customization options. Its longevity is likely the biggest challenge – after leveling through each class, the game does begin to feel repetitive and charm alone isn't enough to keep core gamers coming back. Younger and casual players, on the other hand, will enjoy the more relaxed and accessible experience. The developers are trying to keep players engaged with free DLC, as well. This is a great starting point for those looking for a gentle introduction to modern online shooters. Just remember to use mute in the lobby, as required.
Our ratings for
Plants vs Zombies Garden Warfare
on PC out of 100 (
Ratings FAQ
)
Comments
blog comments powered by Disqus