World of Goo Review
Puzzle fans and supporters of Indie projects should look no further than World of Goo for their next purchase
World of Goo is a puzzle game with a strong emphasis on physics by 2D Boy, an independent game developer consisting of Kyle Gabler and Ron Carmel, both former Electronic Arts employees. The game has received a lot of praise during its initial release, praised to be one of the best independent productions in recent years. I am happy to say that the praise is due where it is deserved – World of Goo is indeed one of the better puzzle games to ever hit the PC, with its interesting art style, clever puzzles yet highly accessible design. The game is a hit with both hardcore and casual gamers, and I am very interested to hear what 2D Boy will come up with next.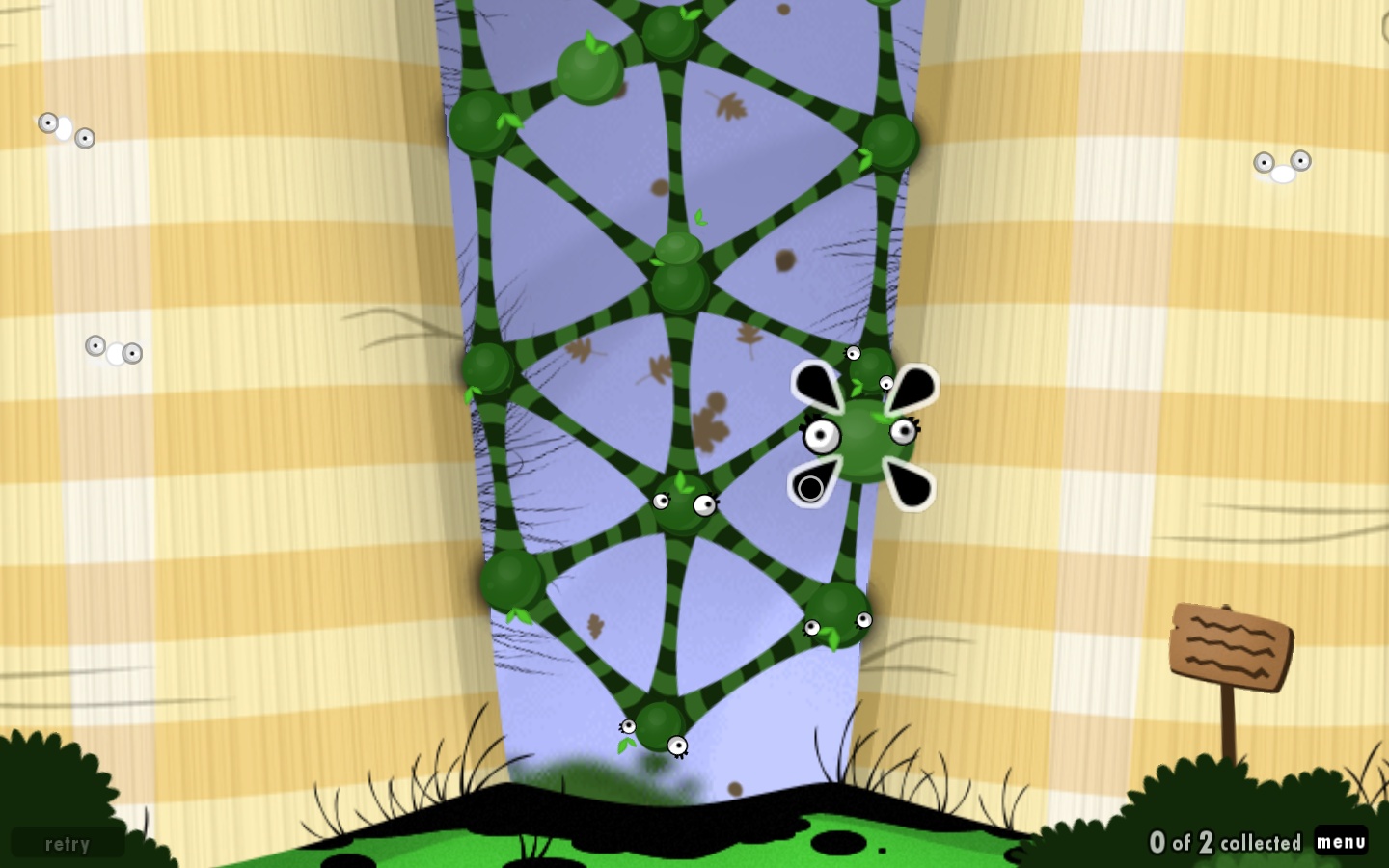 Puzzle games are not generally known for having a story; often they are simply a collection of levels that aren't tied to each other in any way. However in World of Goo, there is definitely a plot to be experienced, which will take you through a variety of levels, Goo ball types and environments. The story is told primarily through some rare stylized cut scenes and wooden signs encountered throughout the game, which were left by a mysterious figure known as the Sign Painter. The signs on each level give subtle hints as to what the objective is, often adding some humour into the mix. Most of the story is revolved around the Goo Corporation and its plans to take over the world with their Goo products. The Goo balls on the other hand are actually little characters that are sleeping throughout the world, and it is your task to awaken and collect them, delivering them to the corporation. But as you progress through the story, you find that Goo balls aren't exactly willing to serve the Corporation and would rather escape to an unknown location they call Home. The game doesn't have any characters other than the Sign Painter and the various Goo ball personalities, but that doesn't stop the developers from telling an entertaining story through the level design and some oddly created cutscenes.
World of Goo's title very much lives up to the premise – you play in a world where a large company, called the Goo Corporation, is assumed to be running the island. It is your job to continue through the game's levels and collect as many Goo balls as you can, so that you can one day build a tower and see what's above the clouds. If you haven't guessed yet, the game is spent playing with various Goo balls in order to complete the level objectives. Most of the time, your task is to avoid danger in the form of fire, spikes, and other objects as you attempt to stick your Goo balls together to create a path or a bridge and get to the level's extraction pipe. This pipe will suck up the Goo balls that you haven't used and their number will contribute to your overall score. Across the various levels, you will discover all kinds of varieties of Goo balls, all with different functions that are specific to completing the level you are on. There are Death balls, fire balls, liquid balls, balloons, and even "beauty" balls. All of these are easily distinguishable and serve a specific purpose in the level, though often it is a part of the challenge to only use what is given to you in a specific way.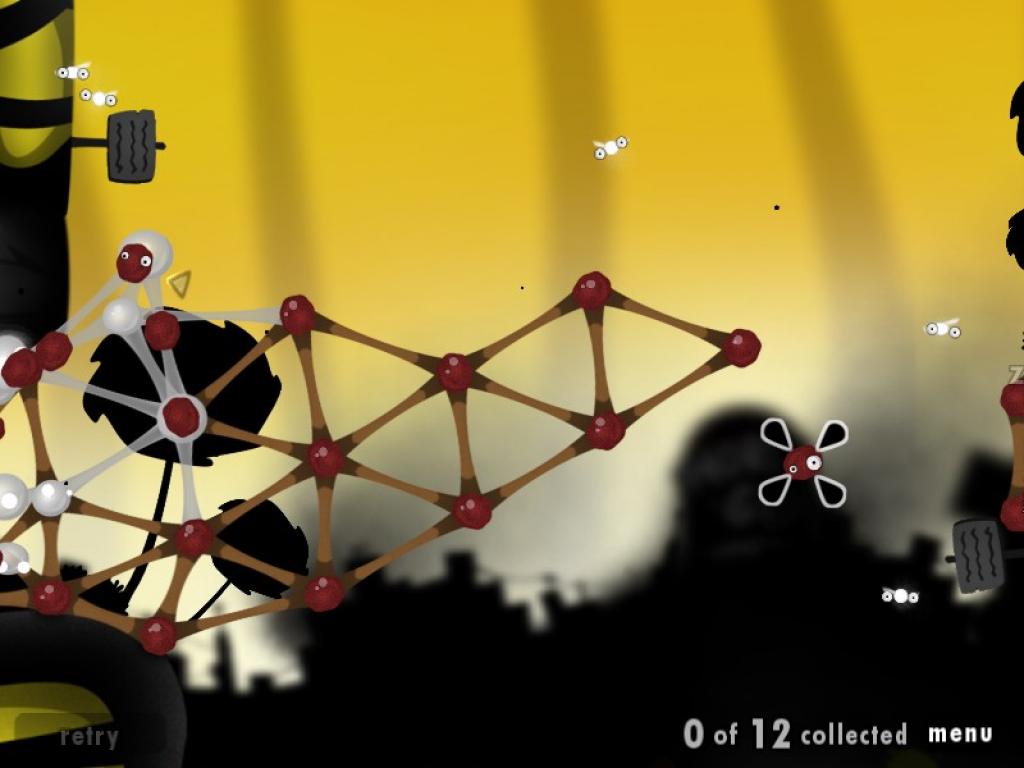 Initially, the abovementioned intake pipes appear throughout the land, waking up many sleeping Goo Balls who have gone undisturbed until this, as they are filled with a childlike sense of curiosity and it's your job to build a path for them towards the pipes. Upon reaching the pipe entrance, the Goo Balls are sucked by the pipe system into the Goo Corporation main building where they are processed into many products, most prominently a drink. The excess Goo Balls are left outside the Corporation headquarters, which constitutes a side-quest for the player. All the Goo balls you collect through the levels will appear here, and you may begin building the highest possible tower with the Goo balls, hoping to see what is at the top. Only the regular black balls appear here, none of the special level-specific ones.
The levels in the game are very varied; in fact there is only slight repetition between the level objectives, but often with an added twist so no level plays exactly the same. I found that there was always a need in me to "just finish one more level", which is a great sign of a fun and addictive title. The level puzzles are not based around figuring out what you need to accomplish in order to progress to the next stage – rather, the challenge is to figure out how to accomplish the task required. This may range from creating a tall leaning tower of Goo balls, to flying a group of balls over an obstacle, to building a bridge across a huge gap and still having enough Goo balls to win the level. Each level has an amount of Goo balls that are required to "escape" into the pipe, meaning you cannot waste or lose too many balls if you want to avoid restarting. Helpfully, you also get a number of "Undo" moves on each level, preventing you from restarting the whole challenge if you misclick. The levels also go a great job in showcasing the interesting and odd art style that the whole game is based on – without giving away spoilers, I just want to mention that there are many bizarre and interesting places you will visit during your adventure, many being quite far out of this world. All levels are strictly 2D, but that doesn't prevent the level art from shining with interesting captivation. The soundtrack is also original and adds to the feel of the levels, providing a fun and mysterious tune throughout the game.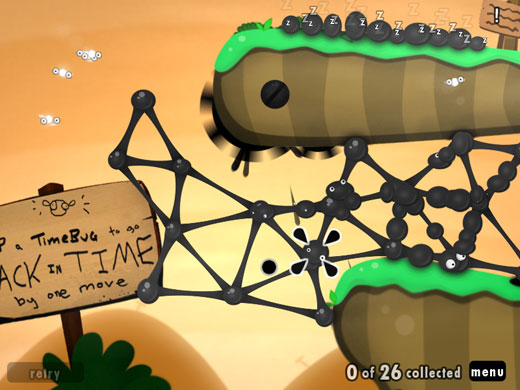 World of Goo is an excellent puzzle game, even for those who are not fans of the genre, even such as myself. You will find that most of the levels require some "outside of the box" thinking due to the good physics engine and various challenges presented to you each time. It can be said that the game is based on trial and error as you plan the escape of your Goo balls, but that shouldn't be taken with a grain of salt – instead, you are motivated to try again each time you fail simply because the game is very fun and different level solutions can be created each time you play. Being developed on and for the PC, the game runs on a very simple engine in terms of the power needed – to this end, any PC that can comfortably play a flash browser game should have no trouble running World of Goo and viewing the levels in their true beauty. So if you are looking for an excellent indie game with a lot of value and you enjoy fun physics puzzles, World of Goo should be a frontrunner on your games list.
Our ratings for
World of Goo
on PC out of 100 (
Ratings FAQ
)
Comments
blog comments powered by Disqus