Wayward Manor Review
Too repetitive, and too easy to stand out
Plenty of games have you battling ghosts and monsters, but not many let you do the haunting yourself. Wayward Manor is the first foray into game making from highly successful British author Neil Gaiman. You play as a ghost in a sentient mansion, in which you must scare the awful family that inhabits it away.
The game features a strong pedigree. Gaiman wrote the story, and narrates. The art is largely the work of Eisner award winning artist Chuck BB. The story is dark, as you would expect, but fairly light hearted at the same time. Think Casper the Friendly Ghost rather than The Sixth Sense. Wayward Manor is highly resentful of its current inhabitants, and wants them gone. It enlists your help in order to drive them away.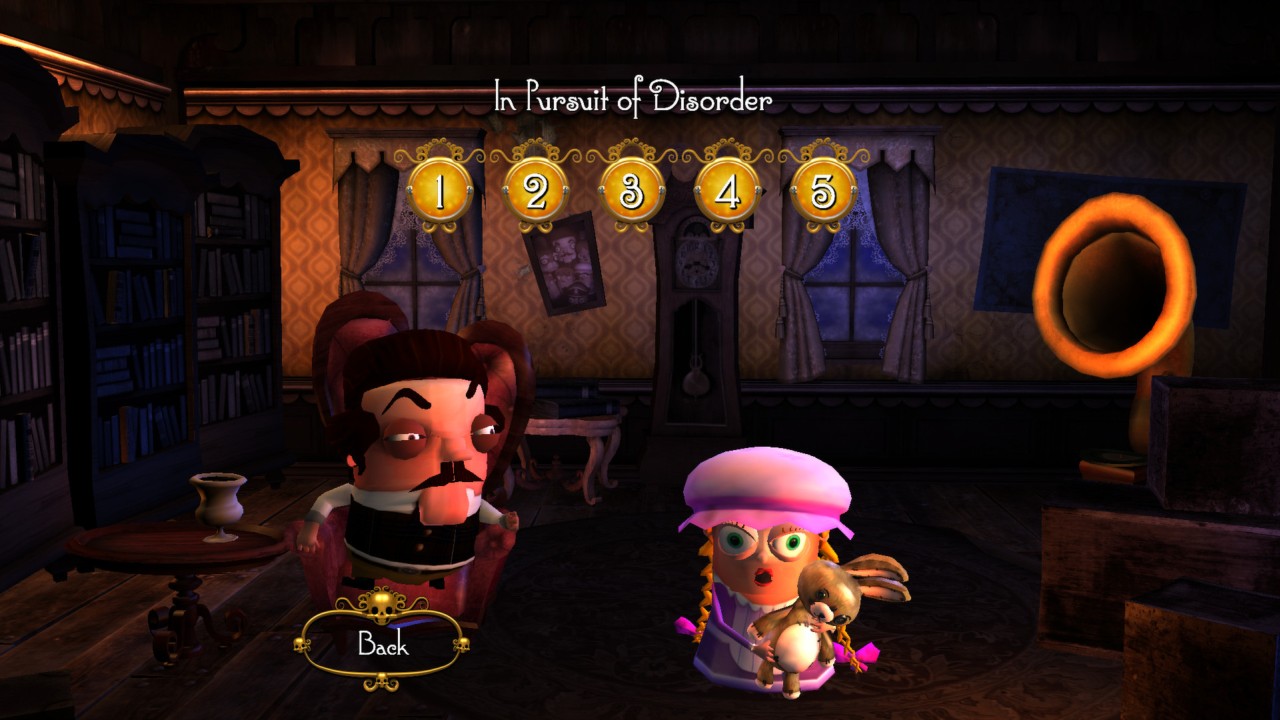 To do so, you'll be haunting various pieces of furniture and objects throughout the many rooms of the mansion. The game is split up into five chapters, the majority of which have five levels. You'll have to get six scares out of whoever is in the room to drive them out, and closer to the exit. You'll have to learn the fears of each member of the Budd family, and use them to your advantage. For example, the mother is vain, so if you make a mess of her favorite dresses, she'll be horrified when she looks in the mirror. The twins are stalwart if they're together, laughing off frightening things. However if you split them up by making them fight over candy, they'll be much easier to pick off.
It's essentially a point and click puzzle game. At the start of each room, there will only be a few things you can click on. As the inhabitants become more scared, more options will become available. You'll be opening windows to blow objects around, dropping bottles on people, haunting suits of armor, and more. It becomes almost like a Scooby Doo style caper, and the great soundtrack really adds to that feeling. The music is also accompanied by an a cappella duo of singers making spooky sounds.
The visuals fit the overall theme too. They're cartoony, but styled in a way that suits the horror elements. Chattering skulls represent the scares, occasionally green, sometimes pink with a bow. Once you have enough, they form into a much bigger skull in the center of the screen. Clicking that starts swirling all the objects in the room into the middle, while the occupant makes a beeline for the door, ending the level.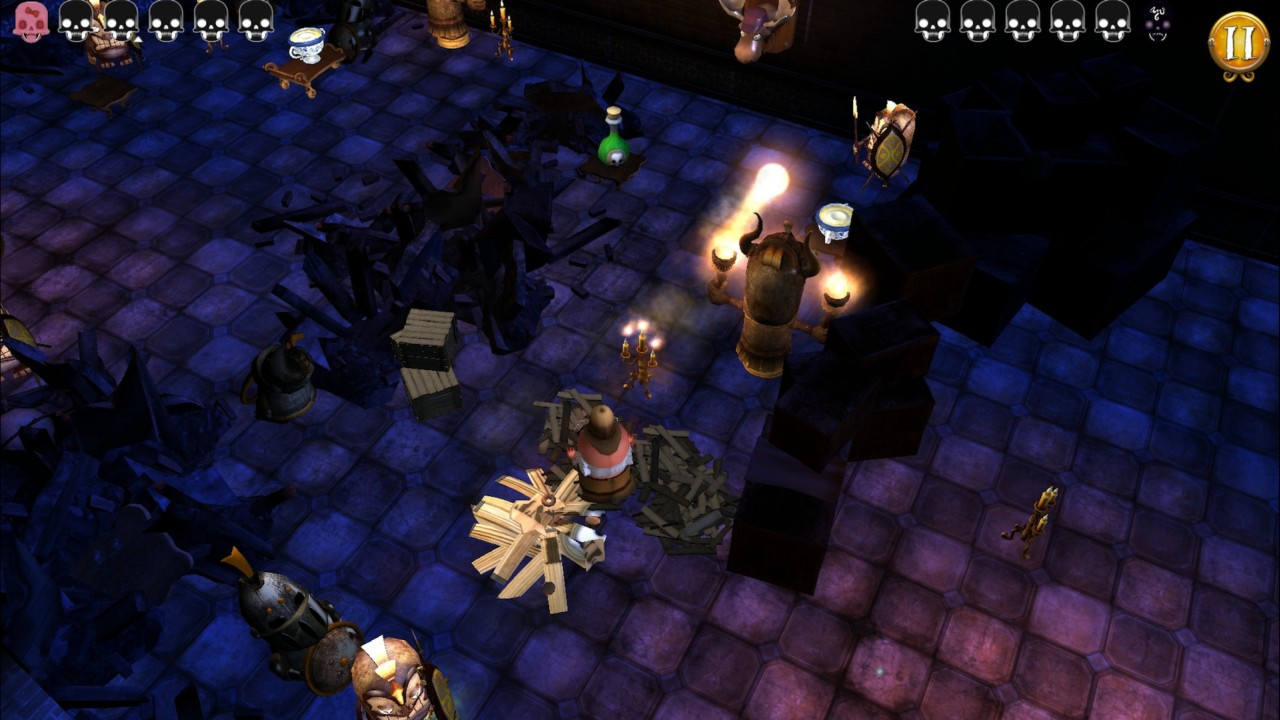 Each room has three challenges associated with it. For example, you'll need to complete the level only using bottles. Or you'll need to make two characters meet, despite being separated at the start. These are meant to provide a bit of replayability, but they're never really interesting enough to make you want to go back and see what happens. Also they don't give you any rewards beyond simply knowing that you completed them.
The lack of desire to replay values is in part due to the fact that the gameplay just isn't that enthralling. You'll simply be clicking on highlighted objects, and it'll usually be painfully obvious what you have to do to proceed. If an object is used in the wrong way, it'll simply respawn for you to use it again. Because of this, you can't really fail a mission, not that any of them are hard enough to fail anyway. The exception to this rule comes towards the end in the final chapter, when it seemed like my only option was to restart because I had apparently done something in the wrong order.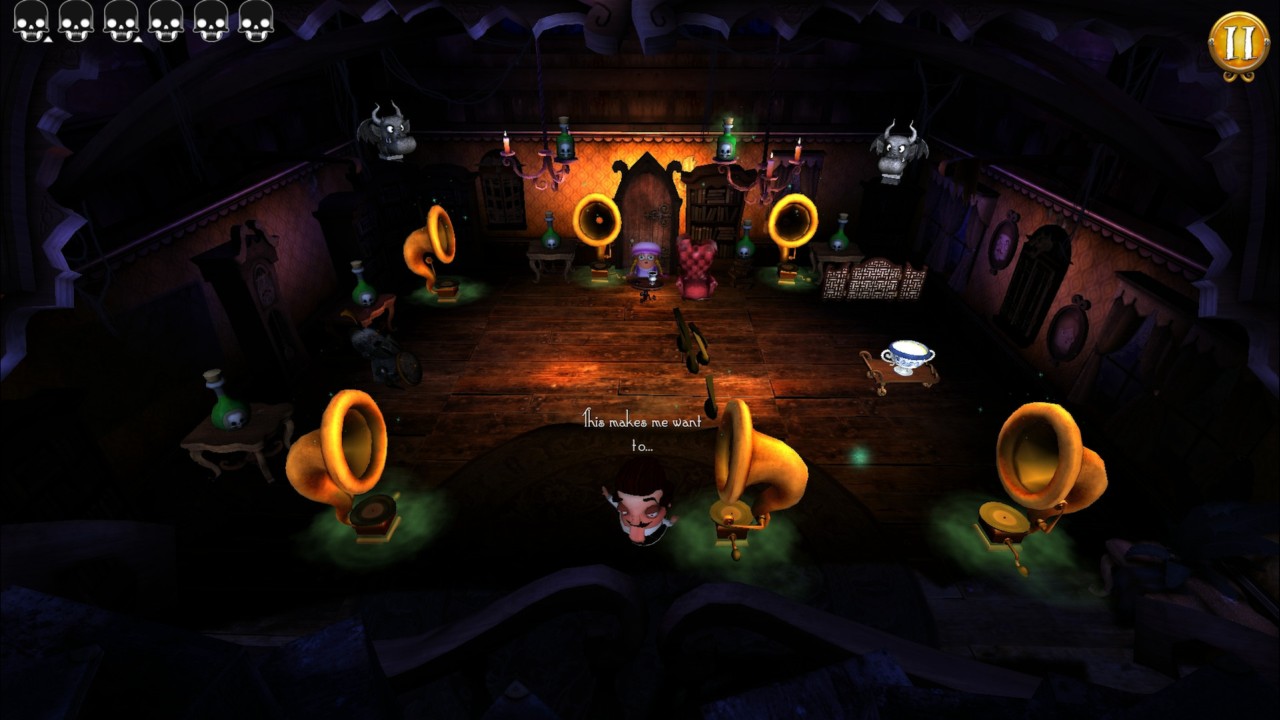 While the visuals and soundtrack are good, the poorly optimised performance often leads to them doing strange things. Some levels contain gramophones which play jazz music (the father of the house loves to dance to jazz when you get him drunk). When these play, the normal music for the level doesn't fade out. You also get little music snippets when clicking on objects, or when characters are interacting with things. It ends up creating this awful cacophony of sound which is quite unpleasant to listen to. You occasionally have some objects being unresponsive, and sometimes the cursor changes into an hourglass, even when the game isn't actually doing something.
There's a childlike quality to Wayward Manor that I found endearing. However the game is just too repetitive, and too easy to stand out from the crowd. It's potentially a game you can give to your kids as an introduction to the puzzle genre. The style and gentle difficulty curve is definitely more suited to a younger audience. Those hoping for a mature Gaiman classic will end up being a little disappointed.
Our ratings for
Wayward Manor
on PC out of 100 (
Ratings FAQ
)
Comments