Pushmo World Review
Push blox, save tots
Pushmo World, the third of Intelligent Systems' whimsical puzzle games, brings the wacky formula of the previous 3DS games to the Wii U. You might be mistaken, however, if you think the 'world' of the game's title refers to a bigger, grander adventure as it often has for the Mario series. No, what we have here is a reimagining for the home console rather than a significant move forward for the series, but more Pushmo is still good Pushmo.
You play as Mallo, a chubby little sumo guy in a typically, colourful Nintendo world. You are tasked by your mentor, Papa Blox, to save the many babies and children of Pushmo Park. You see, each of the game's 250 puzzles – whereby you have to push and pull a structure of blox to reach the top – houses a trapped child. That's the story, and that's all we need to start pushin'.
Each stage has three rows that you can pull your blox out to, in order to climb up to the next and eventually pull out and find the trapped baby at the top. What's clever about this is that you can only jump one row or space at a time, and only pull each of the blox where there's a space for both them and you. Working out where to place Mallo in order to get the blox to where you want them to go, including manipulating over and under hanging steps, is what makes Pushmo so strategic.
The addictiveness and eventual satisfaction each time you complete a puzzle is Pushmo's core strength. It builds gradually and it keeps things simple, even if some of the puzzles seem brain-meltingly confusing at first. But they're never out of reach. You always nearly get it, and then do. And that keeps you pushing on –pardon the pun – and keeps you thinking 'just one more'.
Whenever I got truly stuck on any of the ten puzzles in each of Pushmo's levels, I dabbled in the training area, where there are keen, tightly focused stages to help you understand all the mechanics of the main game. There are no babies to save here, but they're fun and challenging too, not the usual 'training levels' of a game most would write off.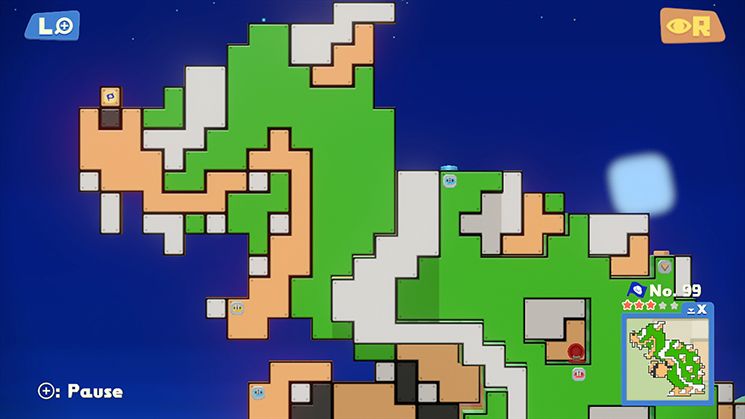 Just when you think it's all getting a bit samey in the maim campaign, the designs are twisted and added to. Ladders, pushback and pullout switches dramatically change the way you view and complete a stage, causing a certain color of blox to change shape, altering my route to the goal. With these additions I found myself having to look at the puzzles as a larger entity, sussing out several moves ahead, thinking about my last, was it the right choice? These tactical additions kept Pushmo feeling fresh.
Outside of the game's standard and training puzzles there's Pushmo World Fair and Pushmo Studio. The former allows you to download and rate Pushmo creations from other players all over the world, and the latter gives you the chance to create and publish your own. This was a great addition in the 3DS games and the same applies here. It's what gives Pushmo legs and will keep you coming back. Want to create a huge, climbable, fire-breathing Bowser for others to ascend. Go for it. The tools are there and it's easy and fun.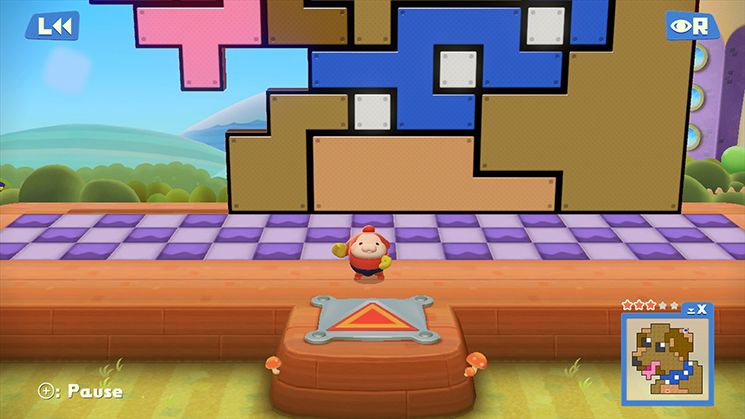 My main gripe with Pushmo World really is that it's too similar to the 3DS original and forgoes the sequel, Crashmo's, interesting twist to the gameplay. I was hoping for something that blended the two together, or perhaps moved the series on in a more meaningful way, but what's here is still great, and offers exactly the right scratch to the puzzling itch. It's fun, quirky and undeniably Nintendo, and anyone new to Pushmo should absolutely check out Pushmo World on Wii U. Those, however, who have played the two previous 3DS outings, might feel they've seen it all before.
Our ratings for
Pushmo World
on Wii U out of 100 (
Ratings FAQ
)
Comments