Far Cry 4 Preview - E3 2014
Assaulting an enemy fortress in the Himalayas
So for those of you who like your open-world experience massive and lively, your weapons aplenty, and your villains with more screws loose than a drunkenly assembled IKEA wardrobe, Far Cry is back. Ubisoft claims Far Cry 4 will be the most expansive and immersive experience yet, in a brand-new, giant world with the new addition of drop-in open world co-op play.
The stage for Far Cry 4 will be Kyrat, a country hidden in the Himalayas. Despite the relatively serene vision we have of the areas around the Himalayas, such as Tibet, Kyrat promises to be a locale steeped in violence. And in the centre of this violence is you, Ajay Ghale, who's travelled to Kyrat to fulfil your mother's dying wish, and end up getting caught in civil war to overthrow antagonist Pagan Min's oppressive regime.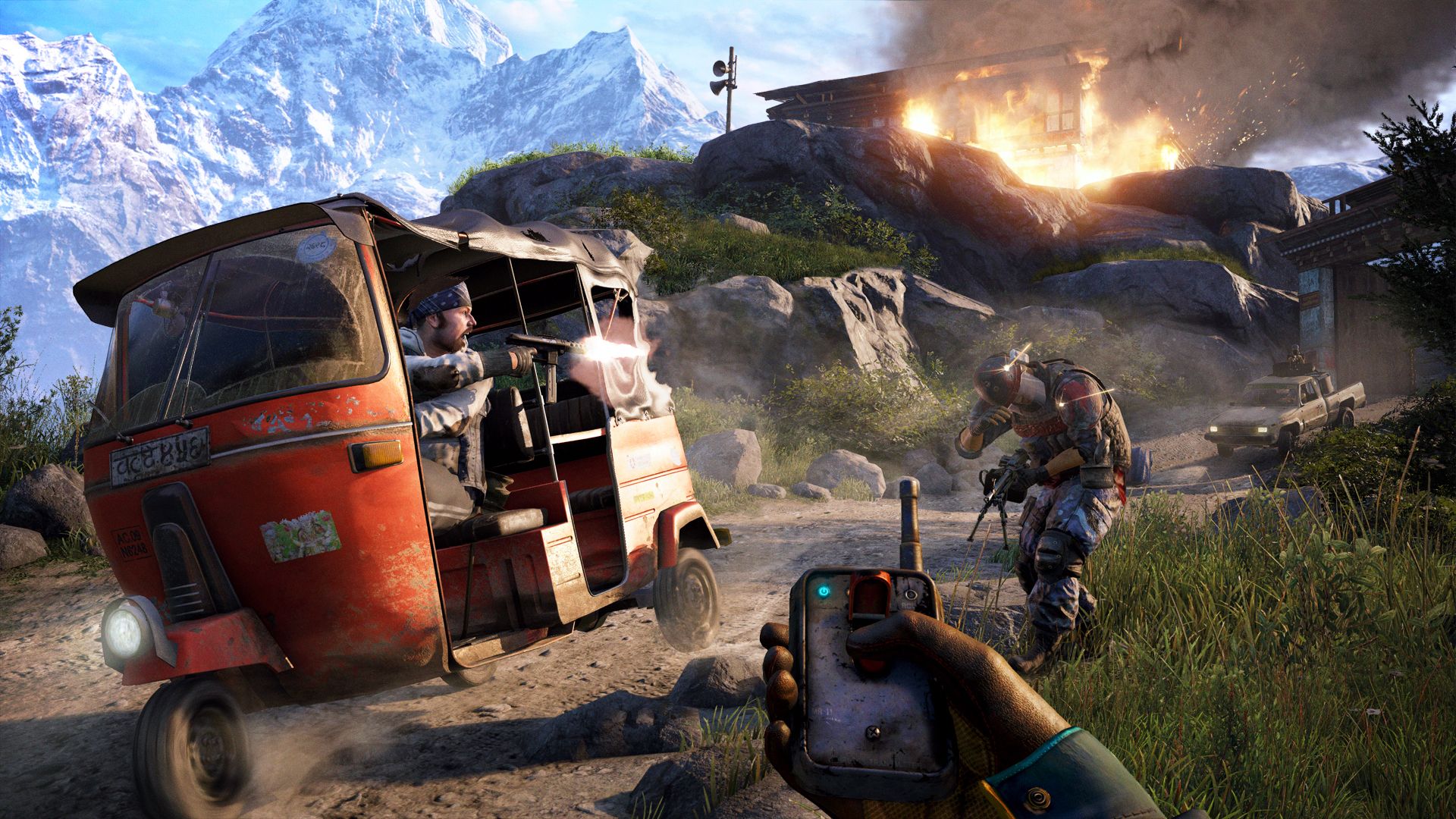 Aside from single player, there will be other modes available: the arena will be a survival gauntlet of vicious enemies in true Highlander fashion where there can be only one; brand new adversarial multiplayer where you can play as one of the soldiers of the Golden Path rebellion, or harness the power of nature with the ancient Kalinag warrior tribe. There's also a new map editor where you can create and share your own deadly scenarios with friends and the gaming community.
However, in our hands-on multiplayer, we didn't get to sample much of the story, as we were too busy raining death (literally and physically) around a small enemy fortress right in the heart of Kyrat. To liberate the fortress we had a number of starting methods at our disposal meant to showcase the multitude of ways to approach a hazardous situation. The fortress was a small encampment that consisted of four high walls, within which were a number of houses, no more than two storeys each that had a series of thin roads in between them. It was up to you to use the fortress to your advantage.
Firstly, we kept it simple and, lacking in any form of subtlety, chose the more "direct" approach. Direct approaches utilise marauding war elephants and have them crash through flimsy fortress doors while we're armed with an assault rifle and grenade launcher. Once you've burst in atop your giant, tusked beast, you've generated the element of confused surprise, if only for a moment. Guards are alerted from their seats and within buildings, and are soon rushing toward you, guns blazing.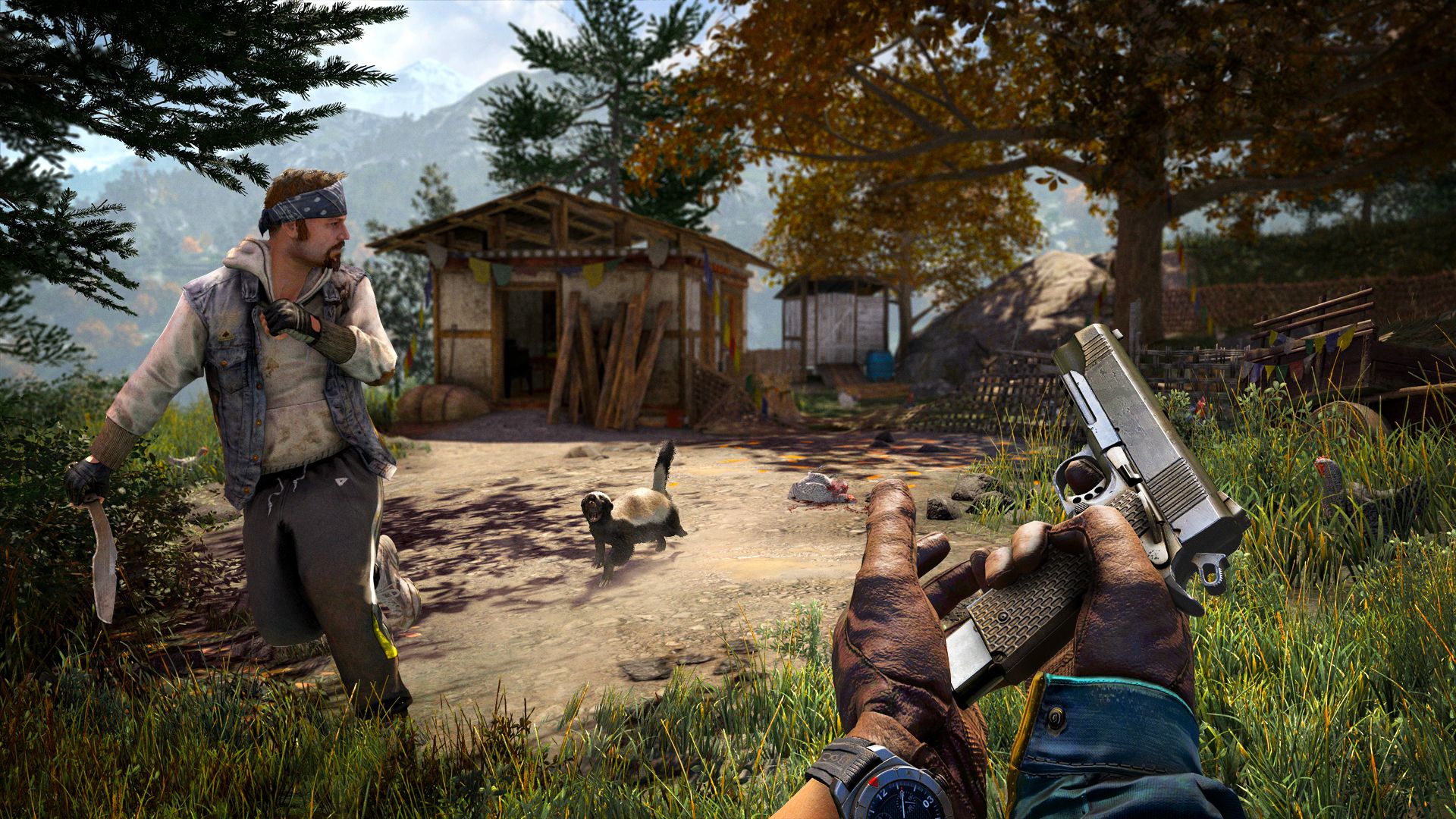 Guards aren't stupid in Far Cry 4, they will find you and they will aim to flank you. It doesn't help when your heavy machinegun fire grazes your own war elephant. This makes the elephant angry. It'd make anyone angry, really. The elephant is swift to turn around rumble its way toward you, tossing enemies out of the way to reach you and vent its frustration. This betrayal was something we weren't aware would happen, and we were forced to flee both elephant and guard before resuming our assault.
There are multiple ways in which you can attack the enemy, but all of them have to be used sparingly for the best results. In Far Cry 4, remaining stationary is a bad idea. You have to keep moving, especially when more enemy reserves arrive from below and above. Guards arrive in vans and flatbeds, all heavily armed. They arrive screaming artillery fire from attack choppers. Take to the roofs and you're vulnerable from all angles; stay in a building and you risk being surrounded; stick to alleys and you're just hemming yourself in.
Weapons help, and from the three play modes, the heavier option (minus the elephant) were most effective. The heavy machinegun can mow down enemies with ease. Your grenades are good at destroying vehicles and smoking out people, while the throwing knives are there to be cool projectiles more than anything else. With the help of the heavy artillery, liberating the fortress, while challenging, came easier in this mode than any other.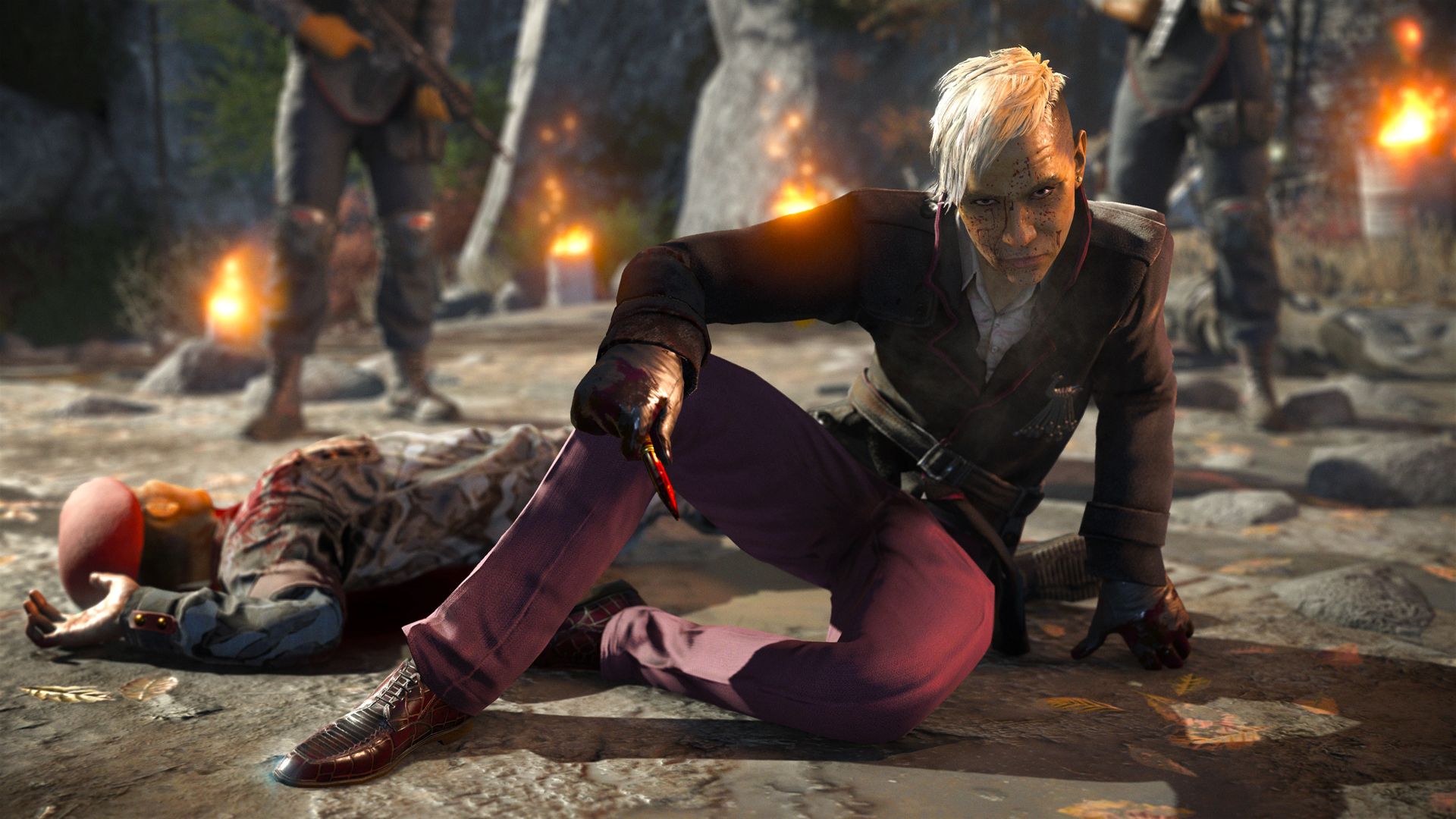 But, as we said, there were other methods of liberation. An aerial approach was perhaps the most difficult. At the start of the stage, you can hop into a gyrocopter and soar above the fortress throwing down justice like an angry god. This leaves you the most vulnerable as everyone can see you floating up there. When the copter takes too much damage, it's best to hop out and use your wingsuit to glide down, then unfurl your parachute to land in the centre of a street and continue your rampage. However, this form of play attracts the guards and ultimately leaves you swamped, so is to be used with caution. But despite the brash form of play, what ultimately led to our demise was the unassuming yet vicious badger-like enemy and, after being riddled with bullets, we took refuge in alley, which is where the rodent struck, killing us.
The third and final method is the more subtle sneak approach. Armed with a sniper rifle you can scale the walls and pick off enemies from cover if you wish, or you can sneak around and stealth kill them if you're feeling somewhat more adventurous. This method is the slower, more methodical way to play the game, but is certainly a valid style that can backfire in an instant.
Taking into account all of these styles, Far Cry 4's combat, like any good game, is what you make of it, relying on skill and the ability to adapt to different situations. When taking on the fortress, we were fans of the more violent approach that harks back to more old-school, brute force games. There is, however, no doubt that the new game, from a combat standpoint, at least, will offer an exciting and visceral experience.
Far Cry 4 will be out November 18, 2014, for PS3, PS4, Xbox 360, Xbox One, and PC, so you'll have no reason to refuse your mother's dying wish and jump on the first plane to Kyrat. Happy trails.
Comments
blog comments powered by Disqus