Call of Duty: Advanced Warfare Preview - E3 2014
A first look at the campaign in the upcoming futuristic shooter
The Call of Duty franchise has set many sales records over the past few years, but there's no denying that the growth has slowed. To help inject new life into the ever-popular shooter, publisher Activision has enlisted Sledgehammer Games to create their first full title, Call of Duty: Advanced Warfare. This team was formed in 2009 and has previously assisted with Call of Duty: Modern Warfare 3. This is their chance to help push the franchise forward, and be the first team to enjoy the new three year development cycle. We got to chance to see two single player levels at E3.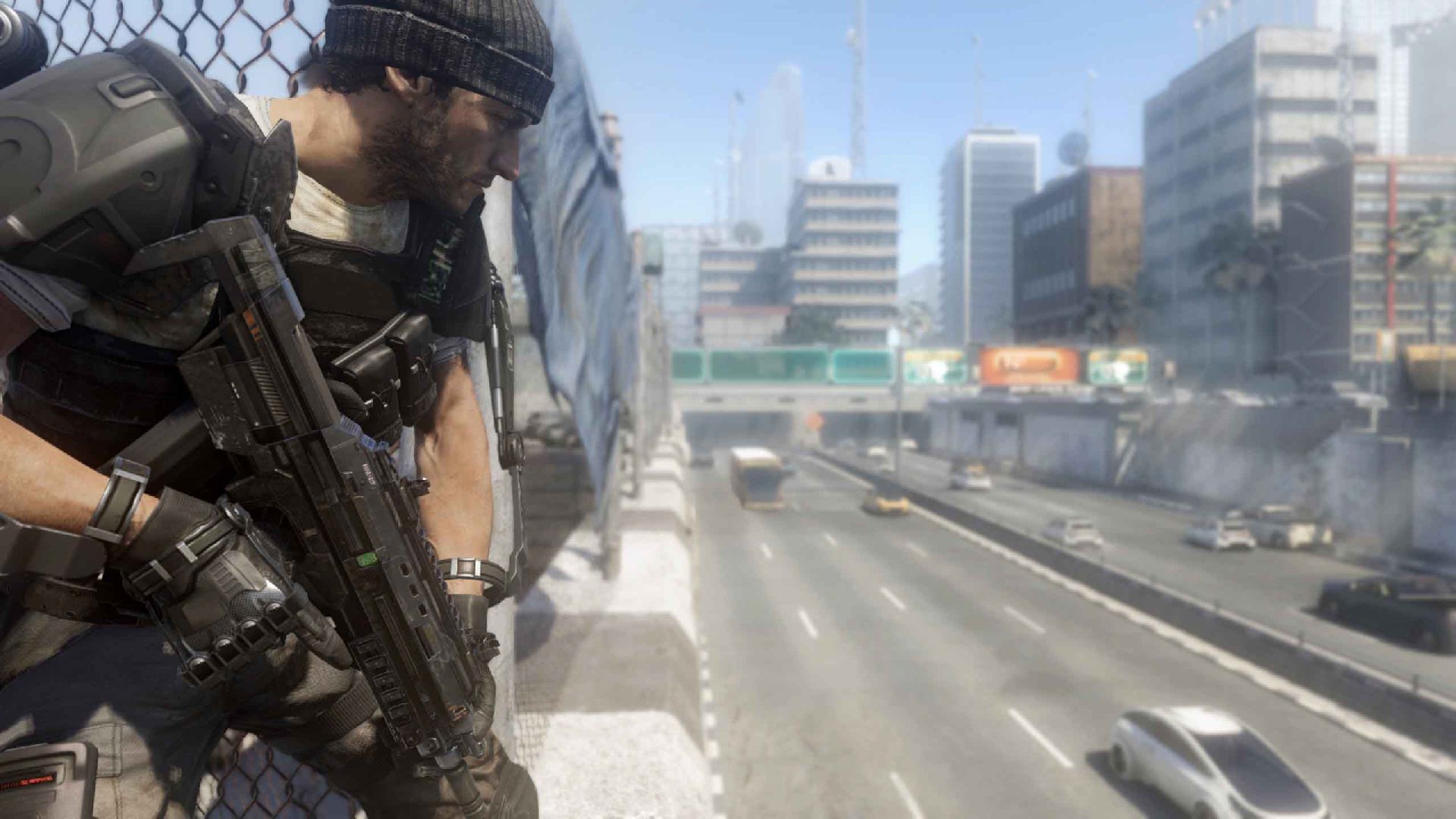 The game is set in the future, year 2054 to exact. A private military corporation (PMC) has emerged, led by Academy Award Winning Actor Kevin Spacey, trying to supposedly rescue humanity after a global attack on its military and infrastructure. You play as a soldier working to secure peace; at your disposal is some high tech gadgetry to take out the bad guys. The main source of power would be your exoskeleton suit, letting you jump higher, run faster, cloak, and so forth. An arsenal of futuristic weaponry is also available, from laser rifles to adjustable grenades. Details on the rest of the plot are scarce, but we're hoping that perhaps after so many lackluster attempts, we can find a quality narrative in a Call of Duty game.
First level that we saw was titled Collapse, and we began by chasing a suspicious van down the freeway in California. We ram into other vehicles, our own car takes big damage, until eventually we lose control and flip. Turns out we made it to the Golden Gate Bridge, where a traffic jam has stopped our enemies from progressing as well. They would not go down without a fight however, so our team quickly sets up a mobile defense wall, and we toss a few grenades towards the enemy force, having manually selected them to be explosive type. We use a grenade launcher as well, just to make things more interesting. Using a car door as a shield, we inch closer to the front line, taking fire. When an opportunity presents itself, we double-jump onto a nearby stack of cars in order to flank the attackers. The whole sequence felt like trademark Call of Duty shootout, but with a bit of Crysis added on. A time slowing ability also kicks in, giving us more time to shoot with precision.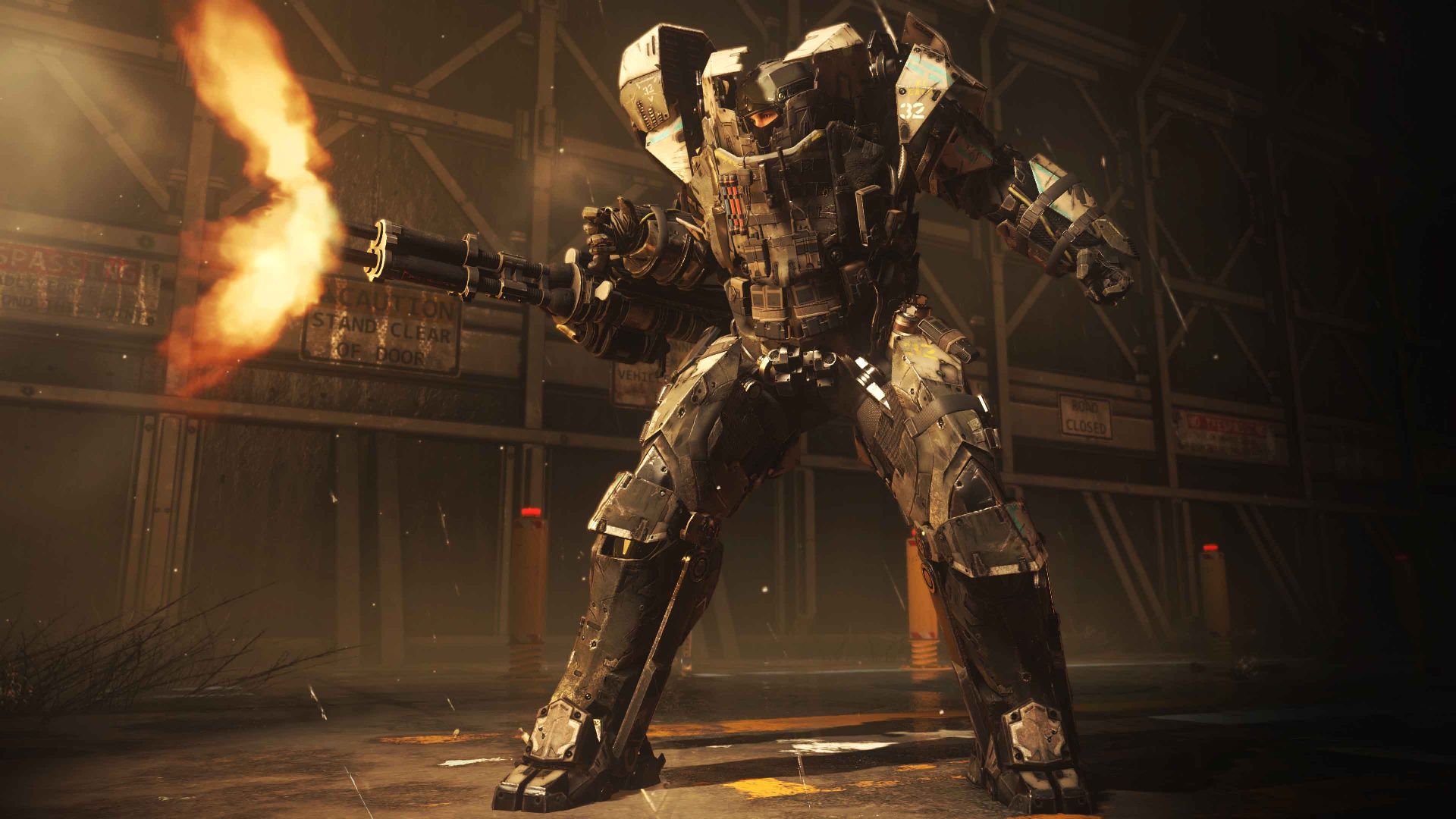 As we finally reach the van, we open it to find multiple drones inside. After a short cutscene sequence, there is a huge explosion at the whole bridge begins to collapse, as we scramble to safety yet watch the devastation unfold around us. The level ends here, having made it to solid ground.
The second level, taking place in Bulgaria, starts off on the opposite note. We are being chased through the woods with a squadmate, our exoskeletons apparently incapacitated earlier, as a helicopter above fires shots with a large caliber rifle. After crossing a river and running deeper into the forest, our cloaking ability suddenly returns, letting us hide in plain sight and successfully escape the pursuit. Also similarly to Crysis, the cloaking ability has an energy level that must be recharge, so we occasionally stop in a safe spot to de-cloak, and re-cloak moments later. It's night time, so we can easily sneak by patrols with the help of the cloak, but must remain wary of drones and other special scanning devices. In any case, we strictly follow the AI character and follow his directions, so there's never a feeling of real danger.
Eventually we meet a few more members of our squad, and rappel down a cliff. Below, there is a bio lab that's the target of our infiltration. We stealthily make our way through, performing the occasional team takedown on player's command. Having found the data we need, it's uploaded back to HQ and we destroy the equipment, subsequently setting off alarms. Enemies now swarm the halls, and we shoot our way out, in much the same way as any other Call of Duty sequence. During this firefight a few of the custom grenade abilities are shown off (that players can swap at any time), such as an auto targeting grenade, and a threat grenade that highlights all enemies in the area.
We reach a garage, where a prototype hover-tank awaits. We pilot the huge war machine out of the lab and through the woods, shooting the soldiers, trucks, helicopters, and other tanks that get in our way. Eventually, we reach extraction, where a friendly chopper picks us up, and we blow up the prototype tank as to not leave it for the enemy. It is here that the second level demo concluded.
Call of Duty: Advanced Warfare may just be carrying the weight of the franchise on its shoulders, and hopefully with the help of an exoskeleton suit, it can pull it off. We did not see anything groundbreaking or even new from Advanced Warfare's gameplay demo, but if you enjoy the bombastic and globe-trotting campaigns of this franchise, it looks to us like you won't be disappointed when Call of Duty: Advanced Warfare releases this November.
Comments
blog comments powered by Disqus