LittleBigPlanet 3 Preview - E3 2014
Platforming fun
One of the surprises coming out of Sony's press conference last Monday was the announcement that the next numerical installment in the LittleBigPlanet series would be released this November on the PlayStation 4. On top of the brand new game, Sony announced all the user-created levels from LittleBigPlanet 2 would be transferred to the PlayStation 4 sequel, with improved graphics. Also, Sackboy would not find himself alone on this adventure. During the announcement, the characters of OddSock, Toggle, and Swoop were revealed and added to the game to make the co-operative experience more diverse.
During my time with LittleBigPlanet 3 I got to play with Toggle, one of these new characters. Each of these new characters have special abilities needed to complete the platforming puzzles the franchise is famous for. Swoop is a bird which can fly and pick things up with its talons while OddSock can wall jump, allowing him to get to hard-to-reach places. Toggle can switch between a heavy, lumbering oaf and a small, nimble miniature version of himself. All of these new characters are fully customizable, just like Sackboy himself.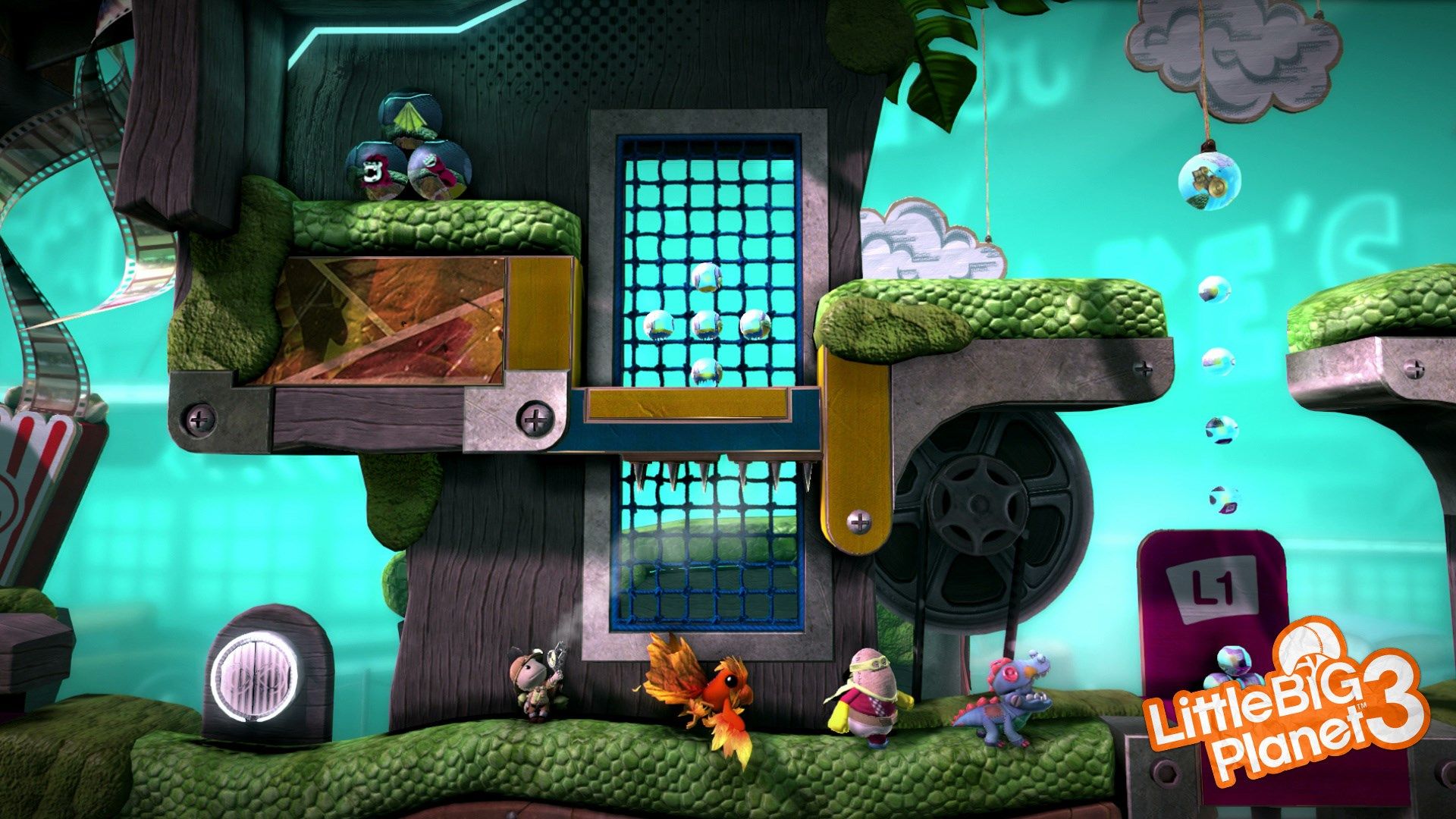 LittleBigPlanet 3 is the first time a numbered iteration of the game is not handled by franchise creator, Media Molecule. Instead, the franchise finds itself in the hands of Sumo Digital, a studio that usually handles cross platform ports, but one which seems to have ambitiously taken to the project given the added characters and work required to port levels from the second LittleBigPlanet into this one.
LittleBigPlanet has always been known for its puppet-theater aesthetic and LittleBigPlanet 3 is no exception. The whole experience is still delivered in the whimsical way, which each level looking like it spilled right out of child's imagination. The first puzzle I had with Toggle was a series of cardboard elevators I controlled by using Toggle's heavier self. This lowers the elevators; then I used Toggle's smaller self to sneak into small cracks and tunnels.
Next, I had to use big Toggle to drop an elevator, then switch to small Toggle. The change in weight caused the elevator to rocket upward, catapulting me to a high-up ledge. These physics-based puzzles were the bread and butter of my experience with Toggle.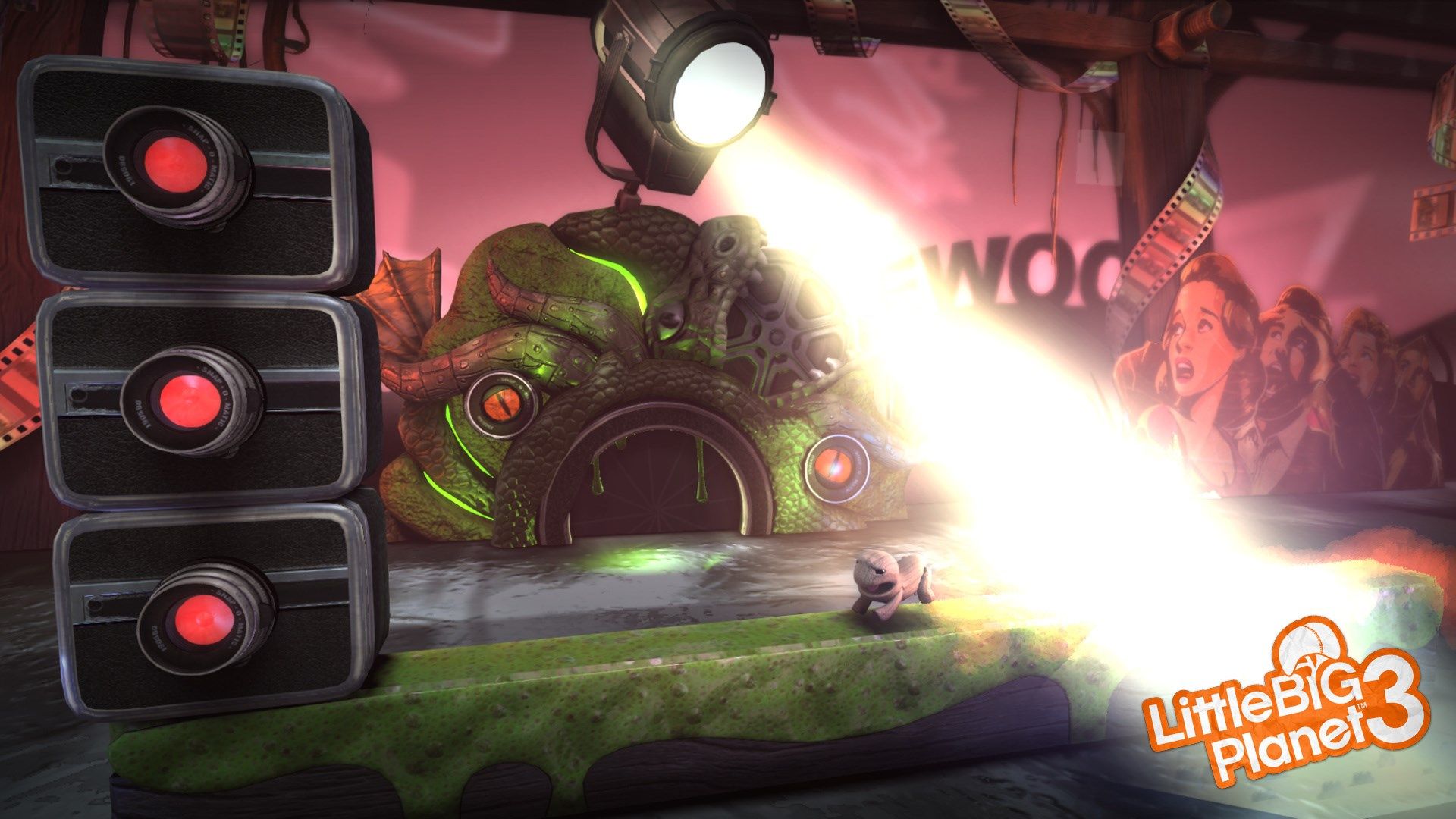 Toggle plays as two different characters as he switches size. Big Toggle can't jump very far and is quite the slow lummox. Meanwhile, small Toggle can jump further, jump higher, and run faster. The switch in mechanics allows Sumo to find other ways to play with Toggle's differences. Instead of simply having you weigh down objects or do his catapult trick, there are times when you will have to switch in order to take advantage of small Toggle's speed or improved jumping. After weighing down a switch, a boulder was dropped and began rolling toward me. I couldn't outrun the boulder as big Toggle, but switching to little Toggle gave me the speed I needed. This is only one example of having to switch your size on the fly, using Toggle's larger weight to cause something to sink or activate, then switching to his smaller self to make a mad dash.
After hopping my way through a series of levers and pulleys, I came across a new way Sumo has found to play with Toggle's size. I jumped into a tank of water and switched to big Toggle to sink to the bottom, gathering collectibles and looking to another way through. Sure enough, I had to switch to little Toggle and sneak through a small tunnel. Next I was forced to sink as big Toggle then switch to little Toggle, which caused me to rocket through the water and catapult over a barrier.
I continued my way through, bouncing between the background and foreground. The platforming of LittleBigPlanet 3 feels more precise than its PlayStation 3 predecessor. Whereas the previous game had issues with weightlessness, making it hard to stick a difficult landing, LittleBigPlanet 3 feels a much sharper and finely tuned experience.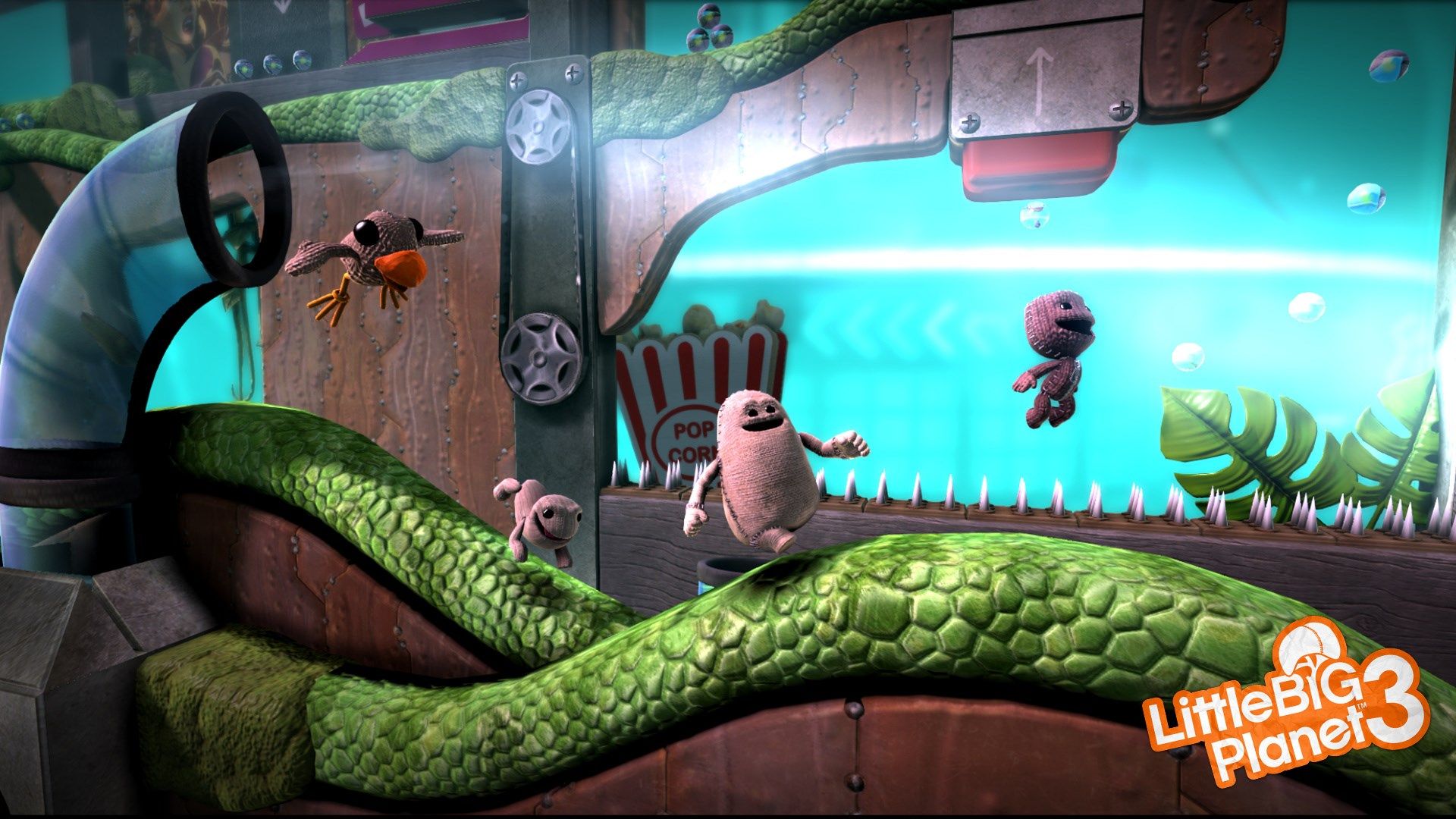 My last series of puzzles was a see-saw, which I manipulated with the larger version of Toggle, then used smaller Toggle's improved jump to leap to the nearest platform. Whereas the small version of the Toggle can bounce higher and interact with the environment in more ways, large Toggle's weight prevents him from getting the extra bounce required for certain areas.
Toggle is just one of the many ways Sumo Digital is looking to change up the LittleBigPlanet formula. Having these new characters makes for more ways to interact with the levels and introduces more varied roles for each player. For players eager to create and explore the world of LittleBigPlanet 3, the game will be released in November 2014 on the PlayStation 4.
Comments
blog comments powered by Disqus