Battlefield Hardline Preview - E3 2014
We shoot up a downtown to stop a robbery in progress
The Battlefield franchise has long established itself as the premiere shooter of choice for many fans. While it may not lead in global sales every year, the developers at DICE continue to great games that both engage and amaze players. Not all are hits, and the latest entry Battlefield 4 from last Fall certainly had its fair share of criticism. However, the series is about to head into a new direction with the help of Visceral Games.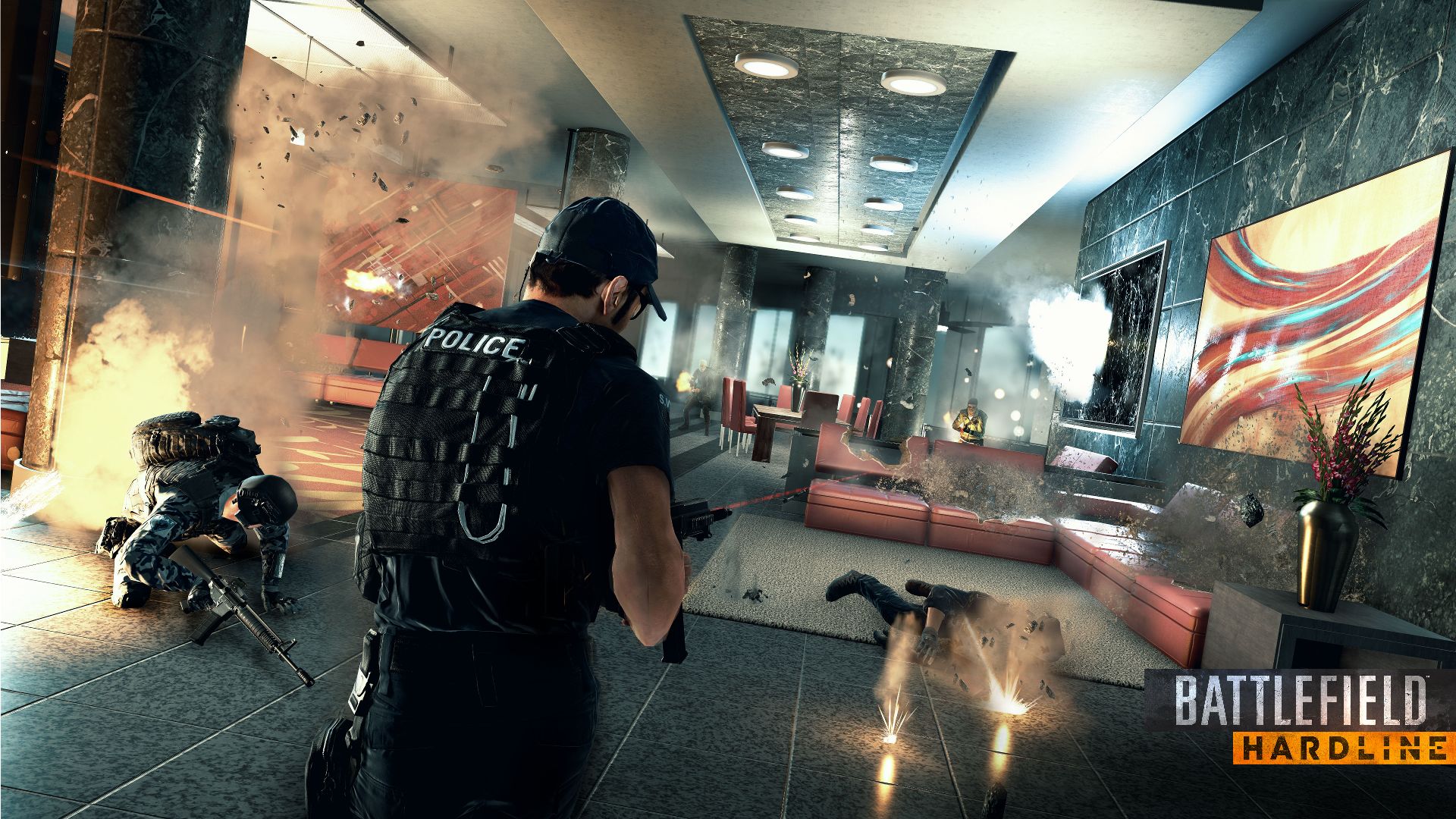 The creators of the Dead Space franchise are coming off from their somewhat disappointing third game, to take on the development of Battlefield Hardline. Revealed at E3 this week, Hardline looks to create a spinoff from the usual big-scale destruction for something a bit more tactical but just as deadly. We didn't get a chance to check out the story details of this shooter, but we've been told that the developers are taking their time to craft a worthwhile story. Set during the modern day, Hardline focuses on a war between cops and criminals. There is a certain noir style to the proceedings, yet with a decisively modern and violent edge. The developers say they are hoping to create a single player experience that will be not only worth playing, but considered to be a worthwhile part of a Battlefield game.
We did have a chance to spend 30 minutes playing a couple of multiplayer matches in Hardline on the PlayStation 4. The mode was Heist, and the map was High Stakes. As cops, our goal was to prevent the criminals from robbing an armored convoy. As the match began, action was already underway – the convoy on its side on the highway, and criminals spawning and placing explosives to blow open the doors and grab the cash. My team jumped into vehicles at the police station and took off to the location of the incident.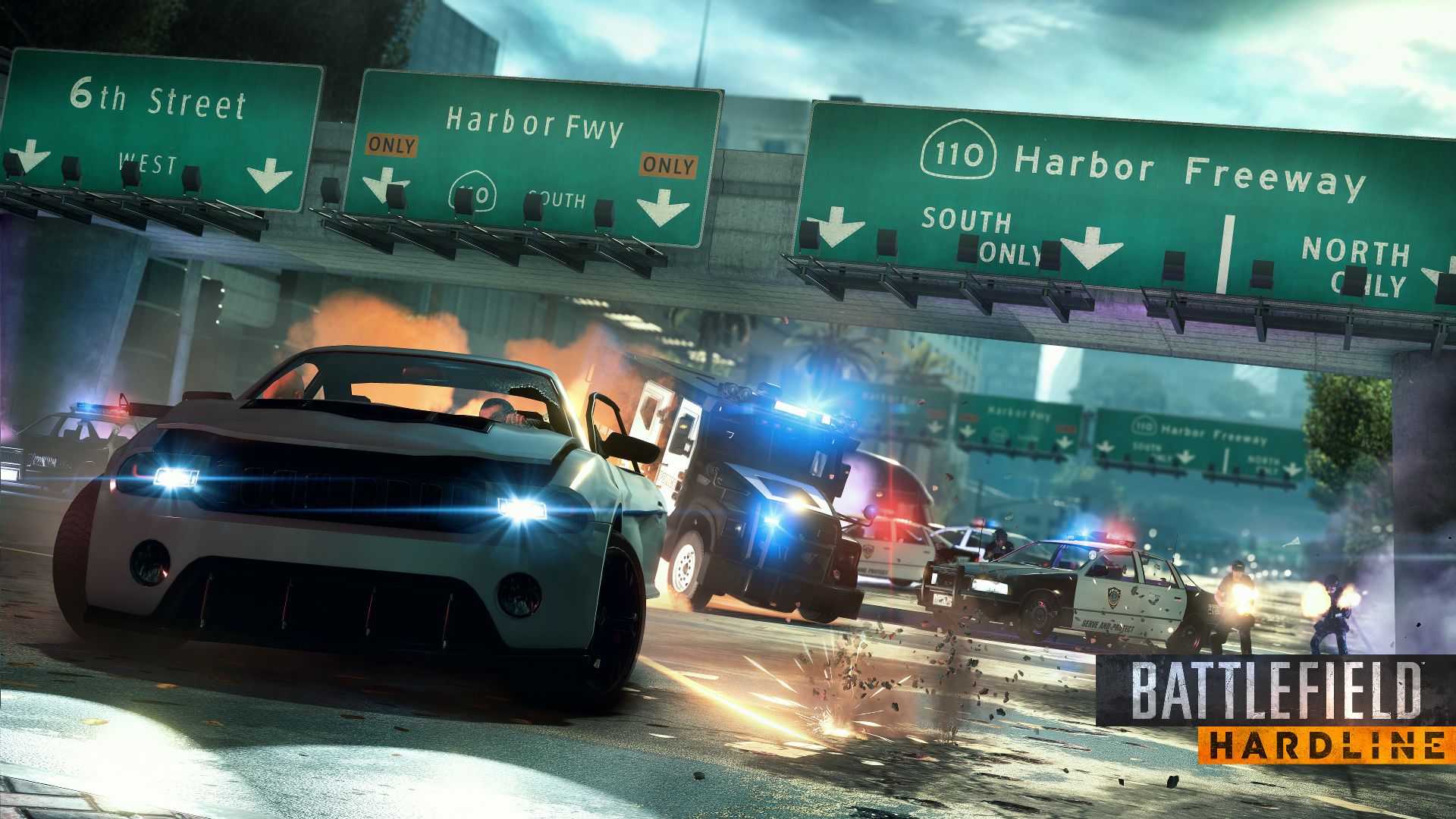 Players will be immediately familiar with the interface and class selection. There are four classes to choose from, each offering a slightly varied take on the Battlefield 4 utility roles, and packing appropriate weaponry. A range of military grade hardware is available to choose from, though there wasn't much time to delve into specifics of our arsenal as the action was heating up and time was short. The criminals had already taken some cash with them and were on the run to their escape vehicle.
At this point, the game played out a bit like capture the flag mode, whereas the criminals were attempting to carry their goods across the map, while my team of police officers were in hot pursuit. Both sides were weapons free, so it did not take long for the first casualties to fall. But much like expected, you only wait a few moments before getting a variety of locations to respawn at. Herein lied the biggest concern with our Hardline experience – the game did not seem to care if enemies were nearby, and let us spawn at any of the pre-determined map locations. Because of the mobile objective, that often meant we could spawn in the mobile armored car, for example, then step outside and unload rounds into the back of unsuspecting crooks that are just walking by the truck.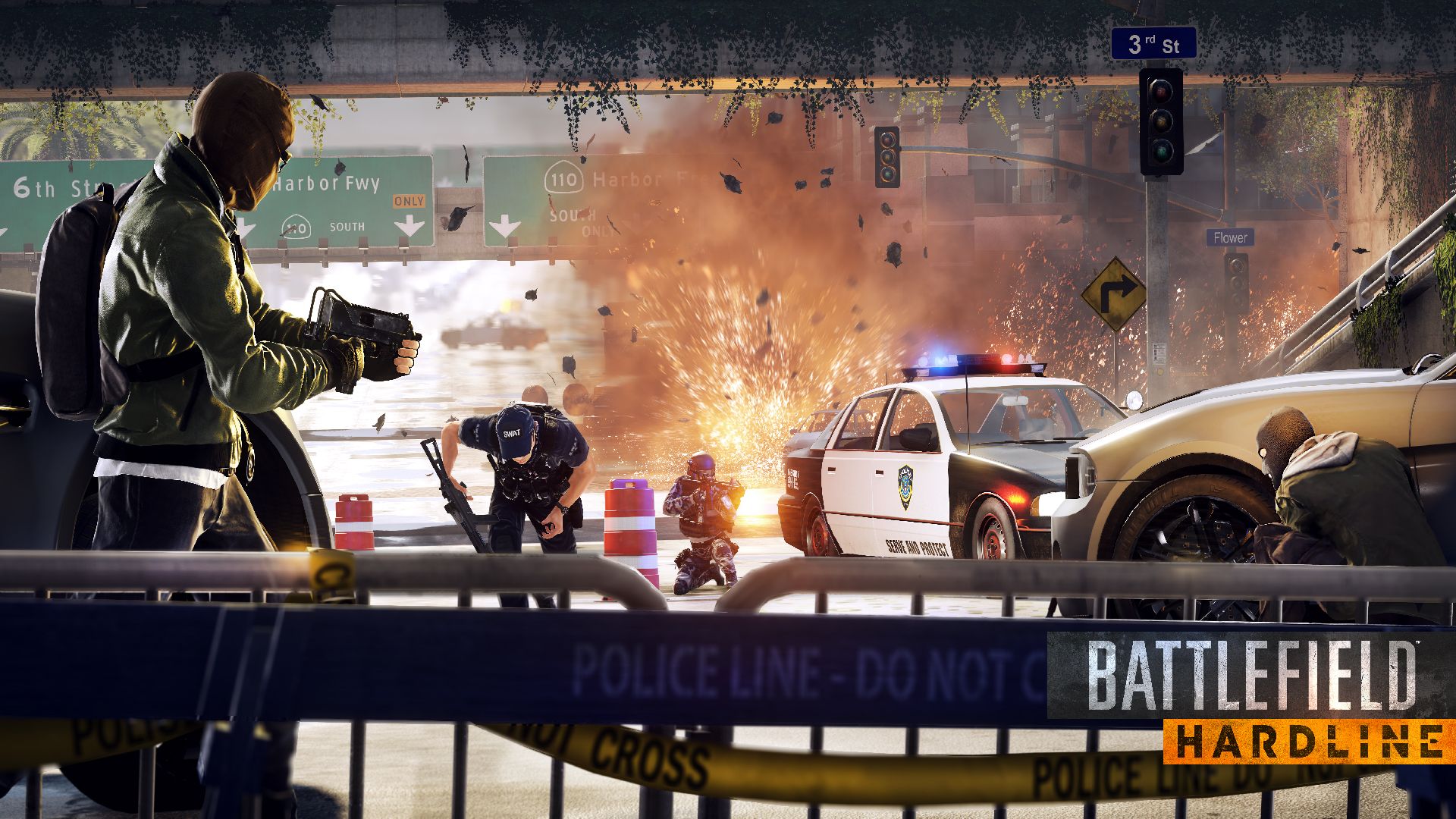 It was probably fairly annoying for the opposition – but we've also experienced a similar fate, watching enemies spawn rather close to the action, pretty much out of thin air. Hopefully, this is something that will be addressed before final release. But perhaps this is the dynamic nature of the Heist mode – carrying an objective across downtown streets was a run and gun affair, with both teams utilizing widely available cars whenever possible. We'd also occasionally use a support helicopter with mounted machine guns. It was a great help (it's amazing that someone at a random E3 demo actually knew how to fly properly), but to keep the game balanced we could not take very much damage. The map itself was fairly sizable and certainly plenty of opportunity for flanking, however during our matches most players chose to stick near the objective, leaving the rest of the level eerily empty and quiet. There also wasn't much Levolution to experience on a grand scale, though plenty of debris and concrete barriers were destroyed. But perhaps that is the goal – to produce a heated contest between two teams that doesn't necessarily involve tanks or airplanes, but rather more personal engagements. To that end, the weapons felt heavier and the sprinting slower, adding to the somewhat more tactical speed of the game.
From our somewhat limited time with multiplayer, Hardline looks to be an interesting spinoff from the main franchise. We've not yet seen much about the story, but given the developer's track record, it will hopefully be worthwhile. The online action has a slightly different feel from the usual Battlefield outings, though if that will be enough to draw players in after Battlefield 4 releasing just last year, remains to be seen. It's a polished and familiar shooter, one that will likely deliver on its promises, but time will tell if fans will find this slightly altered take on the multiplayer formula to be worth the asking price. If you want to find out for yourself, there is currently a closed Beta running on PC and PS4. The full game is set for an October release on PC, Xbox One, Xbox 360, PS4, and PS3.
Comments
blog comments powered by Disqus