The Incredible Adventures of Van Helsing 2 Review
Slays problems from the original, but is still in the hunt for perfection.
The Incredible Adventures of Van Helsing was a pleasant surprise when it released last year. Here was a third person action RPG that included proficient combat in a refreshing world with an amusing ghost sidekick. It revelled in Victorian-era Steampunk design and showcased attractive locales packed with imaginative creatures. Like Diablo or Torchlight, you battled through hordes of monsters and collected loot to further improve your character. While it suffered from needless padding and bug-riddled multiplayer, it survived with more positives than negatives. The sequel, released after only a year, addresses some issues of the original, but falls short of exploiting its strengths.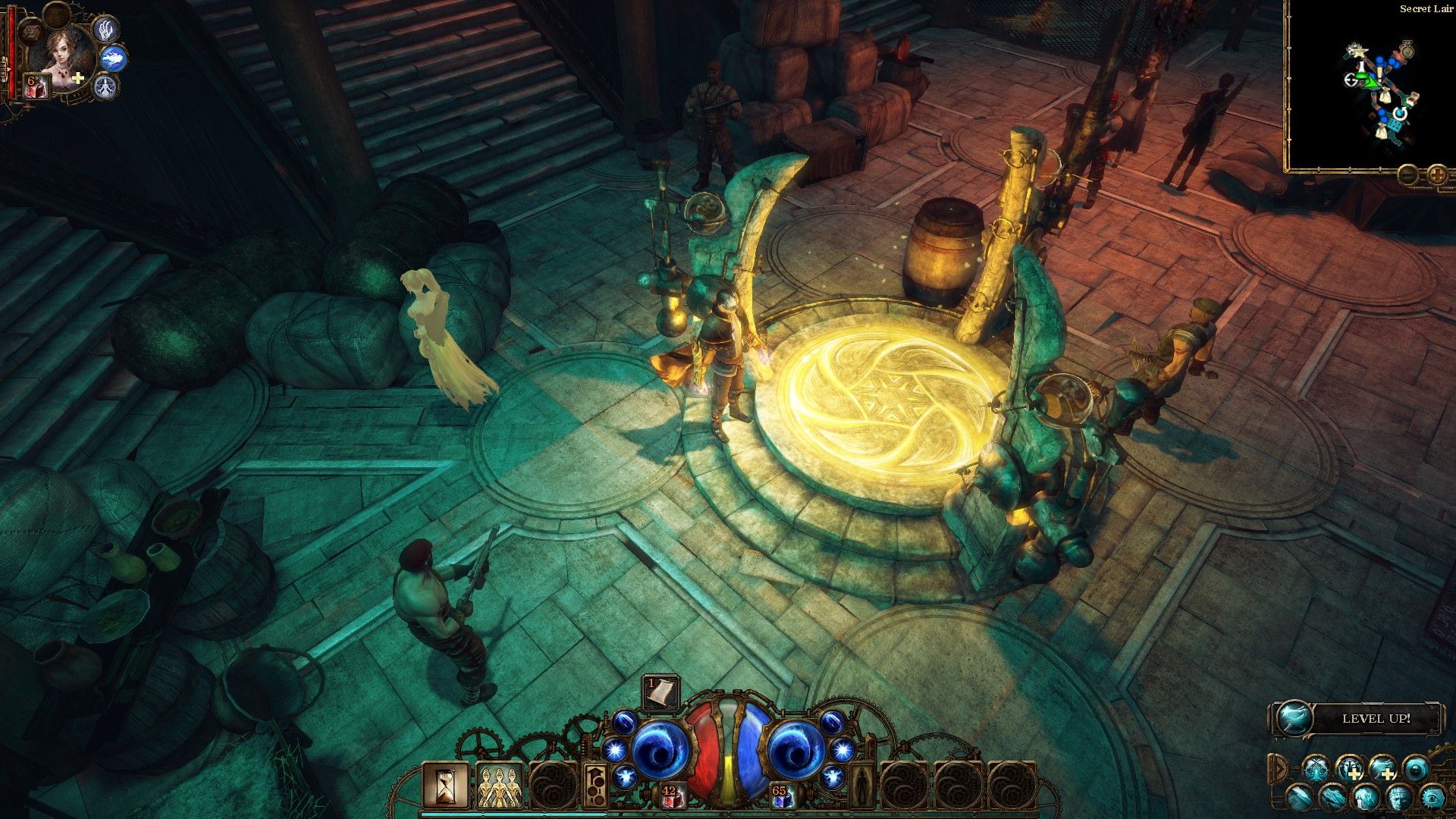 Van Helsing and Katarina return to the Secret Lair, now not so secret
Van Helsing and his ghostly companion, Lady Katarina, defeated Professor Fulmigati at the end of the first game. Unfortunately this monster hunter and his translucent cohort face a new threat in the form of General Harker. The General has returned to Borgova to assume control of battalions of mechanical abominations. He believes Van Helsing and the resistance fighters are a threat to the troubled city, despite gallantly killing the evil Professor. So Van Helsing takes refuge in his Secret Lair, now home to civilians fleeing the chaos above, and it is here he will plan the elimination of Harker with new allies.
Lady Katarina returns as your ethereal sidekick and acts as an indirect narrator and comic relief. She provides her best material in the first half of the game which keeps the mood light. Katarina challenges your decisions, when shallow choices arise, and makes fun of you as a one-man army destined for trouble. She dislikes your new ally, Prisoner Seven, who is hell-bent on revenge after being Fulmigati's unwilling test subject. On the practical side, Katarina helps you collect equipment and harbours a range of skills that directly impact combat. Katarina behaves much like she did in the original and this is a strength despite her minimal change.
The core isometric action remains the same as its predecessor, with the biggest change being the addition of two new playable classes. Players bored of the Hunter class can choose either the Thaumaturge or the Arcane Mechanic. The Arcane Mechanic can deploy turrets and lob explosives. The Thaumaturge conjures some astonishing spells, including a firewall you draw on the ground or an energy beam that decimates the nearest enemy. Since both new classes do away with the iconic pistol, sword and hat of the Hunter class, the charm of being a specific character fades. The upside is that there are broad customisations options, with capes or helmets, and wonderful designs when you reach higher levels. Aesthetics aside, these classes bring energy to the sequel as you choose from a wide gamut of new skills.
The sequel continues to offer impressive world visuals of the first game with panoramic landscapes and unique monsters. It often showcases vistas of monster groups as you overlook forthcoming areas. The supernatural ink-world influences design and one stunning area is the Secret Laboratory, a colorful floating ink-world that resembles the Arcane Sanctuary in Diablo 2. The Steampunk design has been exploited further with a sublime rainy-night mission on the streets of Borgova. You will also venture around the frozen trees of Thunderhead Mountain and delve into bat-infested caves. Considering the splendour of natural landscapes in the original, they are underrepresented here. At least the frozen tundra grass catches fire and reacts when hit with fire spells.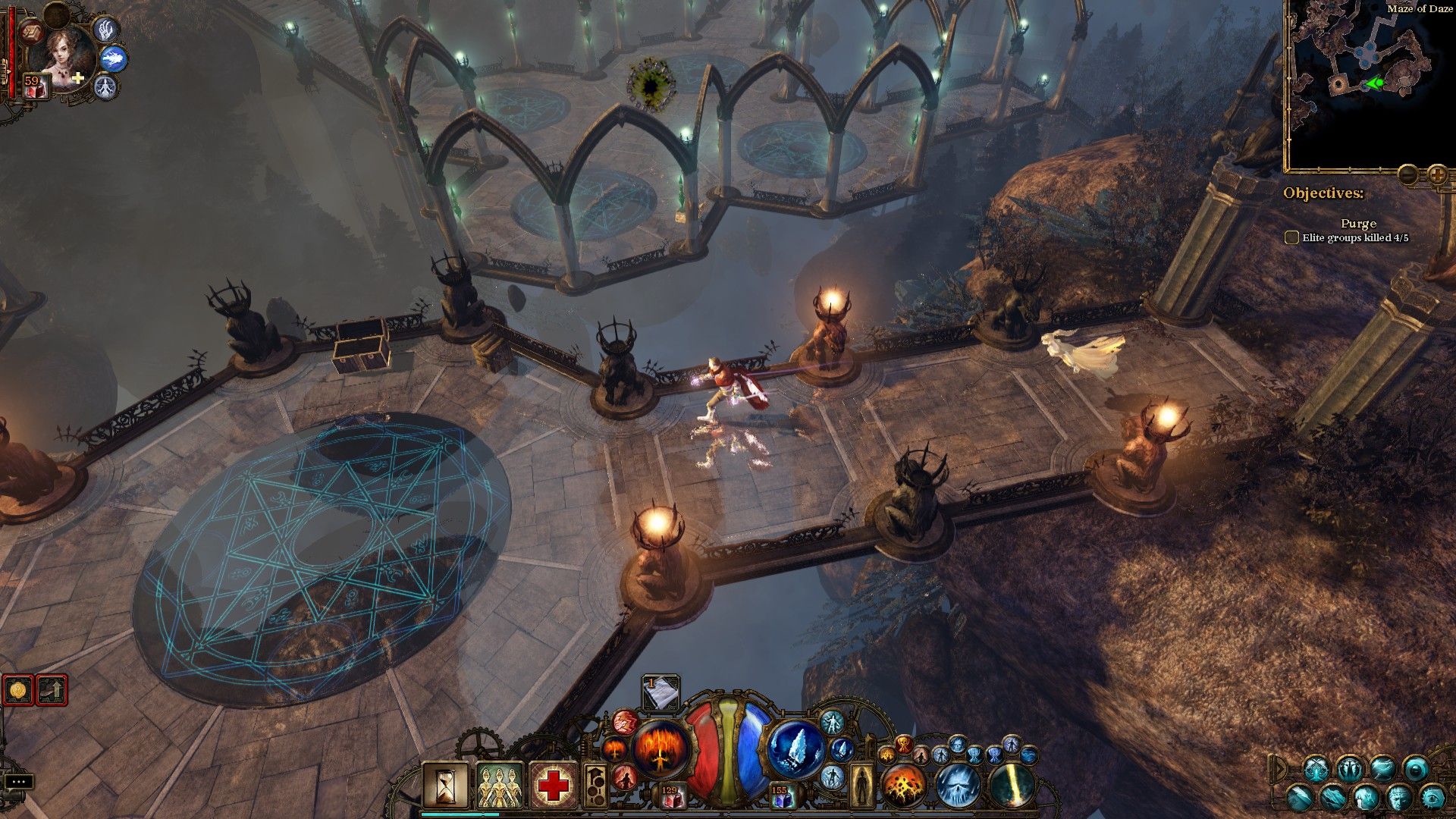 The Secret Laboratory invokes strong memories of the Arcane Sanctuary
The pacing in the sequel has been refined largely due to level design and monster placement. A healthy range of monsters means you will not see endless waves of annoying electric werewolves from the first game. Only the Viaduct Junction and Foundry areas prove repetitive, even when skipping their optional objectives, because battles take considerable time and enemies respawn. Most enemy groups are spread across other levels providing pleasant forward progression and hectic hotspots. The battles can get huge and the framerate usually holds strong when rendering dozens of monsters and numerous effects. The exception being the awesome spike-wave glitch, that sends thousands (if not millions) of deadly spikes towards you.
Minor camera issues do return, albeit with slight improvement to navigation. Foreground objects, as beautiful as they are, are not so nice when they block Van Helsing or the monsters attacking him. Although the camera angle changes when you revisit one area, you cannot manually rotate the view to minimize obstructions. Without huge foreground objects, enemies appearing from the top or sides of the screen are much easier to deal with because of the large skill/health bar. At least player and monster navigation is better, especially when dealing with stairs.
Monster navigation is not a problem during the impressive tower defense missions that feature prominently in this sequel. You will be called back to the Secret Lair at set points throughout the campaign to defend it from story-related incursions. You can avoid these tower defense missions by delegating them to a group of resistance fighters but they are too fun to pass on.
Initially the tower defense arenas are small with narrow paths and few towers. They reintroduce the basics and coax you into using the well-placed portals to move between wave paths. As the story progresses, the arenas become complex with additional monster portals and open spaces. You need to plan ahead as future monster waves will enter from portals that do not share the same paths you have been defending. Preparing for waves could not be better because all traps and towers can be set in the 3D world by hovering your mouse over the appropriate spot. Like the original, you are restricted from setting up defenses anywhere, so you'll need to find the optimal positions and cover areas with their placement in mind.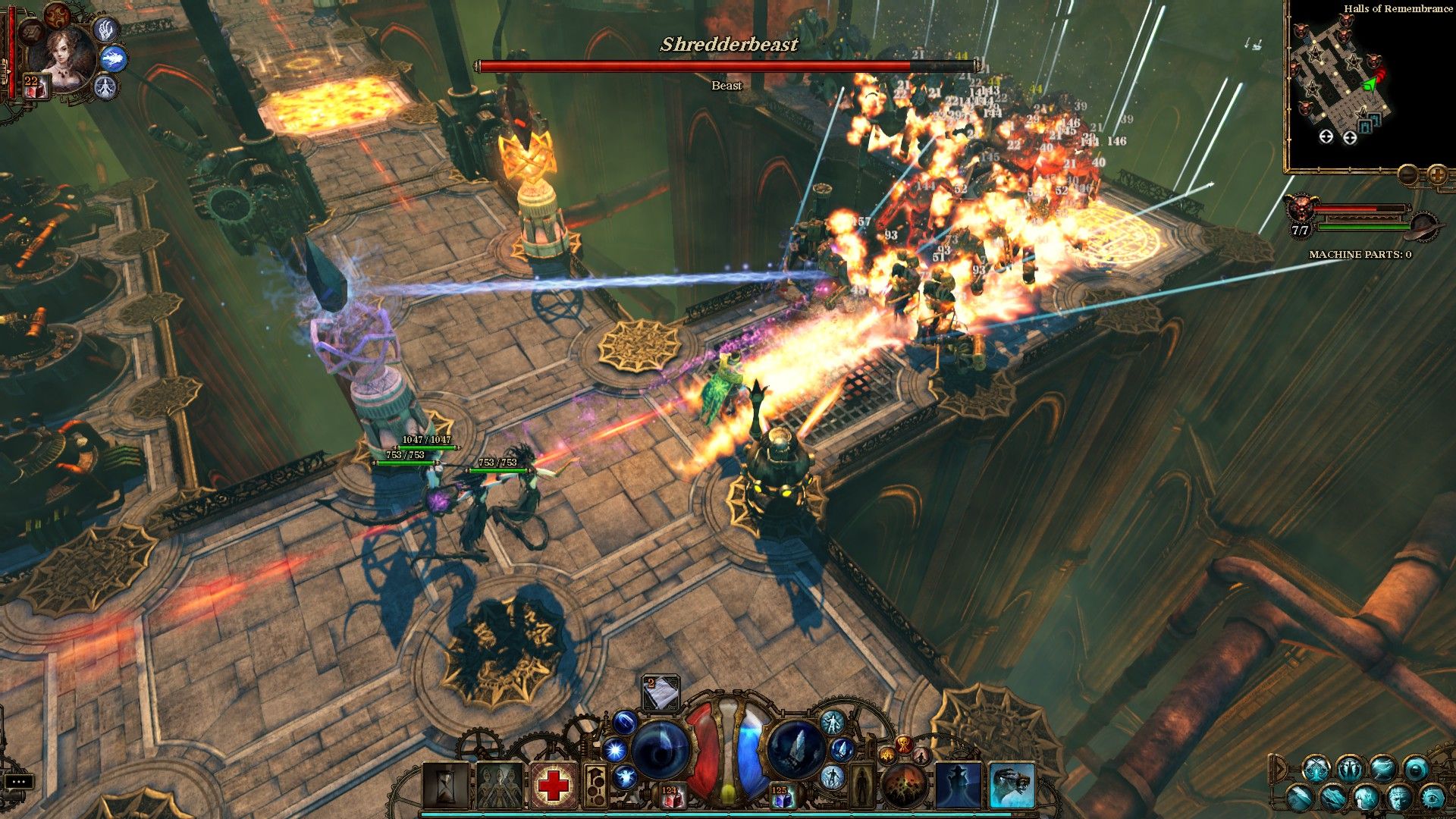 The Tower Defense missions are much improved
These great tower defense missions compress the action nicely and offer good challenge as you switch between enemy waves or upgrade defensive structures. Some skills, like the firewall, suit the linear paths so well that you can fully appreciate their design. There are around 10 tower defense missions, with 4-7 waves each, but they can only be replayed if you start the game anew. Tower defense is an excellent complimentary feature that shows notable improvements over its predecessor.
Comments
blog comments powered by Disqus