Worms Battlegrounds Review
The worms are back, and they are just like you remember
The Worms franchise is perhaps one of the most known and longest running in gaming. Perhaps not a household name like Super Mario, but you'd be hard pressed to find anyone who at least doesn't know the basic concepts of Worms. Surprisingly, the series has remained in the hands of the same developers at Team 17 since its inception in 1995. Almost 20 years later, and the studio continues to create new Worm games at a steady pace. Worms Battlegrounds arrives this week on Xbox One, marking yet another generation of hardware that will play host to the violent, small creature warfare.
Although the series has always been focused on multiplayer, the developers keep attempting to boost the value of their releases by including some single player excursions. The campaign in Battlegrounds works as a tutorial of sorts, guiding players through about 25 missions, gradually introducing gameplay concepts and ramping up difficulty. Plot focuses on your pursuit of an evil Mesmer, who has stolen the Stone Carrot, inside a museum. The Mesmer has brought various exhibits to life, and it's your and Tara Pinkerton's goal to defeat enemy worms at every stage.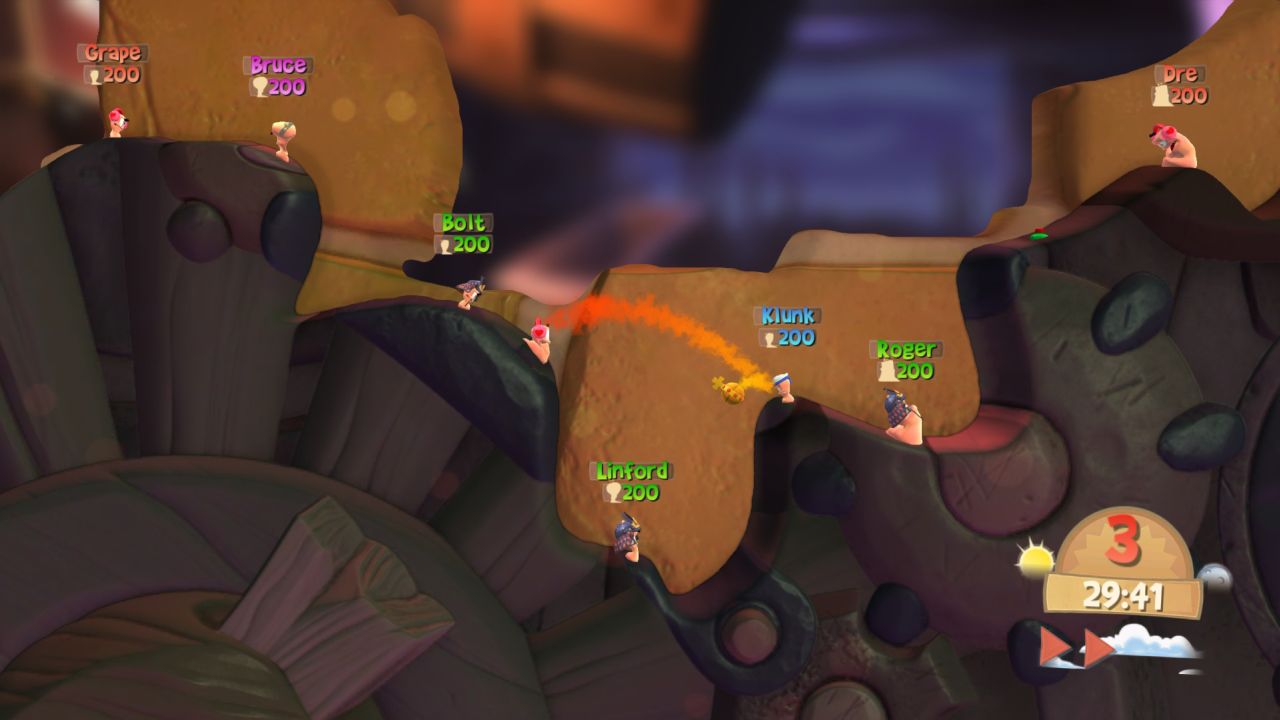 Your companion Tara sticks to dry British humor and presents herself as a Lara Croft type of character. It's all very tongue in cheek, but solid voice acting helps to move things along. The museum setting also allows for the new thematic worm customization items and 5 different environments to be showcased, from Vikings to Feudal Japan to Industrial Revolution. There's a decent range of scenery, and if you're the type of player who enjoys customizing their little warriors, there are over 200 items at your disposal.
When it comes to gameplay, the Worms formula remains unchanged. You still command individually named troops on a destructible, randomized battlefield likely surrounded by water. As a turn-based strategy game, your crew's goal is to eliminate the opposing teams by any means necessary – explosions, poison, drowning, fire bombings, and everything in between. A deadly and whacky arsenal at your disposal includes all the series staples, plus a few additions. There are about 10 new weapons, bringing the total to a franchise-high 60+. The Winged Monkey flies into the game, carrying objects of your choosing and providing another avenue for an aerial assault. The Equalizer is a head-mounted contraption that combines the player's health with that of a chosen enemy, and then divides it between the two worms.Others include Mega Mortar, Gravedigger, Worm Charm, Bovine Blitz, Whoopsie Cushion and more.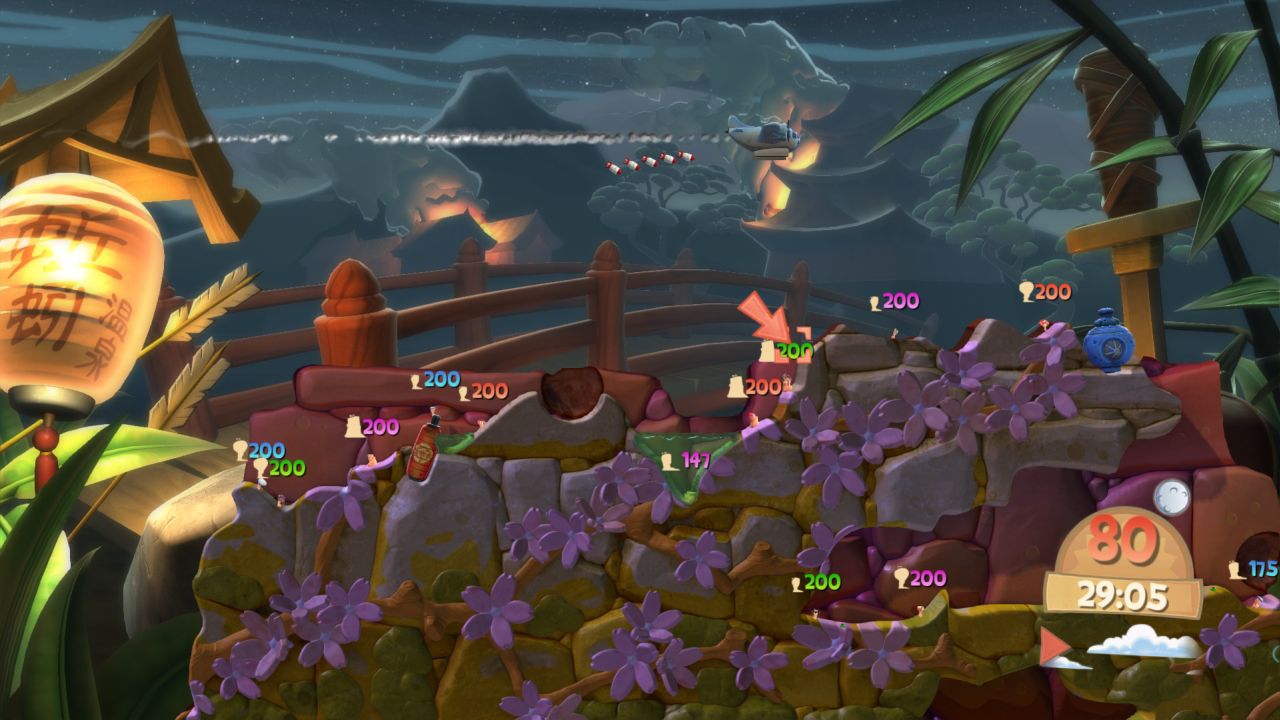 Team17 has introduced water mechanics, magnets and game-changing weapons that hope to change up the dynamics of the gameplay and introduce new intricacies for players to be aware of. Your worms have classes now - Heavy, Soldier, Scientist, or Scout. Each class has a different special feature, such as faster movement, more health, or ability to heal nearby worms. But the moment to moment gameplay remains unchanged – you are still limited by time to make your move, and the worms handle awkwardly and slow, getting stuck in random bits of the environment. So having more weapons and worm classes doesn't matter when you must make crucial decisions in seconds and must execute them quickly. If you've played Worms before, nothing here alters the dynamics of the game in any significant way.
After fighting through the campaign, players can take a moment with yet another diversion in the form of Worm-Ops. These bite-sized, time-attack based missions hope to entertain players for a little while longer before you get into the main experience of multiplayer. There are the standard deathmatch and player match modes for the classic competitive experience, either online or in up to four player local coop. One new addition is the Fort mode, where teams battle in an area with water in the middle, and two custom forts on each side. It's a simple but effective addition to diversify your multiplayer options.
Players create their team's Fort using the game's map editor tool, which is more versatile than before. You can still generate random arenas of course, or go in and tweak the details. The fact that you have a team and a fort plays into the Clan system. After creating a team, players can fight alongside friends to reach the top of leaderboards, or try to become the best in a specific type of match. Online, there are multiplayer clan-based games, friendly matches, and ability to invite a friend. Xbox One SmartGlass companion application allows you to engage with the game and your clan members, even when you're away from your Xbox One.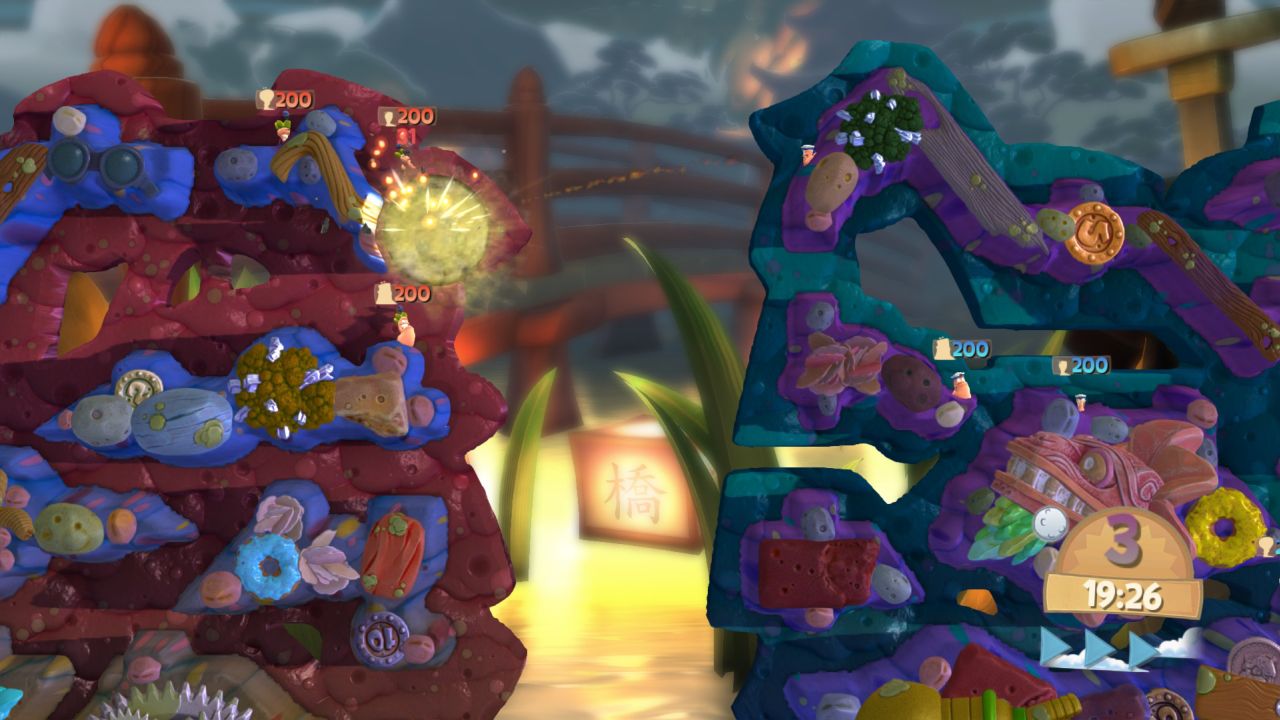 The colorful visuals and humor of Worms Battlegrounds will also be familiar to players. Environments and effects are all bright and varied, but don't exactly push the Xbox One to its limits. While the game runs at 1080p and 60fps, it doesn't look exceptionally impressive and could have probably been released on the Xbox 360 just as easily.
There's one more thing to address – having read this review, you may realize that this title sounds familiar. Indeed, that is because Battlegrounds is a console port of the PC version called Worms: Clan Wars from last year. So if you've played that and were looking for an actual new Worms game on your shiny new home console, this is not it. And herein lies the greater asterisk for this whole review– this is a Worms game, and if you've played one before, nothing here will change your mind. It's a polished and familiar experience with a few additions, but after so many years, asking $24.99 for essentially the same experience is a bit much.
Our ratings for
Worms Battlegrounds
on Xbox One out of 100 (
Ratings FAQ
)
Comments
blog comments powered by Disqus